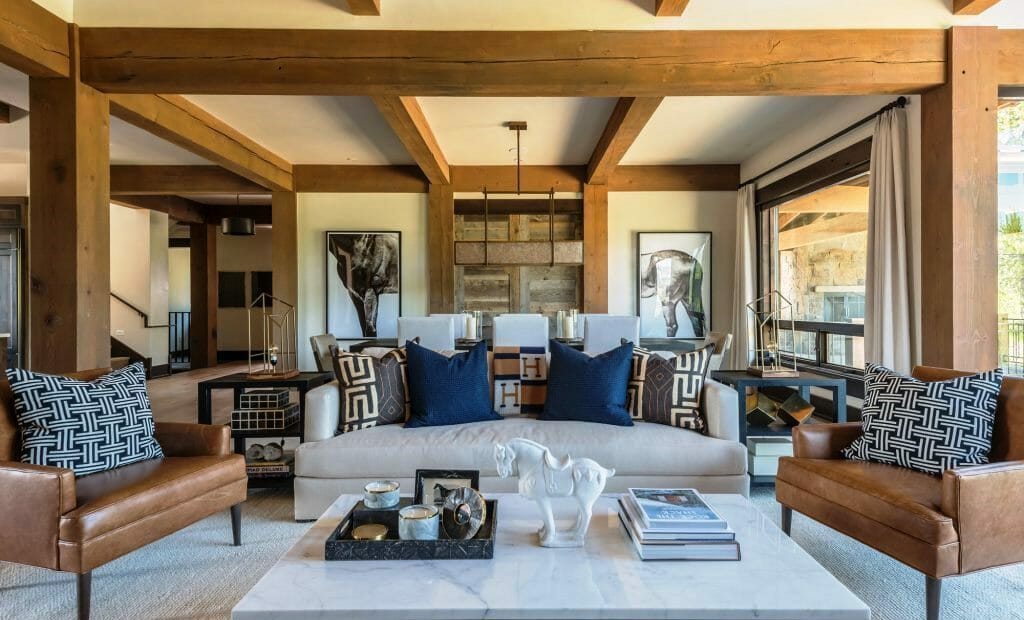 Farmhouse interior design has been around for a very long time, and a famous TV show has made it even more popular (thanks Joanna Gaines!) But still, it doesn't look like it's going away anytime soon, and we couldn't be happier. So, if you're planning to remodel your home in this style, don't look any further. Keep reading for our designer-approved farmhouse interior design tips that'll help you conquer the style at home!
What is Farmhouse Interior Design Style?
If there's one thing that is common in all farmhouse style homes it is their unmistakable relaxed vibe. There's something about this leading interior design style that just makes you want to snuggle on the sofa as you walk into the door. But relaxed doesn't mean random. On the contrary, a farmhouse interior has its specific features, that on one side create a laid back feel yet on the other make for a cohesive and curated style.
To start with, the perfect farmhouse style should achieve a balance of practicality and elegance. In other words, nothing should look too fragile to be touched, but the space should still retain a certain sophistication. To achieve that, hard-wearing materials should be preferred and mixed with cozy accessories for a home that is welcoming, stylish but also practical for everyday life.  The other main feature of farmhouse interior design is that it is a collected style. You'll never see a bedroom set in a farmhouse home and matching chairs are also not so common. In short words, matchy-matchy is a big no.
Not sure if farmhouse interior design is the right look for you? Take our Free Interior Design Style Quiz to help discover your perfect style today!
Best Tips for Covetable Farmhouse Style
Before you start your farmhouse remodel journey you need to choose if you prefer a traditional farmhouse (more similar to a country-style) or a modern farmhouse, that mixes country and modern elements achieving an overall more refined look. Whichever you prefer, these designer tips will have you well on your way to a perfectly styled home!
1. Rustic Finishes: The Signature of Farmhouse Interior Design
Whether you go for a traditional farmhouse or a modern farmhouse style, rustic finishes will always be your friends. From weathered wood to exposed brickwork, distressed finishes immediately add character to any surface. Even more, their somehow rough texture creates an effortless vibe that is typical of any well-designed farmhouse interior. For example, a brick wall (or even a realistic brick-like wallpaper if you can't alter your walls so much) will do wonders in adding a rustic vibe to the space. Other modern farmhouse favorites are exposed rustic wood beams, that will add instant charm to any room.
But when we say rustic finishes we're not just talking floors, walls and ceilings. So don't be afraid if you don't live in an old mansion in the countryside. Actually, rustic accents can go anywhere in the home. And they can really help to recreate a farmhouse vibe even if you start with a modern white canvas (like the majority of rented condos).  For instance, the perfect distressed wood element in the kitchen is a thick butcher block, that will resist hours of cooking while giving charm to the space. Similarly, think about adding rustic wood shelves and cabinets on your plain white walls; you'll be impressed by the impact they'll make.
2. Farmhouse Interior Design Metals
Metals are another key element in a farmhouse style and even when talking metals, a relaxed vibe is key. So don't be afraid of mixing, like gold, black and silver may all work together in the same space. In general, brushed finishes work best for this style because they tie in better with the other distressed surfaces. Above all, gunmetal grey metals are a must in any farmhouse interior design. This is certainly for their rustic feel, but not only. The dark color also adds some elegance and contrast to the space, making it a great choice for modern farmhouse interiors as well. And whether you're going for a traditional or a modern farmhouse style, sprinkle some galvanized steel here and there for an extra rustic touch.

3. Neutral Colors in Farmhouse Interiors
All farmhouse interiors share a neutral color palette. So start creating your color scheme by mixing different shades of brown or grey (or even both). Besides being ideal for a farmhouse style, sticking to an overall neutral palette is always a great strategy to create a design you'll not get tired of in the long run. Think about it: with a neutral background, you can always spice things up with colorful accents. And changing the accent color will be enough to give your space a totally new look with minimum effort. Speaking of accent colors, you can choose anything from blue to red to yellow in a farmhouse style. However, sticking to rather muted tones is best to achieve that nature-inspired feel that is typical of modern farmhouse interior design. So green light to deep blue, burgundy red, burnt orange, and mustard yellow.
4. Play with Textures
One of the top farmhouse decorating ideas is certainly the mix of several different textures. We've already seen how rustic finishes can add character to the space. But the same is true for furniture, textiles, and accessories. So, when you're choosing furniture, prefer rather distressed surfaces, even with scratches and knots. And then add even more texture with textiles. From natural fiber rugs to knitted blankets and faux-fur pillows, a mix of rich textures is what will give depth and help you achieve an effortlessly stylish look in your home. Mixing textures is not always an easy task, but in a farmhouse style, it is not that hard. If you stick to a neutral color palette, the fact that the hues are similar will be enough to tie together your accessories and textiles even if they have different textures.
5. Essential Farmhouse Decor
It's a well-known fact that accessories can make or break a design. And the farmhouse style is no exception. Therefore, if you're going for a farmhouse interior design, you should be consistent in your décor as well. For instance, the preferred artworks for a farmhouse modern design are definitely signs and graphics. You can find plenty of them at all home decor stores, but they're also very easy to DIY. And a plus of doing them yourself is that you'll be able to choose the quotes you love the most, transforming a simple gallery wall in your personal inspiration board. For an even more balanced gallery wall, mix quotes with country-inspired landscapes and botanical prints, that will be able to bring in that natural inspiration even if you live in the middle of the city.
Other décor pieces that can't be missed in a modern farmhouse interior are soft pillows, warm blankets, and vintage mirrors. But don't get everything from the same store. Always remember that perfect farmhouse interiors look spontaneous and collected over time, so stay away from pieces that look overly coordinated. And – especially if you've chosen a farmhouse modern style – don't overdo it. The best farmhouse modern designs only have a few well-placed accessories, because too many of them would end up cluttering the space.
6. Farmhouse Must Gave: Greenery
Adding some greenery at home is always a great idea; it brings life into the space and immediately gives it a more curated feel. When choosing greenery, personal tastes play an important role. However, plants work in all homes and rooms, regardless of the style.
If we had to choose just one type of greenery for a farmhouse style, it would certainly be loose branches. From cotton buds to eucalyptus, branches (better if displayed in a vintage jar) will decorate the space while bringing in that unique mix of rustic and natural. Similarly, you can also just opt for freshly cut bouquets in vases around the room. Not to mention, the aroma will be equally as enticing.
7. Reuse & Repurpose
What better than something vintage to add a rustic feel to the space? Indeed, a farmhouse interior design remodel is the perfect occasion to shop at flea markets and antique stores. There, you'll find authentically vintage pieces that will give a whole new value to your interior, way more than new pieces that just look distressed. So definitely go take a look at your local flea market!
While you're walking around the stalls, don't forget you can always repurpose your second-hand finds for new functions. For example, old window shutters can have multiple uses in a traditional or modern farmhouse home. They can become a beautiful piece of art when hung on the wall or laid on the fireplace mantel.
To sum up, flea markets are a great interior design shop if you're going for a farmhouse style, but your creativity will do the rest. Take a look on Pinterest for more specific inspiration; you'll find plenty of mind-blowing projects that will also help you save some money!
8. DIY Farmhouse Decor
Talking about saving money, this is something we all like, and DIY projects are there to come to the rescue. But what are the best DIYs for a modern farmhouse interior design? Actually, there are many creative options out there that will allow you to save some dollars while creating an authentic and personal farmhouse style. Firstly, let's talk about mason jars. Someone may say they're an obvious choice, but mason jars are extremely versatile. With just a coat of paint and some string, they can become the perfect farmhouse container for twigs and branches. But they can also be used as lanterns, soap dispensers, and pendant lights, just to name a few.
Still, sourcing materials from around the home, metal cans can be used to bring in a rustic metal accent. And what about wooden crates? They are another versatile object that can become anything from bookshelf to bench. Reclaimed wood is another must in any farmhouse interior and can find its place in every room, becoming a shiplap wall paneling, a barn door, a faux-beam or a table top. And lastly, a creative DIY will allow you to transform a flea market find in exactly what you need for your own project.
9. Embrace Imperfections – In Moderation
Whether you're going for a traditional or a modern farmhouse interior, imperfections will be an asset in your home. After all, rough textures and signs of use are what sets farmhouse interior apart from other styles. But – as always in design – be mindful of proportion. If everything around your home has an overly distressed finish, it will most likely be too much and create a sloppy effect instead of a beautiful farmhouse design.
How to find the right balance? Actually, there is no one-size-fits-all rule. To start with, it will all depend on the exact style you've chosen as a farmhouse, modern will accept less imperfections with respect to a traditional farmhouse. Also, your personal tastes will also dictate how much is too much for you. As a rule of thumb though, you should always try to create some kind of contrast and make a focal feature of your distressed items. For instance, a weathered wood shelf will be perfect over a white plaster wall, but may be too much over a rustic brick wall. In short, always mix rustic and modern items and experiment to achieve the perfect farmhouse interior design for you.
Get Started on Your Cozy Farmhouse Interior
Our talented team of designers can help you create your dream space. Schedule a Free Interior Design Consultation and get started with your farmhouse interior design project today!

[Images: 1]