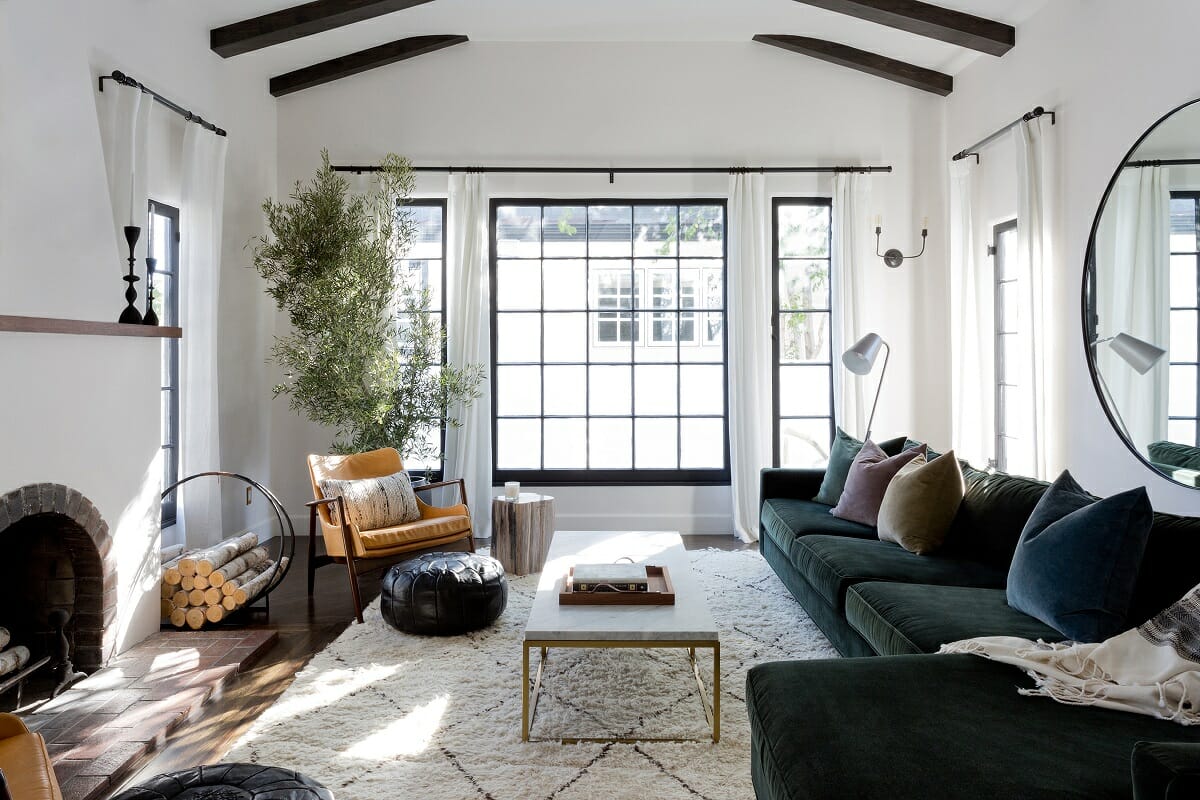 Redesigning your home is an exciting task – especially when you have a particular style in mind. A recent client saw the need for a redesign after expanding their family home. With an eclectic design style in mind, she reached out to Decorilla for help. Read on to learn how their space transformed into a whimsical haven!
The Challenge: An Eclectic Design
The client had fresh interior design ideas to make her home cozy and inviting. With the designer on board, her vision was within reach. However, each project has its own set of challenges. For this one to be a success, the designer needed to:
Source new child-friendly furniture for each room

Incorporate furnishings the client wishes to keep

Improve the layouts of each room

Suggest new but moody wall paint colors and eclectic home décor

Include storage to keep the rooms tidy
Not sue if an eclectic design style is for you? Then take our

Free Interior Design Style Quiz

to find your true interior style right away!
Eclectic Decorating Style Inspiration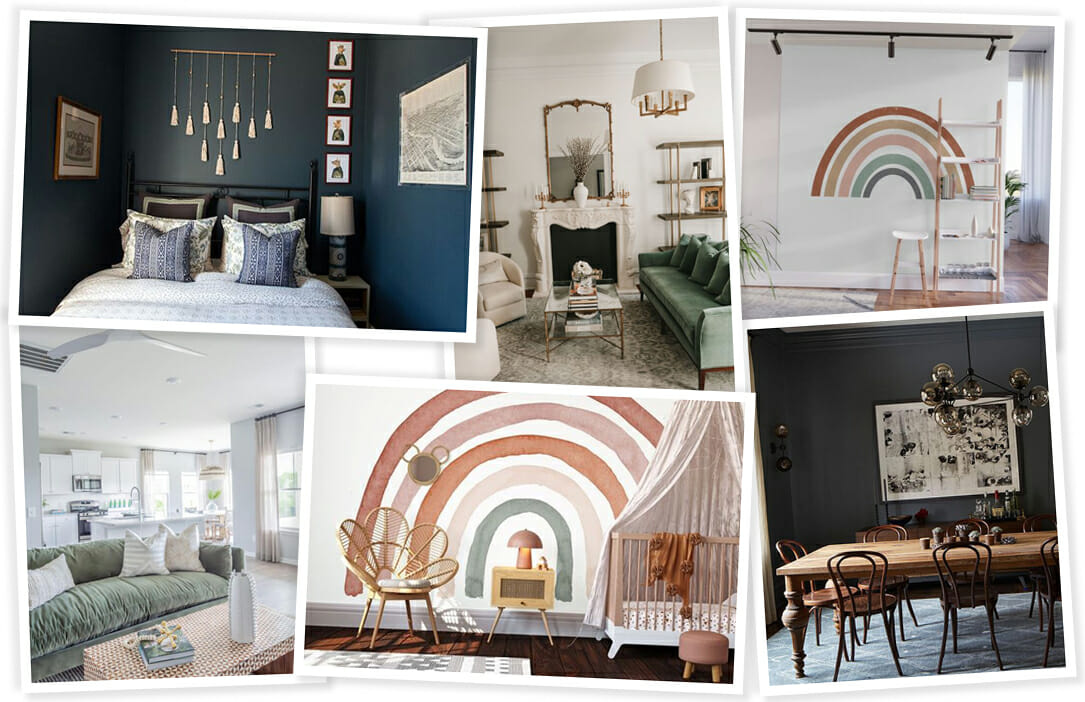 The client's inspiration images were filled with eclectic décor. These interiors also contained luxe finishes and comfortable furniture. Evidently, the client loved eye-catching accessories and surfaces with a family-friendly touch. These included super plush sofas, textured rugs, and statement wood furniture.
Moodboard & Eclectic Design
It was now time to begin the straightforward online design process. First, the client completed a quick and easy online questionnaire. After that, she had a virtual consultation with a Decorilla expert. Finally, with a design brief, the Decorilla team could help match the client with two designers who would stand out in an eclectic design style.
Both designers produced superb proposals. However, it was Darya N. who stood out as the clear winner. Her eclectic interior design concept outlined the client's needs brilliantly. It oozes a livable, family-friendly vibe. Furthermore, she used rich textures and pleasant contrasts to align with their vision. Lastly, she suggested an off-white on the walls for the main living space to create a fresh, invigorating atmosphere.

Chic Eclectic Design Style Result
Overall, the eclectic design style is inviting and full of personality. Each room is tidy and well thought out. Furthermore, there is a layering of unique furnishes and eclectic home décor. As a result, there is a playful tone of sophistication. The neutral walls allow for contrasting details, while rich textural layers are present in each space.
Contemporary Combined Living Room
The hub of the home is an eclectic haven at its finest. Two textured rugs anchor the eclectic-style living room, marking the space as a place of comfort. Golden touches in tables and standing lamps bring an elegant touch. As a result, there is visual interest and a warm glow in the room.
Final touches include eclectic home decor on the walls and shelving, while navy chairs and throw cushions add dimension to the sage sofa.
Eclectic Dining Room & Breakfast Nook
The eclectic dining room holds just as much attentiveness. Dark wood floors set a warm atmosphere and match the dining table and chairs. In addition, an artisanal sideboard sits below a rectangular mirror. As a result, this space appears more extensive than it is. Lastly, gold metal pot plant pedestals hold pops of greenery, tying in with the living room aesthetic.
A cozy breakfast nook finishes the connected rooms. Now, the family can enjoy quick meals in a relaxed and intimate space. A round table and great globe pendant echo the curves of arches leading to the room, creating a unified eclectic design style.
Elegant Guest Bedroom
Simple yet sophisticated, the guest bedroom is calm and serene. A feature wall highlights accents, like the abstract above the bed, patterned pillows, and golden lighting. In addition, a neat desk and comfortable chair sit at the end of the bed as a space for work.
The dark accent wall brings a soothing contrast to the light room. A curtain and blinds tie into the room's neutral eclectic bedroom decor while blocking out light for a peaceful night's rest.
Whimsical Little Girl's Bedroom
A kids' bedroom is where they spend all their time sleeping, playing, and learning. This space reflects a child's quirky personality, with tons of storage space to organize toys. Moreover, the eclectic bedroom décor has added a playful take on the interior.
A rainbow mural and the cloud-shaped light above the little bed encourage a vibrant imagination and peaceful dreams. Lastly, a soft rug grounds the space while matching color tones with the mural.
Adventurous Little Boy's Bedroom
This eclectic design has been set up with an older child's growth in mind. Without being too set on a color scheme, the various tones in this bedroom form a cohesive feeling while standing out individually too.
The bunk bed in the corner sits against an accent nook, marking the spot for rest and dreaming. A cozy sofa and play area fill the space just below the top bunk. In addition, a table for learning and a jungle gym for climbing make the room multifunctional.
Before & After: How did the designer change the room?
Each room in this family home required a radical transformation. Fortunately, with the client's vision and the designer's skill set, the space could get an unforgettable makeover.
Brightening the Living & Dining Room 
At first, the living area felt dark and impractical. So, the designer opted for furnishings that complemented each other while bringing light to the space. An off-white wall color also made the room feel inviting and uplifting. She also adjusted the layout to improve the flow of foot traffic. The final touches include golden metal finishes with comfortable seating and additional rugs. 
Similarly, the dining nook felt unbalanced initially. So, the designer repurposed a few of the existing decorative elements and included new items. She also added a gray accent wall for visual structure and a rug to ground and lighten the room. Lastly, a stylish and impressive pendant adds a visual lift and links to the lighting style in the adjourning eclectic style living room. 
Adding Personality to the Guest Bedroom 
Originally, the guest bedroom felt outdated, and the wall color was unsuitable for the décor. The space needed a dramatic transformation. To this end, the designer incorporated the perfect balance of eclectic home decor for hosting friends or family. Overall, a balanced and moody aesthetic distinguishes the interior. 
Creating a Fun Toddler Room
At first, the room was an awkward mix of nursery and child's room. Fortunately, a radical transformation created a space perfect for a growing mind. Originally green and red in color scheme, this bedroom is now soft, with a darker grey accent wall to keep contrast. Moreover, each eclectic bedroom décor item ties in cohesively while ample storage space brings practicality. 
Transforming a Bedroom into a Child's Wonder-Room
Initially, this bedroom was for adults. But with the designer's assistance, it has taken on a whole new look. First, she picked a playful room theme and eclectic design style. From here, the designer added texture and scale for depth. And now, the room holds interest from the floor to the ceiling with a towering gym wall, bunkbed, and short table adding various heights.
Online Shopping List
As with all Decorilla projects, this eclectic home décor transformation comes with an online shopping list. This list provides clients with helpful product links to acquire what they need for their designs. In addition, these links combine with trade-exclusive discounts! Lastly, clients receive photo-realistic 3D renderings to envision their design before purchasing products.
Our Top Picks for an Eclectic Design Style
If you enjoyed this project, why not recreate it? All you need are a few eclectic decor pieces to transform your home!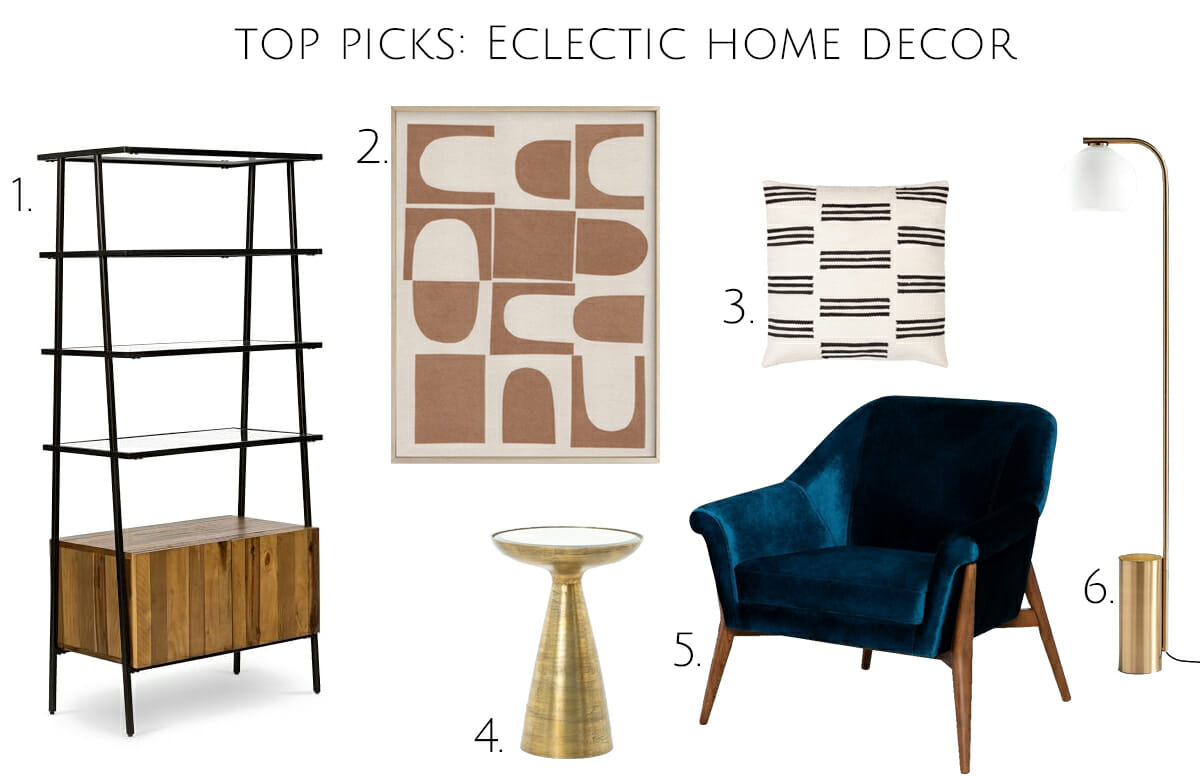 Want your own eclectic interior design?
You can transform your home with online interior design too! Schedule a Free Interior Design Consultation to get started today!

[images: 1, Decorilla project images]