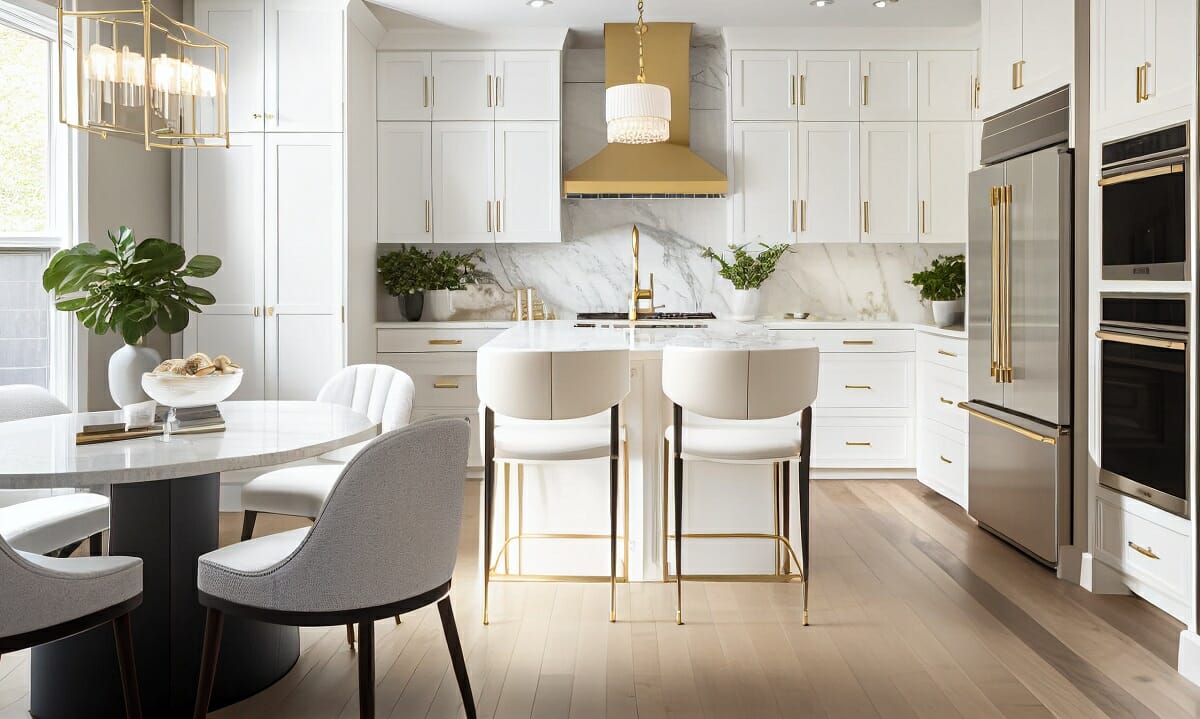 Creating a functional yet stylish kitchen space can be a daunting task. However, with the right inspiration, planning, and technique, even the most utilitarian spaces can transform into beautiful works of art. This post will take you through a transitional eat-in kitchen design transformation, exploring its creative concept's intricate details. Read on to find out everything about one stunning makeover!
The Challenge: Eat-In Kitchen Design
This project was about transforming a cramped kitchen into an inviting cooking and dining hub for the family. The client needed professional design assistance in creating a functional and aesthetically pleasing multifunctional space. That included a cozy arrangement around the small breakfast table, a practical eat-in kitchen island, and ample storage for everyday items. While welcoming modern appliances, the client wished to keep the overall look and feel as timeless as possible. In short, the online kitchen design needed to:
Convey a contemporary look with a dash of traditional spirit, leaning towards the timelessness of a transitional style

Find a way to open up the space more  

Maximize the eat-in kitchen layout's functionality using all its potential

Effectively optimize storage capacity

Incorporate a stylish eat-in-kitchen table without cluttering the space
Not sure what eat-in kitchen design suits your home? Then take our

Free Interior Design Style Quiz

to find your true interior style!
Eat-In Kitchen Decor Ideas & Inspiration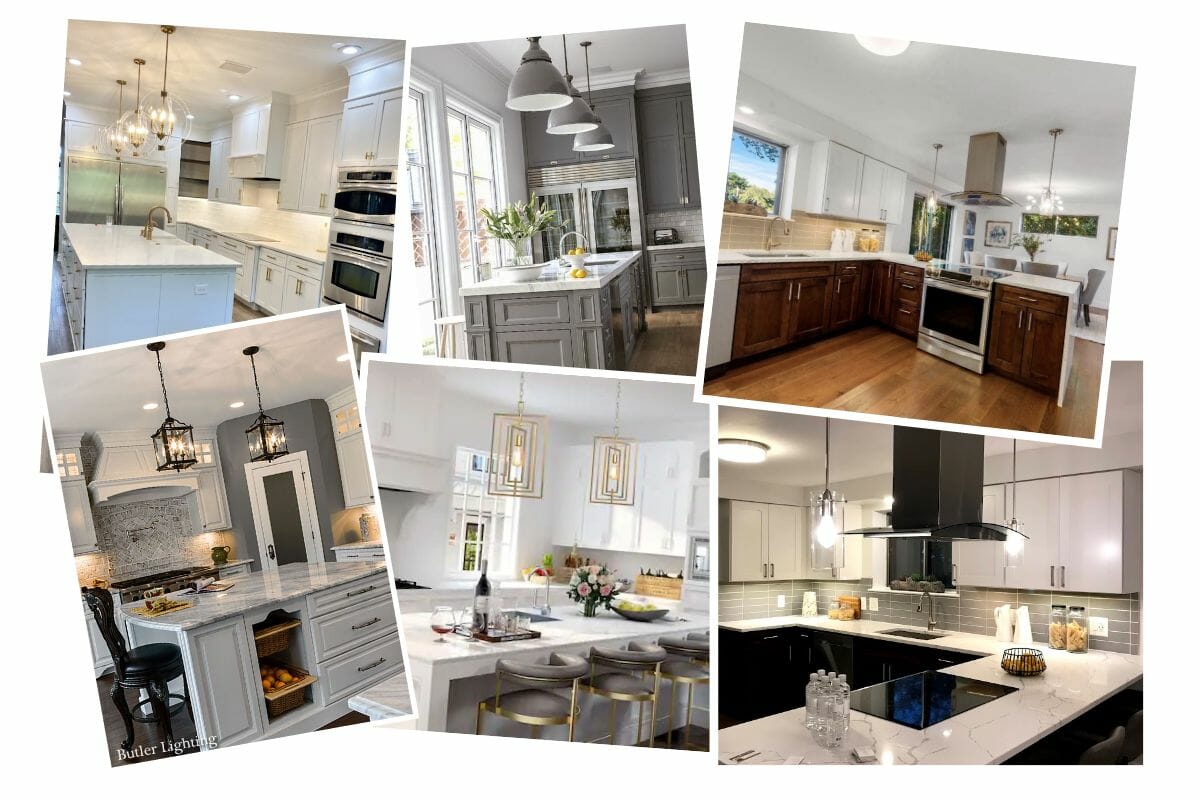 The client had plenty of luxury eat-in kitchen design and decor ideas. Their inspiration gallery held a slightly eclectic mix of various materials, finishes, and colors. That said, a transitional flair linked all their featured eat-in kitchen decor ideas, seamlessly blending in all elements. It oozed comfort, durability, and pleasant visual cohesion. Consequently, all that was left to do was start defining the exact colors and finishes to match the client's particular tone and style.  
Eat-In Kitchen Design & Moodboard
Inspiration is a powerful tool. While it allows designers to create something unique and exciting, it sometimes also puts too many ideas on the table. That's where Decorilla's questionnaire comes in handy, enabling clients to clearly determine their needs, preferences, and lifestyle traits.
Considering all the client's guidelines, the Decorilla team soon proposed two matching designers. Both delivered stunning concepts, making the decision process tricky. Nevertheless, the client finally opted to continue with the transitional eat-in kitchen ideas by Maya M. 
Maya's transitional design and eat-in kitchen ideas revolved around creating a perfect family-friendly environment. At the same time, her suggested layout boasts refined elegance with the combination of brown and white cabinets, clean lines, and brass accents.
The neutral palette was also invigorated by contrasting textures like free-flow marble veining juxtaposed against the structured backsplash geometry. Meanwhile, well-balanced dispersion of mass and volume conveyed a pleasant, harmonious atmosphere to gather around. 

Luxury Transitional Eat-In Kitchen Design Result
In the end, the final kitchen interior design glistens in white and gold with natural touches. Wood cabinets and great windows showing the garden keep the space grounded, while luxurious details elevate the interior. Now it's a space for the family to enjoy in style!
Eat-In Kitchen Layout & Island Design
Combining practicality with style, this eat-in-kitchen layout boasts many assets of transitional design. Wooden cabinetry contrasts sharply with the white background, offering an eye-catching combination of airiness and solidity.
Coordinated brass fixtures and hardware finishes add to the sophisticated appeal while maintaining a family-friendly atmosphere. Minimal decoration also puts a focus on functionality, ensuring plenty of workspaces for a family to prepare meals together comfortably. 
Functionality is certainly crucial in any kitchen, and here the layout and design ensure all is as it should be. Abundant storage space, including built-in kitchen cupboards and a tall utility cabinet extending from floor to ceiling, maximizes organization possibilities.
Furthermore, the great eat-in kitchen island provides an additional task surface and seating space. It serves as both a practical solution to meal preparation and an aesthetic focal point of the interior.
Before the Eat-In Kitchen Decor Ideas Took Shape
At first, the kitchen was outdated, cluttered and unpractical. But, fortunately, there was loads of potential too. And so the interior design project could transform the space into a modern kitchen hub. Every detail was thoroughly planned out and strategically executed for maximum effect.
Through careful planning and creative design solutions, the designer tackled this challenge. And the result not only met the client's needs but also impressed them with a fresh yet timeless appeal.
Online Shopping List
Decorilla's interior design process makes it easy to create a beautiful home, offering maximal gain with minimal effort. The creative concepts include selecting the perfect furniture and decor pieces, with everything presented in realistic 3D visualizations. Moreover, each curated shopping list features exclusive trade discounts, along with a comprehensive implementation guide and expert tips. With the help of a white glove concierge service, homemaking has never been simpler or more hassle-free. 
Top Picks for the Eat-In Kitchen Design
Sleek lines and refined finishes are some of the elements necessary to convey a classic yet contemporary look. Check out some pieces from this project's kitchen decor ideas you can include in your design!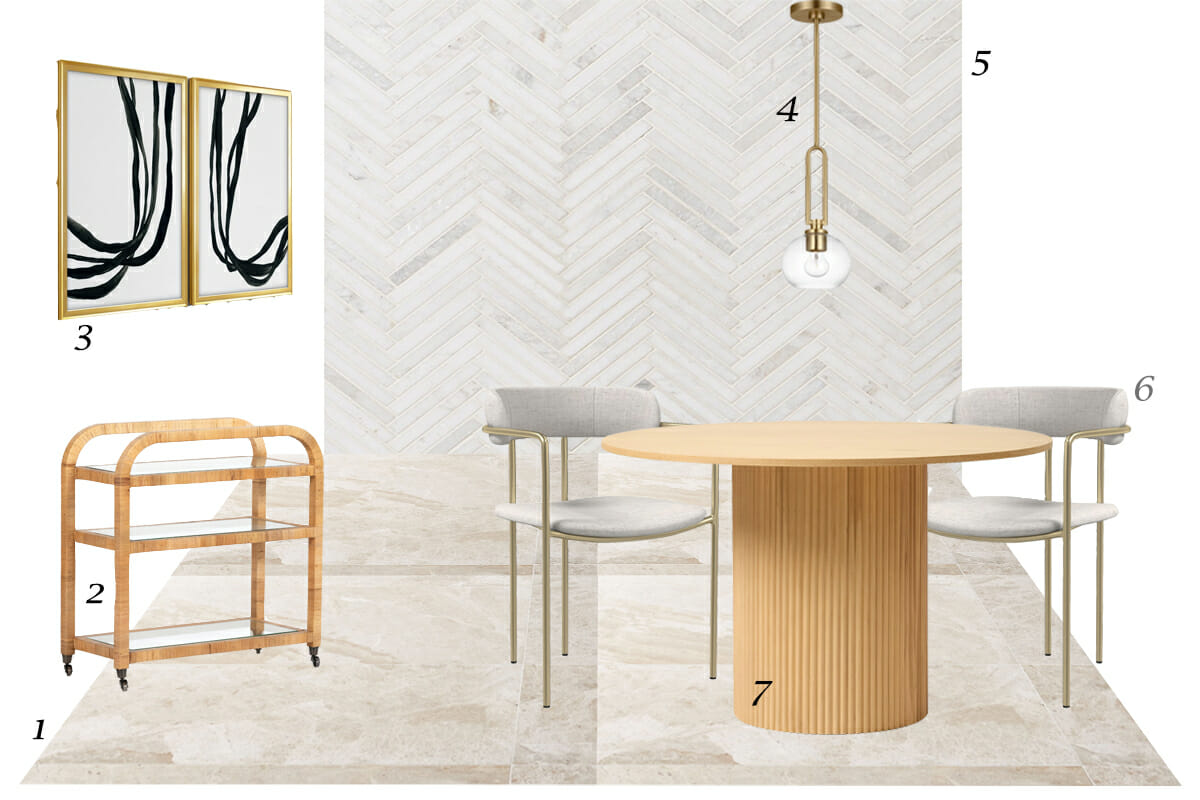 Time to spruce up your eat-in kitchen design?
Transform your space with vetted interior designers by your side. Schedule a Free Interior Design Consultation to learn more about your options today!

[images: Decorilla project images]