Are you feeling uninspired by your living room? Does it feel dull or out of date? Then take a look at this transformational story. Our designer helped one family integrate their personal touch into a new, stylish double-height living room with amazing results. Read on to see this dream room become a reality and gain some valuable inspiration for your own home!
The Challenge: Double-Height Living Room
One family recently contacted Decorilla wishing to redecorate their living area. They were looking for a cozy yet elegant setup that would reflect their personal style in a warm, inviting, and comfortable manner. According to the clients, their "current space had no character and desperately needed an uplift from a talented interior designer." In addition, it was no ordinary living room—the designer had to: 
Come up with a suitable solutions for decorating a double-height living room 

Incorporate plenty of seating space to comfortably accommodate residents and visitors

Elevate the layout with an elaborate decor scheme 

Find a stylish way to display a family photo gallery

Create a stunning focal point
Unsure if a transitional style suits your double height living room? Then take our

Free Interior Design Style Quiz

to find your true home style today!
Transitional Design Style Inspiration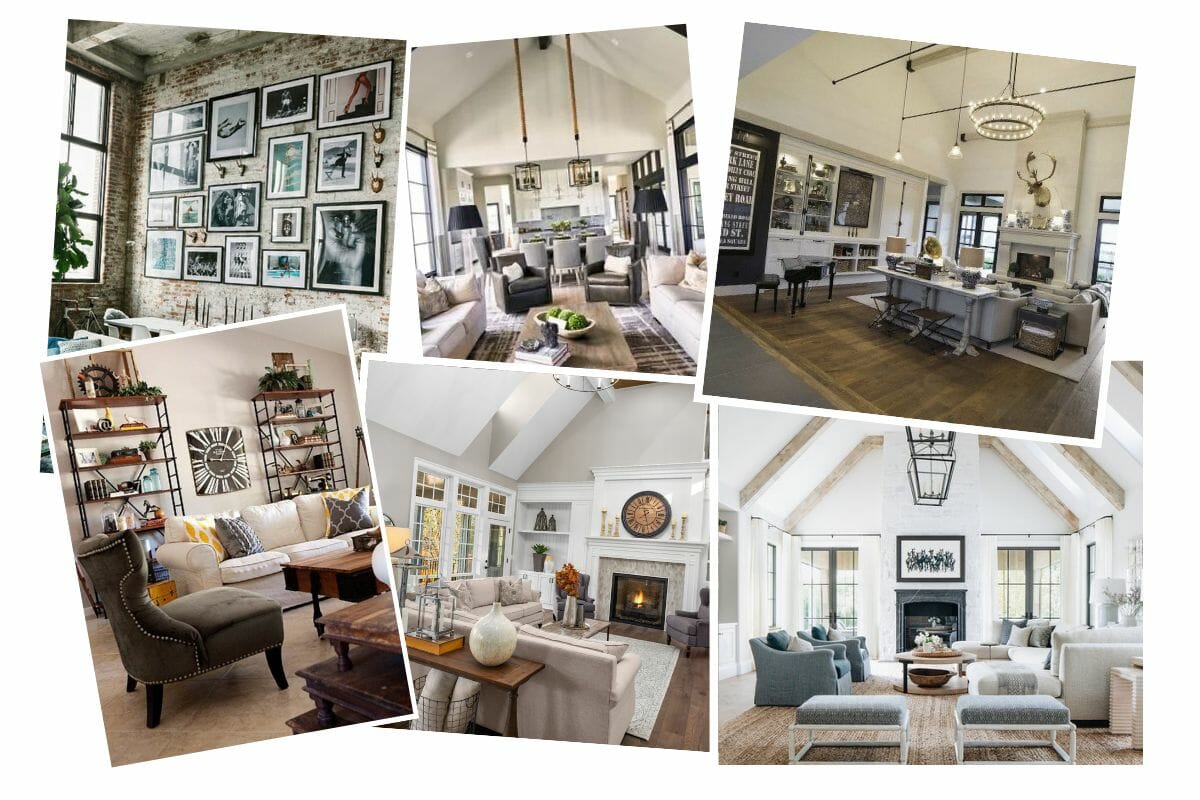 The client's inspirational gallery was, expectedly, filled with examples of inviting living rooms where a cushion-adorned sectional sofa also served as a focal point. Transitional interior design ideas reigned supreme with a balance of modern decor and traditional accents. Calming neutral color palettes stole the show with only the slightest pops of color present. Overall, the room selections were refined while still radiating welcoming vibes. 
Double-Height Living Room Plan & Moodboard
This living room makeover began with a quick and easy questionnaire and detailed consultation. Then, the expert Decorilla team matched the client with two designers who could bring their vision to life. Both creatives concocted personalized moodboards to showcase their ideas for giving a double-height living room new life. Opting for just one design was not easy, but finally, Casey H.'s gorgeous blend of bright, breezy transitional accents and charming rustic elements captured the client's heart.
Casey's double-height living room design was a stunning combination of rustic and modern touches, bringing the space to new altitudes of functional beauty. The design scheme thrived on natural textures, rugged wooden touches, and silky-soft, neutral fabrics that soothe and inspire. In addition, the color combo harmonized hushed tones such as beige and gray. The plump, inviting seating also blended contemporary lines with timeless comfort lending the perfect transitional touch. 

Double-Height Living Room Design
The harmonious balance of this room is the first impression that strikes the viewer. Its double-height ceiling and open approach put the sophisticated lounging area on display from different angles. Meanwhile, the interplay between rustic decor elements and modern components, such as the contemporary chandelier, creates a rhythmic visual tension. It turns the entire space into a focal point straight from the house entrance as a result.
A welcoming double-height living room ambiance comprises ample seating with a decorative splash of bold patterns and sleek black accents. Elaborate touches include textured accent pillows, ethnic-inspired ottomans, and leather lounging chairs. A variety of textures and patterns makes for a real sensory feast, brought further and simultaneously grounded by a soft, boldly graphic area rug. In the meantime, the painting over a fireplace and a maintenance-free faux plant soften the rigid scheme with a subtle pop of freshness and color.
Incorporating a striking white floor-to-ceiling wainscoting virtually and literally elevates this living space to new heights. Not only does it make a bold focal point, but it also infuses a sense of depth and texture. Finished off with a series of large-scale black frames of a personalized gallery wall, the final effect is nothing short of impressive. As a result, such a solution turns a bland white wall into the key visual statement of the entire house. 
Luxury Double-Height Living Room Design Shopping List
Looking to revamp your interior design without breaking the bank? Decorilla has got you covered. Their interior design packages offer much more than just photorealistic 3D renderings and design solutions. You also get access to a thoughtfully curated shopping list, distinctive by exclusive industry discounts. In return, the design deals often turn out to be so good that the clients end up saving more than the cost of the initial package itself. Plus, with a comprehensive implementation guide, redesigning your home has never been easier.  
Transitional Design Style Top Picks
If you feel inspired to elevate your home's style, check out our hand-picked selection of transitional furniture & decor. These stunning pieces might spark your creativity and help create a warm, inviting ambiance—even in the tallest double-height living rooms.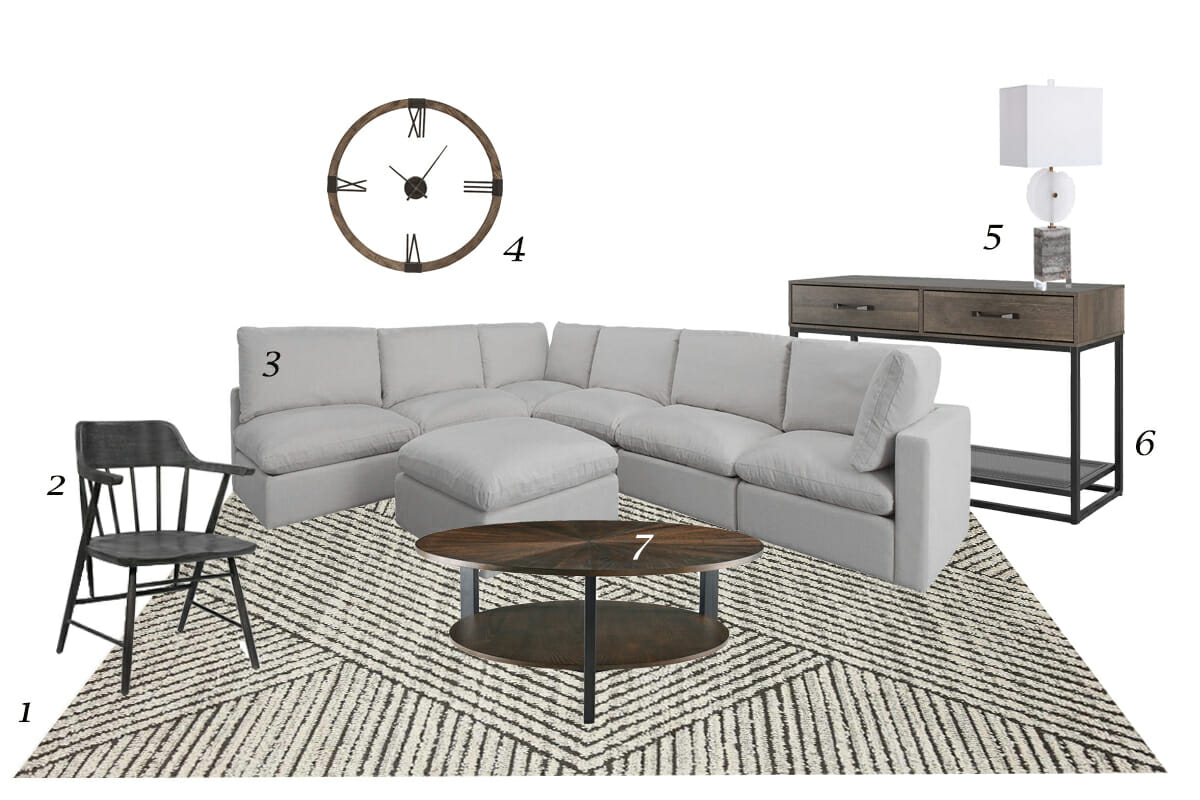 Looking for transitional design style ideas curated only for you?
Say goodbye to bland rooms and hello to a captivating, modern space that exudes elegance and class. Schedule a Free Interior Design Consultation to learn more today!