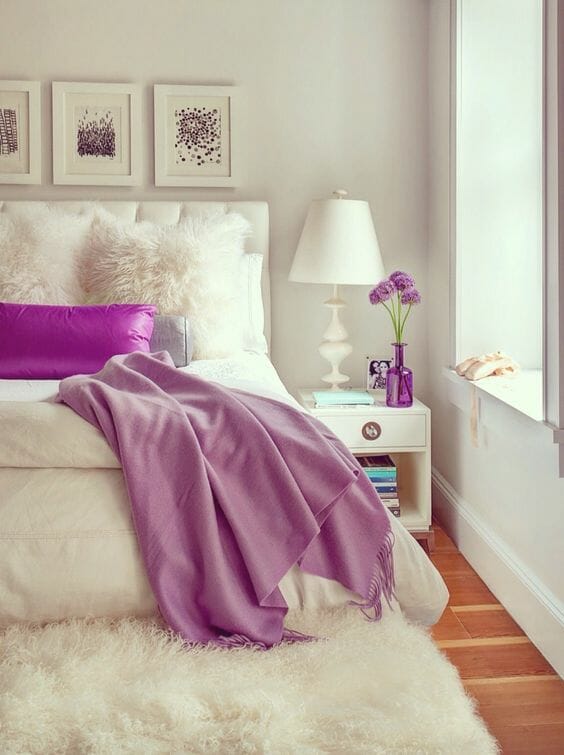 Representing a client's style is a creative challenge for interior designers. Decorilla designer, Rachel Hinz, meets this challenge with sophistication and attention to detail. Whether traditional, modern, glamorous, or beach, her interior design projects have expressive style elements that not only make a room beautiful but contribute to its functionality as well.
Rachel's commercial and residential interior design experience has made for happy clients locally in the  Tri-Cities and Metro Detroit area of Michigan as well as online Decorilla clients across the U.S. Here, we shine the spotlight on this versatile interior designer, getting a glimpse of her favorite design trends, inspirations, and room in her own home.
1. Were you always interested in design? 
Yes, I would definitely say I have always been interested in design. From an early age I knew I would want to do something in the design field.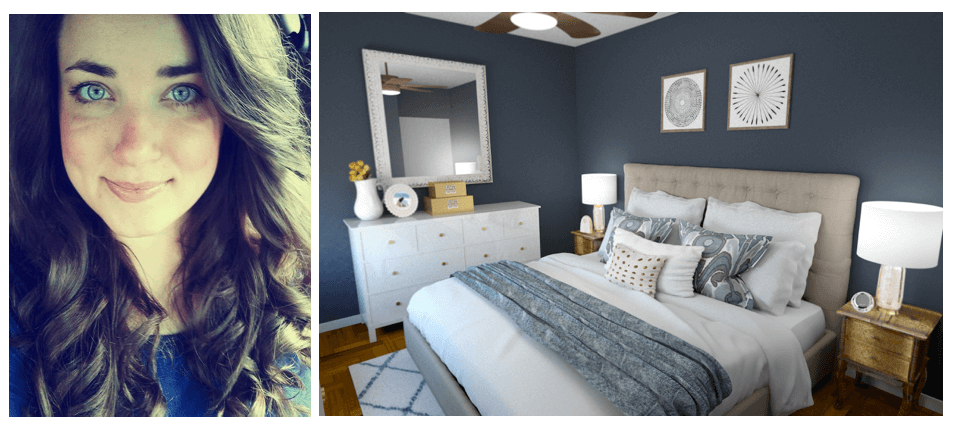 2. How would you define your design style? 
I would define my design style as transitional. I love the sophistication of being able to mix different styles together into a design that is timeless.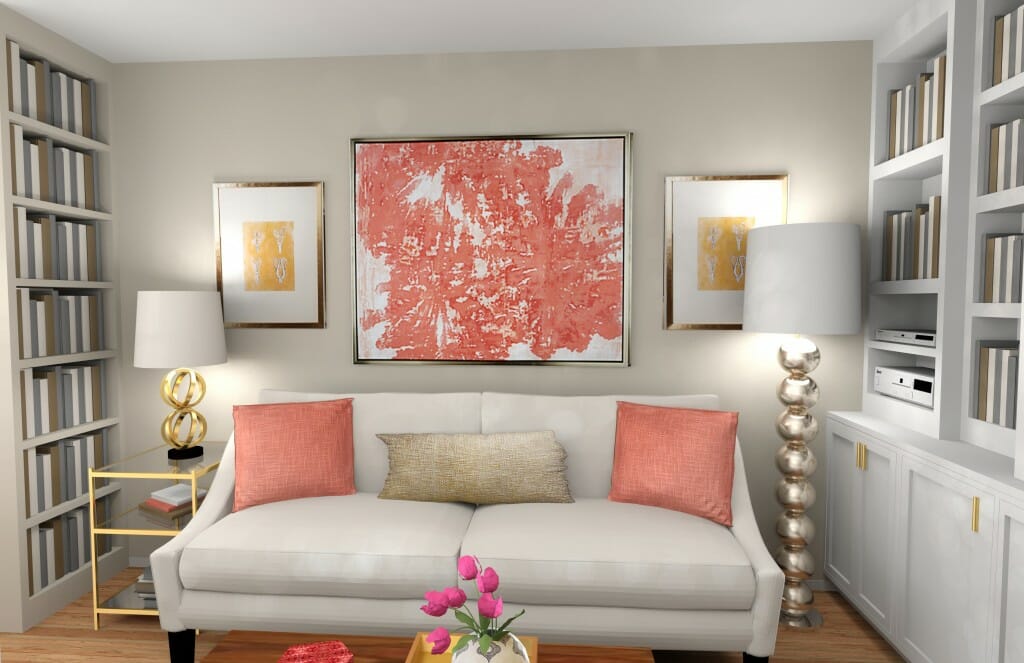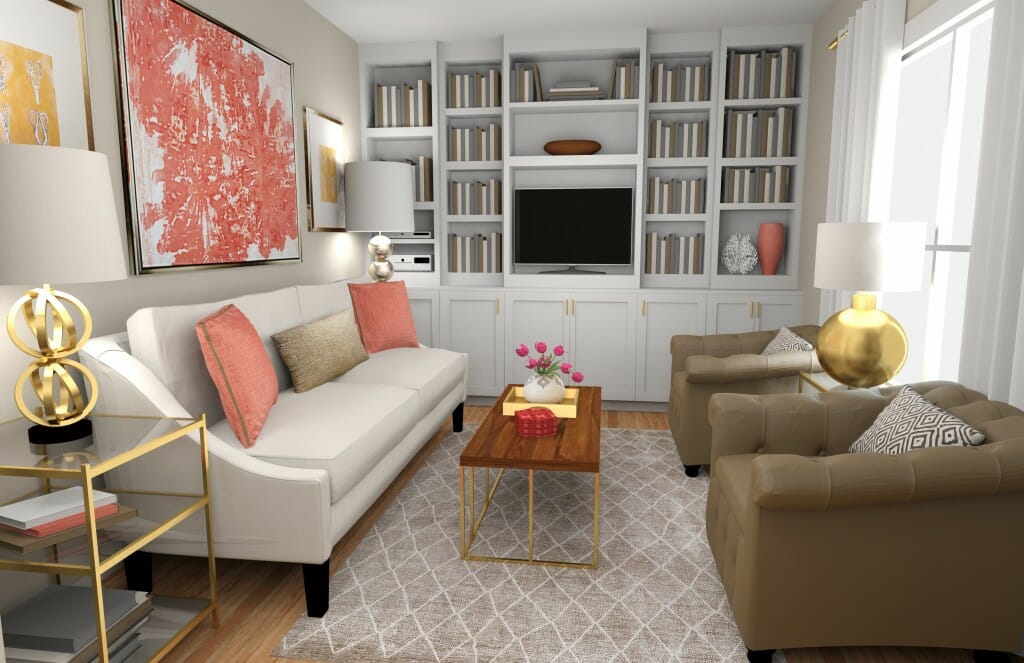 3. Who or what influences your work?
I think the thought of getting a really happy and satisfied reaction from a client is something that pushes me to work hard and make sure I am listening to a clients needs and wants.
4. Is there one thing you always include in your designs?
Typically, in most of the living spaces or bedrooms I design I try to soften the room up with adding a beautiful throw blanket. Whether it is draped over a chair or ottoman or laid at the foot of bed. It is one of those final touches to a room that can help add that final splash of color or comfort to the space to help make it a more lived in space.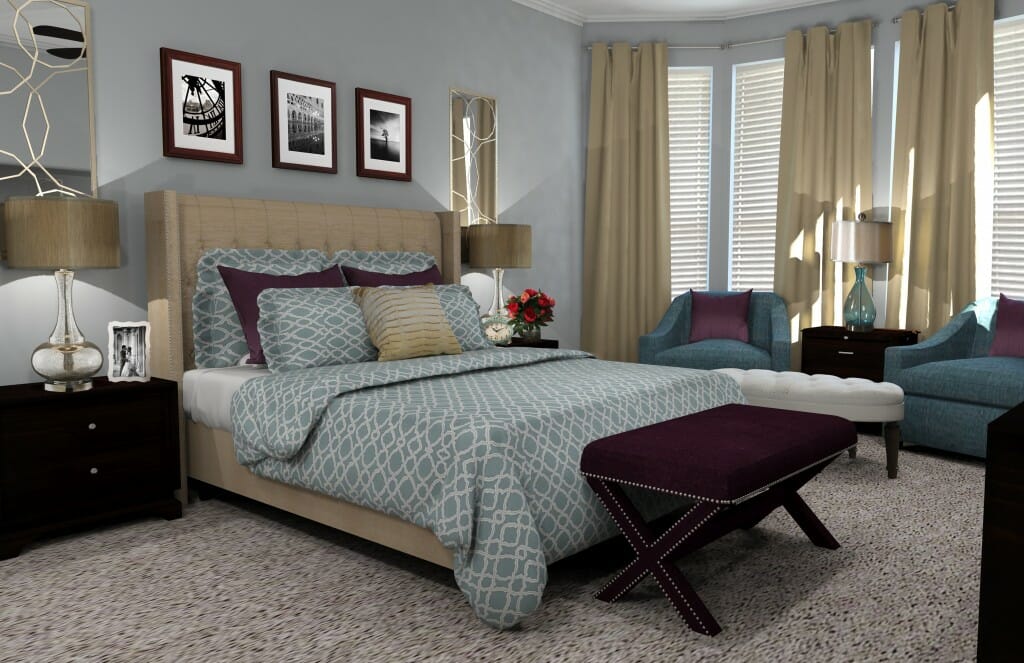 5. What current trend do you think we'll be so tired of in five years? What current trend do you love?
I am not sure what trend we might be tired of but one trend I hope never leaves is an all white kitchen. I absolutely love a beautifully designed kitchen with white cabinets, lighter colored backsplash, and countertops with white throughout them. Put in dark walnut wood flooring  and a warm gray island in there and I am sold!
6. What is your favorite design magazine or blog and why? 
One of my favorite magazines/blogs would be ELLE DECOR. I often read articles and check out designs they post. The designs they post are beautiful but they also give a lot great tips for anyone and every style.
7. What is the best thing about being an interior designer?
The best thing about interior design is that I get to share my creativity and love for beautiful things and spaces with those around me and my clients. It is so rewarding when you get a great review or see a big smile on a clients face when you show them their newly designed room. That is the best!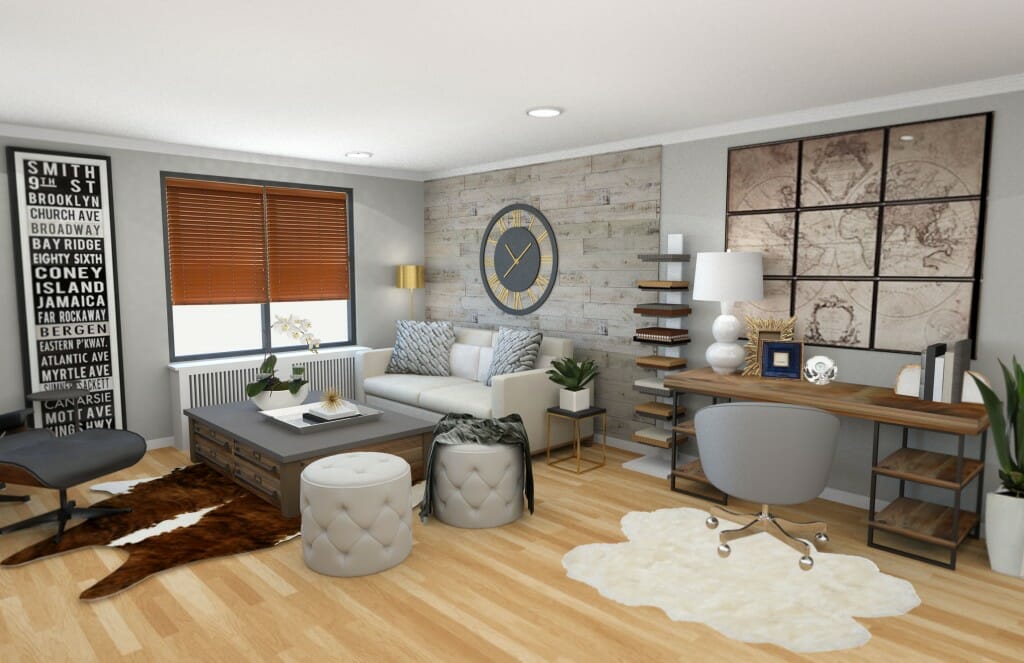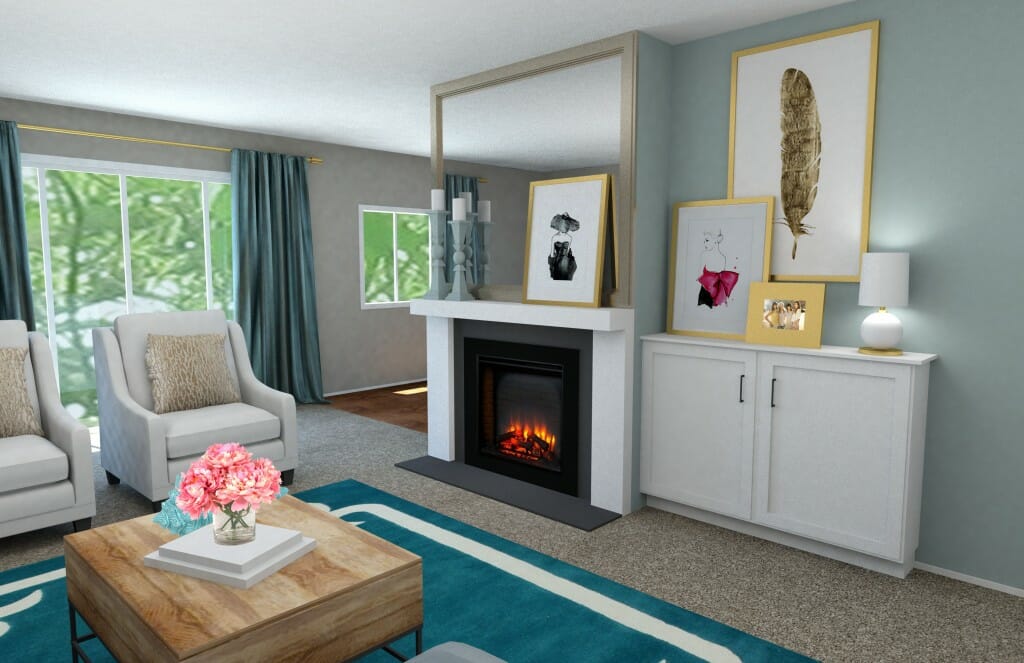 8. What was your first big project and what was your favorite part?
My first big project was working on the 3d renderings for a big crossfit gym in the city.  I was just getting into the swing of things in this business, right out of college, and it was a rather large project, 3 floors, and I needed to be able to portray for these clients exactly what they wanted into these spaces. Definitely one of my more unique projects as well since I typically work on residential spaces.
9. How do you manage challenges that come up during a design project?
First thing is reassuring a client that you will have a solution for the problem. They entrust you with their time and money and it is important that you let them know that you will find a solution. Second is looking into every relatable resource to find that solution, whether it is help from a coworker or researching the solution.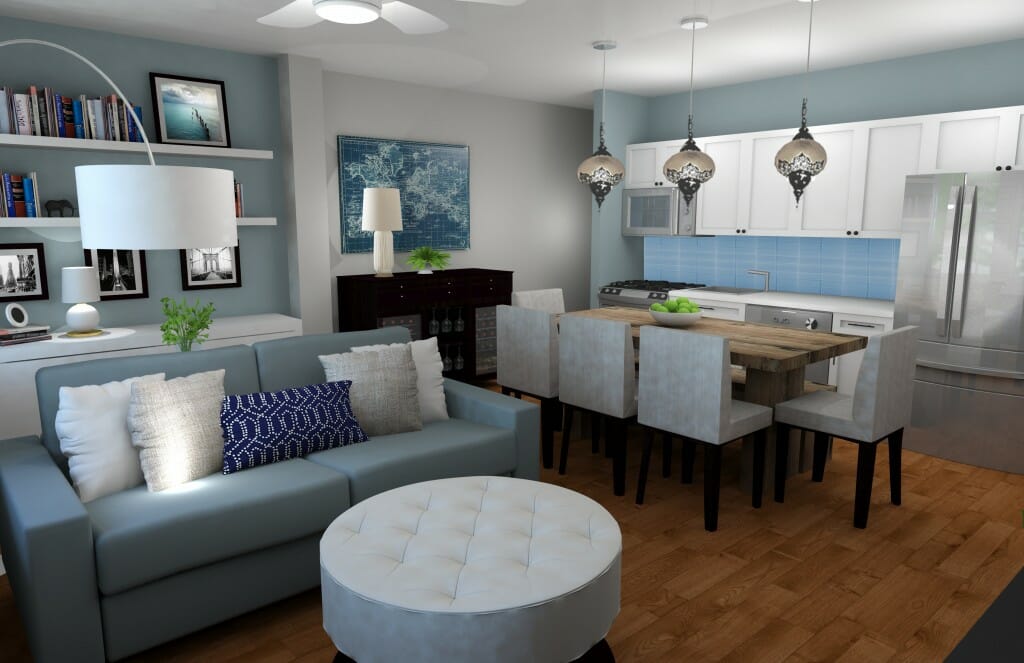 10. If you had to pick a favorite room in your home, which would it be and why?
My favorite room in my home is my bedroom/office. It is a perfect mix of my two favorite colors; white and blue. These colors help make the space my relaxing retreat. I have different styles mixed together like an antique nightstand and dresser. Both of which are DIY projects I did a few years ago. I also mixed in some modern with my white leather tufted headboard and my tall desk area.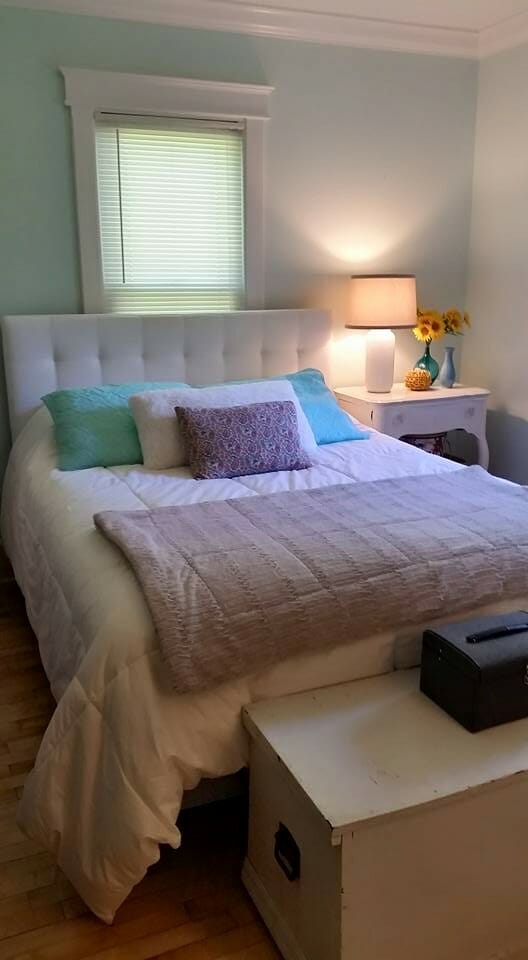 To see more of Rachel's work, check out her Decorilla design portfolio.
[images: bedroom purple accents, white kitchen, 3D renderings by Rachel]