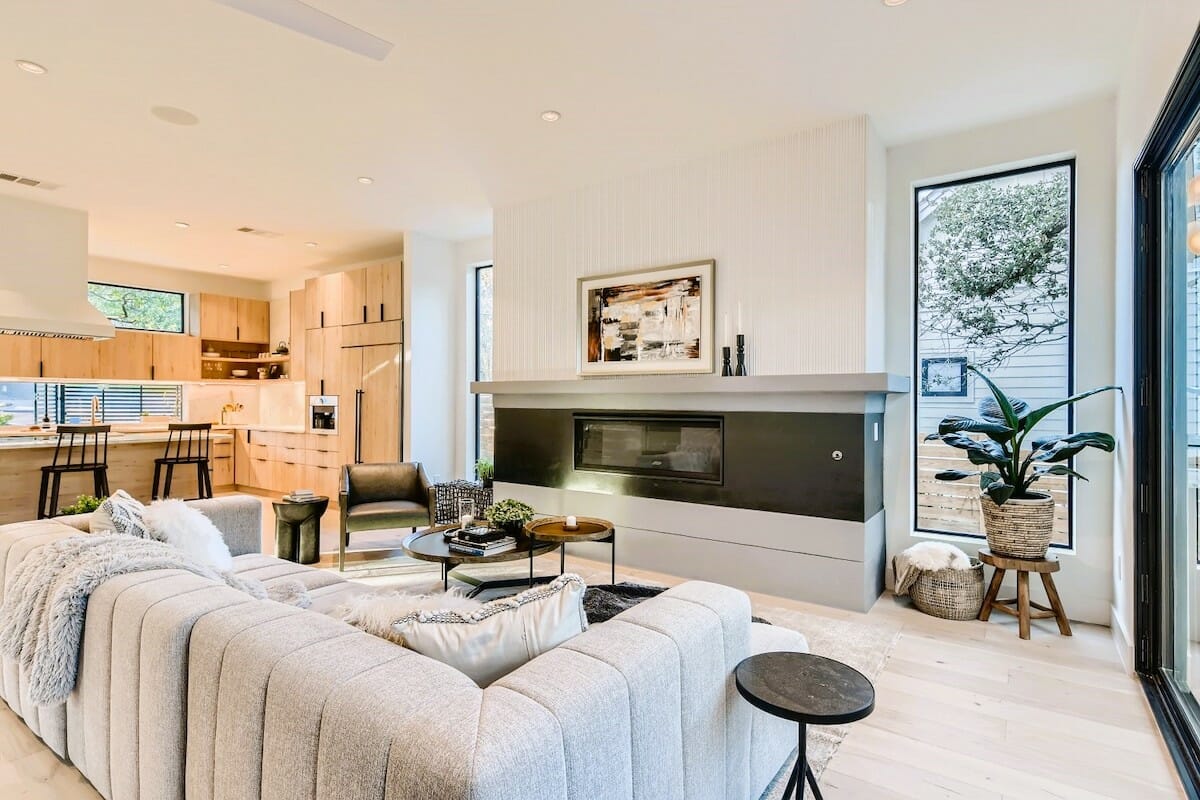 There's a lot of power in transformation, leaving some old things behind in order to move forward. Take this before-and-after design, for instance – it depicts a true art form, created through inspiration and dedication. Our designer authentically crafted the perfect decor to match not only the client's needs but also her character and lifestyle. So, let us take you on a journey through the steps involved in reviving a space and creating a chic contemporary townhouse interior design.
The Challenge: Contemporary Townhouse Interior Design
A recent Decorilla client was expecting a significant life change, moving from an apartment to a new construction contemporary townhouse. She turned to online interior design help  in order to ensure that everything would be just perfect when move-in day finally arrived. In short, her ideal designer had to be able to:
Help decide which existing items could work in the new interior design scheme

Furnish and decorate the house, including the entryway, contemporary open floor plan, and bedroom 

Establish a cohesive flow between all the spaces

Give the builder-grade home a touch of personality and character
Not sure if contemporary is the right style for your townhouse interior? Then take our

Free Interior Design Style Quiz

to find your personal style today!
Contemporary Open Floor Plans Inspiration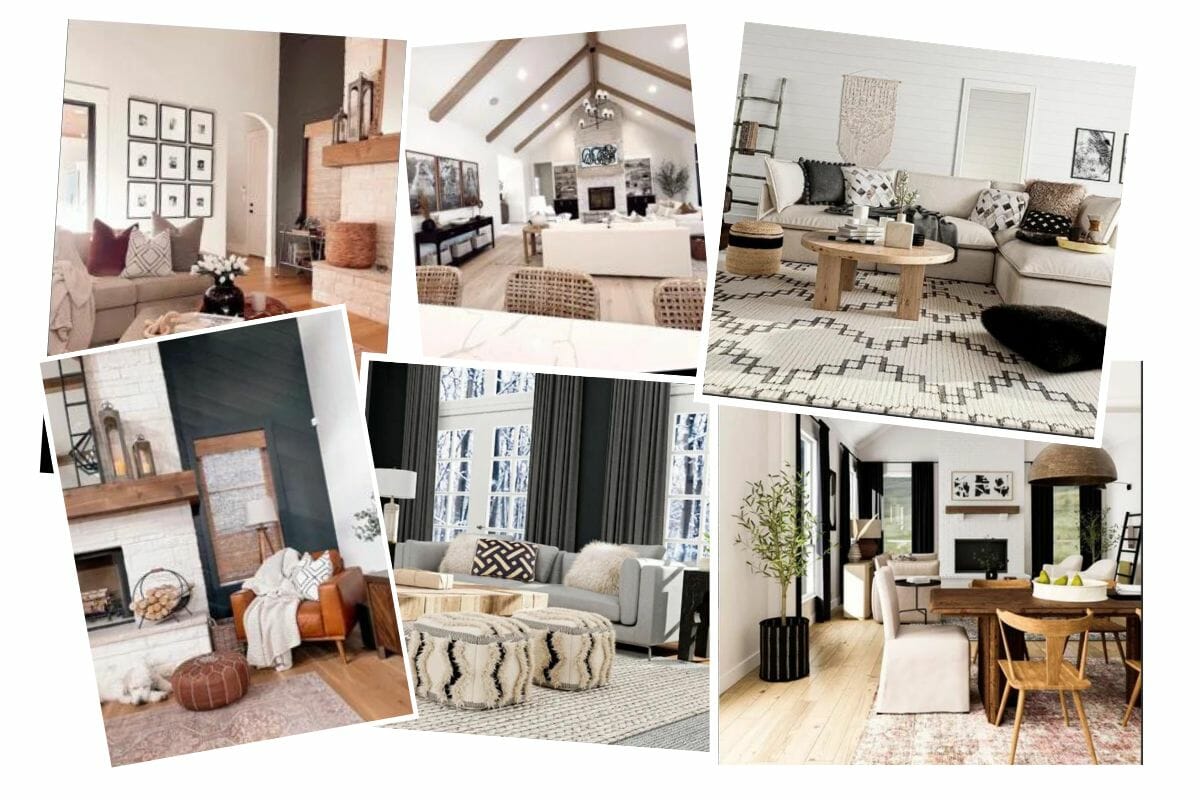 For their selection of inspiration images it was clear the client was after a contemporary townhouse interior design. Many of of the images showcased a seamless mix of modern and traditional elements. The gallery of stunning living rooms depicted soft curved design, neutral shades, and rich, textured surfaces. There were also a lot of beautiful contrasts highlighting a traditional-modern fusion in the furniture pieces – perfect for contemporary interior design style. 
Contemporary Townhouse Ideas & Moodboard
By taking advantage of Decorilla's interactive questionnaire, the client was able to effectively communicate their needs, habits, and preferences, allowing the expert designers to propose truly tailored concepts.
After receiving two equally attractive options from their chosen designers, the client had a tough decision to make. However, it was the contemporary townhouse ideas proposed by Courtney B. that ultimately ticked all desired boxes.
One of the keys to inviting interior design ideas is the perfect balance of light and dark, which Courtney's moodboard exemplified perfectly. It was consistently characterized by a rich, tonal color scheme promising an immersive atmosphere. The attractive setup depicted a comfortably stylish living space, perfect for curling up or entertaining. Together with curated accents, this was beyond the typical interior of contemporary townhomes – it boasted a fresh look with a tangible depth.

Contemporary Open Floor Plan Design Results

This contemporary townhouse interior design was all about creating an inviting atmosphere. As a result, the welcoming flair starts straight from the entrance, with a white, clean, and simple mid-century-inspired entryway. Freshly styled with simplistic yet elaborate details, the setup utilizes modern accents to elevate the feeling of sophistication and comfort.  
Each segment of this contemporary townhouse open floor plan easily captures the attention with its combination of modern and timeless elements. The living room zone showcases a soft-edged yet bold curvilinear design with crisp tonal palettes. The combination of light gray and dark orange gives just enough pop of color for a fresh perspective to a neutral scheme. Texture and contrast are brought in through layered contemporary living room furniture pieces and cozy staging around the fireplace. The ensemble creates a cozy environment for relaxing or entertaining. 
This trendy kitchen design depicts excellent contemporary townhouse decor with its combination of sleek elements. A dark dining table elegantly complements grey kitchen cabinets and light bronze accents. Sharp dining chair silhouettes with strong diagonals simultaneously ooze masculine vibes and muted whimsy. Deep charcoal curtains, an upholstered bench, and a striped area rug soften the space while a large abstract artwork brings some drama. Finally, the addition of a sleek chandelier completes the look in a traditionally modern fusion of bold geometric minimalism. 
Contemporary Bedroom Design
Following the rest of the contemporary townhouse interior design, this bedroom radiates the perfect balance of elements and contrasts. Combining industrial-inspired accents with soft neutrals effortlessly creates a luxe feel in the bedroom. The bold accents and muted tones here make a cohesive addition to the contemporary townhome decor. At the same time, they convey an amazingly serene, slightly unexpected atmosphere. 
From the white, grey, and beige wallpaper to minimalist textiles, this space is professionally curated in every detail. The choice of rich yet subdued materials elevates a contemporary townhouse design with sophisticated monochrome quality. In contrast, black wooden surfaces and patterned fabrics add an eye-catching edge without taking away from the overall impact of simplicity. 
An aesthetically pleasing combination of black and beige continues through decorative elements. A wall art triptych above the bed, for example, pairs with the overall soft flow but adds a strong twist with geometrical sharpness. Such juxtaposition elevated the scheme with a trendy, uber-chic touch, as a more modern take on the classic monochrome look.
Contemporary Decor Shopping List
Decorilla's innovative interior design process offers an effortless way to achieve your dream home. That includes handpicked furniture and decor options showcased in captivating 3D visuals, complemented by comprehensive implementation guides and expert tips. Furthermore, the shopping lists provided in the package grant access to exclusive trade discounts. In short, homemaking has never been more seamless or trouble-free. 
Top Picks for Contemporary Townhomes 
With a focus on clean lines and rich textures, contemporary townhouse decor blends classic and modern elements seamlessly. Here are some pieces that could elevate your space to the next level with a refined touch.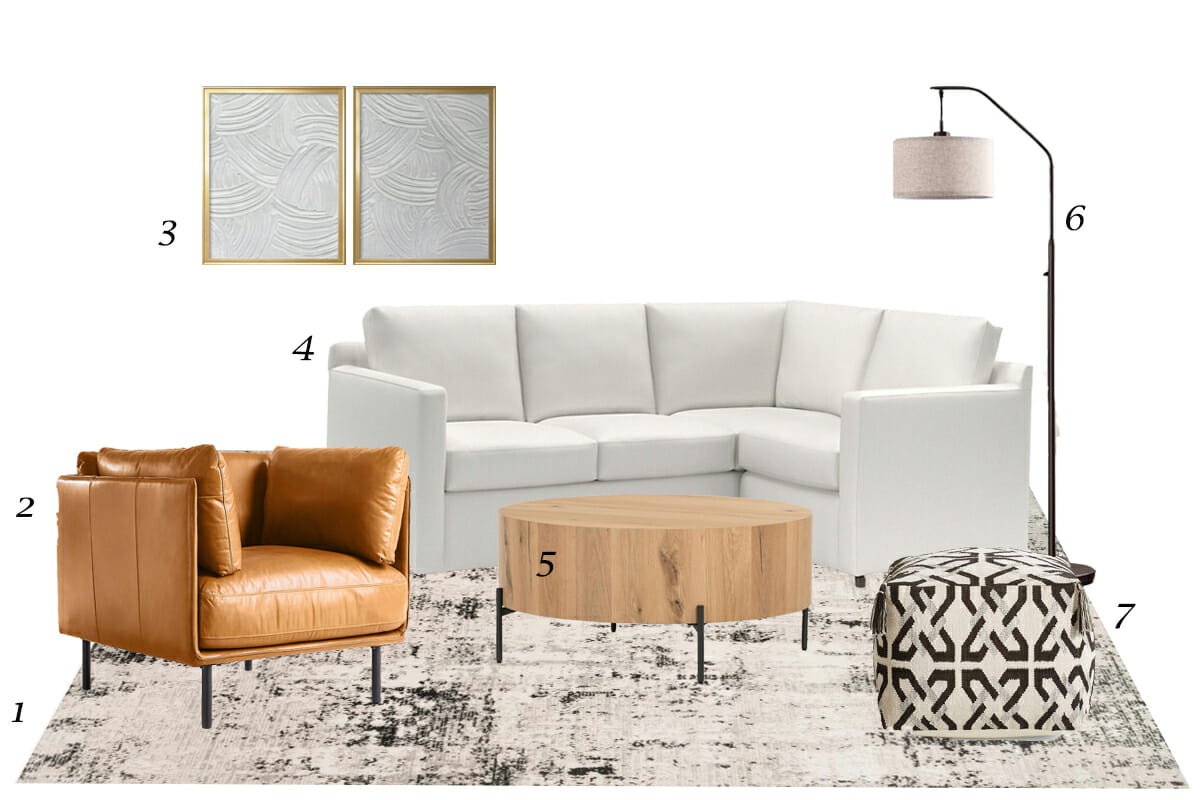 Want to revamp your contemporary townhouse interior design?
Decorilla offers unparalleled design expertise that ultimately delivers your dream home. So, Schedule a Free Interior Design Consultation to start your project today!