Modernizing a living room can be challenging especially when you're working with the traditional design of an older home.
A young family of four came to us wanting a multi-functional and modern look for their 1940's living room. They wanted contemporary accents and a fresh light color palette. With contemporary style in mind and wish to entertain guests, their goals included:
redesigning the fireplace

updating the lighting

showcasing unique decor pieces

keeping the overall look white
They wanted to find an interior designer to meet their needs while staying within an affordable budget.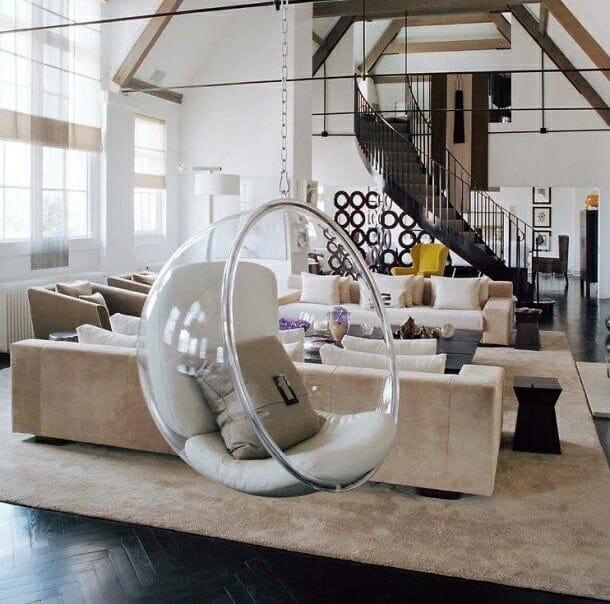 (Project inspiration photo)
The red brick fireplace lacked the sleek look they desired. The existing wall color and out dated window treatments also screamed for a fresh look.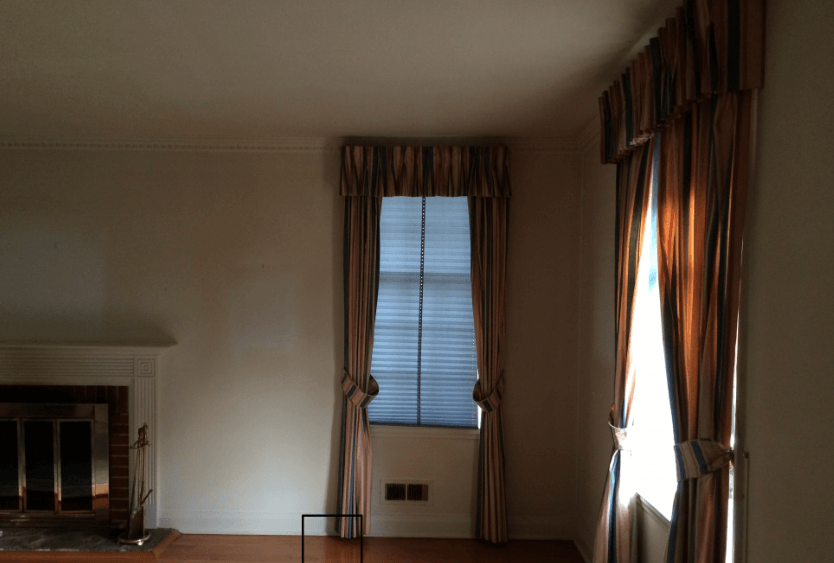 Thankfully, Decorilla San Francisco interior designer, Picharat A., interpreted their vision first through a stylish concept board followed by a realistic 3D model that helped them visualize the design and avoid costly design mistakes!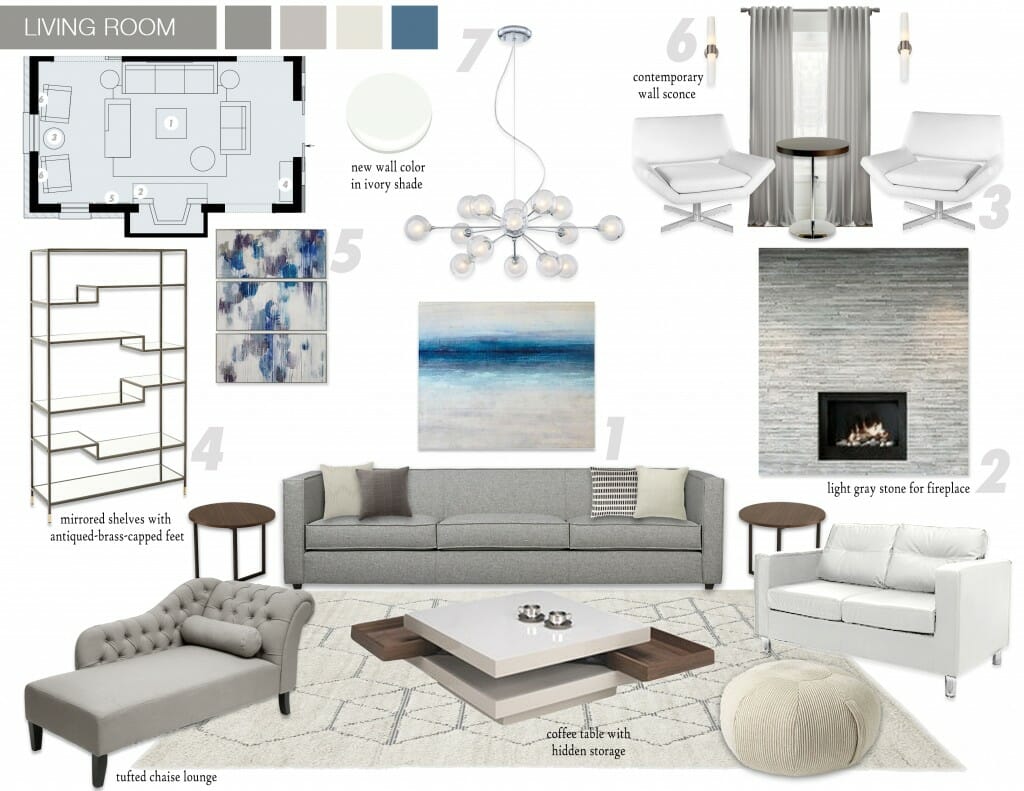 "Wow! It has come out very well. We really liked the decor and overall design of the room." ~Nitin
Certainly, a fresh coat of paint and modern furniture are instrumental to shifting the style of a room. But, it is in the decor accents that a design truly takes form and offers that 'WOW' factor Ninit expressed.

What are some key accent pieces that define a contemporary style? Below are a few inspired by this living room design:
1. Focal point
Most room designs have a focal point that shouts out the style of the space. Whether it is a large mirror, chandelier, entertainment center, or fireplace, your room's focal point is the first place eyes lay on. Ninit wanted her fireplace to demonstrate the feel of the room. Picharat's suggestions? Marble tiles + a small cluster of iron circlets. Together these give the area a modern, sleek look with geometric elements.
TIP: Less is more. When styling a fireplace mantle, you do not need to fill it to make impact.
2. Art
Wall art is the piece of decor that most obviously defines a style. Here several abstract paintings bring attention to the room's color palette and offer visual interest.
TIP: Not knowing where to start with a room design? Consider choosing your art first. Go with pieces that speak to you; your color palette and style will follow.
3. Lighting
To meet Ninit's need of wanting something unique in the room, Picharat recommended this crystal and chrome pendant from Lamps Plus which gives the space definite glam!
TIP: Take into account how many light sources your room will have. Opt to make an impression with either the pendant, sconces, or table lamps. 
Transitioning into a different design style doesn't have to be overwhelming. The tips above are a great start to creating your contemporary room. For more assistance, setting up a consultation is a great way to jump start your dream design.
[images: Decorilla]
Written by Christine M., designer