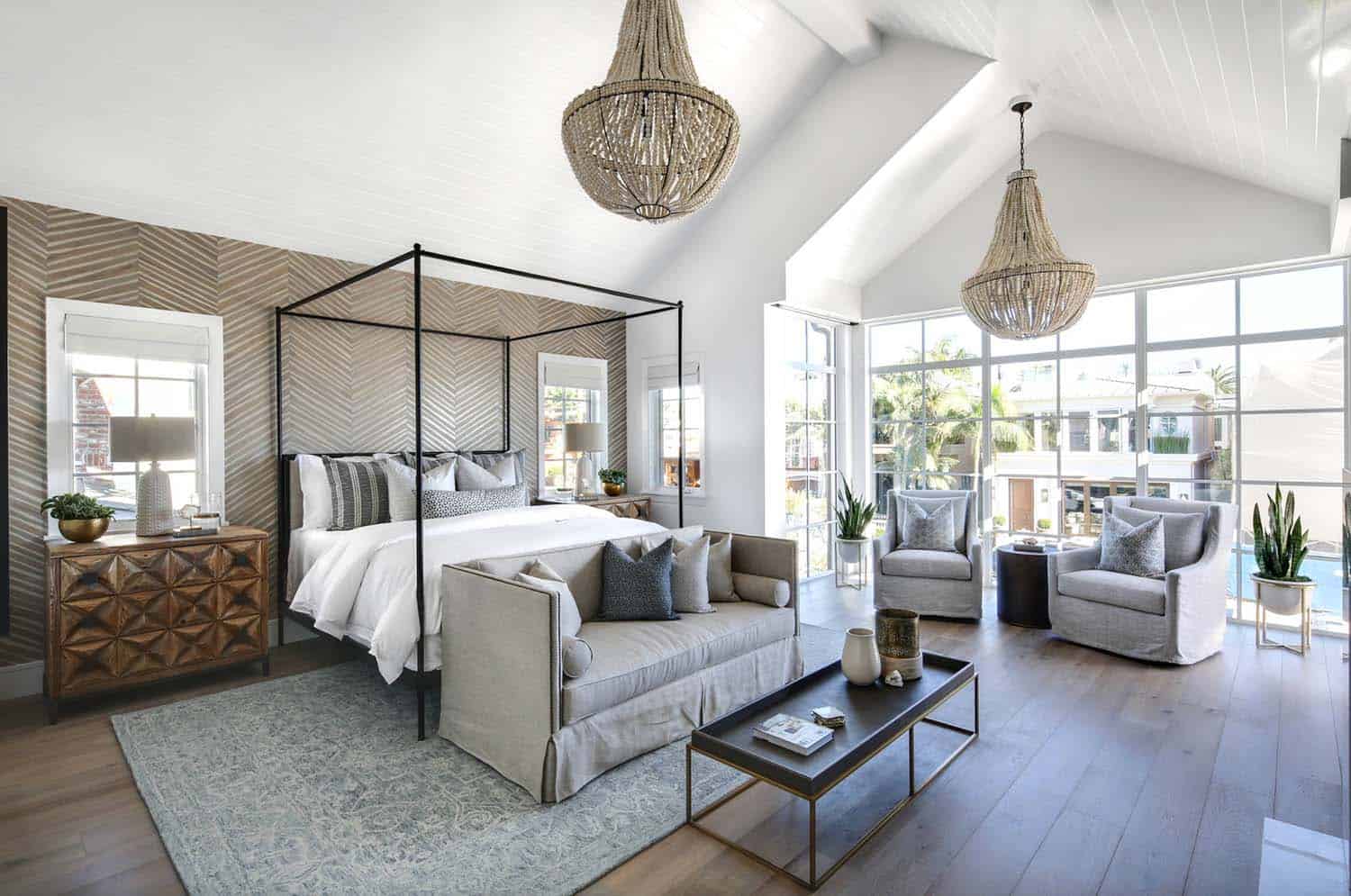 Ever feel like you need a relaxing place to call your own and escape from the stresses of everyday life? The bright, airy, sophistication and comfy vibes of a coastal chic bedroom can offer just that. And that's exactly why one recent Decorilla client chose this interior design style to create an at-home sanctuary in her master bedroom! Read on for an inside look into the transformation below. 
The Challenge: A Coastal Chic Bedroom Design Online
The beauty and coziness of a coastal chic bedroom goes beyond words. However, when dealing with a small space having the help of a trained professional can go a long way in finding the perfect layout. Achieving this mesmerizing look for a recent client involved a few challenges for the designer. 
A warm, tranquil and coastal vibe.
An efficient layout for a small room that didn't make the space feel cluttered.

Allow the optimal amount of sunlight inside – light blocking window treatments that still looked airy and breezy. 

Lots of storage to keep the room fuss-free. 

A lounge area or corner to watch the television or read a book. 
The Inspiration: Coastal Chic Decor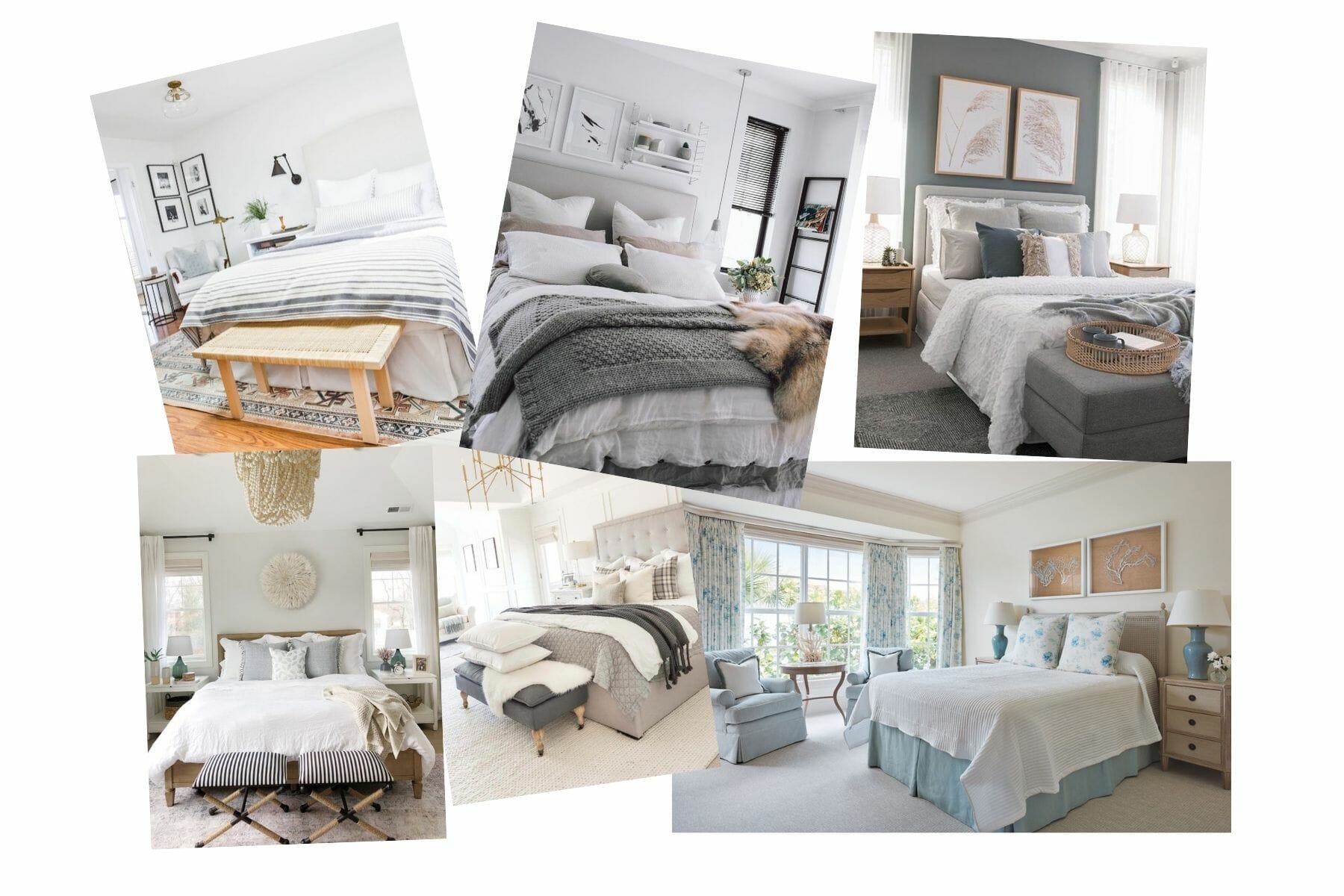 Interiors with a relaxing vibe and coastal chic style filled the clients inspiration. She had a clear image of how she wanted her bedroom to be, the color palette and touches of beach chic decor. She wanted a bright space that was warm and welcoming, some extra storage and a seating area. Having this precise design brief made things simple for the designers to portray their creativity. 
Not sure where to start with your own coastal chic bedroom sanctuary? Schedule your Free Online Interior Design Consultation to get started with the finest interior designers today!
The Beach Chic Bedroom Design
For starters, the client received two well thought out design concepts each in the coastal interior design style. However, she decided to transform her bedroom into her long-awaited retreat with the expertise of  Decorilla online interior designer Eda B. She presented a space that offered a dream-like airiness and ticked off all the boxes for the client, including the much-desired lounge area. 
Eda's design was crisp, clean and chic. Simple elements filled the room, thus, making it look sophisticated while maintaining a casual feel. The designer was also able to include existing artwork to bring the room together. With a few minor tweaks to the initial interior design moodboard the client and designer were well on their way to revamping the room. 
The Coastal Chic Bedroom Design Online Result
The transformed coastal chic bedroom looks like pure heaven on earth. The light tones and neutral hues make the small room look more spacious than it is. Eggshell finished paints give a glistening luster to the wall in a suave manner. In addition, these plain walls act as a blank canvas and allow the beach chic décor to take the center stage.
For coastal bedroom furniture, it is important to stick to natural materials and finishes. The wooden chest and TV unit intentionally bring a rustic look to the bedroom, bringing in the casual feel. The cotton upholstered headboard gives a statement look with a touch of sophistication. Breezy linen window treatments with a blackout lining are a perfect way to control the inflow of light. 

Another great way to soften the space and achieve that coastal charm in the bedroom is by placing a lush area rug. For instance, you can place a rug under the bed but allow it to extend beyond the bed. A bench can be a total show-stealer as it helps in achieving that resort-like elegance perfectly. 
Most importantly, accessories speak volumes when it comes to coastal chic décor. Tropical themed décor works well, but be careful not to overdo it and risk becoming tacky. Lush linens and pillows in a variety of textures were used to get a cozy bed. While a few jute and rattan accessories look raw and bring a beach-like vibe to the space. In addition, the look was pulled together with existing palm prints and delivered the much-desired coastal chic bedroom. 
Before the Change
Initially, the bedroom looked a bit dull and drab and just needed a refresh to bring some life into the space. Moreover, the dark color tone made the room feel smaller than it actually is. However, online interior design helped the client in achieving the perfect coastal chic bedroom that she always dreamed of. Now the bedroom looks simple, sophisticated, and bright. 
The Beach Chic Decor: Online Shopping List
Every online interior design project includes a shopping list along with exclusive Decorilla discounts! This coastal chic bedroom was designed keeping in mind the preferences of the client and what she wanted the master bedroom to feel like at the end of the day. Through online interior design help, realistic renderings, white glove shopping concierge and a helpful implementation guide the client was able to bring the coastal chid bedroom sanctuary of her dreams to fruition!
Shop the Coastal Chic Decor
Are you completely in awe with this coastal chic bedroom and want to give yours a quick beach-y makeover too? The most important feature in modern coastal chic décor is the color palette. Stick to neutral shades like white, beige, grey and blue. Use natural materials that have a unique texture to give depth to the space such as jute, cotton, linen, and wood for example. Furthermore, here are some of our top picks that will help you bring the relaxed feel of coastal chic to your bedroom. 
Design Your Own Coastal Chic Bedroom 
Dreaming of your own coastal chic bedroom sanctuary, but not sure how to pull the look together? Then, schedule a Free Online Interior Design Consultation to get started with the finest online interior designers today!

[Images – 1]