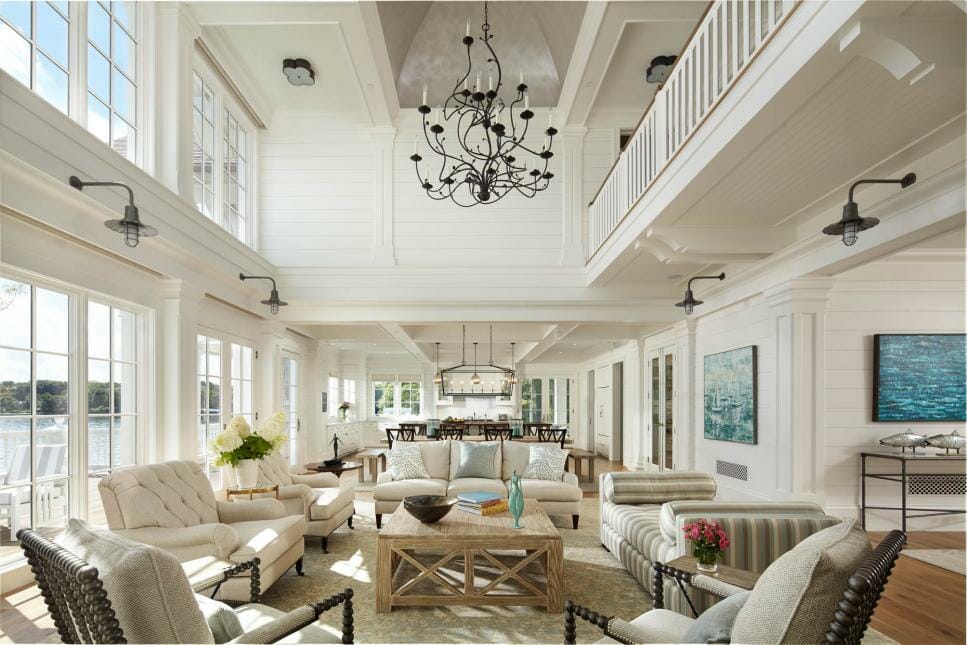 When moving house, we get a fresh new start. You can reimagine your living space and reinvent yourselves in the process. However, it can be quite a daunting task, which is precisely why one recent client turned to Decorilla. The result is a must-see transitional great room design – read on for the reveal!
The Challenge: A Classic and Elegant Great Room Design
Having worked with Decorilla before, the client knew what difference online interior design could make. For this project, he wanted a transitional great room, one equally upscale and inviting. Some of the old had to stay, and some had to be replaced to add a modern twist. Although the client worked with us before, the designer still had to tackle a unique set of challenges:
Keep the carpet, drapes, and wall color as they are
Decide which furniture to keep
Decorate and furnish to complement the kept pieces
Change the seating arrangement for a cozier atmosphere
Refine the existing decor
Not sure where to start with your own great room design? Then, schedule your Free Online Interior Design Consultation to learn more about your design options today!
The Inspiration: Transitional Great Room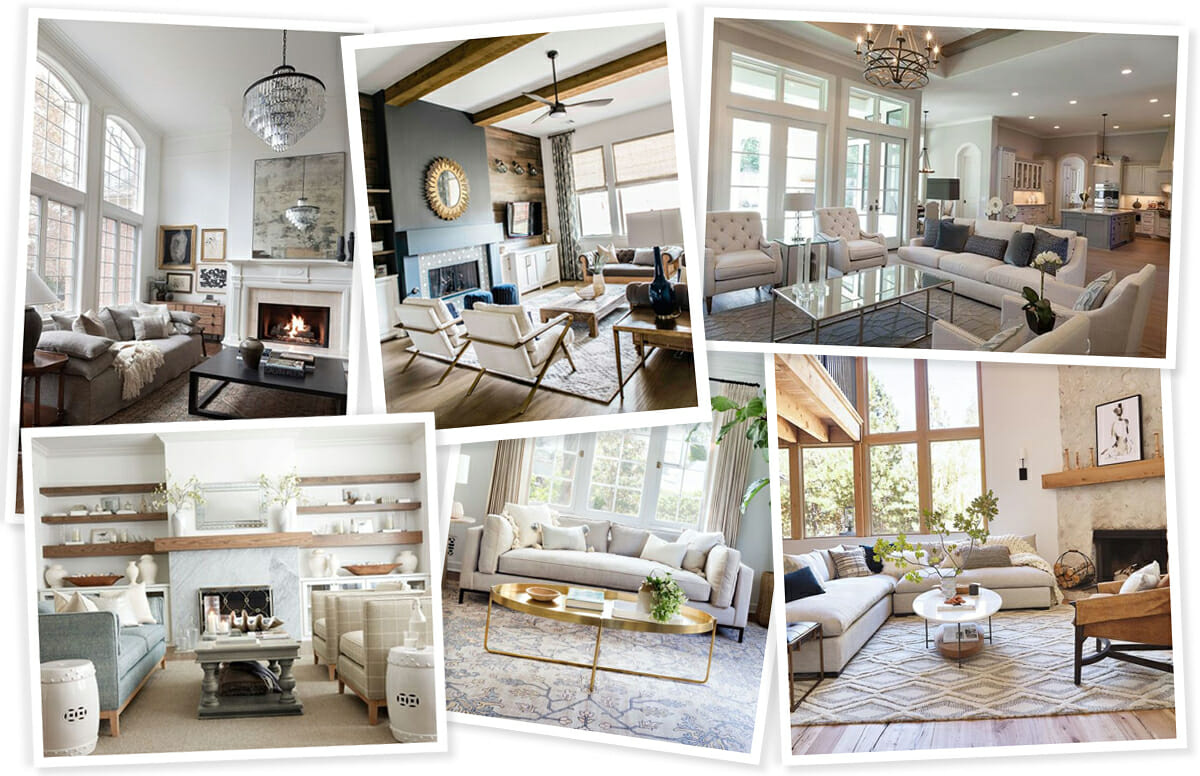 Transitional interior ideas combined with a neutral palette, metallic accents, and soft textures filled the client's inspiration. He leaned towards sophistication and subtle grandeur for his great room design as it would be the first guests see when they enter his home. Simultaneously, it needed to be comfortable and casual enough for quality family time.
The transitional design accomplishes this beautifully, as his great room ideas show. Light colors and a seamless blend of old and new pieces certainly result in a relaxed yet chic environment. These also include great room fireplace ideas, which truly lend themselves to this style of design and a lofty room.
The Transitional Great Room Concept & Design
Two Decorilla designers each created a mood board to give the client different options for his transitional great room. Rachel H's luxurious yet minimal concept proved the favorite, specifically because she kept timeless sophistication in mind.
In her proposal, Rachel set the tone for a transitional design with a mix of contemporary and traditional furniture and by adding defining décor, like aged ivory relief plates above the mantelpiece. She suggested keeping two original armchairs and a console table and moving them to the large window where most of the room's natural light filters in.

For her design, Rachel sticks to a neutral color palette, while lighting key accents and adding a new white sectional couch. She also introduces color by keeping the amber ottoman table and adding blue hues through a large rug and a long bench sitting in front of the mantlepiece. To fill and balance the great room layout, Rachel adds a statement-piece console that also provides more room for ambient lighting and existing decor.
With 3D renderings, the client could get a complete picture of his final great room design. They also allowed him to ask questions or request any changes before finalizing the design.
The Transitional Great Room Design Result
The result is calming, luxurious, and boasts a classy yet cozy atmosphere. A soft grey palette sets the tone, while pops of tan and cool blue hues sweep through from the drapes to the scatter cushions. The added tactile and aesthetic rug texture softens the room even further, inviting guests and family to lounge away in conversation.
With a neutral color on the walls and carpet, the contrast of a few metallic and colorful accessories creates a lively yet classic quality.
The great room layout makes it possible to enjoy company or to simply read a book by the natural light streaming in from the window. Additional artificial light sources are not only practical, but they also accentuate decor of the room that would otherwise be silhouetted in front of the large window. Through its strategic placement, the large mirror above the feature console table reflects natural light, reaching even the furthest corners of the transitional great room.
One of the most impactful additions to this transitional great room is the wall-lined console table sitting across from the fireplace. Its neutral brown breaks the grey color scheme just enough to transform the empty wall. Some of the client's existing decor is highlighted here with two warm-colored lamps and a splash of green, while his blue ottoman further carries the blue hue through to this corner.
Finishing Touches: Hues, Textures & Glows
Every aspect of this great room design complements each other, from the textures, hues and glows. The rug, ottomans, cushions, and tactile throw bring the blue hues together while the blue vases on the mantlepiece and console table also add welcome bright pops of color.
Two metallic candlesticks, which mirror the brushed nickel lamps across the room, frame the mantelpiece. Their symmetry and the varying heights add visual interest to the tall walls and balance to the great room layout. Other silvery accents add a contemporary touch, specifically the arched standing lamp and mercury candle bowl on the coffee table.
Stone plaques above the fireplace pick up the warmer hues of the coffee table and drapes, while the artwork ties all the lighter shades together, including those of the white flowers. The result is a harmonious interior that features cool and warm tones, perfectly balanced to create a chic, welcoming look. As this project illustrates, combining existing pieces with contemporary décor results in a sophisticated transitional design.
The Great Room Design Shopping List
Each Decorilla project comes with a detailed online shopping list that specifies product dimensions as well as hard-to-beat discounts. It also comes with a step-by-step guide for implementing the design at home. Moreover, if the client needs additional assistance, the interior designer can offer advice and insights on perfecting the room.
Design Your Own Transitional Home
Add a touch of grandeur in your home with our favorite transitional great room décor and furniture picks below. One or two changes can make a world of difference in any interior, more so if it's a family room in need of some love.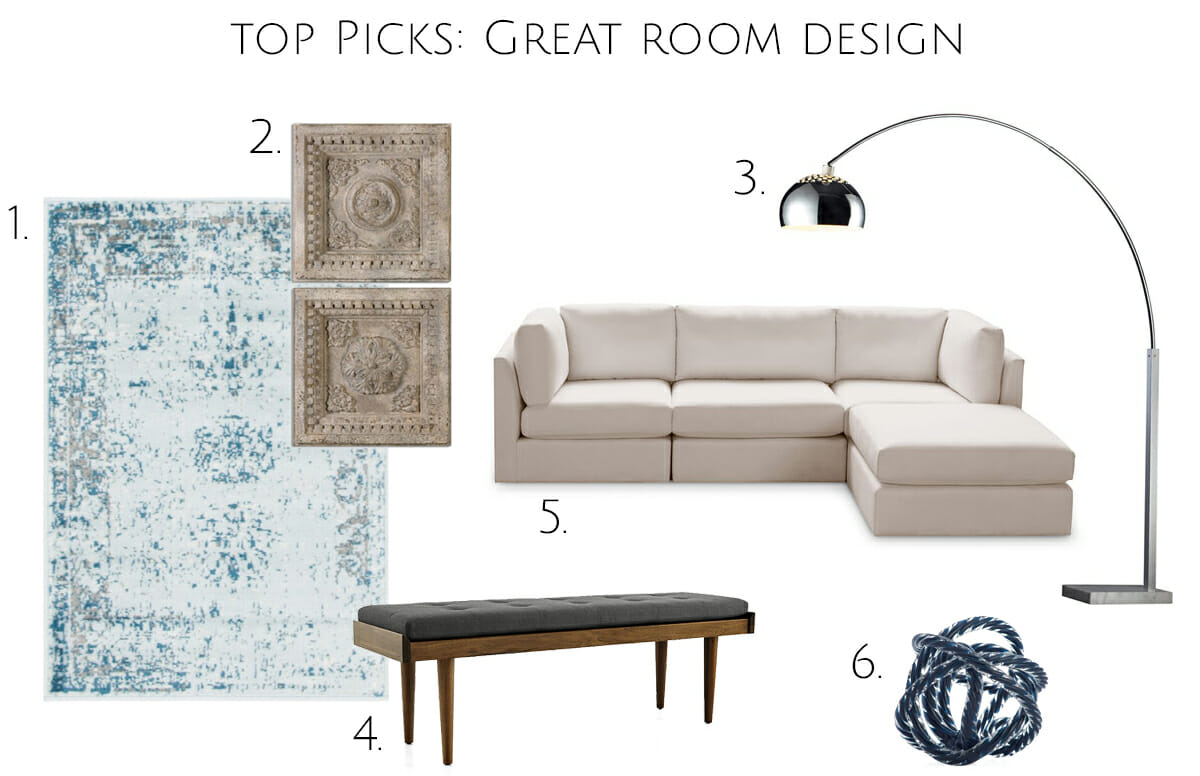 The best part about transitional great room design is it can happen gradually. Do you feel inspired to put a spin on some of your most-loved decor pieces? Even the smallest items can punctuate your living room, while bigger replacements provide a fresh and sophisticated start.
Feeling inspired to refresh your own great room design, but not sure where to start? Then, schedule a Free Interior Design Consultation for expert assistance from the finest interior designers today!

[images: 1, Decorilla project images]