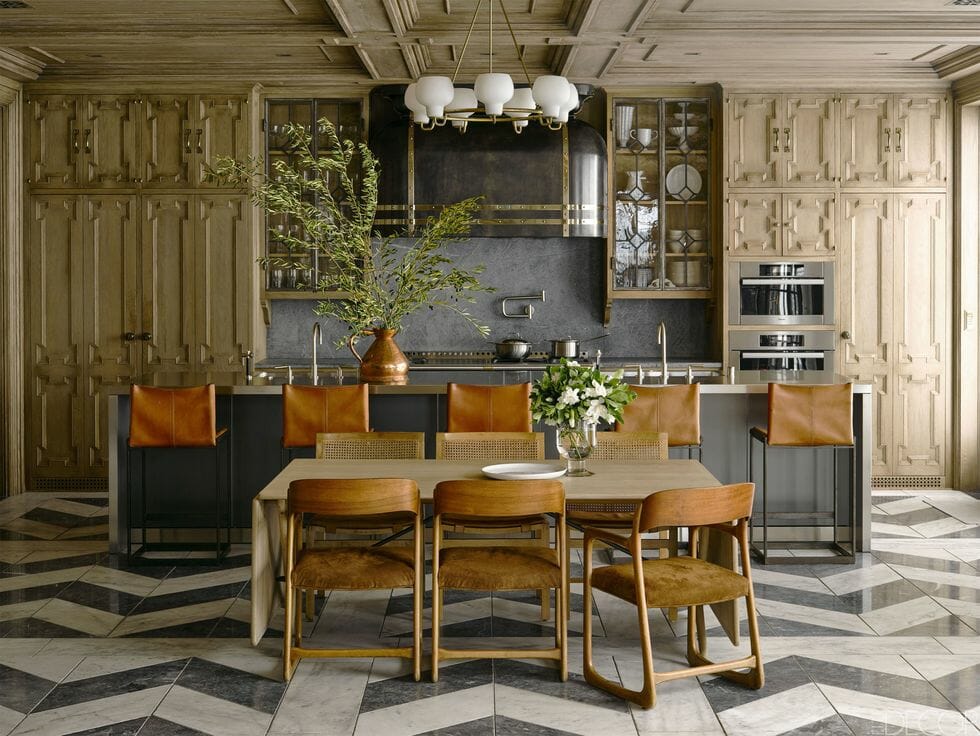 Not many things feel so inherently homey as the rustic kitchen style does. Natural materials, lots of wood, country-style kitchen cabinets – all create an inviting hub of the home for the family to gather around. It's no wonder that a recent Decorilla client wanted just that for their recent remodel. Read on for the charming rustic kitchen results you'll be sure to love!
The Challenge: Rustic Kitchen Remodel
Rustic design is all about natural materials, wood features, muted earthy colors, and, above all, domestic warmth. Most style elements are – or look – aged, rough finishes are desirable, as well as accentuated natural textures. The feeling is typically casual, with a certain degree of traditional flair.
This particular client wanted a modern rustic style kitchen design with just a hint of coastal flair. Considering that their favorite colors were blue and white, the task was seemingly straightforward. However, several details required special attention: 
Replacing the existing peninsula with a rustic island

Creating a built-in bar topped by country style kitchen cabinets instead of a conventional dining table 

Convey an overall lighter feel of the kitchen design
Interested in updating your kitchen, but not sure where to begin? Then, schedule a Free Interior Design Consultation to get started with a professional kitchen designer today!
Modern Rustic Kitchen Remodel Inspiration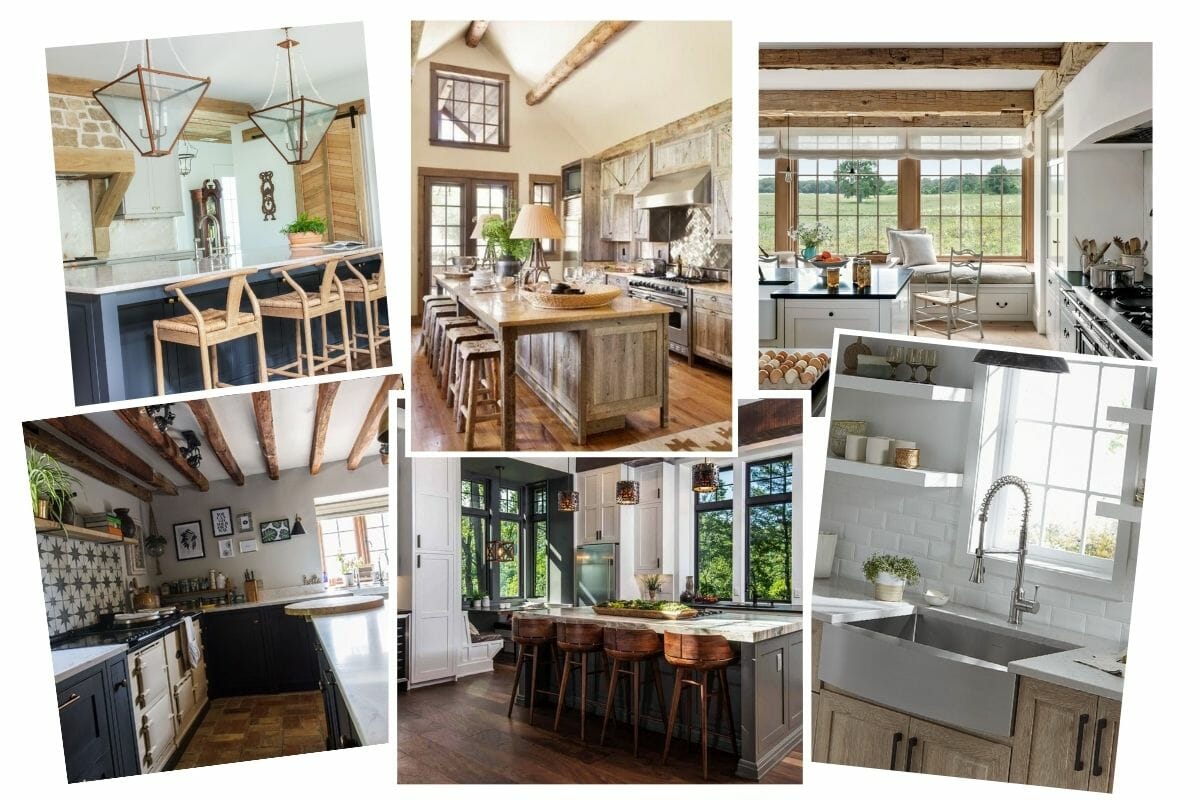 The initial rustic style kitchen plan seemed quite functional. Alongside visual refreshment, the client's wishlist also included the installation of new appliances, such as a double wall oven, door-in-door refrigerator, and an exhaust fan over the stove. The absence of ample pantry and overall low storage space required a solution that is both creative and efficient. In short, the project needed to start from scratch and build the whole room again.
Modern Rustic Style Kitchen Concept
One of the major assets of engaging with the Decorilla design team is having a choice between two completely personalized solutions from different designers. In this case, both moodboards looked tempting; hence making the right choice was not easy. Finally, the client gave advantage to the design plan composed by Wanda P, so they proceeded to develop the details further.
Weathered wood with highlighted natural patterns is one of the staples of a rustic kitchen design. It can be incorporated in any possible way, from beams and trims to individual pieces of furniture. Still, the abundance of timber details can be overwhelming and produce a somewhat dark and heavy atmosphere. The solution lies in juxtaposing white or light neutral shades, sleek and strong accents, and pops of color. Wanda's theme was in line with all the rules, with white walls and blue accents.

Rustic Style Kitchen Result
The contrast between gray oak and white kitchen cabinets added visual dynamics to the space, conveying a bright and airy feel. Considering that the room receives most daylight before noon, the solution seems even more reasonable. The lighting design also  provides ample illumination to the space with recessed ceiling lights and industrial-inspired pendants for added task lighting.
Furthermore, a variegated blue and white backsplash and royal blue counter stools bring just the touch of the breezy coastal feel the clients were in search of. An attractive fridge from the client's favored range stands as a functional focal point, well-paired with a custom barn door for additional oomph effect.
Rustic Island With a Pop of Color
Following the client's vision, Wanda opened the kitchen up, replacing the existing peninsula with a counter-height rustic island overlooking the living room area. A drop-down desk was included for added convenience, ready to double even as a mini home office space.
Practical, easy-maintenance porcelain tiles were the client's floor covering material of choice—the type that mimics genuine wood blended beautifully with the rest of the design. Finally, rough hewn wood finishes and blue accents completed the coastal rustic vogue. The textured area rug tied in the color palette and brought everything together perfectly.
Before the Change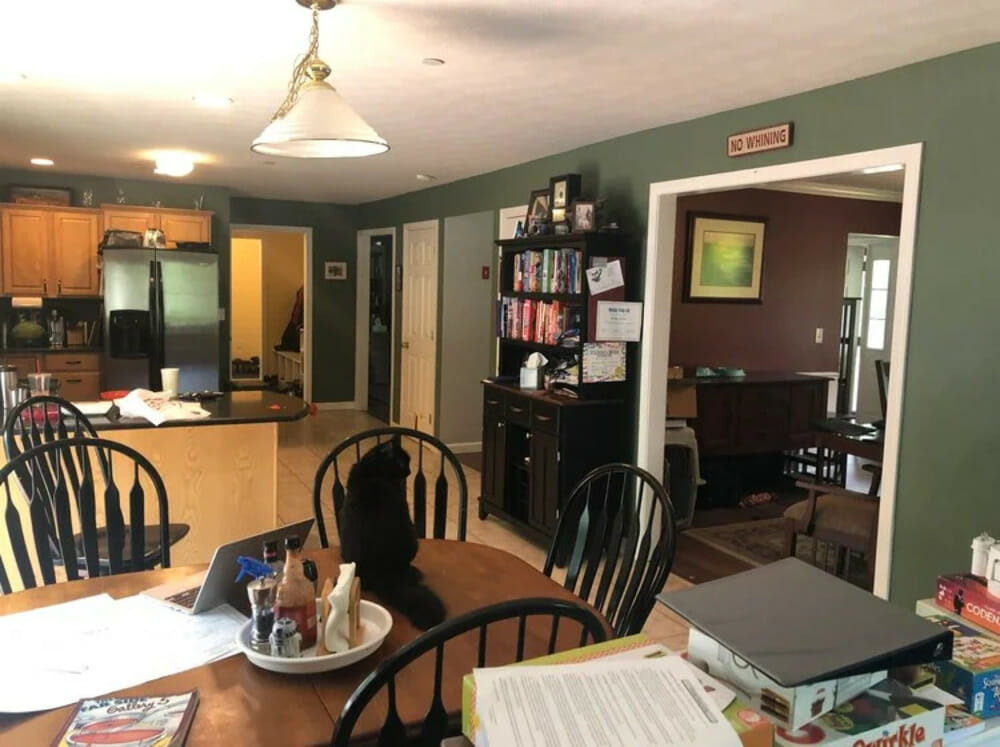 Before the rustic kitchen remodel the space previously lacked a cohesive design and even felt a little dated. The layout wasn't working for the family with the peninsula prohibiting the flow of traffic in and out of the space. In addition, the clients were in need of more storage solutions for a more refined space.
Online Shopping List With Rustic Kitchen Decorations
Decorilla design packages include a plethora of advantages. Among other details, they all come with a tailor-made, detailed shopping list. That is not all: exclusive trade discounts are also on the table. To ensure maximum convenience for the client, a white glove shopping concierge takes care of everything from ordering to delivery.
How to Compose a Rustic Style Kitchen
If you are thinking about refreshing your existing rustic kitchen decorations, here is a small list of our favorite picks.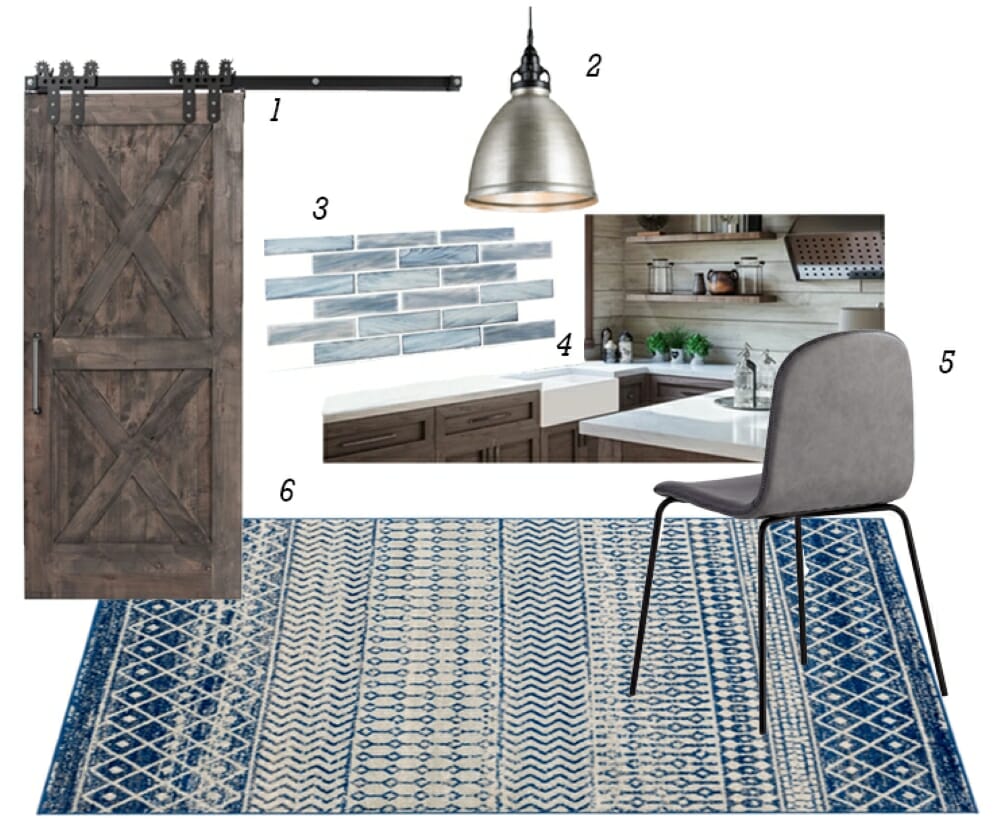 Get Your Own Stunning Kitchen Remodel

Feeling inspired to refresh your kitchen, but just not sure where to start? Then schedule your Free Online Interior Design Consultation, and let's turn your vision into a stunning reality today!


Sources: [1, Decorilla project images]