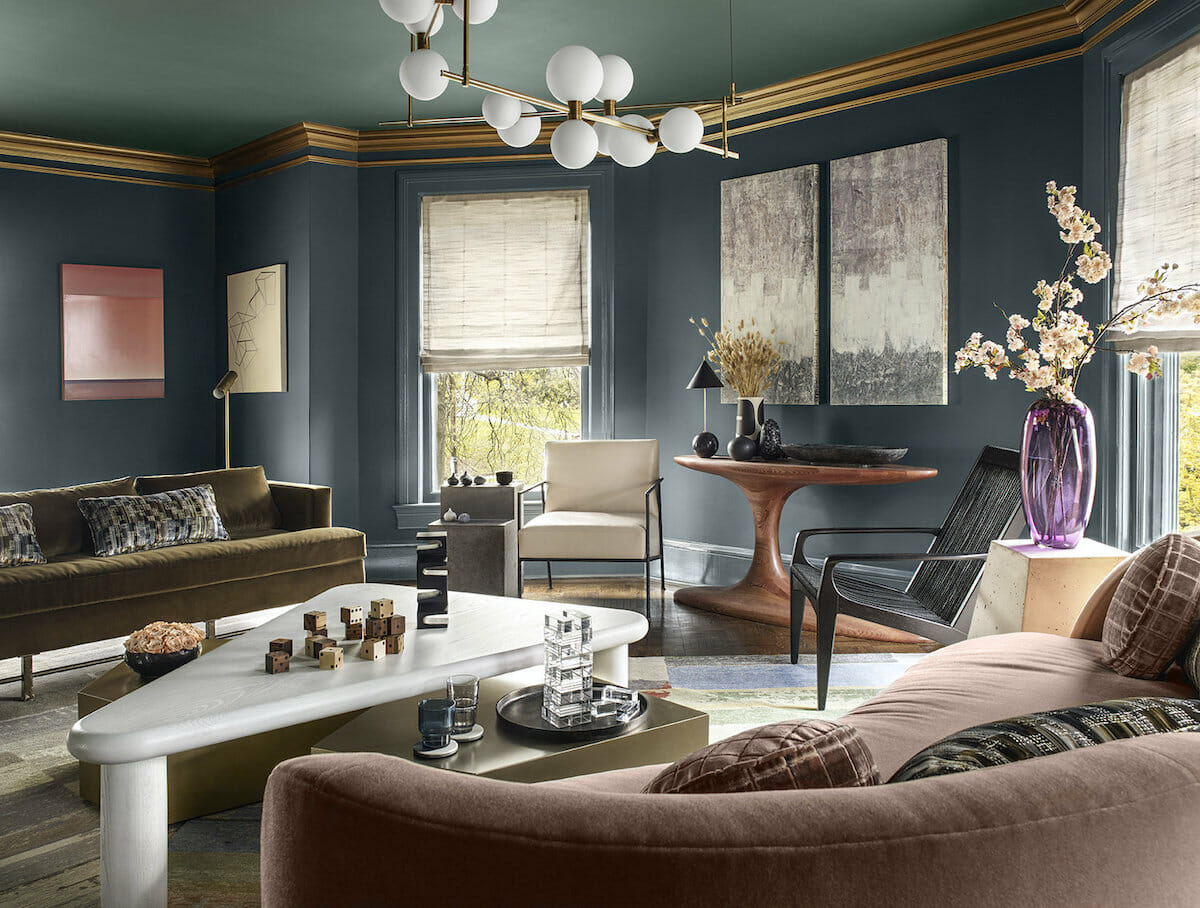 Eclectic glam uses bright colors, bold patterns, and luxurious materials to allow homeowners to express their individual sense of style. And this is exactly what a recent Decorilla client had in mind for her formal living room. She just needed someone who could help her embody that vision. Read on to see how our team created an eclectic glam living room that became a unique and eye-catching space! 
The Challenge: Eclectic Glam Living Room
The client was looking to remodel their entire living space. One room of the project encompassed a stylish moody-lounge area where they could entertain friends and family in a more formal setting. There were no specific requests regarding the furniture types. In fact, the diversity was seen as an asset, as long as everything would come together cohesively. However, they wanted the designer to: 
Design an elevated room geared towards adults

Choose a vivid wall color to create a bit of moodiness

Ground the vibrant eclectic interior design with some neutral shades

Help the clients visualize the potential transformation
Not sure if eclectic glam is right for you?

Then, take our

Free Interior Design Style Quiz

to discover your unique decorating style today!
Glam Living Room Decor Inspiration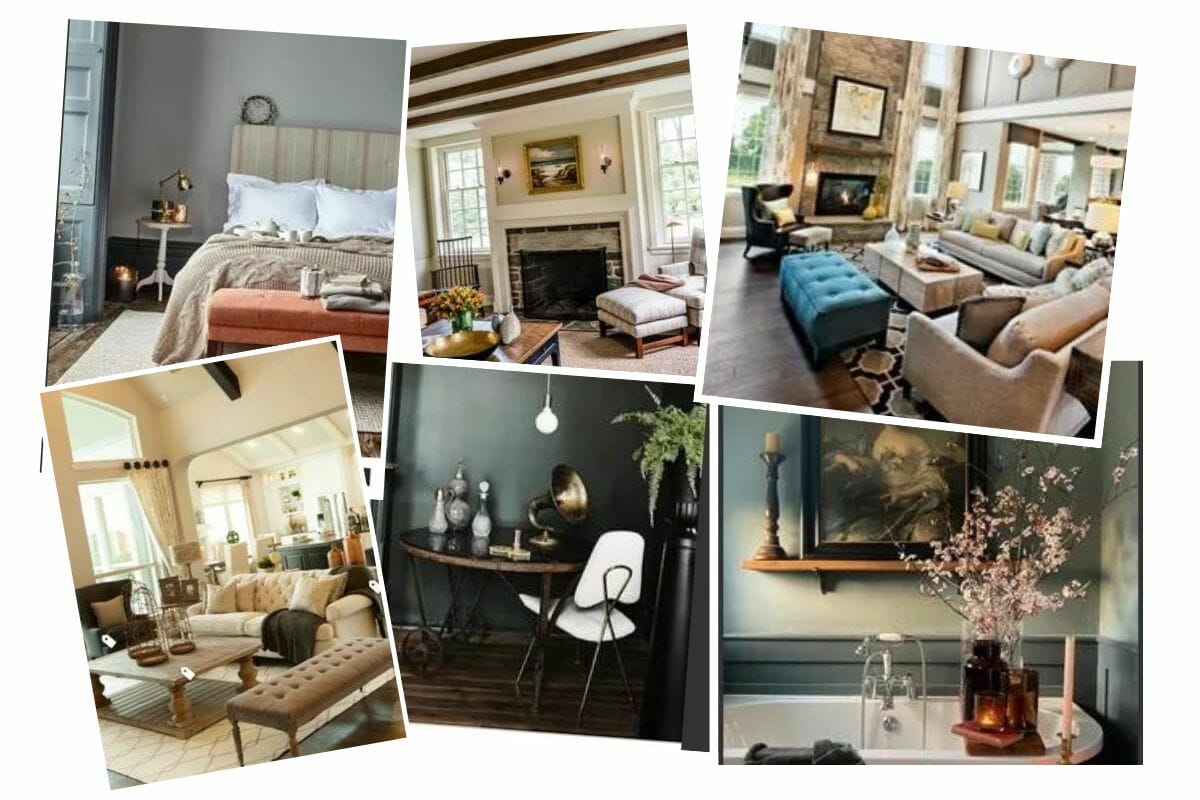 Eclectic glam living rooms are characterized by the combinations of various elements that create a cohesive but glamorous look. The abundant inspirational gallery the client provided clearly expressed their love for the style. It displayed lavish interiors, dressed in luxurious fabrics, metal accents, and glass decor, with each piece adding its own distinct touch of glamour. All rooms felt cozy and inviting while still maintaining an air of sophistication.
Eclectic Glam Decor & Moodboard
As part of their online interior design process, Decorilla connected the client with two suitable designers, inviting both to create a unique vision. It was hard to say which of the two moodboards was more on point. Each contained a genuine mix of different styles and eras, with a focus on luxury and glamour. In addition, both focused on antiques, vintage-inspired furniture, and lavish fabrics. However, the decision had to be made, so the client picked the solution proposed by, Marine H. 
Marine's visual interpretation of the client's wishes was a unique, stylish living space. It incorporated a lot of different textures to convey a sense of elegance and depth. Velvet, leather, brass, and different kinds of wood were just a few of the materials in the concept board. Meanwhile, some carefully chosen features took care of the room's functional side.

Eclectic Glam Interior Design Results
Marine's overall goal to create a welcoming, cozy and stylish space was a success. She mainly stayed within the limits of a neutral background, spicing it up with contrasting accent details. An array of textiles feature in the rug and mixed selection of armchair upholstery – delivering rich textural layers. Meanwhile, the strategic layering continued in the window treatments. Marine paired luxe olive green velvet curtains over a set of light and airy sheer ones. As a result, the homeowners were able to easily control the light coming into the room and set the mood as they wish. 
A stylish clover-shaped bar cart elevated the entertaining function of the room – putting drinks on display while being easily accessible. At the same time, its brass finish complimented the wall sconces and chandelier, further enhancing the overall glam factor. The sculptural quality of the fixtures perfectly matched with the sizable abstract art piece. As a result, the room wasn't short on any visual appeal. 
Meanwhile, there was plenty of practical space to set drinks or lay down a book on the drum coffee table and moulded side tables. In addition a large credenza spanned the wall, offering some much needed storage. Finally, adding a few finishing touches like potted plants, candles, and vases made the space feel more livable.
The Living Room Before the Change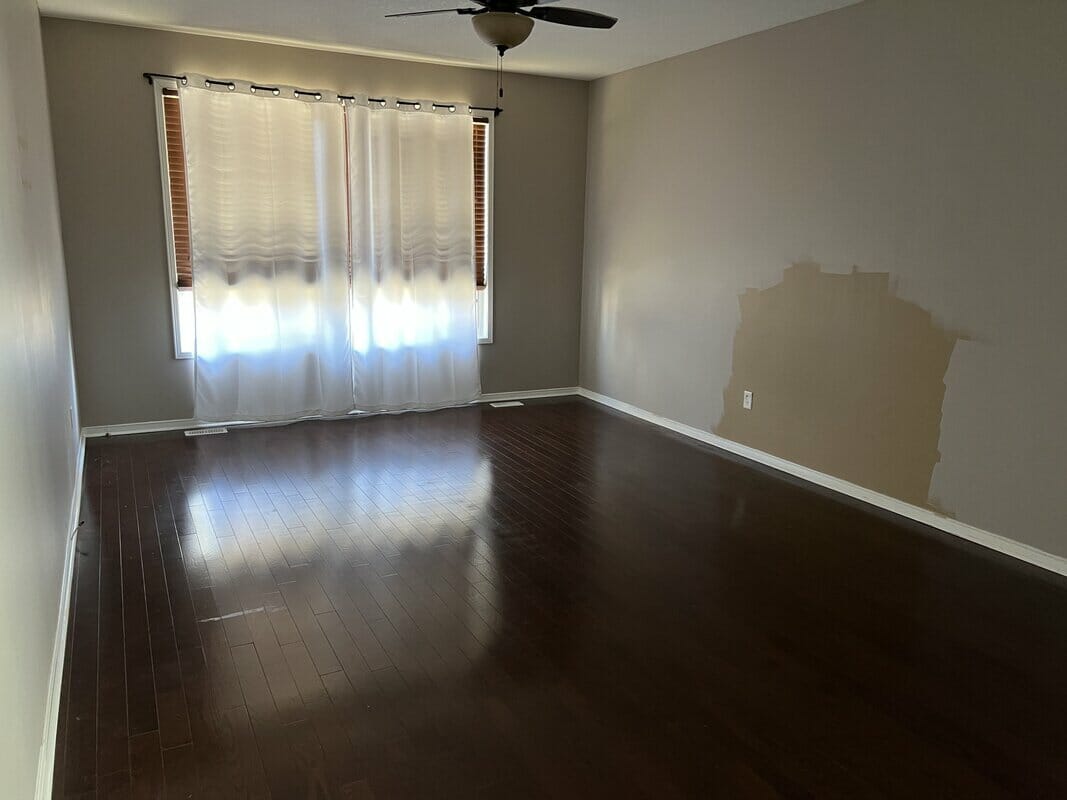 The original room was empty and neutral – ready for a dramatic glow-up. While the client was cautious about making it too bold, they also understood the need to liven the space up. By incorporating color, texture, and glam living room decor, the designer achieved a perfectly balanced aesthetic ready for hosting friends and family. 
Eclectic Glam Decor Shopping List
Decorilla online interior design projects include many benefits to make getting your dream space as easy as possible. Among client favorites are photorealistic 3D visualization, a helpful implementation guide, and a personalized shopping list. Decorilla designers will curate all the items you need and also sweeten the deal with exclusive trade discounts. Not to mention all the details of ordering, tracking, and delivery are handled by the a dedicated shopping concierge service!
Eclectic Glam Living Room Top Picks
Whether you already have the appropriate style in the room or have just started working on it, we have a few pieces that could jazz things up.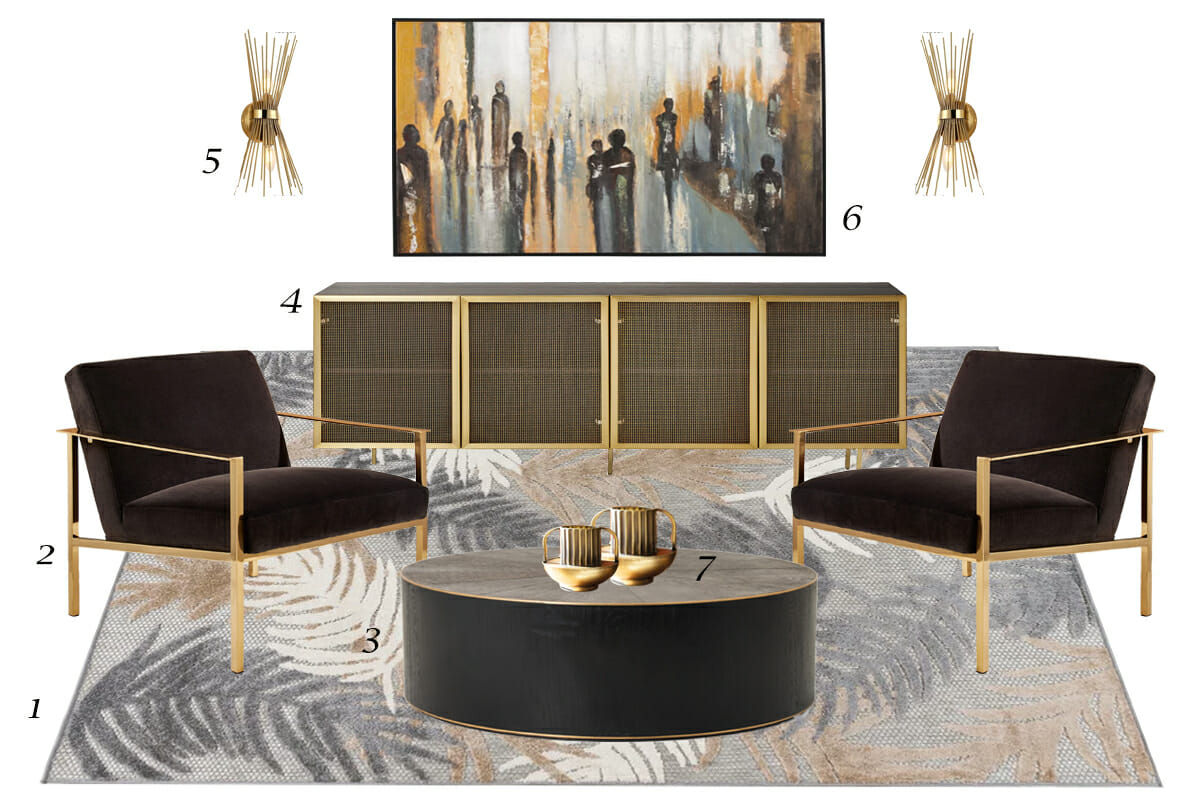 Ready for an eclectic glam living room tailored to your taste?
Our team of industry leading interior designers can help create your dream room! Schedule a Free Interior Design Consultation to get started today!

Featured image: [1]