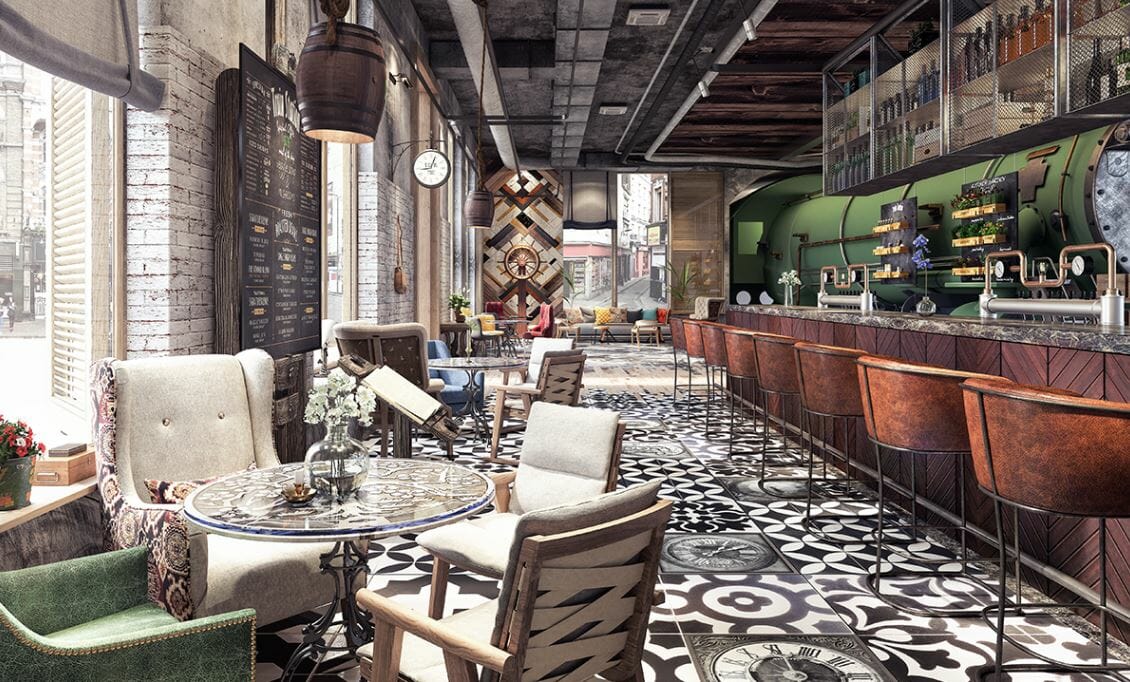 Whether stopping for a quick cup to-go or taking time to sip a favorite espresso drink, coffee shops are regular destinations of our daily lives. Good coffee is a must, for sure. But, an attractive coffee shop design is key in drawing repeat customers. This is what recent Decorilla clients focused on when seeking online commercial design help. The result? A transformation from outdated and uninspired to refreshed and alluring.
THE CHALLENGE: FRESHENING UP COFFEE SHOP DESIGN
Opened in 2015, this was the second coffee shop location for the owners in Tanzania. Their goal was to freshen up their brand by incorporating inspiring coffee shop design styles. To do this, attention was given to the following challenges:
revamp the outdated look with inspiring modern elements and an eclectic twist
create a cohesive and appealing color palette with bright pops
make the outdoor area more useful and inviting to customers
integrate plants throughout the coffee shop design plans
offer a floor plan that optimizes space with comfortable seating and great lighting
With a new coffee shop design, the hope was to create a space that customers would love to spend time in again and again.
THE INSPIRATION: ECLECTIC COFFEE SHOP DESIGN IDEAS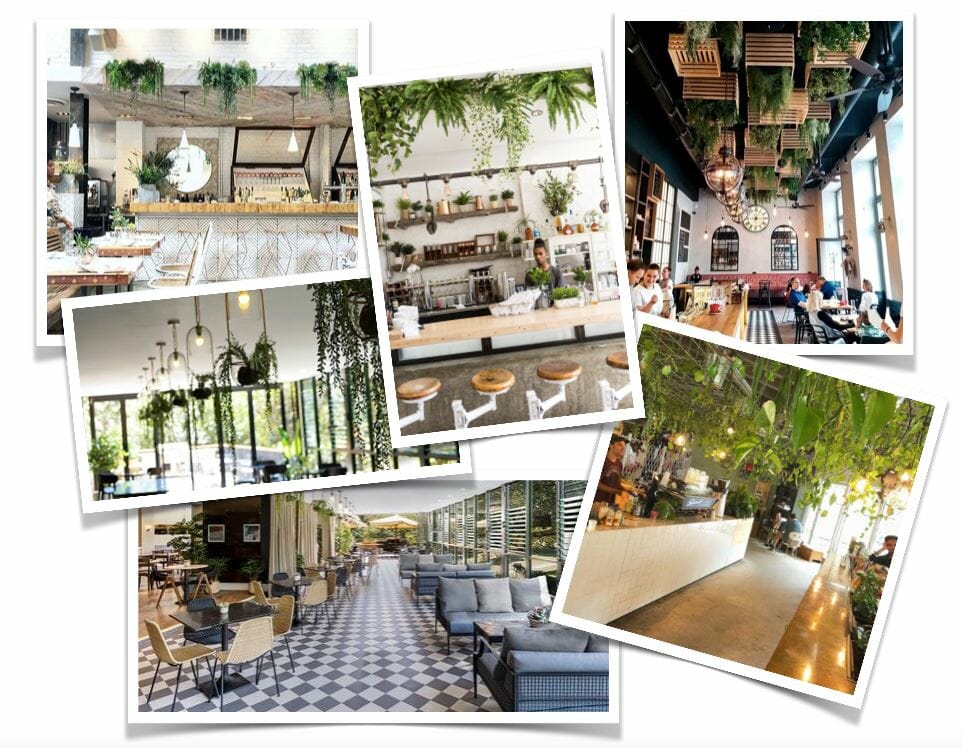 The clients wanted a coffee shop design that felt light and airy as their location is near the beach. With hanging botanicals and a few pops of color, the space would feel invigorating. Inspiration images illustrated this type of look that also embraced eclectic elements through materials and patterns. With these and measurements, the designers were ready to put together new coffee shop design ideas.
THE ECLECTIC COFFEE SHOP DESIGN
After reviewing the proposal and modifications of designer, Sonia C., the clients happily approved the final design. The change in the color palette to neutral tones with cheerful pops of green and yellow made for a distinct shift in energy suitable for a beach location. Using varied materials like wood, rattan, and leather adds interest to the space. Tables and chairs touch on both contemporary and boho styles. These eclectic touches are also found in the mosaic stick tiles that give a hint of global design.
And, then there are the plants…so many plants! Hanging, potted and integrated on the patio wall, they add an organic touch that is both calming and inviting. A unique decor piece comes in the form of the hanging plant vase pendant lights. Their brass finish adds a nice metallic element to the design. Both lighting and a vase, these pieces are functional and beautiful! As part of the varied light fixtures throughout the space, they contribute to a cozy and attractive ambiance.
THE ONLINE COFFEE SHOP RESULT
This is a project where the before and after images are jaw-dropping. One of the first design distinctions is found in the intentional layout of the space. Designer Sonia C. takes the floorplan of lined up tables and chairs and designs a creative alternate. A multi-seat bench cleverly frames the window while sofas and lounge chairs bring in living room comfort. A side counter offers a seating option for remote workers to set up with their lattes. In the patio, a hanging rattan chair gives this coffee shop a casual vibe.
To make the most of the patio area, the plans have several 2 person tables that open the space up. Concrete flooring updates the overall look easily and Sunbrella panels offer shade in a more contemporary way. Simple bulb pendants and sheer curtains add wonders to this coffee shop's plans.
Much of the allure is found in the details. Things like swapping out the stale looking chalkboards for white and black menu boards uplift the design to more modern. Having black and gold-domed pendants offer a nice metallic glow. Tiled table tops mirror the base of the coffee counter for consistency in design. And, area rugs are found both inside in high traffic areas to add softness to the flooring and noise absorption. Plus, they throw in a bit of pattern.
DESIGN YOUR OWN SPACE WITH AN ECLECTIC TWIST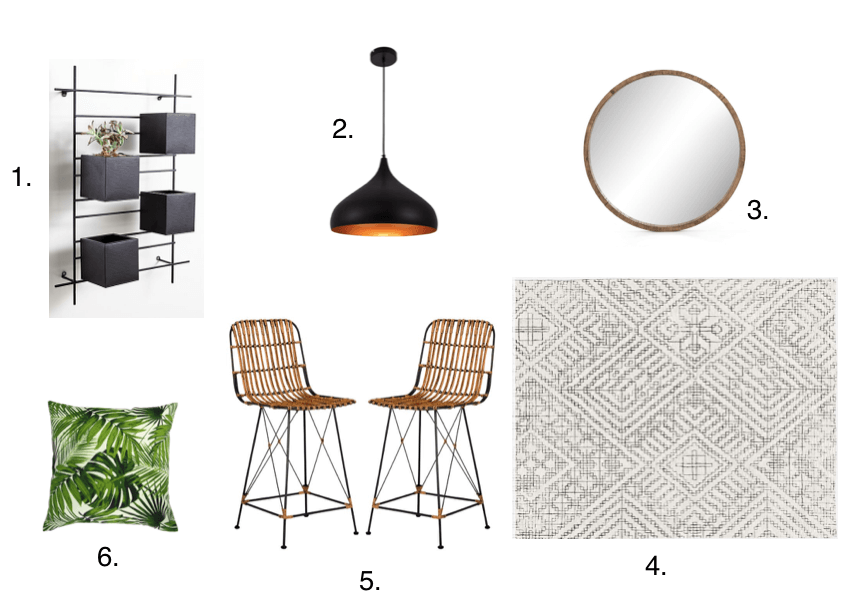 As far as coffee shop transformations go, this one gives a true buzz! A combination of coffee shop ideas turned this space from sleepy to energized. Whether a commercial or residential space, we can help revamp your space too! Schedule your Free Interior Design Consultation with Decorilla and get started today!

[images:1, Decorilla project images]