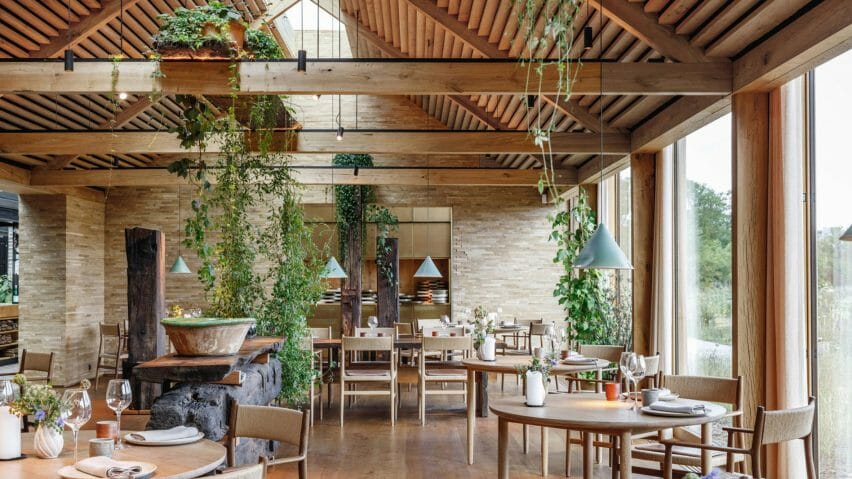 Few things beat a delicious cuppa in the morning – especially in a homey boho interior with a view! One recent client's business property had a stunning seascape but needed all the rest. Fortunately, her small cafe interior design would come to life soon. She wanted a neutral yet attractive design where her clients would feel comfortable. That's why she turned to Decorilla! Read on to discover the boho-style reveal. 
The Challenge: Cute Cafe Interior Design 
The client wanted her coastal cafe interior to stand out from others in her area. It only needed professional insights and beautiful online business design ideas. The client not only wanted a boho-style interior for her brand, but also a place for her friends and clients to relax. So, to create something both cozy and inviting, the designer had to:
Incorporate neutral tones and natural materials into the small cafe interior design

Combine different textures to create depth and definition

Choose practical yet informal seating for a laidback air

Designate a section for 

retail interior design

 within the cafe

Include refreshing touches of greenery

Choose modern lighting to complement the cozy cafe interior  

Ensure there is enough space for clients to walk comfortably between seating areas
Not sure if boho style is the right look for your cafe?

Then, take our

Free Interior Design Style Quiz

to discover your unique decorating style today!
Inspiration for the Boho Style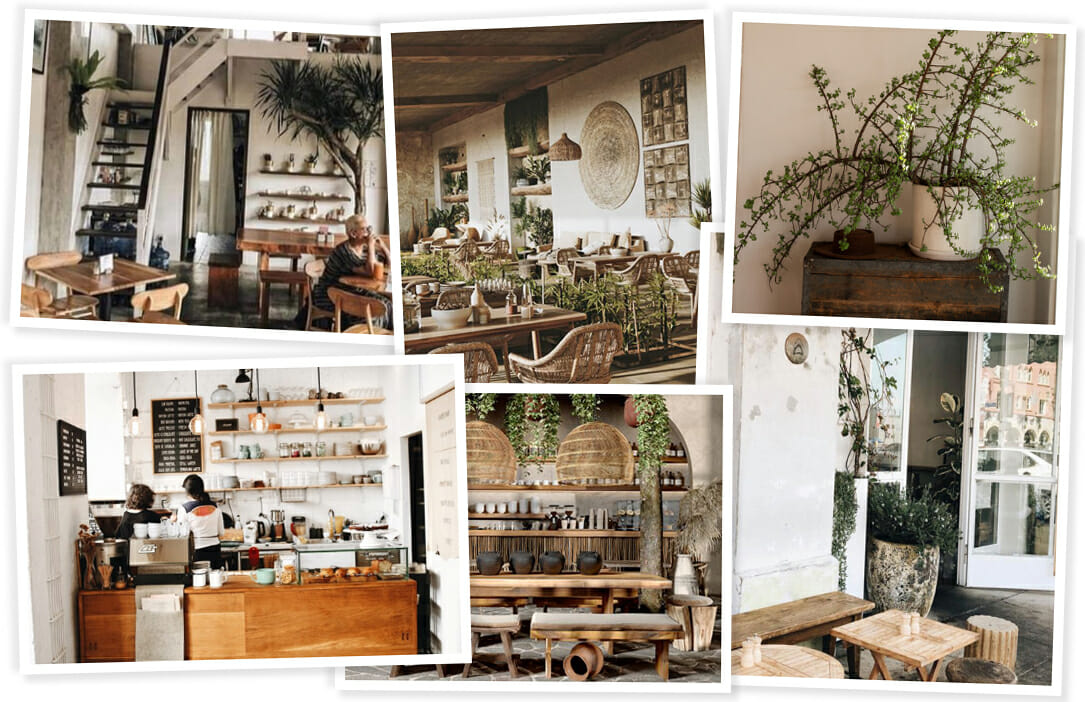 An organic color palette dominated the client's inspiration gallery. Similarly, the boho furniture had earthy textures. It was clear that client-friendly seating was of great importance. Equally important was the feeling of a bright and pleasant space. The boho décor of choice, natural wood, and plants, created a cute cafe interior.
Moodboard & Small Cafe Interior Design
The Decorilla online interior design process was simple. Once the online interior design quiz was complete, the client and team had a virtual meeting to set specifics. With the client's vision in mind, the Decroilla design team could pinpoint three excellent designers. These designers were sure to provide top-class boho-style designs because they've had success in similar projects.
Although it was tricky to pick, the client opted for Liana's design. Her proposal incorporated a balance of the free-spirited theme with practical furnishings. Texture, color, and shape govern her design, with a natural feel overall.

Cozy Cafe Interior Result 
In the end, the cafe is instantly relaxed and inviting. From the neutral color scheme to the natural boho furniture – this small cafe interior design is bohemian perfection! The space looks instinctively assembled but holds a strong feeling of harmony too.
Cafe Ceiling & Lighting Design
The cafe ceiling design is rustic and creates an intimate air. It acts as a drop ceiling that has a dual function. On the one hand, it emphasizes the bar area while drawing guests in with its coziness. Next, rustic wood branches add to the organic appeal of the cafe. It also warms the concrete setting.
Similarly, the lighting in the cafe creates an inviting glow. Eco-friendly pendants and small spotlights dot the faux ceiling. The effect is a play on light and shadow, forming a unique atmosphere.
Layout & Boho Furniture
The cute cafe interior has two seating areas. One is a typical bistro setup, with wicker wishbone-style chairs, unfussy tables, and a bar area. While the other is a relaxed lounge furnished with comfy armchairs and rustic coffee tables. Both spaces feel laidback and welcoming while serving different roles.
The bistro seating allows enough space between tables to ensure easy and smooth foot traffic flow. In the adjacent area, comfortable armchairs are positioned so that the area is more intimate for groups or events.
Uplifting Boho Style Décor
Though minimal, the boho décor has great impact. All elements are natural in form and neutral in color. Pops of green invigorate the space, bringing a beautiful contrast to the woody base of the small cafe interior design. Sticking with the organic theme, the stone tiles and wooden accents complement the limewashed walls.
Cute Cafe Signage & Interior Shelving
Wall-lined open shelves neatly display the retail space. These shelves are not only pretty, but also practical. Something as easy to organize and clean is essential in a busy environment like a cafe. Bohemian-style items are on show, adding to the allure of the cafe's interior. On the opposite wall, the cafe's signage adds a unique decorative touch. Together, they tie in with the overall relaxed look and feel.
Before & After: How did the designer change the space?
At first, the eatery was bare and needed a radical transformation. It had nothing but concrete walls and great windows overlooking the coast. Fortunately, this space would take on a whole new look with boho-style interior design ideas.
The space needed a purpose. And so, the redesign began creating a cozy, relaxed get-together hub. This was done through bohemian-styled décor and furnishings. Overall, these pieces complemented the coastal context of the building. Light, airy, and calm – the space became any visitor's favorite cafe to relax with a cup of coffee.
First off, the base got a coat of neutral gray wash to set the tone for a contemporary meeting spot. There is also a feeling of cohesion thanks to the warming wood complementing the cool structure. The green armchairs make the lounge area feel tranquil while tying in with the scattering of plants. Moreover, the rustic wooden elements in the bistro section add artistic delight and offbeat beauty.
Online Shopping List for a Boho Cafe Interior
Every complete project comes with a comprehensive shopping list. This helps make clients' dreams a reality at home! 3D renderings, implementation guides, and trade-exclusive discounts come along too. These vital resources helped this client create her attractive cafe – thanks to Decorilla's help!
Our Top Boho Décor Picks for Casual Living
Do you want a boho-style makeover? Use our top picks as a guide to recreate this look in your own bistro space. All you need is a few unique pieces to get started.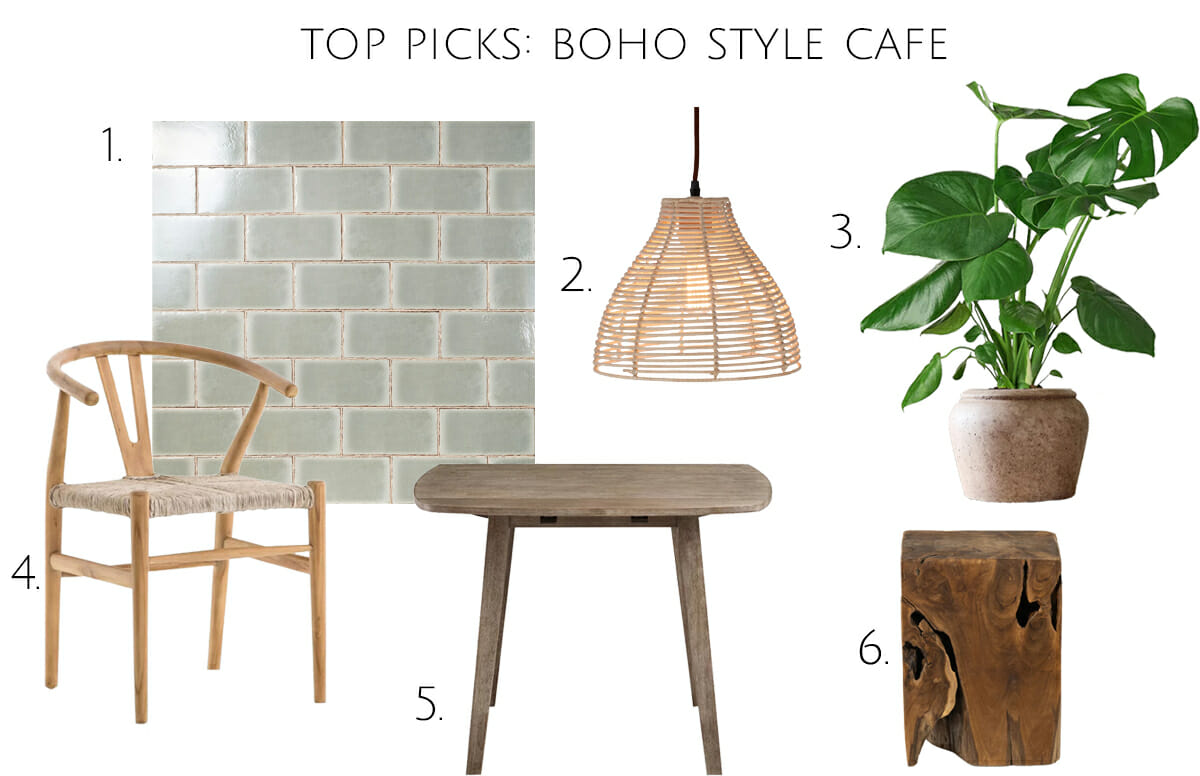 Want your own boho interior design? 
Your space can become a bohemian haven too! Simply schedule a Free Interior Design Consultation to get started with a Decorilla designer today! 

[images: 1, Decorilla project images]