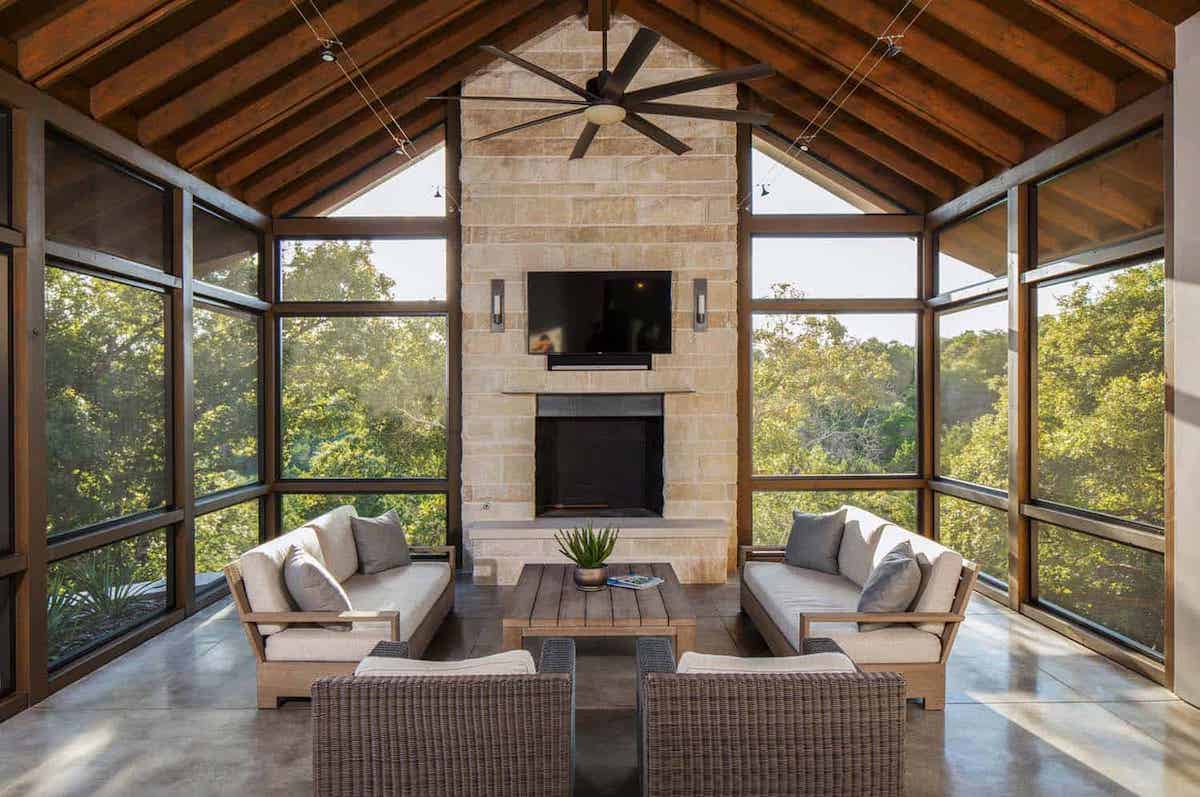 The outdoors is wonderful for unwinding, entertaining, or simply relaxing. Naturally, if you can create a beautiful backyard patio design, you would. And so recent clients had great ideas but needed expertise to help bring them to life. This is why they turned to Decorilla. With a craftsman bungalow as the backdrop, the clients wanted a stunning screened-in deck and outdoor space to match. Read on for the soothing result!
The Challenge: Backyard Patio Design 
The clients wanted an exceptional online patio design. Fortunately for the Decorilla team, the couple had a clear checklist that would also enhance the architecture. Even though a prepared client makes the task smoother, it still comes with a set of difficulties. For this project, the online interior designers had to solve the following challenges:
Upgrade the top-level deck into a four seasons room

Incorporate sliding or removable windows into the top deck's structure

Include a two-story fireplace for the top and lower levels

Create a dining area and lounge for the lower patio

Use patio fireplace ideas for a separate fire pit on an uneven yard
Backyard Patio Ideas & Inspiration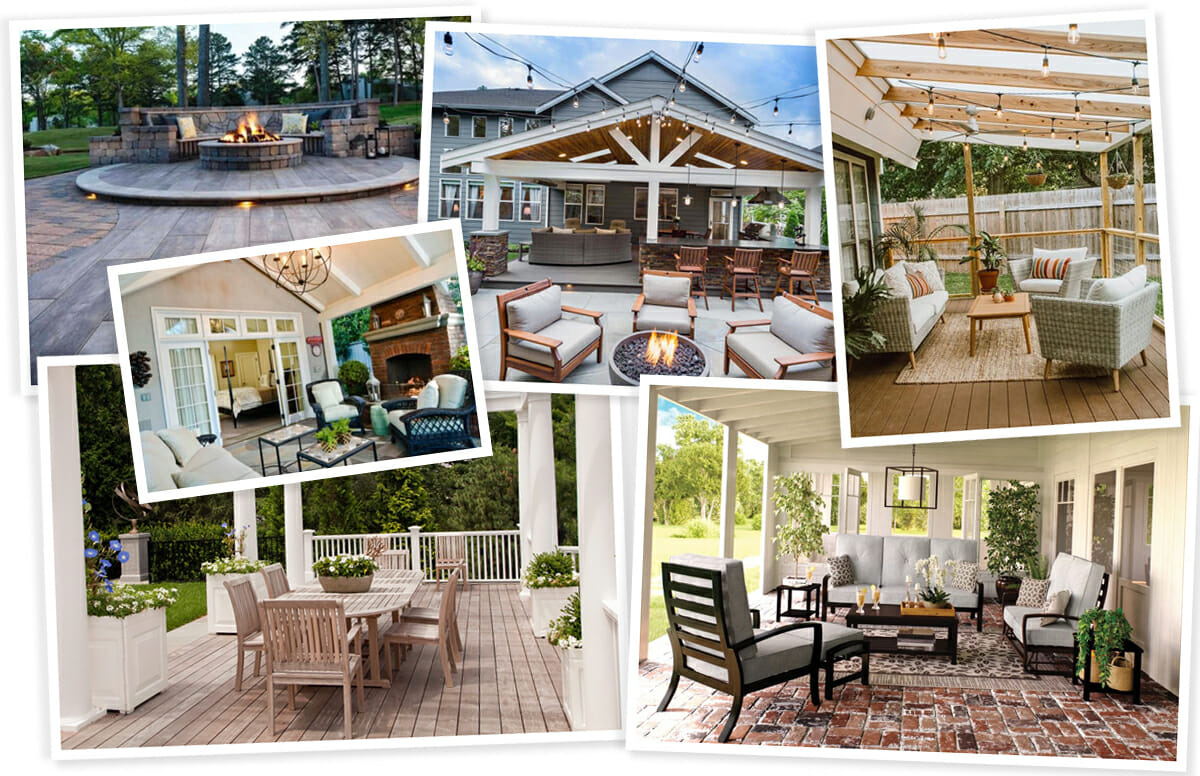 With images for their home in hand, the clients set out to showcase their inspiration. To this end, they chose backyard patio and screened-in deck ideas perfect for morning coffee and grill nights alike. Blond wood features throughout, as well as light contemporary upholstery.
Additionally, a fire pit was another item on their wish list sure to make any setting warm. But above all, their favorite patio ideas were unfussy, homey, and elegant.
Are you looking for some stunning backyard patio ideas for your outdoors? Then schedule a

Free Interior Design Consultation

to get started with a design pro today!
The Screened-in Deck Design & Mood Board 
With the clients' inspiration as a reference, two designers set out to create initial concepts. From here, the clients choose Selma's transitional sanctuary. It fit their craftsman-style bungalow and ticked everything on their wish list.
Selma A. suggested a mix of traditional and contemporary furniture for the backyard patio design. She also included a stone-clad fireplace that reaches the ground and upper levels. Lanterns and steel lighting would keep fixtures uniform and classy. As for décor, Selma suggested minimal touches, like scatter cushions and planters.

Backyard Patio & Deck Design Result
In the end, three stylish spaces uplifted the clients' backyard. These include a screened-in deck design, cozy patio, and sleek fire pit. A neutral color scheme and natural materials tie these spaces together, creating a calming and uniform look. The designer also chose finishes that enhance the architecture, while adding Tuscan warmth.
All-Seasons Screened-in Deck Design
The upper level is a cozy yet airy space, perfect for any time of the year. As the four-season room extends from a bedroom, the design feels more indoors than out. Nevertheless, wicker seating and a jute rug mimic the feeling of outdoor lounging.
A stone fireplace and full-length sliding windows ensure the room is ready for use all year round. Here, the white railing gives a terrace look as well as safety when the windows are open.
White from the walls, stools, pillows, and ceiling panels, bounces radiant sunlight into the room, making it inviting and breezy. Screened-in deck ideas, like surrounding windows, provide a lovely view of the surroundings. Additional pot plants also visually merge the interior with the landscape. 
Casual Backyard Patio Design
The ground level features backyard patio ideas that complement the home's craftsman style. These include cut stone flooring, white columns with stone details, and the fireplace. This multi-level fireplace is also double-sided, providing warmth to the dining and lounge areas. The opening in this central feature also helps to reduce its scale visually and fit the area.
The furniture continues the organic look of the upstairs deck, but with a more casual air. A light wood lounge set matches the modern style of the dining table and chairs. These pieces are accentuated by round poufs, ceramic stools, and oversized lanterns.
Patio Design with a Firepit
Just off the patio, a walkway leads to an idyllic firepit patio in the garden. The circular area is surrounded by lush trees, shrubs, and flowers. To create an inviting space, the designer chose semi-circle seating and single contemporary easy chairs. The white, grey, and brown of the furniture and décor suit the natural setting perfectly. It's clear that patio fireplace ideas certainly work best when they're unfussy. 
Online Shopping List
Each online interior design package comes with a detailed shopping list and guide. With these and realistic 3D renders, clients can easily install the design at home. In fact, they can create an outdoor haven in no time thanks to services like Decorilla.
Top Screened-in Deck Ideas to Shop
A beautiful outdoor area starts with heavenly backyard patio ideas. But it only comes into motion with décor that matches your favorite look. For this backyard design, we've put together the top picks. Use them as the inspiration for your own or to get started on decorating!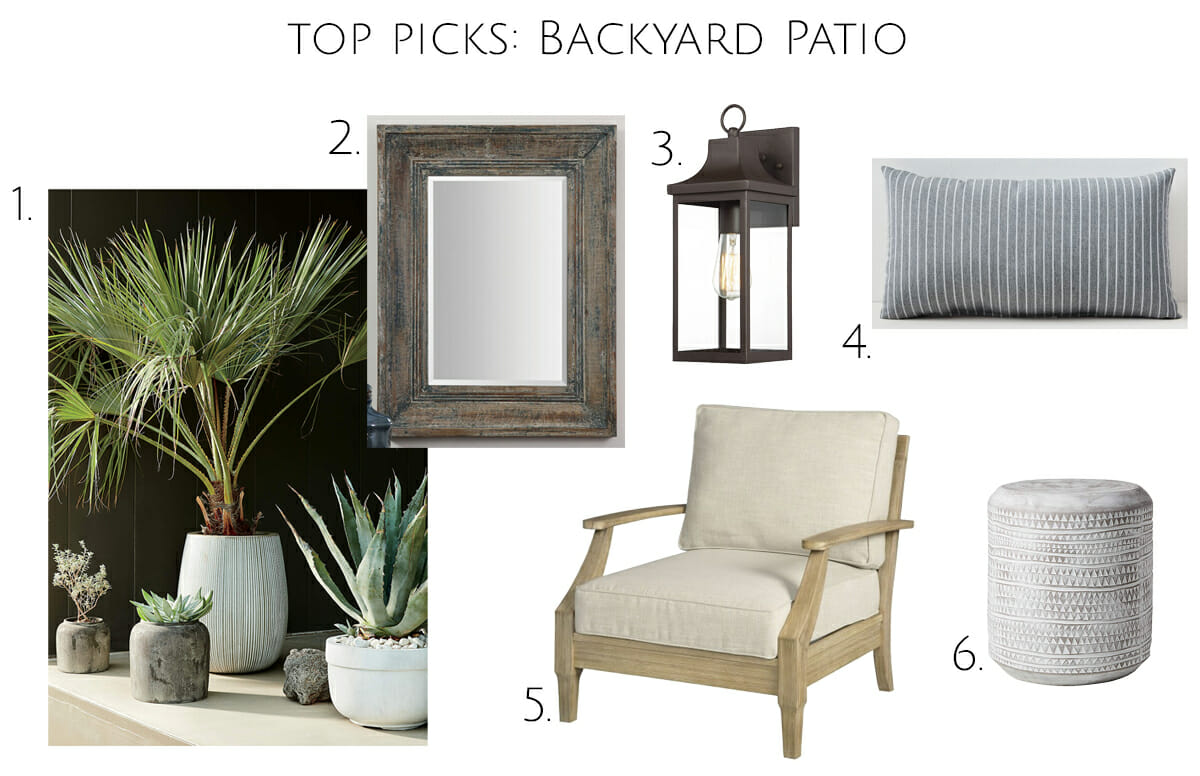 Now the clients have a backyard patio design that maximizes their outside area and celebrates the home's architecture. Moreover, the completed project exceeded their expectations. This is all owing to the expertise of the Decorilla team that even caters to needs unforeseen. 
Time for your own backyard patio design? 
Spruce up your outdoor space with the help of professional patio designers. Simply, schedule a Free Interior Design Consultation to learn more today! 

[images: 1, Decorilla project images]