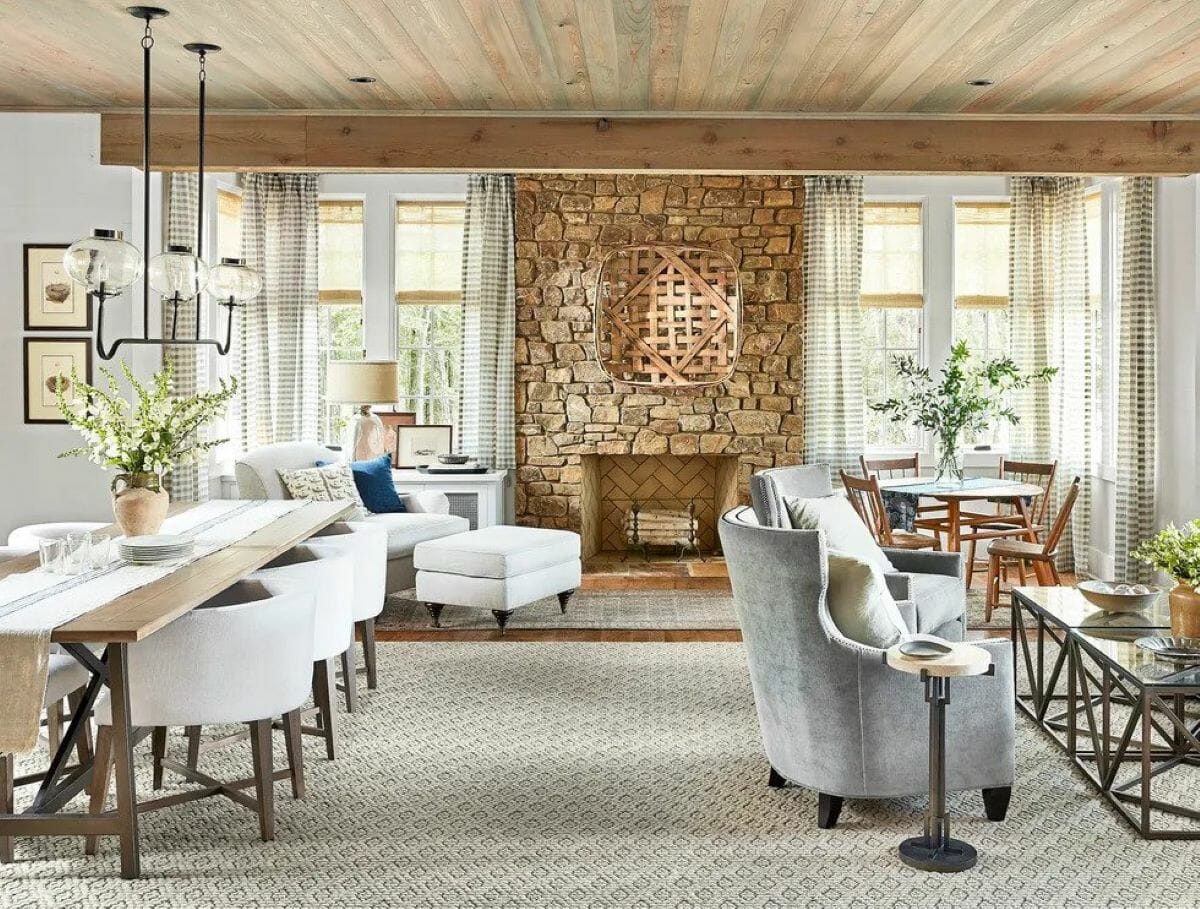 Living rooms can be tricky to perfect, especially when you're trying to mix and match different styles. This was exactly the problem a recent Decorilla client was facing since she loved elements from both rustic and transitional styles. However, with the help of her talented designer, she now has two welcoming rustic transitional living rooms to enjoy. Read on to see how the transformation took place!
The Challenge: Transitional Rustic Living Rooms
Are you considering a remodel but not sure where to start? That's exactly where the recent Decorilla client found herself. She was dreaming of adding a bit of rustic home decor but worrying it might be too much at the same time. What she needed was a designer who would understand this style's potential to be used as an accent, a character enhancer rather than a dominator. So the client turned to Decorilla, looking for someone to: 
Lighten up two overly dark rooms

Create a superiorly comfortable yet stylish living space

Incorporate a piano in one of the rooms 

Selecting new furniture to work with existing pieces
Sparingly use rustic interior design elements
Love the look of blending rustic and transitional styles, but not sure how to pull it off in your home

? Then, schedule a

Free Interior Design Consultation

to get started with a top designer today!
Transitional Rustic Home Decor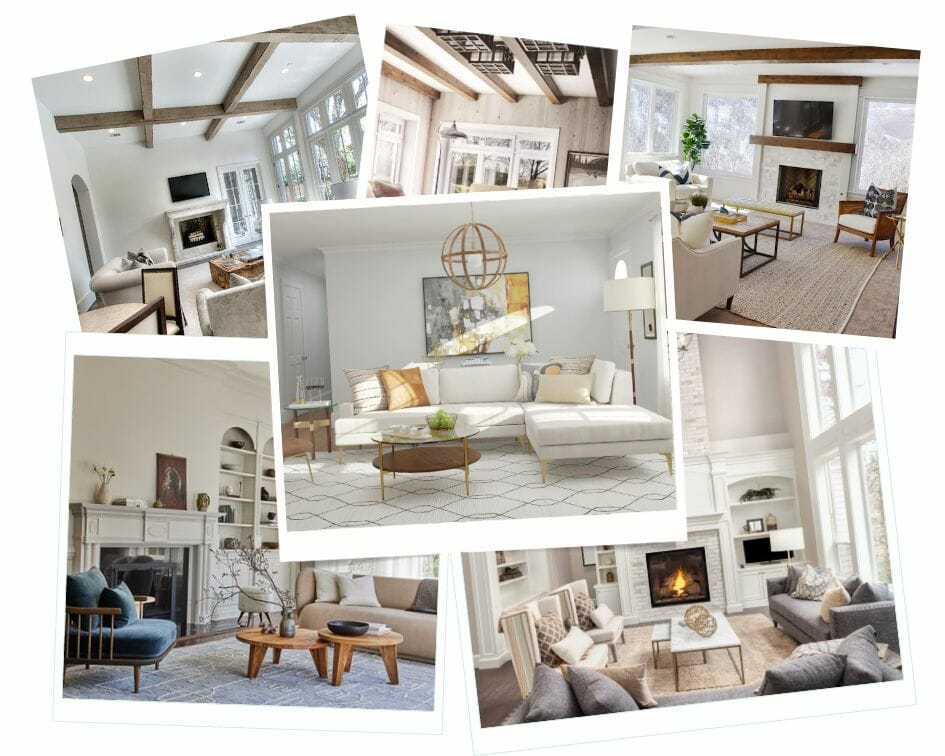 In the client's inspiration photos were neutral online living room designs that were both welcoming and cozy. While the furniture pieces in the photos mostly had the clean lines of transitional style, a few rustic details also provided a nice contrast. In addition, it was clear that she enjoyed light and airy spaces with ample natural light.
Transitional Decor Ideas and Moodboard
Following the complementary design consultation, Decorilla connected the client with two appropriate designers that could translate her wishes into visual representations. Both designers created custom moodboards displaying their visions of the client's rooms. However, it was Rachel H's bright and airy transitional decor composition with hints of rustic design that won over the client. 
Rachel's vision comprised plenty of natural materials, rough wood finishes, and soft neutral fabrics. The color palette revolved around shades of beige and grey with hints of green, along with a few black and brass metallic accents. The timeless lines of seating elements provided contemporary coziness, while the cabinets and rustic home decor spruced it up with a distinctive transitional style. 

Transitional Rustic Living Rooms Design Results
Rachel's initial inspiration when proposing a design for the transitional rustic living room was to make it as bright and inviting as possible. The transitional furniture layout, infused with rustic home decor, conveyed an organic yet playful atmosphere everyone would be comfortable in.
In this case, "everyone" included a cat and three boys, two of them teenagers. Therefore it's no wonder that a media wall was an important element of the transitional rustic living room decor. Placed to the left of the room entrance, it included a large tv and white cabinet underneath. The client wished to incorporate her piano in the same area, so it found its place against the adjoined wall. 
A pillowy sectional provides plenty of comfy seating for the family to gather together. Meanwhile, a leather armchair and ottoman give additional seating and another layer of texture to the room. Underfoot, a plush rug anchored by a geometric coffee table bring the space together. And since shades of white dominate the room's color composition, green accents, such as throw pillows and potted plants, are scattered throughout for just a hint of color and an added organic feel. 
Family Room Rustic Home Decor  
The transitional family room was more grounded with a set of leather sofas the client wanted to keep. Coordinated with them, the choice of material for the coffee table and corresponding cabinet went to rough wood. The balance of the room was achieved by juxtaposing the lightweight metal construction of the side tables and chandelier.
The choice of an accent wall helps to accentuate the rooms height and vaulted ceilings by drawing the eyes upwards. It was not, however, the end of successfully applied contrasts in this area. The accent wall provided a focal point with a combination of a fireplace and abstract art, framing it with relaxing views of outdoor greenery on both sides. 
A small media center was established in this room, too, with a unit hosted on a cabinet in a don't-mind-me manner. Nevertheless, the real eye-catcher was the arrangement on the right side. A set of thick, organic, raw wood floating shelves highlighted the character of the space as a charming rustic display. Moreover, the composition was completed with several corresponding photo frames for a dash of the client's personal touch.
Before the Change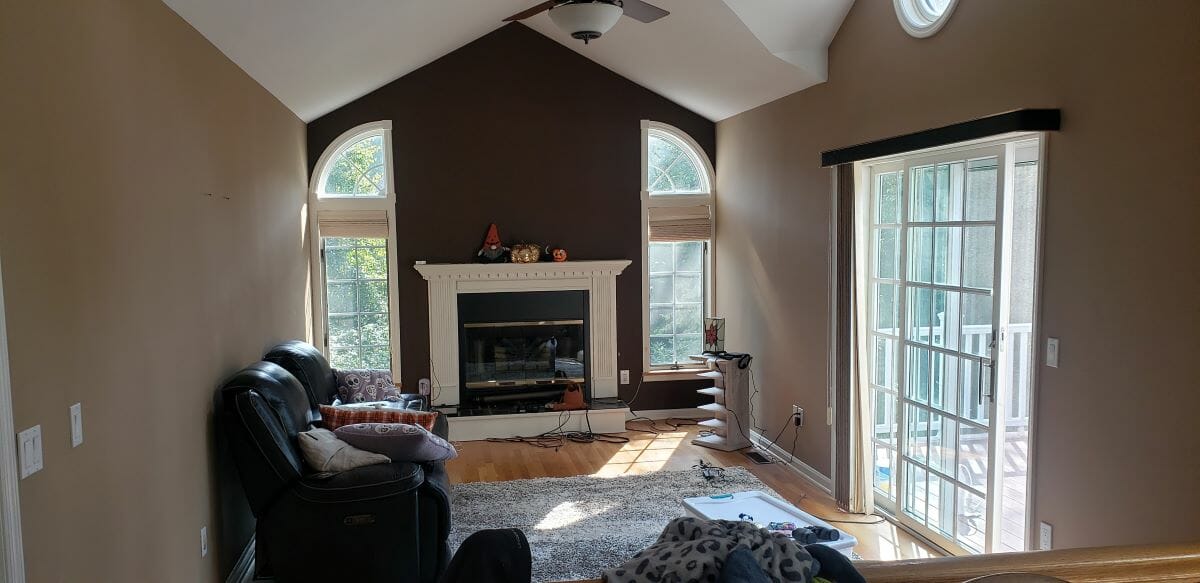 Before the online interior design intervention, both rooms were much darker than necessary. Although the accent wall existed, it had no prominent function as a focal point due to the opposite walls also being a shade of brown. While a pair of reclining chairs provided some comfy seating, the overall flair was not cohesive or defined. But, thanks to Rachel's eye for design, the family now has two transitional rustic living rooms to enjoy together!
Transitional Furniture Shopping List
Decorilla's affordable online interior design packages come with several convenient assets. Along with photorealistic 3D renderings, a comprehensive implementation guide, and tailored design solutions, there is also the benefit of a curated shopping list. Above all, the shopping list is a display of exclusive industry discounts, which sometimes exceed the cost of the design alone. 
Top Picks for Transitional Rustic Living Rooms
You might feel inspired to spruce up your own home with some rustic home decor or transitional furniture. So here are some items we like to help you start: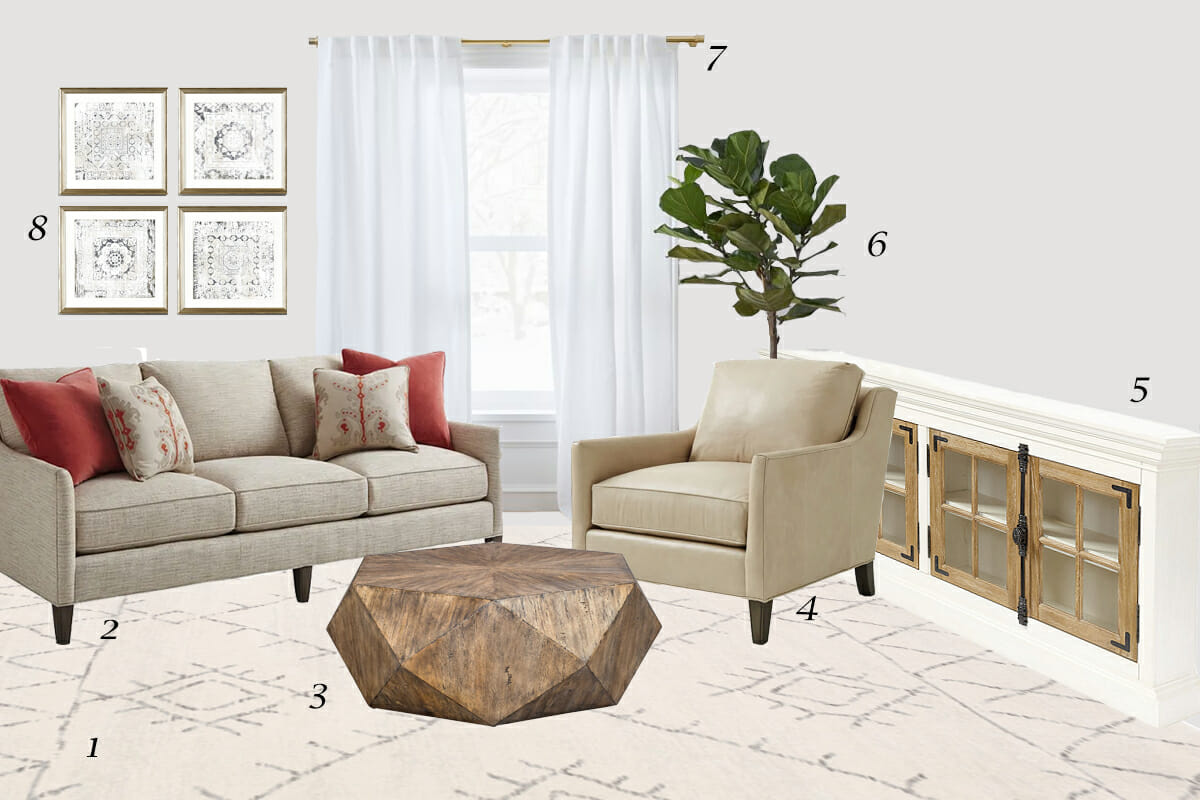 Ready to try online interior design?
Our team of talented interior designers can help give your home an amazing transformation too! So, schedule a Free Interior Design Consultation to learn more today!

[images: 1, Decorilla project images]