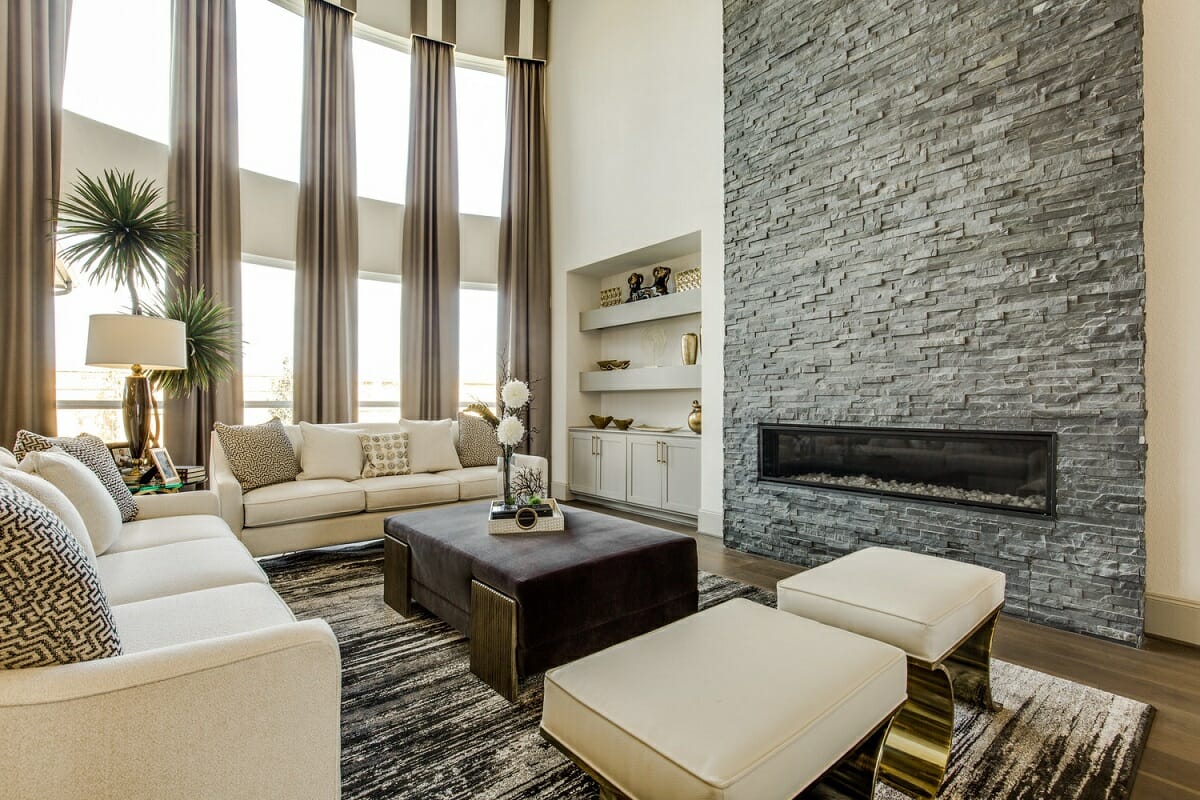 Layers, light, and luxury can work wonders in an interior. One client knew exactly how much value they bring, which is why she turned to Decorilla for help. She needed to spruce up her dark home to create livable spaces that feel like bliss. The result? A glamorous neutral design that was sleek yet comfy. Read on to see it for yourself! 
The Challenge: Neutral Interior Design 
The family home required a makeover, specifically to make the living spaces feel inviting and big instead of enclosed. One of the biggest difficulties the designer had to face was making the rooms feel spacious and layering light in a dark space. The other challenges included:
Creating a family-friendly neutral interior design with luxe touches

Including 

glamorous room ideas

 while making the space feel comfortable and functional 

Choosing interesting wall covering and adding textures

Picking durable furniture and modern neutral home décor that could withstand children and dogs
Want to see more stunning transformations? Then, simply

Sign Up

for the latest room reveals delivered directly to your inbox!
Inspiration: Neutral Colors & Living Room Ideas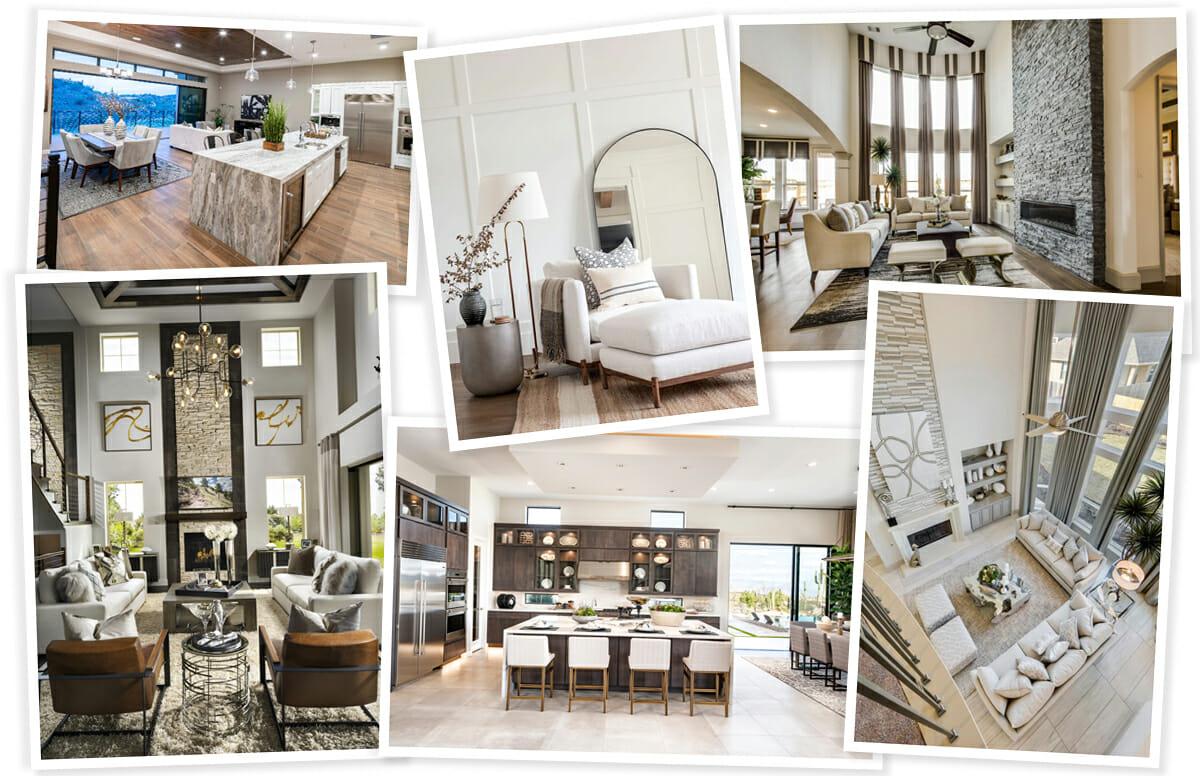 From the client's inspiration, it's clear that she's drawn to neutral interiors. More specifically, these spaces are open plan and feature large windows or ample natural light. The living rooms feel grand owing to double volume curtains, feature fireplaces, and glam wall décor. The client also likes wainscoting and elegant layered light. 
Neutral Interior Design & Mood Board
The client was adamant about including plenty of light sources in the living room as the space felt enclosed and dark. Neutral interior design with a light color palette could achieve this, but first, she needed a designer. After receiving the brief, two designers tailored different concepts specifically for this project. And it took no time for the client to pick the layered and elegant proposal by Drew F.
Drew chose neutral colors to complement glam modern living room ideas. His mood board is light yet also features high contrasts. Not only do the black details highlight the furniture, but they would also match the client's high contrast stone countertop in the kitchen. Drew also suggests a layered color scheme, textural accents, and minimal gold décor.

Reveal of a Duo Neutral Interiors
Moments of chic glamour glimmer in the final result. Not only is the space luxurious, but it's also inviting and cozy. What's more, the duo of neutral interiors is cohesive owing to thoughtful color and texture use. At its base, the open concept has an earthy palette of grey, taupe, flax, white, and gold. In addition, small pops of black ground the light style and highlight other elements even more. 
Lounge with Glam Living Room Ideas
Neutral colors and calming living room ideas give the lounge a tranquil ambiance. Wainscoting with a taupe-colored grasscloth inner creates an elegant but striking accent wall. This decorative feature also makes the room feel taller than it is, thanks to the vertical lines.
A texture-rich rug ties in with the subtle roughness from the wall material while also grounding the design. Although wainscoting is formal, here it's softened by fig trees and an asymmetric furniture layout. 
Fortunately for the client, her home has beautiful hardware floors with a clear grain, making the room feel long and spacious. Before, dark and clunky furniture filled the space. By opting for light grey and cream pieces instead, the interior automatically feels light and roomy.
To ensure a bright look, layered lighting features throughout the interior. These include downlights, accent lights above the glam wall art and photos, and floor lamps. Also making good use of the floor space, a console and baskets underneath the photo wall provide practical storage and a pretty feature. 
Formal yet cozy, the lounge is great for family and friends. And, more specifically, the furniture and materials are super durable and pet- and child-friendly. The L-shaped sectional creates an intimate setting for conversation or leisurely afternoons. The layout is versatile as it can have the fireplace and abstract glam wall décor as the focal point or the television for movie nights.
The design relies on structured vertical and horizontal lines to create height, structure, and depth. But it also includes items to soften the look, namely, round coffee and accent tables, lighting, and scatter pillows.
Dining Room with Neutral Colors and Glam Décor
The dining room is the pinnacle of glamour in this neutral interior design. Layered grays and sandy tones make the space feel interesting and curated. Although the room is without artwork, it feels art-filled. The reason lies in the sculptural element of the glam décor. With this in mind, the crystal waterfall chandelier and beveled mirror elevate the space. What's more, this combination ensures more light reflects into the space, giving it a glowing effect.
Modern dining chairs are stately without being over the top, and sit between a live edge dining table and grounding contemporary grey rug. As a final touch, a pair of fig trees frame the wainscoting and echo the symmetry of the living room's layout. 
Shopping List with Modern Neutral Home Décor
Each finished design package comes with an online shopping list and a detailed guide for clients to implement the design at home. Like other Decorilla projects, this one comes with exclusive trade discounts on furniture and glam home and wall décor. So, the client could complete the design at home at a fraction of the price of traditional design. 
Top Glam Home Décor Picks 
Sometimes, all it takes are a few glam décor picks to spur on inspiration. Whether neutral or eclectic, your interior could see a spruce-up with our favorite picks below.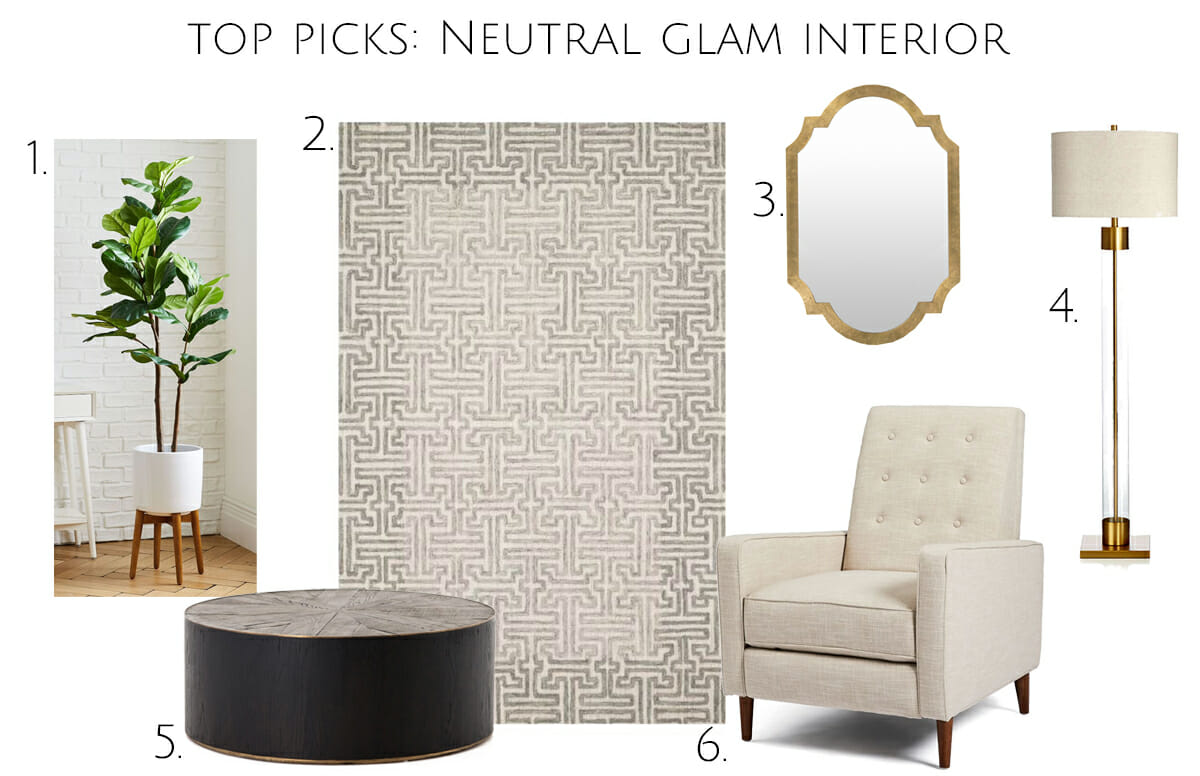 Design Your Own Neutral Home
Want your own neutral interior design? Then, schedule a Free Online Interior Design Consultation to get started today!

[images: 1, Decorilla project images]