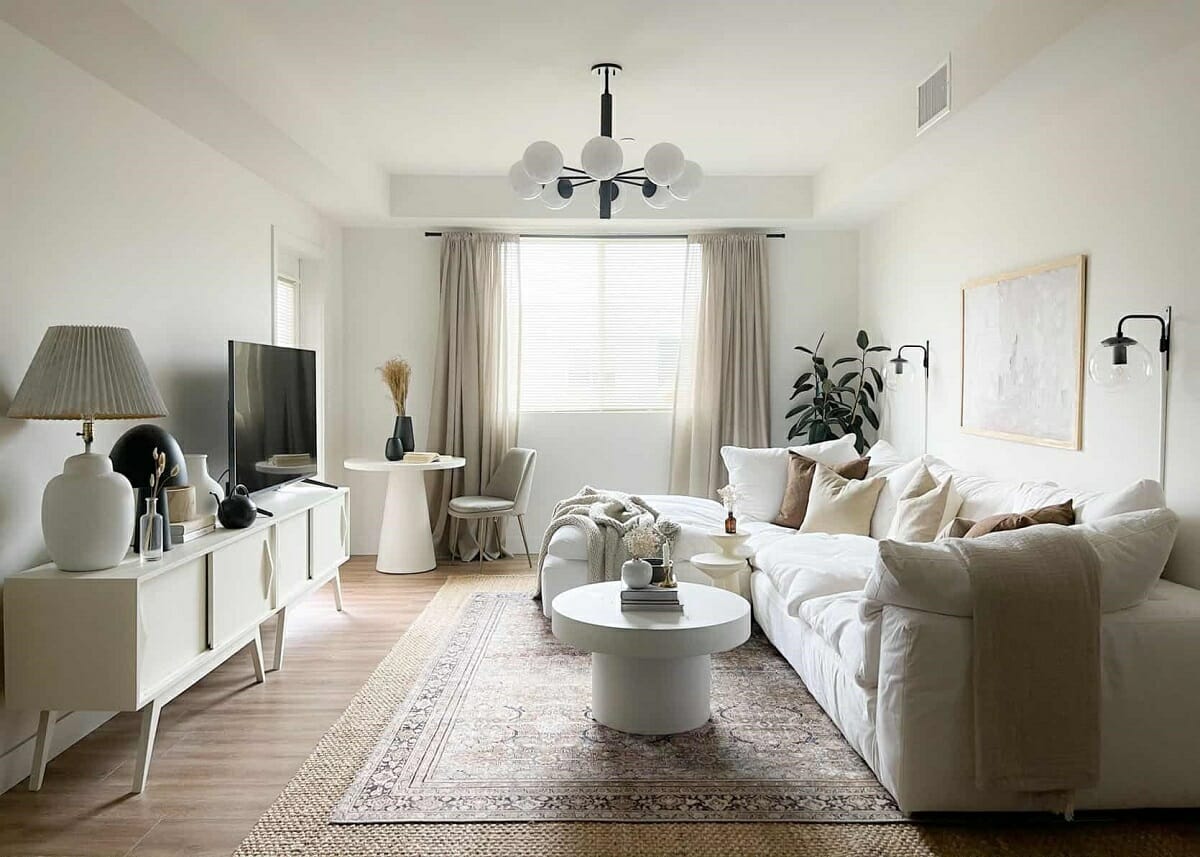 A transitional interior embraces the best of modern and traditional designs. And a new apartment owner wanted this chic combo, especially highlighting a neutral color palette in her interior design. That's why she sought the help of professional online interior design assistance. Decorilla held the key to unlocking the timeless transitional interior of her dreams. Discover the timeless result below! 
The Challenge: Tasteful Neutral Colors for the Living Room & Bedroom
As the client was moving into a new apartment, the interior was a blank slate. She set up a thorough brief, which meant that Decorilla's interior designers could hit the ground running. Information about her design preferences was especially useful. It gave designers a clear understanding of what she wanted. To tick all the boxes, they needed to:
Keep to the client's 

online living room design

 tastes while also maintaining a decorator's touch

Ensure the finalized transitional bedroom, as well as combined living and dining room, are serene, clean, and inviting

Design neutral interiors with plenty of character

Keep a coherent look and feel for the neutral transitional bedroom and minimal living room
Want to see more amazing before and after transformations? Then, simply

Sign Up

to have the latest room reveals delivered directly to your inbox!
Transitional & Neutral Color Palette Interior Design Inspiration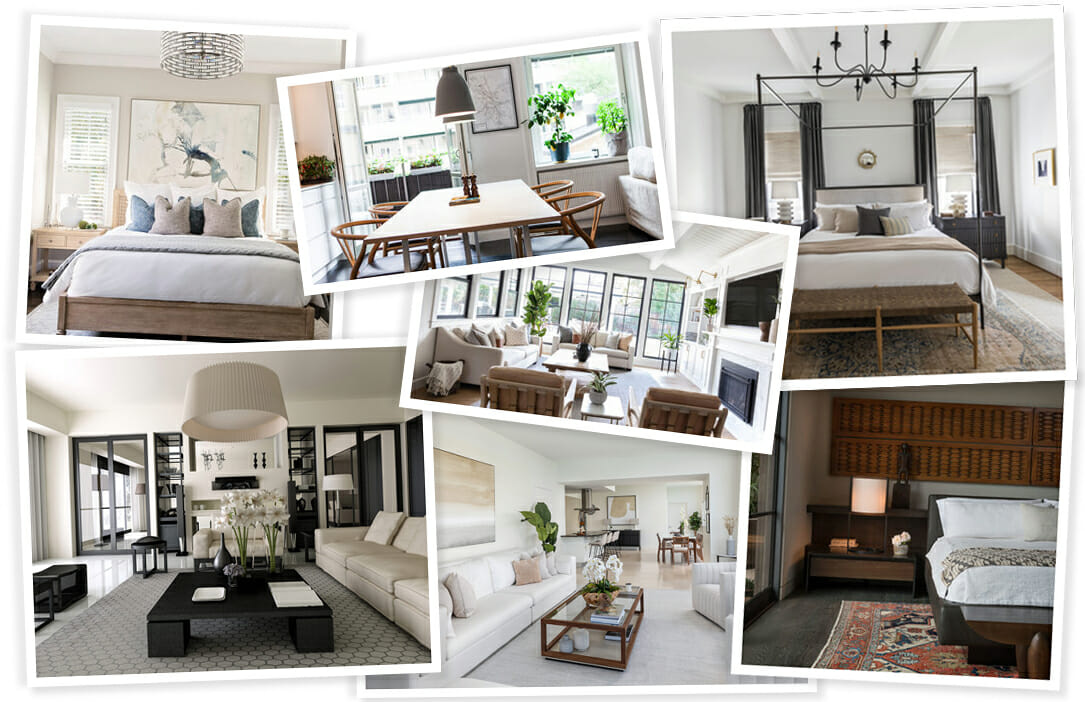 Initially, the client considered a traditional style for her apartment. However, after chatting with designers, she realized that she preferred neutral transitional interiors. Once they pinpointed her true taste, the designers began refining their concepts. The designers could also devise the best living room layouts possible thanks to her inspirational gallery. 
These spaces were small yet spacious with light neutral color palettes making the interior designs feel roomy. As the client picked shades typical of transitional interiors, leaving out her least favorite colors, like purple and yellow, would be easy.
Neutral Interior Design Mood Board
After choosing one of the finest online interior design services, the client could jump into her design project. First, she filled out a questionnaire and had a complimentary consultation. With this information, Decorilla's helpful design team established the project brief. The client provided useful images to illustrate her vision. Photos of her current space, plus a floorplan, gave the team a clear idea of what she wanted. 
Armed with all the details, the Decorilla team matched her to the two most suitable interior designers for the project. Soon after, she got two distinct mood boards featuring neutral colors for the living room. Finally, she decided on Farzaneh K.'s elegant and timeless design.
Farzaneh recommended a transitional, verging on a neutral minimal, living room design. Her goal was to design a combined living and dining room that was bright, beautiful, and functional. She set out to achieve the desired effects by suggesting white walls, natural wooden floors, and adding gold accents for a modern touch. All furnishings had to be in the same neutral palette, which would result in a clean yet dreamy space.
To keep with the classic, mature atmosphere of the living room, Farzaneh stuck with a similar color palette for the bedroom. Her recommended apartment décor was comfy yet undeniably chic. She carefully selected all elements to work together in perfect harmony. The resulting neutral interior design concept was tranquil and luxurious: a far cry from the hustle and bustle outside.

Neutral Color Palette Interior Design Results
The completed multi-room neutral interior design is a feast for the eyes. Each space oozes comfortable sophistication, thanks to the high-quality materials used throughout. All in all, this apartment is a testament to how good a neutral transitional interior can be.
Neutral Minimal Living Room & Dining Room
By using neutral colors in the living room, a space bathed in natural light, the interior feels fresh and even roomier than it already is. Although the interior has a modern and transitional look, it also feels slightly minimalistic. This is due to the placement and grouping of décor throughout the space. As a result, the shared living and dining room has a great flow to it. Two distinct areas exist within the L-shaped space – a cozy lounge and sleek dining nook – but still manage to feel like a cohesive whole.
Because of the natural light streaming in from the terrace, only a few additional lighting options are necessary. The floor, ceiling, and table lighting all share a black and muted gold color scheme. It not only ties them together despite their placement around the room but also makes them pop. These dark lamps beautifully contrast against the neutral color palette of the interior design. 
Overall the space is serene, thanks to a combination of wooden accents, hints of greenery, as well as comfy yet attractive furniture. The plush recliner and modern sectional create a cozy corner, perfect for snuggling up or socializing. In the other corner, the dining room area feels especially bright and airy. It's all due to the clever use of design elements such as the mirror and glass tabletop.
Neutral Transitional Bedroom
Much like the neutral colors of the living room, the bedroom palette is calm and collected. The different materials and rich neutral tones not only complement one another but also bring warmth to the space. Although the room is full of furnishings, it doesn't feel cramped. The soft white walls and sheer curtains help make it seem far larger than it truly is.
Finally, both dark and delicate pieces, like the black dresser and patterned rug, add depth to the room. The bedroom is a space you want to retreat to when seeking refuge from the daily toil.
Neutral Interior Design Online Shopping List
Pulling off a neutral color palette in interior design or any other style, for that matter, can be tricky. That's why every Decorilla client receives a handy online interior design shopping list. It makes finding the right pieces an effortless task, plus clients get to enjoy exclusive trade discounts. 
Our Top Picks for Embracing Neutral Colors in the Living Room
If you're inspired by the neutral colors in the designs above, consider our top picks for recreating the look at home. The best part is you only have to start with some key neutral interior design pieces. It certainly makes a substantial difference until you're ready to refurbish the whole room.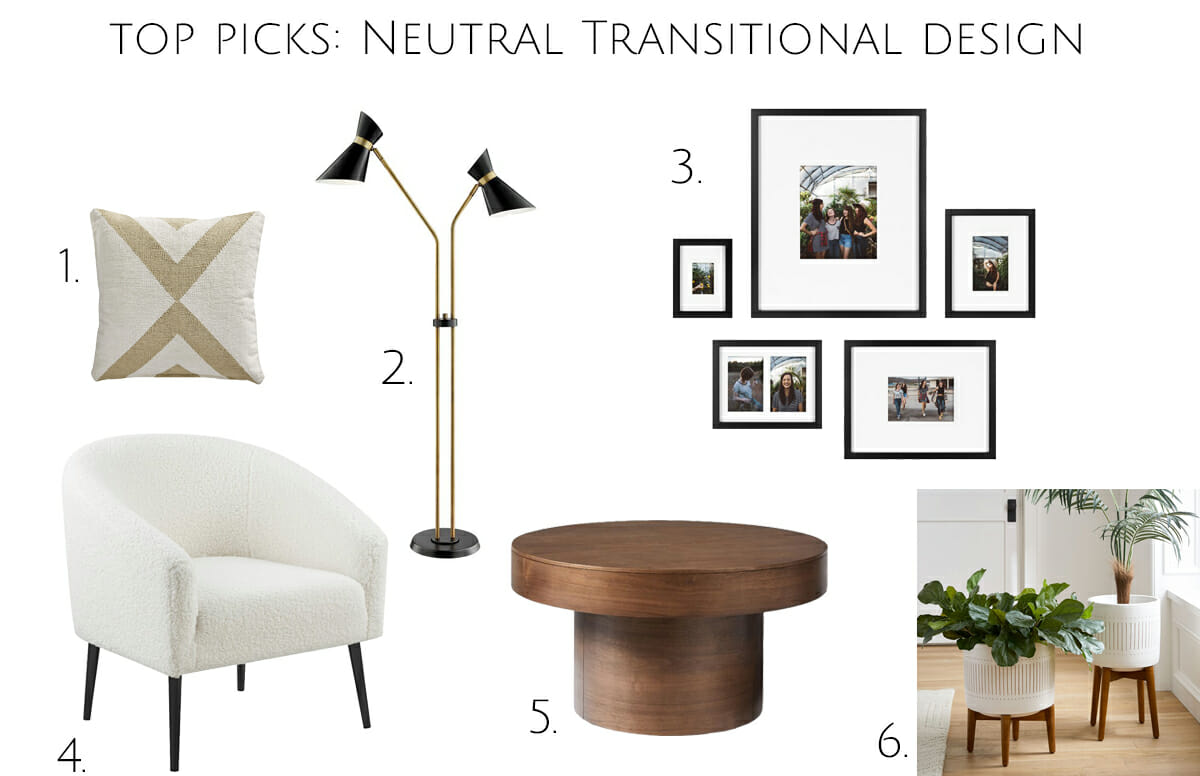 Want to see what online interior design can do for your home?
Your interior can also become your dream home – schedule a Free Interior Design Consultation to get started today!

[images: 1, Decorilla project images]