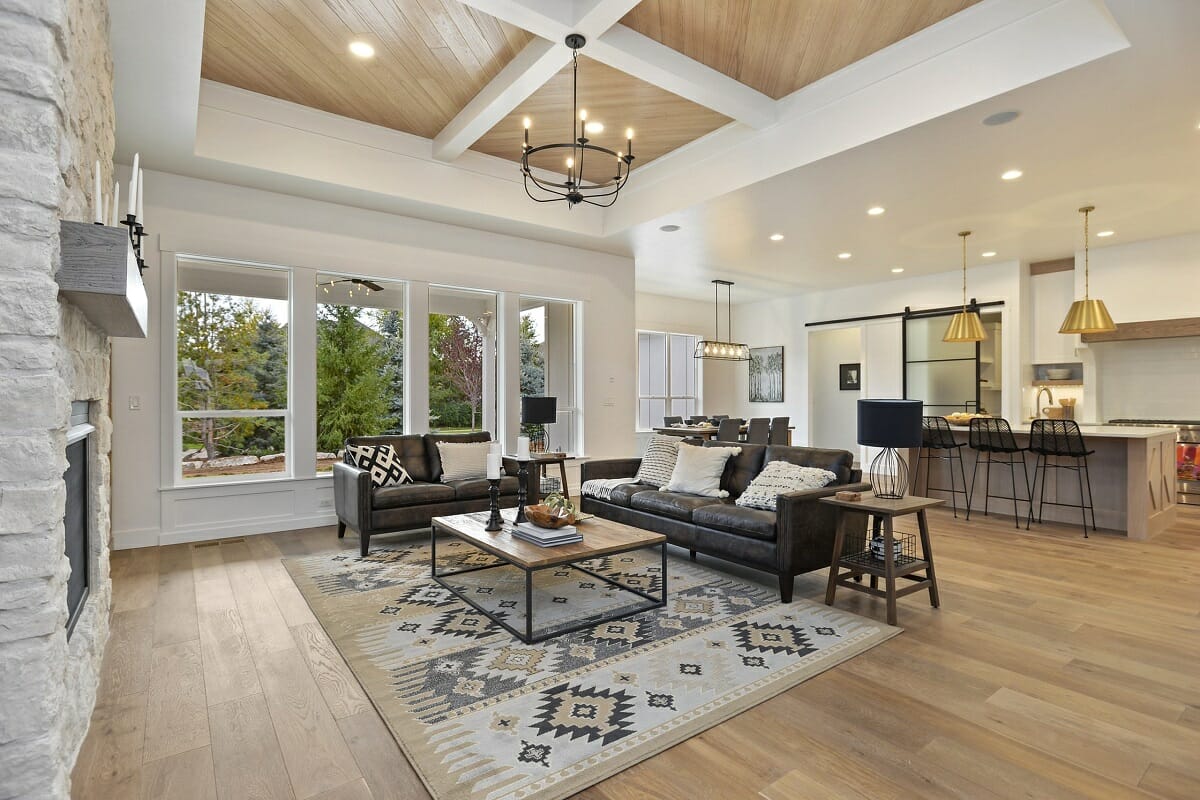 Even experienced renovators and designers can benefit from online interior design assistance. Fortunately for one design-lover, he turned to Decorilla to help with a major overhaul. He knew exactly what he needed: a modern rustic kitchen and living room fit for a big family – the result more than meets the brief. See the reveal below!
The Challenge: Family Modern Rustic Kitchen & Living Room
A gut renovation comes with more than the average set of challenges. More so when the original structure has unattractive architectural lines and angles. For this family home, the designer had to:
Soften harsh architecture through 

modern rustic design

 and by adding an arch between the living room and kitchen

Create an inside-out atmosphere by maximizing the view and including natural colors, elements, and materials

Incorporate structural beams and a new staircase to match the updated modern rustic interiors

Ensure the furniture and design suits the 6'3 client

Design a living room and kitchen that can cater to a family of seven
Not sure where to start with your own modern rustic interior? Then, schedule your Free Online Interior Design Consultation to learn more about your design options today!
The Inspiration: Modern Rustic Interiors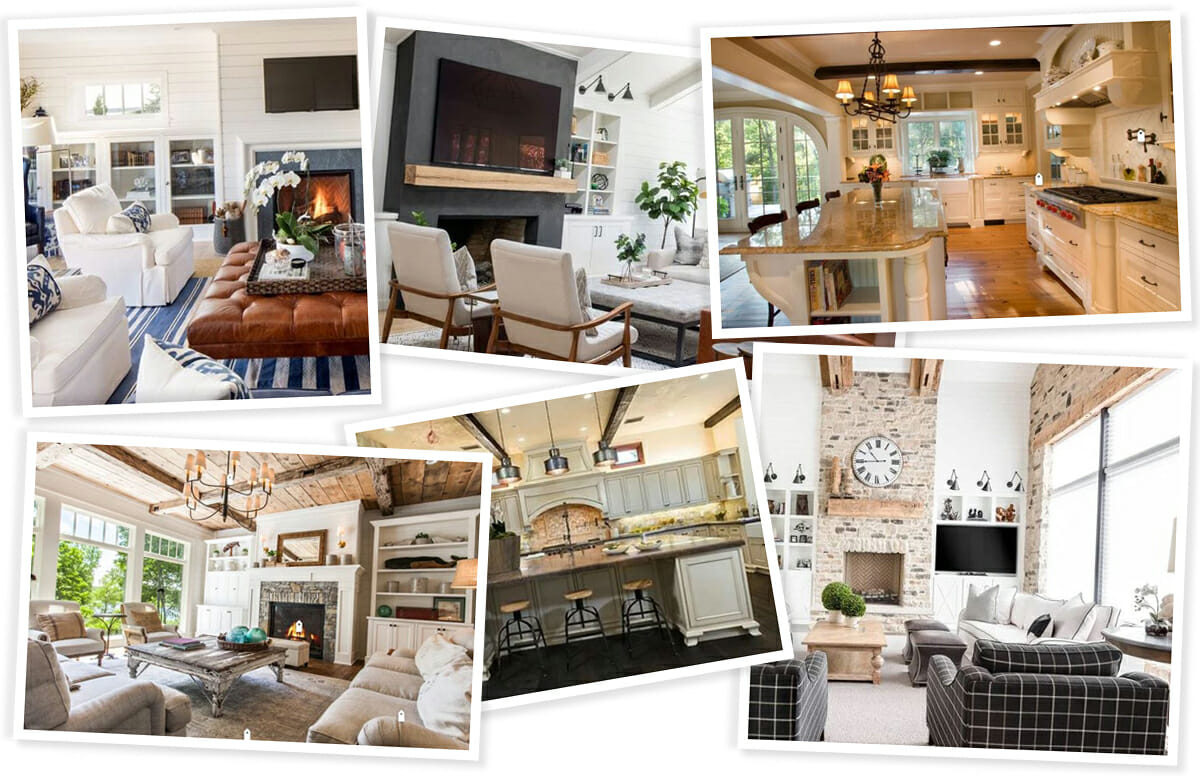 The client's inspiration included spacious dens, coastal modern living rooms, and traditional kitchens. Modern rustic décor features throughout his selections. These favor comfort instead of glitz. Traditional accents go well in modern rustic interiors, especially sizeable sofas, wood or upholstered coffee tables, and rustic chandeliers. He also liked a focal fireplace, those with stonework or that feature a contemporary contrasting color.  
Modern Rustic Furniture Design & Mood Board
Every online interior design package starts with a questionnaire and a consultation. After the first step, the designers best suited to the project brief create initial proposals for the client to review. For this project, the client received two concepts, both combining casual coastal and traditional styles.  
The designers, luckily, had a good starting point for their modern rustic and living room designs: a client who knew exactly what he wants. When clients give valuable information on what they need, designers can exceed expectations even more. This client was well-versed in renovation and design styles, which meant he could pinpoint his needs and be descriptive in the look he wanted. After reviewing both proposals, he chose the rustic cozy mood board by Casey. 
Casey's mood boards are rich in cozy family essentials, like durable dark leather sofas, patterned accent chairs, and a large coffee table. She suggests a neutral color scheme and accents through pattern and texture more than bold tones. The open layout gives way to a social environment as well as a clear view of the suggested feature fireplace wall. 
The kitchen mood board features modern rustic furniture and raw and refined wood accessories. Such a natural material would contrast with the sleek aspects of the design, specifically the subway tile backsplash and marble countertop and décor.  

Modern Rustic Kitchen Result
In the final modern rustic kitchen design, natural and manufactured elements provide a pleasing contrast. A wood floor, custom extractor hood, and textured archway add the rustic touch without weighing down the lightness of the room. It feels contemporary, inviting, and bang-on-trend. That said, the kitchen is timeless as the design is free from bold fads. Instead, the room has modern furniture, statement lighting, and fixtures that are sleek and striking, yet unassuming.   
Light floods into this interior thanks to a great window, taking up the entirety of the left wall. Moreover, white wrap-around cabinets and the glossy backsplash reflect natural and artificial light, making the room feel spacious and airy. The rustic arch that leads the way to the lounge is not only functional, but also frames the lightness of the kitchen. Similarly, the contrasting blue-grey of the kitchen island is grounding and adds visual structure to the interior.
Modern Rustic Living Room
The living room is snug yet roomy. Two three-seater leather sofas and cozy traditional armchairs provide ample seating for a big family and guests, while the tufted ottoman adds a sophisticated touch and additional seating when necessary. To make the lounge even cozier, the designer chose varied scatter cushions to contrast and add color to the design. 
Before, the room was in desperate need of light, but a new, central French door would allow more natural light to stream in. The lighter wall color also makes the room feel bright and airy. However, double-volume walls often need definition. For this reason, the designer included a stone façade for the fireplace that also features a dark wood mantel and abstract art reminiscent of a seascape. 
Wainscoting, contemporary stair railing, wood support columns, metro tile, and floating shelves add visual intrigue to the large wall of the bar area. These decorative features, together with the fireplace and shelving units, provide the modern rustic furniture a beautiful backdrop and turn a blank slate into a room full of interest. A knotted jute rug not only grounds the modern rustic living room, but also doubles as the natural element the client wanted.  
Before, the interior was dull and uninspiring. It needed personality and to accommodate a big household. And, thanks to the insights of an online interior designer, the client could painlessly finalize his home remodel. Now, the home is classy, comfortable, and spacious – perfect for upsized family time! 
Shopping List: Modern Rustic Décor & Furniture
All modern rustic interiors by Decorilla come with online shopping lists that have instructions on implementing the design fuss-free. But that's not all, in fact, the useful list also features guidelines, tips, and exclusive trade discounts, giving clients even more value. 
Shop the Look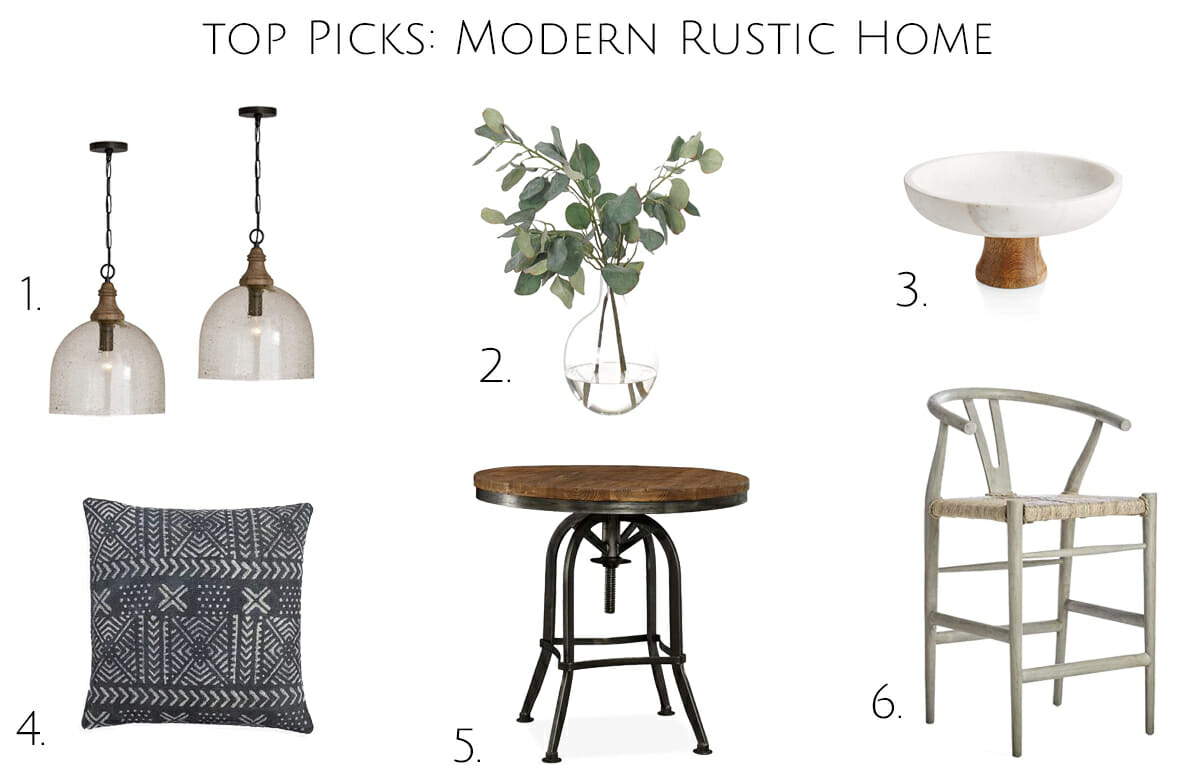 Sometimes all you need to get started on your kitchen or living room design are a few ideas and suggestions. And our top modern rustic décor picks below might just be what you need. 
Finally, after years of renovation, the client can invite his loved ones to a home that ticks off his wish list. Owing to his detailed brief and the interior designer's know-how, his modern rustic kitchen and living room is perfect. 
Design Your Modern Rustic Home 
Feeling inspired to perfect your kitchen or another space in your home too? Then, schedule your Free Interior Design Consultation for expert assistance achieving a better, beautiful home, today! 

[images: 1, Decorilla project images]