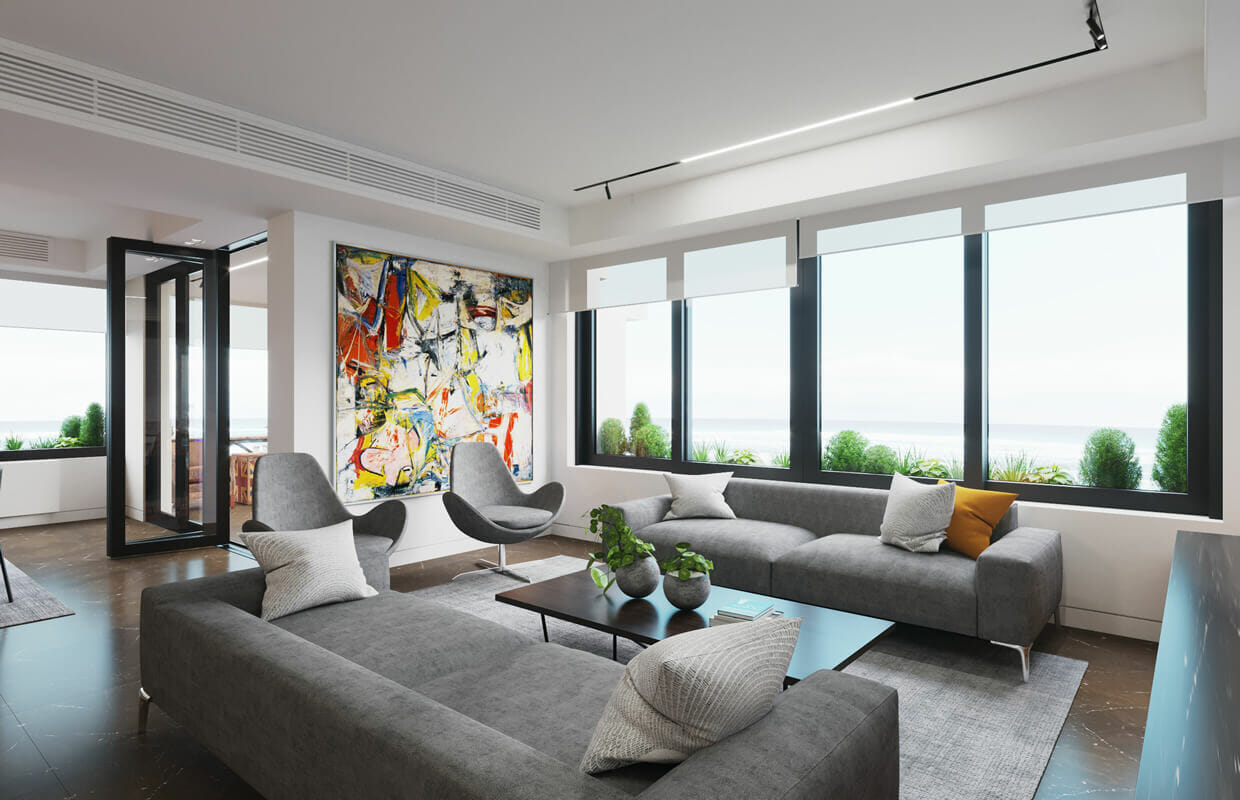 Modern contemporary interior design has completely taken over the world with its appeal. There is something utterly satisfying about clean lines and minimal designs. However, creating a modern contemporary house interior can be a challenge on your own. That's exactly why one new homeowner decided to approach Decorilla's online interior design team to give her new house much-needed character! Curious to see the polished result? Read on!
The Challenge: Modern Contemporary Interior Design 
The client wanted a modern space that was both aesthetically pleasing and practical. However, she felt stuck between old and new furniture. What's more, too many options rendered decorating directionless and added to her frustration. Fortunately, Decorilla's professional interior designers knew exactly how to deal with these challenges, which included: 
Coming up with contemporary home décor ideas that would complement the home's architecture. 

Retaining the client's existing furniture in the living areas.

Repairing or updating the walls and flooring to create a cohesive interior look. 

Implement special treatments, specifically for the living room, bedroom, and home office.

Incorporating accessories and plants to add that spark of life throughout the home.

Not sure where to start with your own contemporary home design? Then, schedule your Free Online Interior Design Consultation to learn more about your design options today!
The Inspiration: Contemporary Home Decor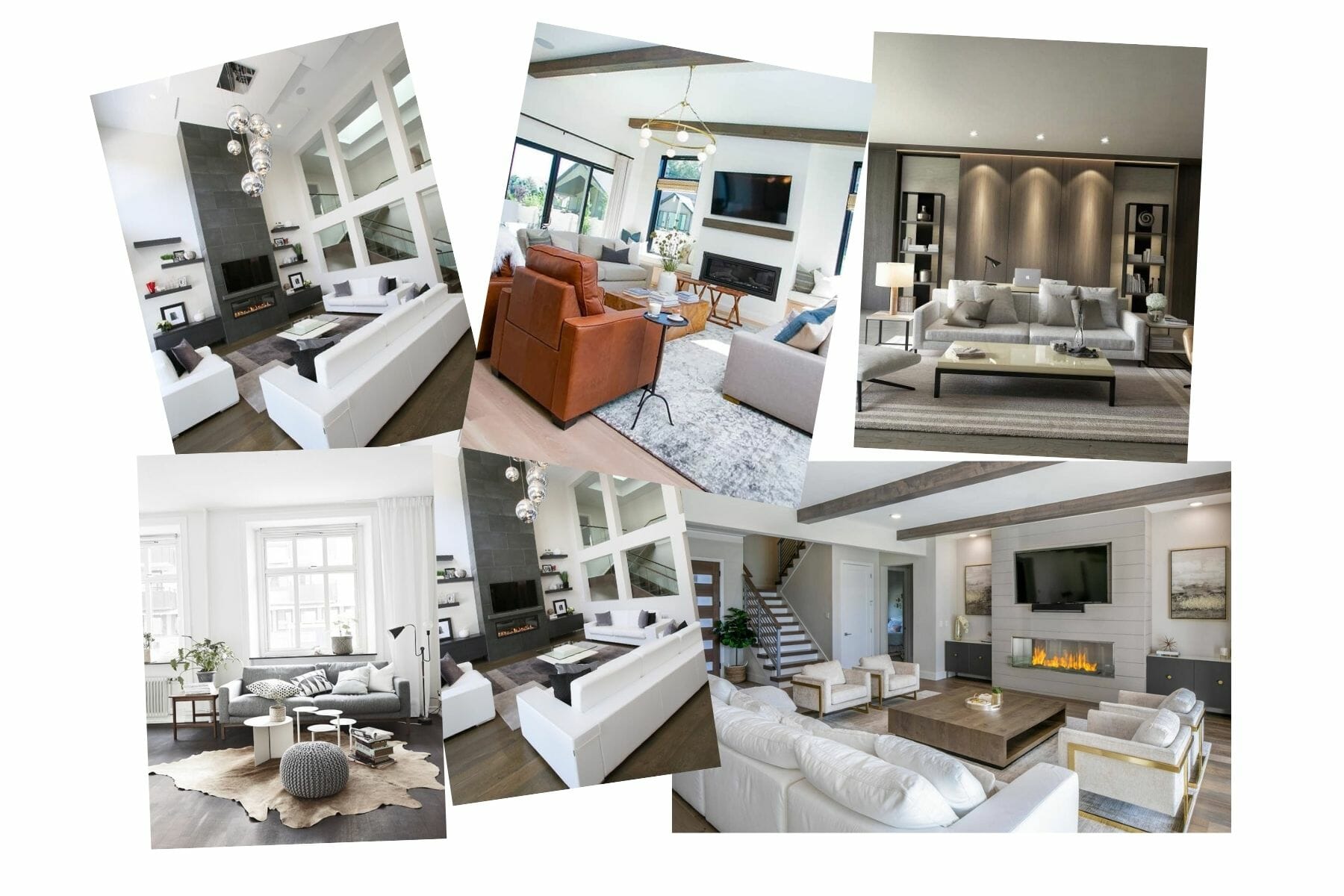 Contemporary design is very flexible, especially in an interior setting, as it sources inspiration from plenty of other styles. It focuses on the natural forms and true architecture of a building. Modern contemporary interior design is certainly all about embracing the personality of the house. That's why the clients wanted a cohesive, integrated space that would feel warm, welcoming, natural, and in balance with the outlining structure. 
This is where Tera S., Decorilla's online interior designer, came to the client's rescue. She certainly knew exactly how to help her clients design their dream home. First, Tera created an initial mood board for a modern contemporary interior design style. After considering her proposal, the clients knew they were in good hands and decided to implement all of her ideas.
Her design board was inspired by white spaces with a minimal look. She incorporated bespoke furniture that looked fun and eclectic. Tera paid attention to the smallest details too and created a cohesive look that matched the client's style perfectly. As a result, both the client and the designer agreed to curate a sophisticated contemporary design for the combined living and dining area, office, and bedroom. 

Modern Contemporary Interior Design Result 
The result of new modern contemporary interior design is stunning! The designer took up each space and implemented different treatments. For instance, in the open living and dining room, she focused on a white, grey and blue color palette and allowed the stone wall to take all the attention. Furthermore, the feature wall stands out as a statement piece while the rest of the room was designed around it. The designer selected furniture in hues of grey that picked up tones from the stoned wall. In addition, she used different textures and upholstery to bring an element of tactile interest to space. 
For the bedroom, the designer wanted to push her limits that added oomph to the room. She selected textured wallpaper which is certainly minimal yet chic. Furthermore, the poster bed with its metallic finish makes the room glamorous. In this contemporary design interior space, the designer used clean lines and straight shapes. As a finishing touch, the pendant bedside lamps make the room look even more sophisticated.
Last but not least, for the home office, the designer decided to go all out with stunning contemporary home décor. She used one-of-a-kind accessories and rugs to make the room look classy and unique. In addition, the client wanted a space that worked as a vanity as well as a recording room for her YouTube videos. Therefore, Tera opted for all-white wardrobes and walls that act as blank canvases. She also used loud accessories that boldly scream Hollywood glam. 
Modern Contemporary Home Decor Shopping List
Every interior design project executed by Decorilla comes with a customized shopping list. The assigned interior designers curate products and finishes for the clients so the process is streamlined and easy. In addition, the online shopping list contains exclusive Decorilla designer discounts that help the client bag amazing deals. This modern contemporary interior design project was meticulously planned which transformed the home completely. Moreover, by using 3D renderings, shopping lists, and designer instructions, the client could easily make their dream home come to life. Furthermore, to ensure the best outcome, designers work one-on-one with customers to understand their requirements better and offer indispensable solutions.
Shop the Contemporary Design Look for Your Interior

The key to designing a contemporary home interior is in selecting special and spectacular pieces. However, it is also important to choose furniture and decor that are equally pleasing and functional. For your own interior design, always be mindful of using a variety of textures in the room to keep it interesting.
For instance, having a mix of rough and smooth finishes like wool, rattan, marble, glass and velvet will make the space look unique, even if it has a muted color palette. If you need a little help in starting at home, have a look at our interior designer's top picks below. Furthermore, these pieces will help you decorate your contemporary home interior in next to no time.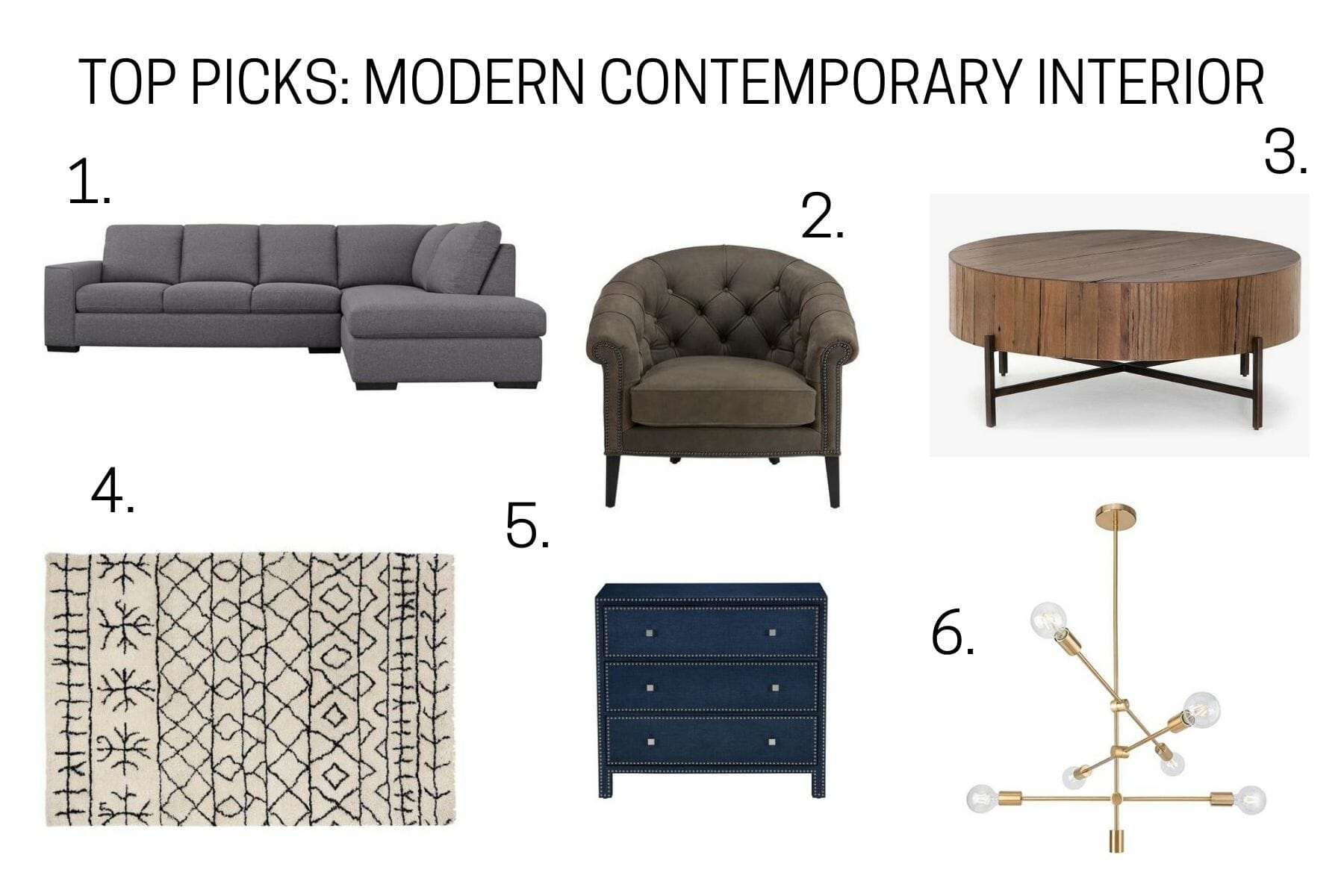 Design Your Own Contemporary Home Interior

Looking for your own contemporary home interior design makeover, but not sure where to start? Then, schedule your Free Interior Design Consultation for expert interior design assistance today!

[images: 1, Decorilla project images]