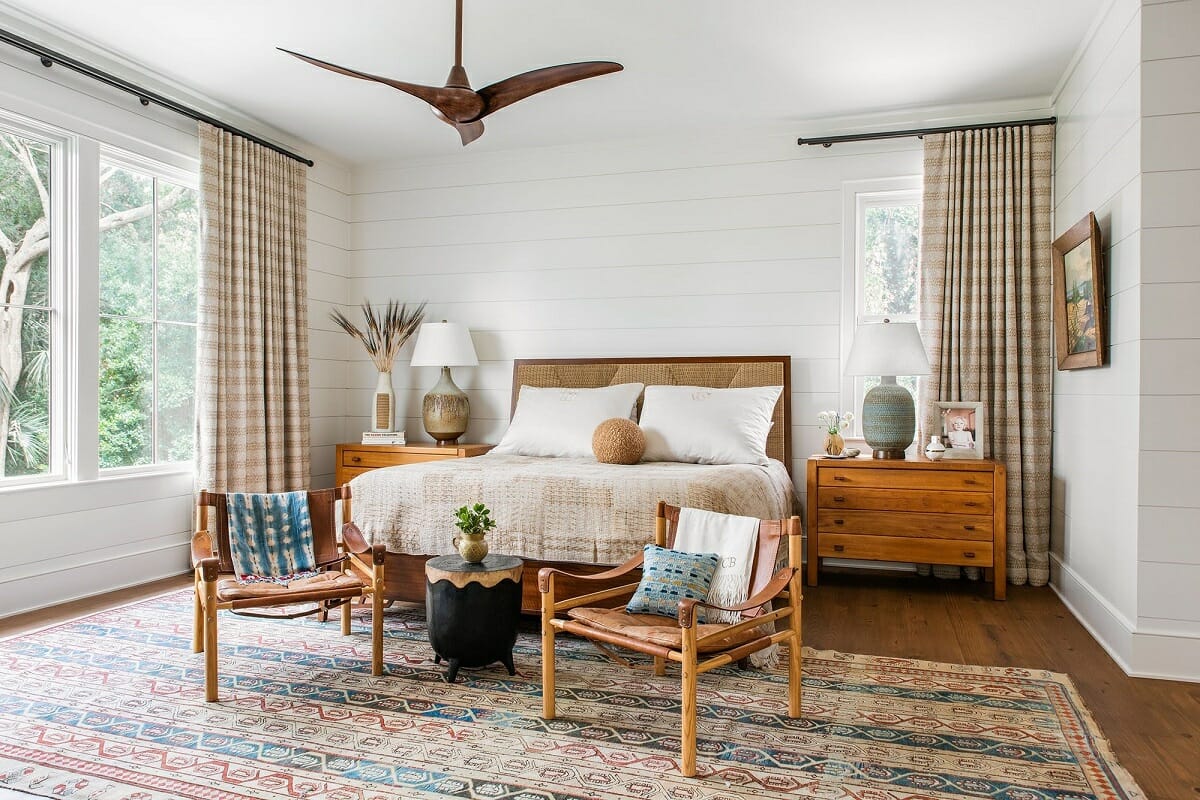 Bedrooms are, without a doubt, one of the most significant spaces in a home. After all, they serve as serene escapes from the daily grind. It's a place to forget the hustle and bustle and rejuvenate. With this in mind, a recent Decorilla client realized the importance of a well-designed bedroom. So they transformed four of theirs – with help! Read on for the breathtaking modern boho bedroom reveals!
The Challenge: Modern Bohemian Bedroom Design
Each interior design project comes with its own challenges – this online bedroom design was no different. However, the client knew which service to turn to for redesigning their second floor. In fact, they worked with Decorilla before to redo their home's first floor. This time around, the project included a foyer along with the four bedrooms. To call the project a success, the designer had to:
Identify the perfect 

boho style décor

 for each bedroom

Find a way to use the modern bohemian bedroom décor in the daughter's space while giving it a fun and unexpected twist

Incorporate some sentimental pieces into the new design

Recommend appropriate blinds or curtains

Turn the upstairs foyer into a quaint sitting area, ideal for reading while enjoying a hot drink
Need help transforming your bedroom into a tranquil bohemian interior

? Then, schedule a

Free Interior Design Consultation

to get started with a top designer today!
Modern Bohemian Bedroom Décor Inspiration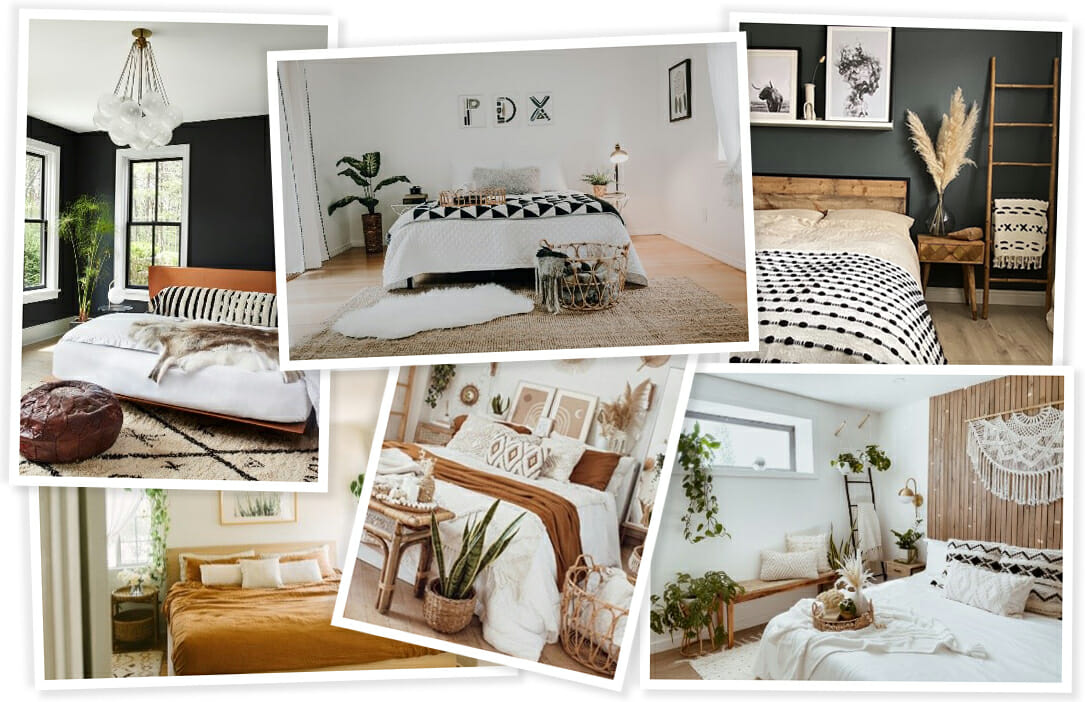 Neutral, chic, and relaxed sum up the client's forwarded inspirational images. Notably, they all gave off modern boho bedroom vibes. It was clear the client loved organic materials and texture, as seen through the presence of elements like wood, leather, and rattan. Indoor plants also stood out as they provided a touch of color in the otherwise neutral bohemian interior design bedrooms.
Minimalist Modern Boho Bedroom Design & Moodboard
Since the client had a clear idea of what they wanted, they completed the initial process quickly. They started their modern bohemian bedroom journey by taking a fun interior design style quiz and completing a design brief. Then they had a virtual consultation with the devoted Decorilla team. Using the client details, Decorilla could identify two interior designers, best-suited for the task.
Each designer created a moodboard for a modern boho bedroom according to the client's wishes. After considering both, the client had to pick a favorite to proceed. It was a difficult choice to make since both designs perfectly captured their vision. But in the end, they decided to go with Casey's clean yet carefree concept.
Casey's concept beautifully reflected the client's inspirational images and design brief. It gave a taste of the elegant bohemian bedrooms to come. The moodboard featured lots of modern lines, indoor plants, and wooden accents. It was clear that Casey also understood the client's need for texture, with additions like handwoven area rugs. Furthermore, her neutral color scheme was well-balanced, including warm and cool tones.

Modern Bohemian Bedroom Results
Before the modern boho bedroom revamps, the different spaces lacked character. They markedly only contained the essentials. Once the client saw the final renderings of what their interiors would become, they were completely blown away by the results.
A coherent style features throughout, yet each space felt special. The rooms have a modern minimalist twist yet also exude the warmth of bohemian interior design. A neutral color palette of warm browns and beiges, paired with cool greys and off-whites, helped too. These rooms now have a serene air – ideal for bedrooms and relaxation.
Harmonious Modern Boho Sitting Area & Master Bedroom
Before the modern boho master bedroom is the second-floor landing which opens up into a foyer. Here, sweeping wood and leather armchairs with matching footstools make a striking focal point. Additionally, a woven area rug acts as an anchor for the seating area. 
Side tables and natural-edged wooden wall art match the warm tone of the chairs. Natural light streams in through the skylight and adjacent window, while a pair of ribbed table lamps provide brightness at night. And finally, assorted standing and hanging plants complete the look.
Beyond industrial-style sliding doors lies the master bedroom. Its modern bohemian bedroom décor consists of wood, natural fibers, and ceramics. The most striking of these is an abstract cutout wood piece hanging above the headboard. Overall the room has a sleek modern but also organic look, leading to a comforting ambiance.
The textured oatmeal area rug centers the space and complements the off-white curtains and organic linens. Typical of a boho interior, the bed is plush and full of pillows. To make the room shine just right, a woven wicker pendant, a table lamp, and built-in headboard LEDs add layers of light. And to give the neutral scheme an invigorating boost, indoor plants dot the room.
Simple Yet Sleek Guest Bedroom 
The first guest bedroom is spacious and light. It's thanks to the light color scheme and a huge candle-lit floor mirror reflecting light and enhancing the bright look. At night, two contemporary swiveling wall sconces make reading in bed possible. They also bring an edgy designer touch to the modern room.
Like in the master bedroom, a woven area rug grounds the space. Dark elements like the wall sconces, generous nightstands, and planter bring balance to this mainly neutral room. Additionally, plants and a caramel-toned throw pillow add color. Raw-edged wood art adorns the wall in this room too. The modern boho bedroom décor is stylish, but the heirloom trunk certainly steals the spotlight.
Serene Twin Bed Escape
The cohesive boho design continues in the second guest bedroom. Similarities come through in wood wall art and accents, a woven area rug, plush bedding, and indoor plants. However, what makes this guest bedroom unique is the twin bed setup, with its bespoke shared bedside table and lamp. 
Despite being the smallest room, it feels spacious due to its minimalistic, modern boho aesthetic. The floor-length mirror and frosted glass closet doors help with this vibe. A textured accent wall also contributes to the space's visual appeal. Overall, the modern bohemian bedroom décor makes this room feel serene, warm, and welcoming.
Wildcard Preteen Boho Bedroom
The final bedroom also captures the bohemian spirit but with a funky twist. Created for a preteen girl, this modern bohemian bedroom color scheme is light and bright. The walls are a warm cream, while the ceiling, baseboard, and most furnishings are a crisp white. It has a more contemporary and less organic feel, compared to the other bedrooms.
The space features a sleek sit-stand desk and a comfy chair. Additionally, a snow leopard-patterned area rug distinguishes two zones – the study and loft. Plus, it also adds a youthful, fun look next to bean bags. Below the loft bed, a two-seater sofa features a trio of cozy accent pillows. Finally, more greenery invigorates the design, tying in with the home's overall design.
Natural light floods the room to give it a spacious and breezy air. But at night, it's at its most magical. Fairy light curtains, a backlit mirror, and strip lights running along the ceiling's edge provide brightness. Yet the most impressive is the strip lights bathing the bedroom in a funky pink glow.
Modern Boho Bedroom Ideas Online Shopping List
Every Decorilla client receives an online shopping list when working on a project like the modern bohemian bedroom one above. On top of the shopping list, clients also enjoy photorealistic virtual designs of their space, layout instructions, and more. Putting together a new bohemian or other interior has never been easier!
Modern Bohemian Bedroom Décor Top Picks
Recreating the desired look is simple when you have a few key pieces. Consider our top picks below for a chic boho master bedroom.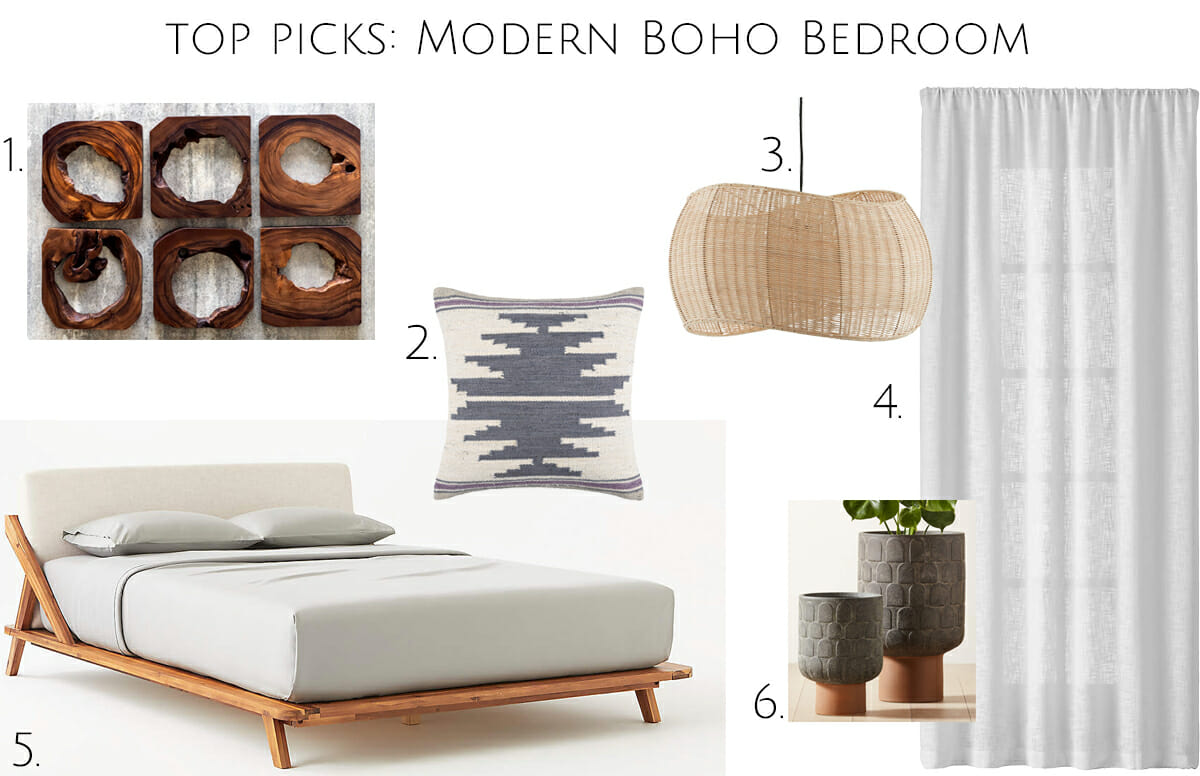 Want a modern boho bedroom upgrade?
A bedroom should be a tranquil place for you to recharge. If you're ready to transform your room, schedule a Free Interior Design Consultation to start your bedroom project today!

[images: 1, Decorilla project images]