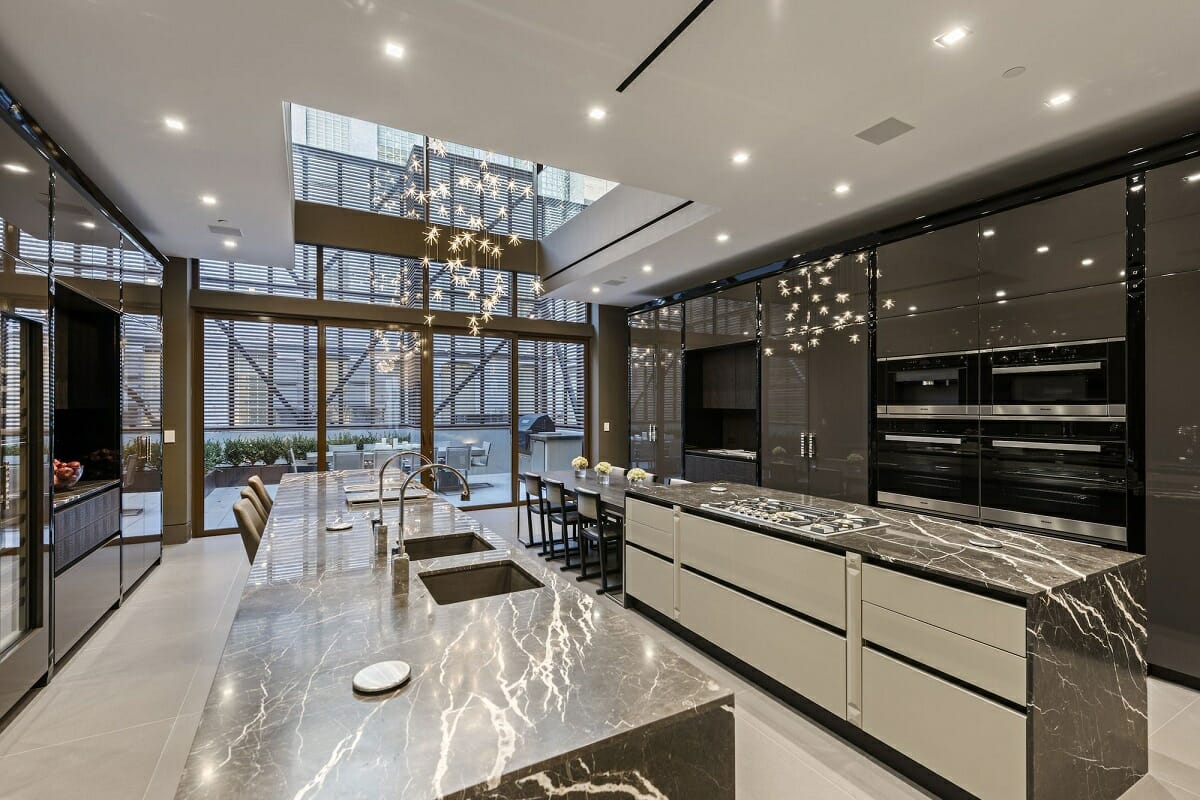 When building a new house, picturing your ideal home can be tough with just a floor plan in hand. An even better step is to visualize your dream interior with professional, photorealistic renderings. For this reason, new homeowners turned to Decorilla to help build their vision from the ground up. See the final luxury home interior design below – the results are a tasteful masterpiece you won't want to miss! 
The Challenge: Luxury Home Interior Design 
Decorilla's recent clients needed a complete design of their new build. The project consisted of many rooms, specifically a great room, study, kitchen, and more. Such a large-scale project comes with challenges that the designer needed to address. These included: 
Keeping to a white color scheme throughout the home

Structuring a 

living room layout

 with enough seating for ten people

Ensuring the luxury family room features child-friendly furniture and fabrics (but not leather)

Adding creative wall and ceiling features

Designing a clean and modern kitchen while ensuring a warm and inviting air

Putting together a luxury great room to emphasize and balance the double-volume entryway and adjoining game room

Formulating a luxury bathroom design to complement the lavish interior
Want to see more stunning before and after results? Then, simply Sign Up to receive the latest transformations directly to your inbox!
The Inspiration: Luxury Great Room & Home Décor
The clients wanted opulence that fit a family lifestyle. For this reason, they wanted the look and practicality of large sofas and great dining areas. And for the sophisticated side of things, the pair loved the look of imposing chandeliers, marble, and roomy and luxe interiors. 
Luxury Family Room Mood Board & Design 
With the clients' inspiration in hand, the designers created their initial proposals. After seeing two concepts by industry-leading luxury interior designers, the clients fell in love with Laura's mood board. This meant Laura could finalize her ideas and create photorealistic 3D renderings of the luxury home interior design. 
The base of Laura's concept is a neutral color scheme of whites, gray wood, smokey accents, and soft metal. To make the rooms feel lofty, she suggested recessed ceilings, downlights, and feature lighting. To complement the theme, a focal media unit would form the entertainment center. 
The kitchen online interior design concept features high cupboards, pendants, and two islands. Quartz marble and gray wood dominate the concept and are complemented by top-of-the-line appliances.

Luxury Home Interior Design: Result 
The final renderings tick all the boxes. It's drenched in finery, maximizes coziness and warmth, and showcases roomy elegance. Now the client could enjoy family time, entertaining, and life tasks in a designer home. 
Luxury Great Room 
The luxury home interior design starts with an entryway and adjacent great room. This double-volume space calls for an exquisite composition. As such the designer chose a symmetric formal living room layout to complement the great windows and stately staircase. The latter features a zen garden and cascading chandelier. This area also works as a foyer to the game room and bar, which has a sportscar show garage. 
The luxury great room rests between two framing pieces. A custom walk-in wine cellar is on one side while a floating fireplace sits on the opposite side. The fireplace also doubles as a marbled room divider for the game room and entrance. Large-scale porcelain tiles, recessed ceilings, and marble finishes set a tone of opulence. 
To balance the light scheme, the designer included warm wood screening to contrast cold stone features. The sitting area is a serene area with its grounding greige rug, natural wood coffee table, track arm sofas, and brass-framed accent chairs. 
Opulent Family Room
The focal point in the luxury family room is a custom media wall unit tailored to fit a big TV screen as well as provide storage for décor and devices. Moreover, the accent backdrop echoes the floor tiles and kitchen finishes for a dramatic and sophisticated touch. Two black-framed windows and wood add a natural warmth to balance the coolness of white. 
Ample and cozy, an extra deep and comfortable sectional sofa will cater to family and friends. Its L-shape encourages conversation while its material is stain resistant – perfect for a family home. Modern statement chairs and poufs also provide additional flexible seating.
Kitchen with Luxury Home Décor
The kitchen is where luxury home interior design certainly takes center stage. To balance the palette, two-tone kitchen cabinets play with natural hues. Being light, the upper ceiling-height cupboards make the walls seem tall and stately. 
A recessed ceiling frames the center of the kitchen while providing an anchor point for magnificent globe pendants. The entire space has a pristine and polished look. This, in part, is owed to integrated appliances and porcelain tile-covered stove hood. 
Besides a dining bar, a breakfast nook provides casual dining for up to eight people. The intimate setting features a sculptural wood table, a narrow sectional sofa, and finely crafted chairs. A cluster of globe pendants coordinates with the lighting above the kitchen islands. 
Luxe Home Study Room 
Symmetry and precision set the mood in the study. Push-to-open cabinets line the focal wall, making the room feel more spacious. As a contrasting element, the drawer shelf doubles as a grounding display area for luxury home décor. A built-in desktop also features drawers as well as enough space for three workstations. And as a final touch, pot plants invigorate the interior with a pop of color. 
Luxury Bathroom Design and Supporting Quarters
A contrasting color scheme fits the luxury bathroom design perfectly. Moody gray tiles with a marble effect make an impressive backdrop for the slim fixtures and neat architectural lines. Globe pendants also provide a warm glow to balance the space. 
Lastly, a fully kitted washroom and butler's bar will ensure the clients' staff can do their tasks effectively. Neat storage units and arranged items, like glasses and linen bins, make it easy to organize and clean. 
Online Shopping List for a Luxury Home
Every finalized package comes with a detailed online shopping list – complete with trade discounts! From here, clients can purchase luxury home décor to finish their dream homes.
Design a Luxury Home Interior 
You can certainly create your own luxury home interior with planning and by selecting the best décor. Look at our favorite items to get a luxe style in any space.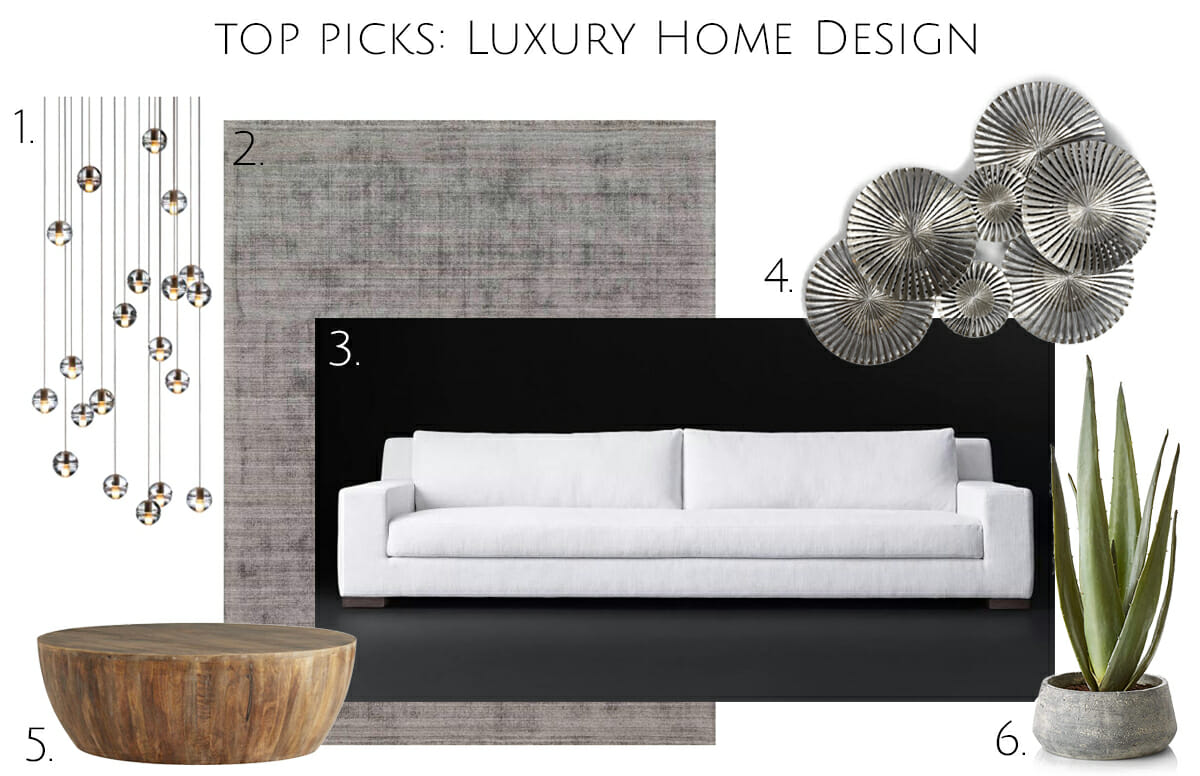 Online Interior Design for Your Home Transformation
Feeling inspired to create your own luxury home interior design? Then, schedule a Free Online Interior Design Consultation with professional designers to get started today! 

[images: 1, Decorilla project images]