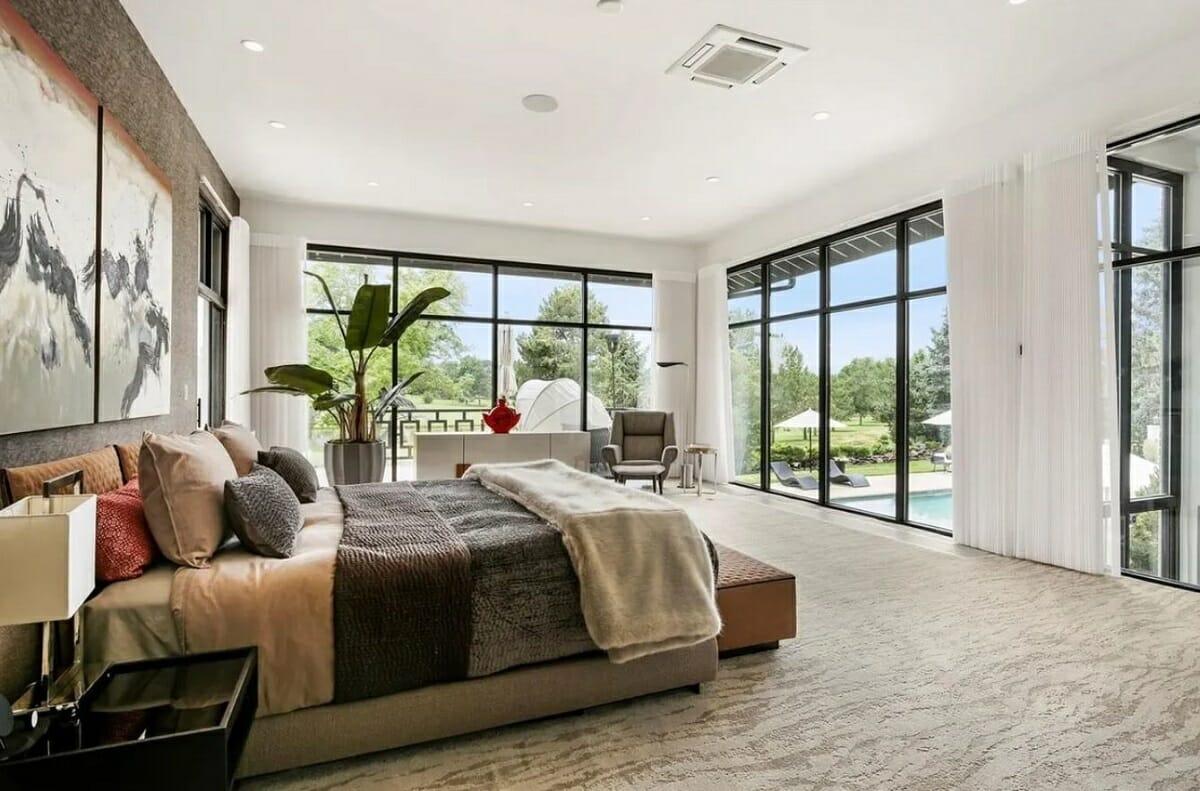 Custom high-end bedroom design opens so many opportunities. Recent clients wanted to convert their clashing styles into one soothing celebrity-style interior. Fortunately, they turned to Decorilla. And soon, they could have a glam yet fun design for unwinding and recharging – read on for the stylish reveal!
The Challenge: Custom High-End Bedroom Design 
Any interior design comes with a set of difficulties. Similarly, upscale homes have their challenges. For this online bedroom design, merging styles was the biggest factor. Apart from that, the designer also needed to:
Include high-end bedroom furniture that is child-friendly

Create intrigue with structures in a blank and bland space

Focus on simplistic, minimalist designs while giving an inviting atmosphere

Merge functionality with a calm yet alluring aesthetic
Want to know what look is right for your high-end bedroom? Then, t

ake our

Free Interior Design Style Quiz

to discover your unique decorating style today!
High-End Master Bedroom Inspiration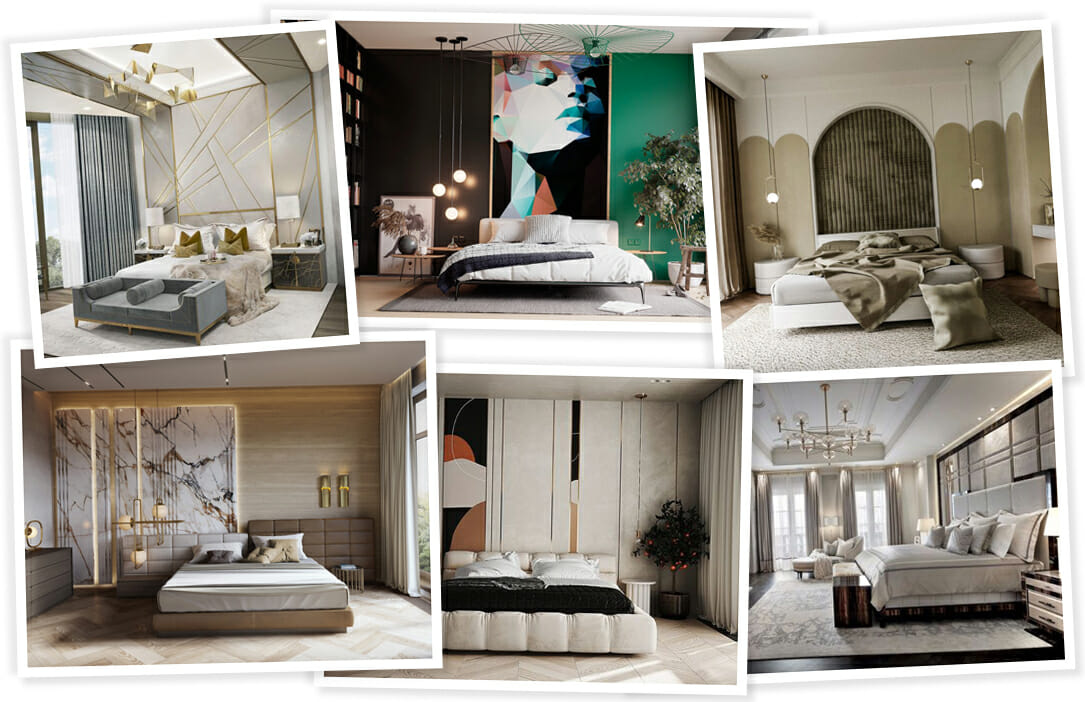 One look at the clients' inspiration gallery and it's easy to see they wanted an awe-inspiring design. Their custom master bedroom favorites include vivid backsplashes and feature walls with presence. These ground the focal point of the room: the bed.
In addition, they loved contemporary lighting as well as modern and trendy bedframes. Their bedroom ideas for couples also include wood, marble, and light contrasts through texture and color.
Moodboard & Custom High-End Bedroom Design 
The clients first completed a brief quiz and then spoke to the design team during a virtual consultation. From here, Decorilla could pinpoint which designers suited the clients' needs best. And soon, these creatives could set their luxury interior design concepts for the high-end bedroom.
Spoilt with exceptional options, the clients chose Ibrahim's high-end bedroom with contemporary décor. Ibrahim chose a neutral scheme with striking structural features and plush finishes. His concept showed finesse and restraint while maintaining an eclectic feel.

Custom Master Bedroom Result
The final custom master bedroom design is light yet layered and intricate. A few things work in the design's favor to make it come to life while still having a minimalist air. A neutral palette of gentle gray and light latte creates a lovely warm balance. The cooler shades also provide a soft contrast to warmer tones.
Contemporary lighting also enhances the interior with its warm glow. Not only practical, but these accents are also fashion-forward and aesthetically pleasing. From the sconces to the chandelier and pendant, each fixture adds value to the design. Every piece, like the furniture, is a designer accent.
Floor-to-ceiling: each surface brings visual texture. Herringbone floors add a mid-century modern touch, while lime-washed walls bring the room into the present. Feature walls, namely at the head of the bed and by the fireplace, include a beautiful grain of blond wood.
Plus, soft accents, like the curved chairs, upholstered bed, and bedding continue the textured theme in more tactile elements. They certainly say comfort and relaxation.
High-End Bedroom Furniture 
All details are catered for in this high-end bedroom, from walls to floors and furniture. Though many straight and clean lines structure the apartment, round and plush furniture soften the look. The interplay between straight, hard surfaces and soft, curved lines also creates balance and harmony in the setting.
Twin boucle chairs and a marble accent table add symmetry to the layout. Similarly, the plush upholstered bed, with an extended base, features two minimalist pedestals. These sit beneath sculptural horsehair-shaped sconces. Also curved, they are beautiful to view and add soft light for evening reading.
Luxe Ceiling & High-End Bedroom Décor
The spacious room feels even roomier thanks to floor-to-ceiling cabinets, flowy curtains, and a large mirror. These elements work together to elongate and heighten the space. The light curtains also let in as much natural sunlight as possible.
And, in turn, light bounces off the gray and white surfaces and mirror. A unique domed ceiling with accent wallpaper also brings another level of intrigue while casting a sunny glow on the bedroom.
Finishing touches make an impact too. The smoky abstract motif of the rug adds an artistic visual, and its texture adds coziness underfoot. Fun décor also lights up the high-end bedroom design with two eclectic artworks, various vases, and greenery.
Before and After: How did the designer change the bedroom? 
The designer made sure the bed is the focus of the room. As such, he added structural details to add depth while enclosing the head of the bed. This, in combination with the wood wall panels, sets an intimate and interesting space. It also forms a nook-like sanctuary in a large interior.
He also ensured the space feels casual to encourage slow unwinding after a long day. The armchairs nestle around the fireplace at the foot of the bed, perfect for a nightcap or early morning coffee. A great monitor also provides entertainment should the couple want to watch their favorite movies.
Online Shopping List
Each project features a completed 3D design, implementation tips, and an online shopping list. With their curated list, clients can access trade-exclusive discounts and product details from various vendors all in one place. Both will make pulling off the look easier than ever. Together, they can make a luxury home their own with a little help from experts.
Top Picks for a Plush Custom Bedroom
Any interior begins with just a few pieces. Similarly, you can update your look with select items in the style of your choice. If you liked this high-end interior, use our top picks below to guide your own bedroom design!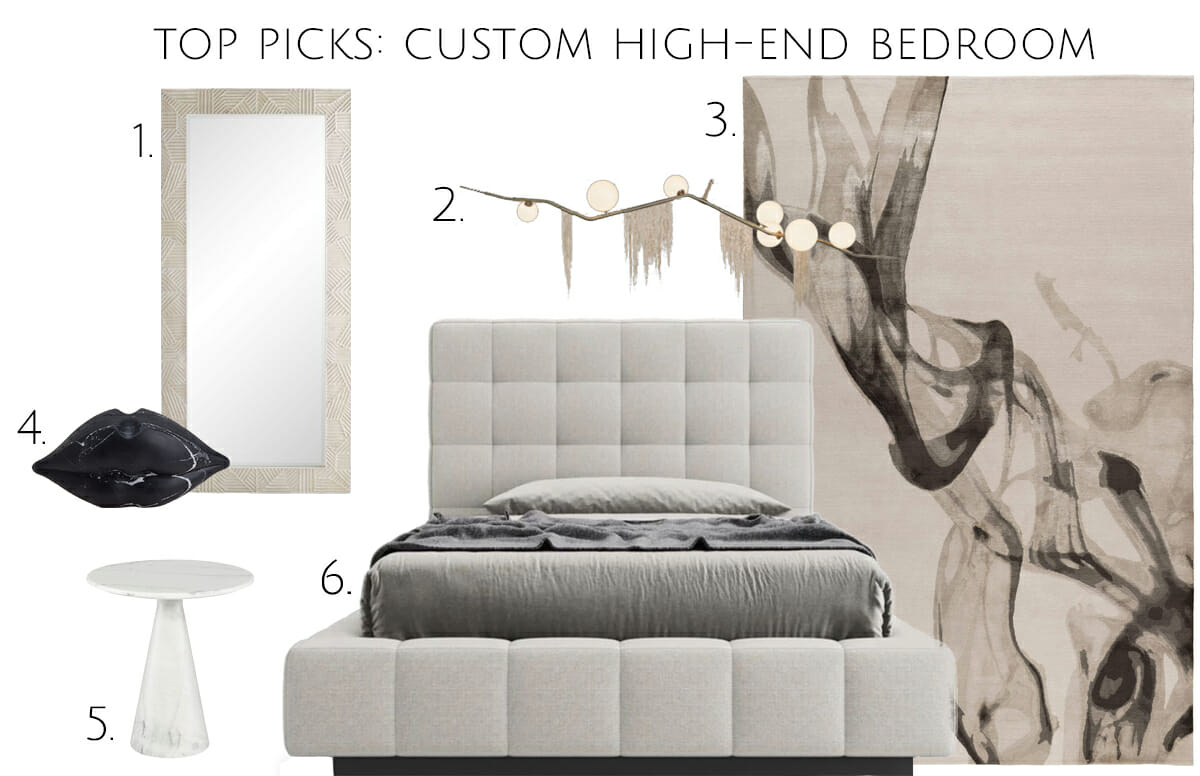 Want your own high-end bedroom design? 
Whatever your preferred style, a luxe interior can be yours too! Schedule a Free Interior Design Consultation to get started today!

[images: 1, Decorilla project images]