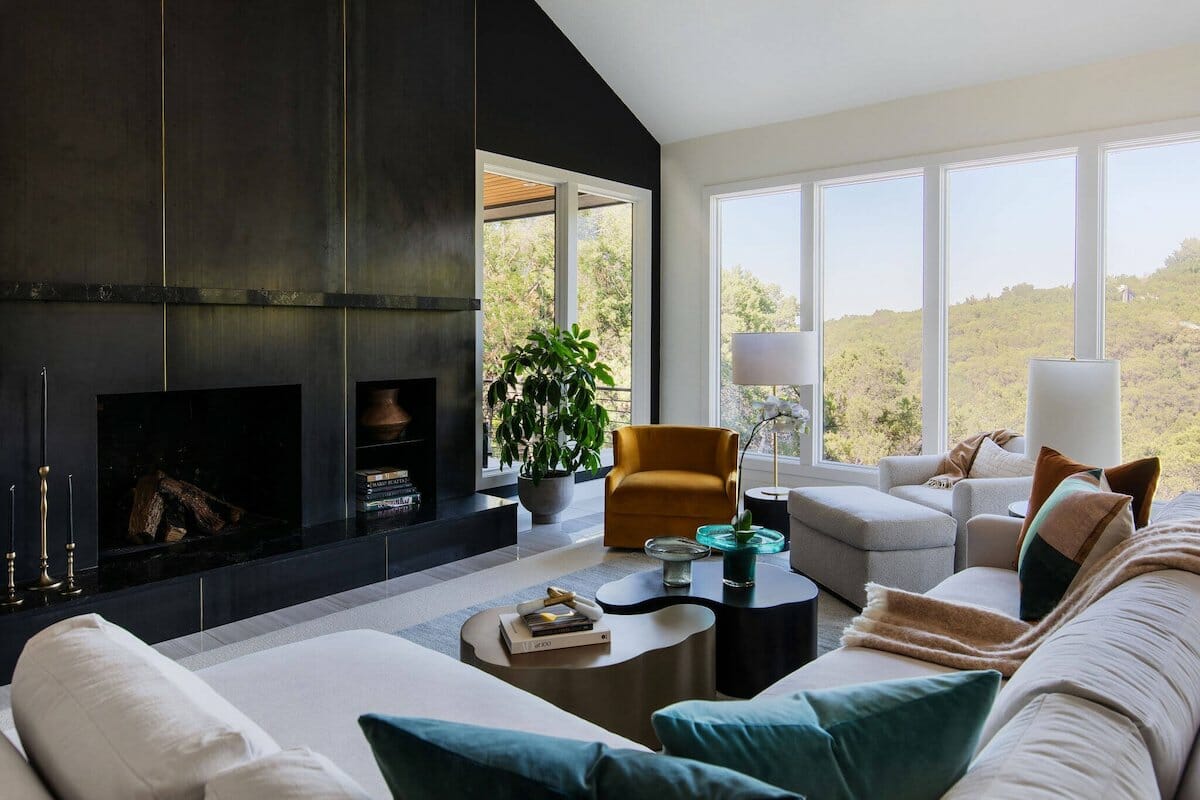 Do you need some design inspiration for your living and dining room? We have three words for you: fresh, glam, and inviting! This story shows the dramatic results of a home makeover, turning dull and empty to elegant and edgy. From flat to fabulous, read on to find out everything about this glamorous living room design, including an oh-so-dreamy dining space!
The Challenge: Glamorous Living & Dining Room Design
Our client came to us with a specific vision in mind for her new open-concept living room. She wanted a glamorously elegant yet comfortable space where she could spend time with her family but also entertain guests. The house was brand new, featuring white walls and no distinctive character. Therefore, the chosen designer faced several challenges, having to:
Source new furniture with a glam vibe

Come up with a functional layout for the living room

Use the latest dining room ideas to create a bold, outspoken design

Incorporate the client's favorite colors into the space
Not sure if a glamorous interior is the right look for you? Then, t

ake our

Free Interior Design Style Quiz

to discover your unique decorating style today!
Glamorous Living Room Sets & Inspiration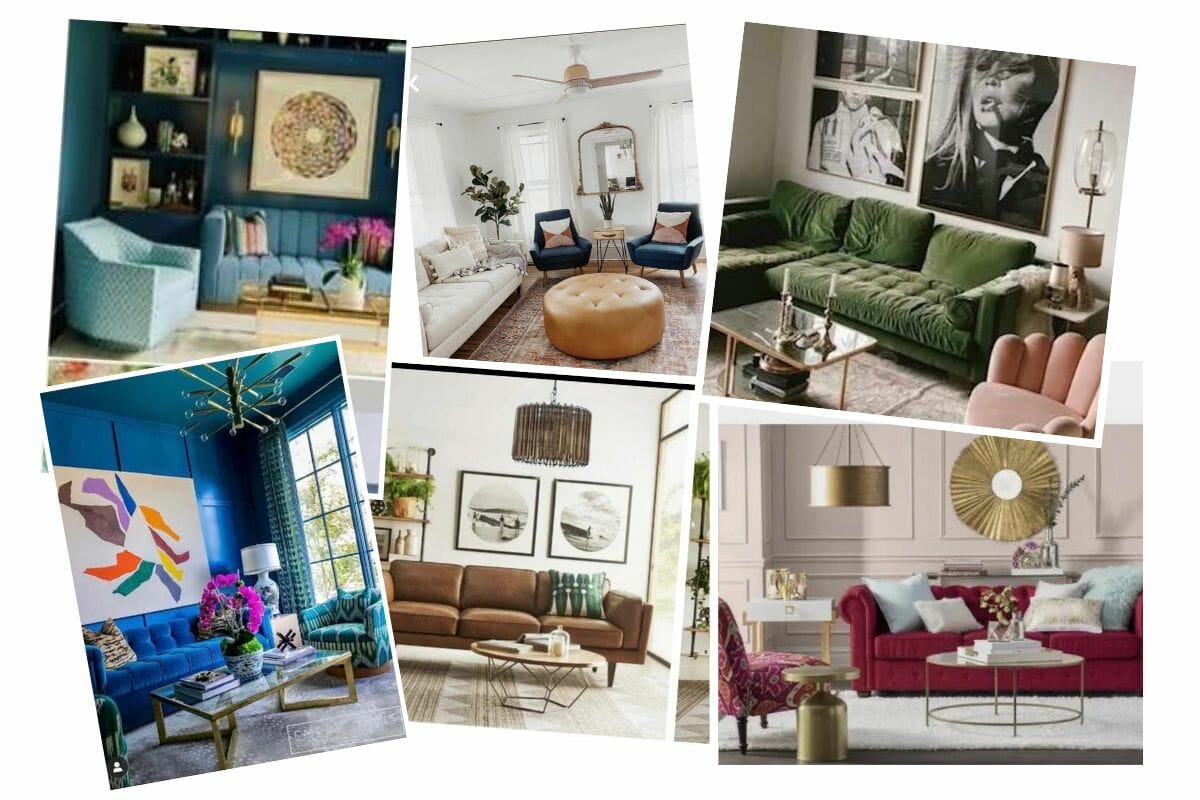 The client provided an inspirational gallery that clearly communicated her glamorous living room ideas. Most images displayed plush, tufted furniture, golden accents, and glam decor pieces. Each room featured some eye-catching accessories, such as a soft area rug, notable art, patterned cushions, and statement lighting fixtures. Although a few images boasted a neutral scheme, jewel palettes dominated the overall display. 
Glamorous Living Room Design Ideas & Moodboard
Considering all provided information, the Decorilla team proposed two suitable designers. Both had an affection for glam flair, bold color pops, and metallic finishes. In addition, each designer's portfolio already featured stylish examples of similar projects. The client faced the pleasant but challenging task of picking just one moodboard to continue with. Finally, it was the concept from Casey H. that checked all boxes perfectly. 
Casey's vision of a beautiful, urban glam-inspired interior design was a cohesive elaboration of the root piece – a designed abstract wallpaper full of vibrant hues. Although the client's idea was to place the wallpaper next to the stairs outside the living room, it was still a part of the same living area. Therefore the designer spotted and used the opportunity to marry different elements into one cheerful scheme. 

Glamorous Living Room Design Results
The layout plays a significant role in the final outcome. As per the client's request, the designer had to develop a functional configuration that could cater to the family of seven—plus their frequent guests. After considering several solutions, including two separate glamorous living room sets, they both agreed on one large, central conversational area. Consequently, the living room seating arrangement comprises two sofas, two armchairs, and a pair of decorative ottomans.
Although abundant, the gold and pink accents add a cheerful vibe and just the right amount of glamour without overpowering. By blending in a dash of yellow, the designer fulfilled yet another client's wish: to incorporate all her favorite hues. The playful and glamorous living room furniture scheme also juxtaposes the substantial black fireplace, balancing out its solid weight. Meanwhile, layered textures provide a lot of visual depth, making the glam design anything but flat. 
Glamorous Dining Room Ideas and Design
The glamorous dining room composition stuns with its overall warmth, understated elegance, and a few slightly unexpected elements. Clean furniture lines make an excellent canvas for abundant metallic finishes, allowing them to shine but not overwhelm. Velvet dining chairs in a show-stopping pink hue add a touch of whimsical luxury, and black cabinets ground the setting while enhancing visual interest.
Speaking of whimsy, the choice of pink wallpaper adds a welcome touch of stylish surprise, perfectly complementing the glitzy arrangement. The Art Deco-inspired pattern is both mischievous and sophisticated at the same time, making a chic statement without taking itself too seriously. Meanwhile, the graphic black-and-white rug pattern tones down the overall effect to establish an ideal balance. 
The glamorous living room design encompasses a spacious open-concept area with a kitchen included. And since the rest of the room plays on the edge of being over the top, the kitchen makes a surprisingly calm visual statement. It's black, serious, and entirely streamlined. Still, it plays well with all other features, acting as a decorative asset rather than a utilitarian background. 
Glamorous Living & Dining Room Shopping List
One of the great things about working with Decorilla is the access to true-to-life 3D renderings and layout instructions. This means you can see and feel your room before installing any furnishings or decor items. In return, it makes the sourcing and deciding process easier than ever! A complete online shopping list makes everything ready in one place, eliminating the need to search around endlessly. Meanwhile, a concierge service takes care of the shipping and delivery details to streamline the process even more. 
Glamorous Living Room Furniture Top Picks
With just a few well-chosen pieces, you can transform your home into a glamorous living and dining area where your family and friends will love gathering. So check out our top picks—maybe you'll find some favorites here: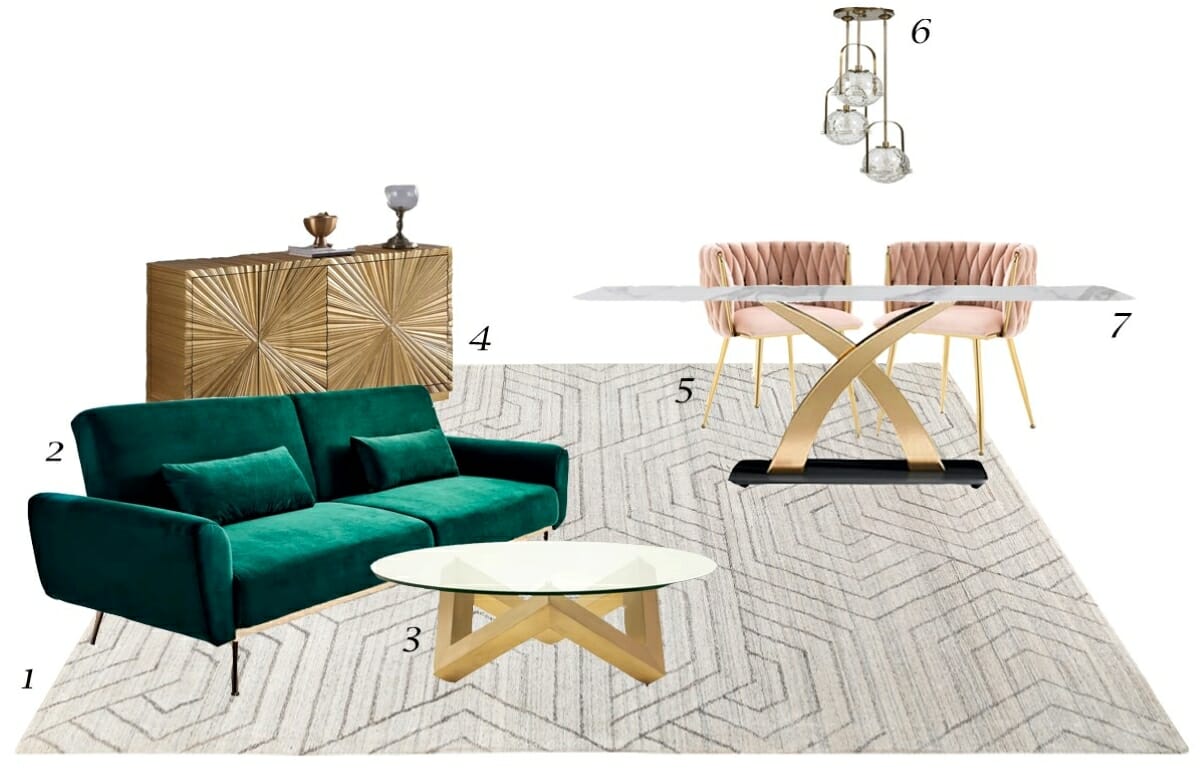 In need of an amazing glamorous living room makeover?
Work with a professional interior designer to get truly stunning results. Schedule a Free Interior Design Consultation to learn more today!


Featured image: [1]