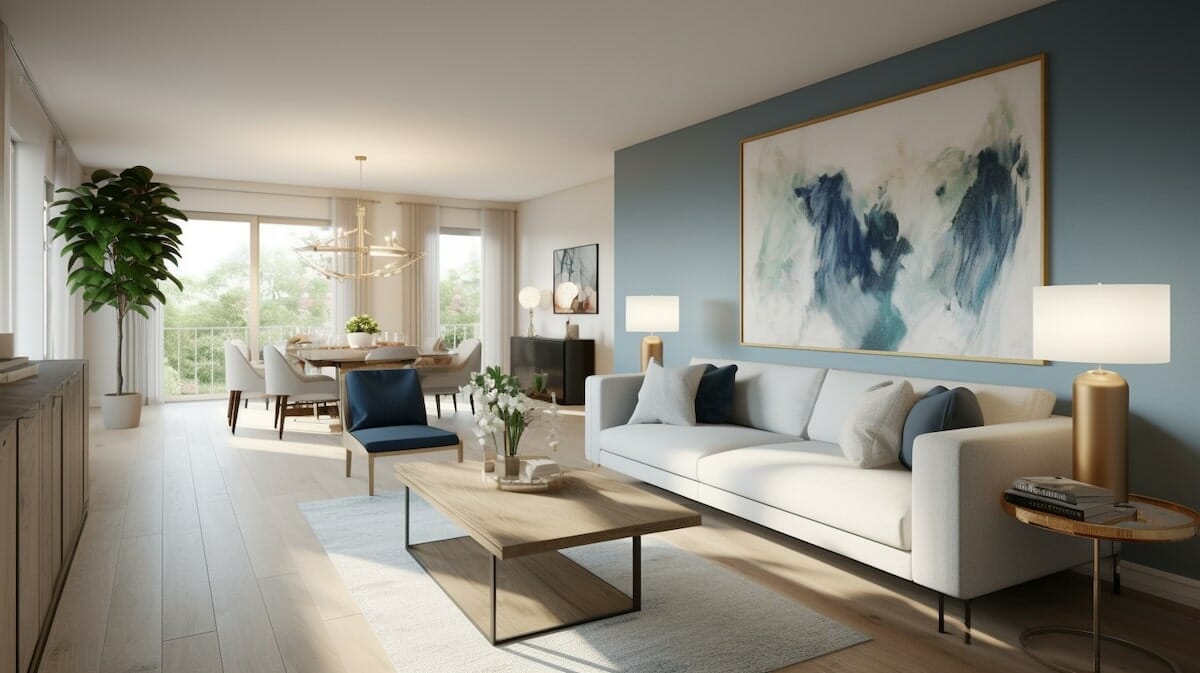 Renovation and upgrades can make a home's potential a reality. And with new space, comes a brand new look and feel. Recent Decorilla clients wanted turning their home into a chic and airy space for the family to enjoy. And they got this and more in their contemporary interior design. Read on for a behind the scenes look into this amazing transformation. 
The Challenge: Contemporary House Interior
New builds and renovations come with unique challenges. These often include more in-depth construction and design choices than a superficial makeover. Not only did this project need to move from modern to contemporary design, but it also had to tick off a few other things. More specifically, for this contemporary interior design, the designer needed to:
Design a living room, kitchen, bathrooms, and lounge

Select appliances, cabinets, finishes, and window treatments for the contemporary kitchen design 

Create a cohesive scheme throughout the two-story home

Include contemporary bathroom ideas that have a calming effect 
Want to see more amazing before and after transformations? Then, simply

Sign Up

for the latest room reveals delivered directly to your inbox!
Contemporary Décor & Design Inspiration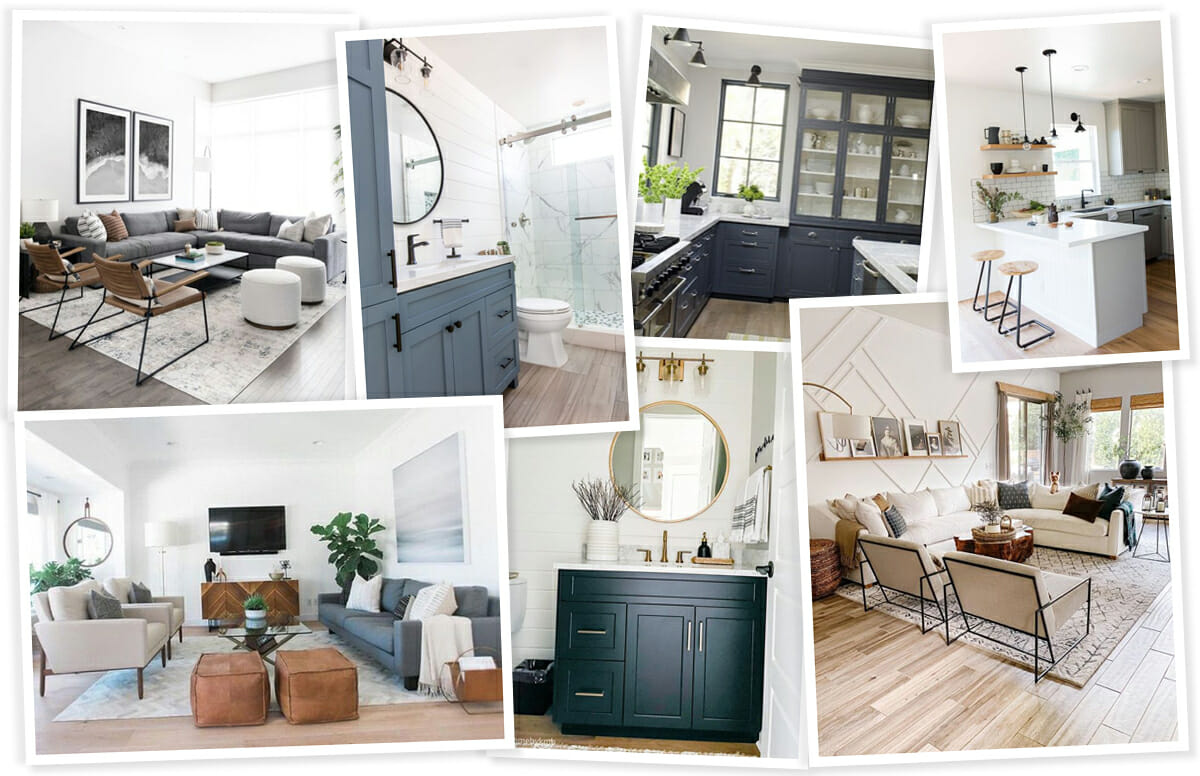 The client picked neutral schemes with a distinct two-tone contrast. More specifically, dark blues complement whites and browns in the contemporary living room, bathroom, and kitchen designs. She also likes minimal contemporary décor and clutter-free living. The finished contemporary kitchen designs, especially, show how successful clean aesthetics can be. In addition, the client's inspirational images feel comfortable too. 
Contemporary Mood Board & Interior Design
After the first steps, Decorilla's team matched the client to distinguished designers. Each concept captured contemporary finesse, but it was Drew's cozy-chic proposal the client loved most. He chose a light palette for the mood board filled with coastal nuances and contemporary décor. The scheme balances high-end elegance and casual living. 
Drew chose contemporary seating for the living room designs. Both rooms would feature similar grey upholstery. Textured gray rugs promise comfort underfoot, while colorful pillows make sofas even cozier. Besides sleek concepts, Drew also includes contemporary bathroom ideas equally stylish. 

Calming House Interior Result
Now the house is voguish and roomy. The comprehensive five-room design pulls together the newly renovated home as well as the add-on spaces. The balance comes from a soothing color scheme used throughout the interior. Additionally, contemporary décor dots each room for a trendy but warm touch. 
Contemporary Living Room Interior Design 
A narrow L-shaped room comes with challenges, but when designed just right, one area flows into the next. And this space is a great example. The contemporary living room interior design has a rectangular layout that is practical and roomy. What's more, swivel chairs make it easy to switch between enjoying a movie or conversation. 
An ash-blue wall color distinguishes an abstract print and generous sofa against the soft gray and off-white palette. Additionally, a striped rug and steel coffee table structure the contemporary interior design. The striped pattern makes the room feel wider and the table ensures an airy look. Visually the space flows seamlessly to the dining and kitchen area as well.
The open plan living-dining room has contemporary as well as rustic farmhouse-inspired furniture. As a result, the space is laidback though still sleek. Décor is minimal, encouraging a neat and calming atmosphere. This also makes features, like the buffet table and its artsy arrangement, stand out more. Final touches include an industrial-style chandelier and beautiful greenery. 
Contemporary Kitchen Design
Next to the family dining table is a spacious two-tone kitchen. Here a white waterfall island and backsplash contrast navy cupboards for a striking look. Not only does white add interest, but it also makes this corner feel light and bright. Plush curtains enhance this feeling even more. The pendants, barstools, and decorative touches complete the contemporary house interior. 
The client can look forward to an exquisite kitchen with high-end appliances and matching fixtures. Lastly, a non-slip runner provides the right amount of style and harmony to the contemporary kitchen design.
Casual Contemporary Lounge Design
A second lounge complements the master suite on the second floor. This space is made for comfort while keeping style in mind. The L-shaped sectional with its many throw pillows sits next to a huge window. The bright light and layout make it perfect for reading or easy lounging.
Not only is it cozy, but the upstairs living room is also beautiful. The colors enhance the setting, while the furniture is perfect for a more intimate and relaxed atmosphere. Unique round accent and coffee tables make sure the room is still very trendy as well.
Calming Contemporary Bathroom Ideas
The master suite has contemporary bathroom ideas that are both uplifting and memorable. This is due to a soothing color scheme that goes into sandy and teal territory. Line artwork brings a lighthearted touch to the sophisticated and luxurious finishes. 
The guest bathroom certainly packs a style punch. Different floor and wall tiles clad the space in designer favorites while deep blue contrasts with lighter accents. As a result, the room feels layered and visually rich. 
Online Shopping List
The final package comes with an online shopping list to make procurement easy and straightforward. From here, clients can buy the necessary products directly from Decorilla's platform. If they do so, they have access to massive exclusive trade discounts. The design also has photorealistic renderings, a detailed how-to guide, and an assistance service. With all this, you can be sure your home will look perfect in no time. 
Contemporary House Interior Top Picks 
A calming interior needs only a few items to set the tone. The same applies to contemporary interior design. So, if you want to spruce up your home, use the contemporary décor below to guide your style.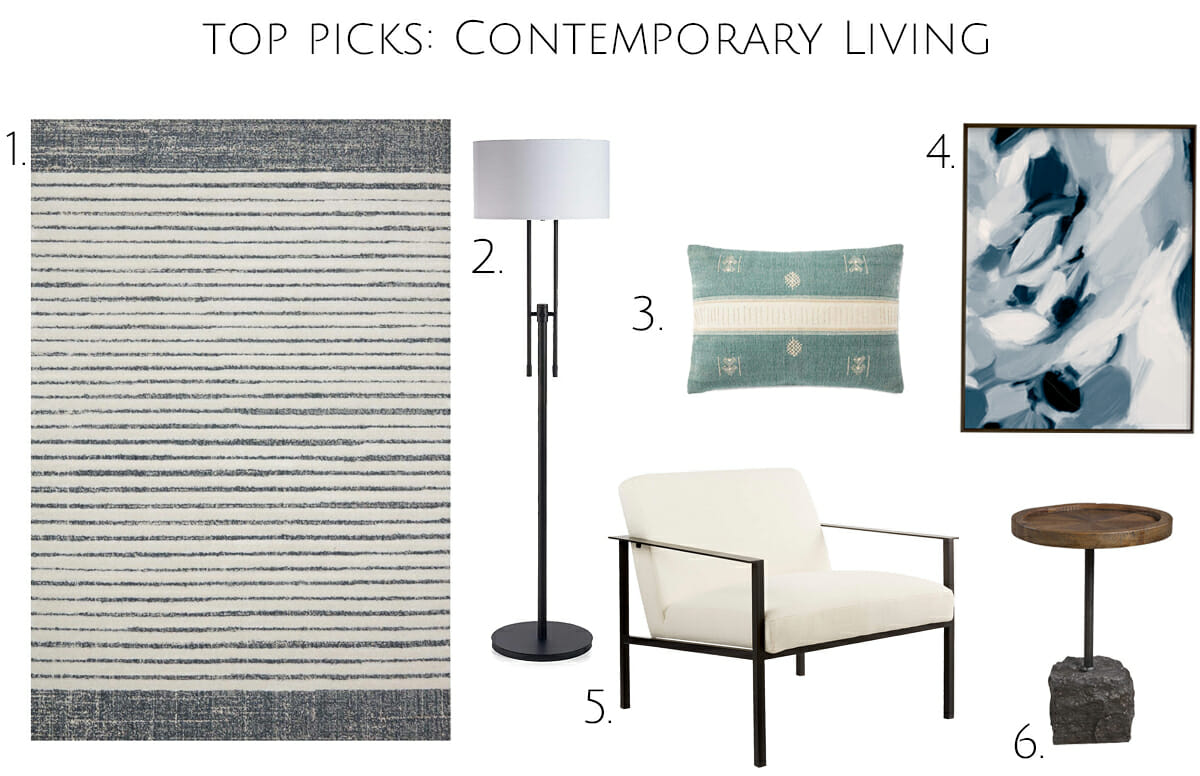 Ready to give online interior design a try? 
You too can have a calming contemporary feel to your home. Simply schedule a Free Interior Design Consultation to get started with the finest interior designers today!

[images: Decorilla project images]