A full-blown trend to stay, online interior design services are transforming the way we access interior design help. It's the magic combination of professional design guidance, affordable prices, plus an easy and quick process that is attractive to people everywhere.
These and so many wonderful experiences with our virtual interior design team have encouraged a closer look at the best online interior design services out there. Here's our round-up of the top 7 in the industry!
SERVICE: Known to spruce up traditional style with luxurious fun prints and bold color pops and design, Pfuner online interior design services are useful for those who appreciate custom materials and furniture, and design boards as guides. After sending measurements, photos, inspiration images, a questionnaire, and paying the full fee upfront, the designer-client communication happens via email. Clients receive two initial style boards and one revision of the chosen style. This results in a lovely e-design package containing a final moodboard with floor plans, sketches, elevations of important details, and a concept board, as well as a shopping guide with pricing. In addition, detailed instructions are provided for implementing the virtual interior design and making it come to life! Swatches of your chosen fabrics, wallpapers, and paint are also available upon request.
COST: From $900 for foyer designs to $2,600 for living room online designs
TURNAROUND: 6-8 weeks
Crowdsource your decorating project today and
save!
Learn More

WATCH A VIDEO TO SEE HOW IT WORKS
SERVICE: All clients experience complete and personalized online interior design help beginning with an initial one-on-one consultation and interactive questionnaire to start. You receive design concepts from multiple designers based on your requirements and budget with constant designer communication. Next, your selected designer works with you to finalize your design in photorealistic 3D renderings (incorporating new and existing items together to scale). They also create a color palette, floor plan, and online shopping list using great designer discounts. Among other things, clients say they love the: in-home and phone consultations, savvy user-friendly online platform, realistic 3D renderings for easy visualization, and online shopping assistance with 10% to 25% discounts at popular stores like Wayfair and Crate and Barrel.
COST: Each room has 3 online interior design services to choose from, ranging from $549 to $1849. Customized packages starting at $75 are also available.
TURNAROUND: 3-5 weeks; projects may be expedited or extended according to client timelines
Beach Style 3D Living Room by Decorilla
Schedule a Free Online Interior Design Consultation from one of Decorilla's online interior decorators today. Or if you're ready to get started, Choose a Design Package that suits you with a click of a button!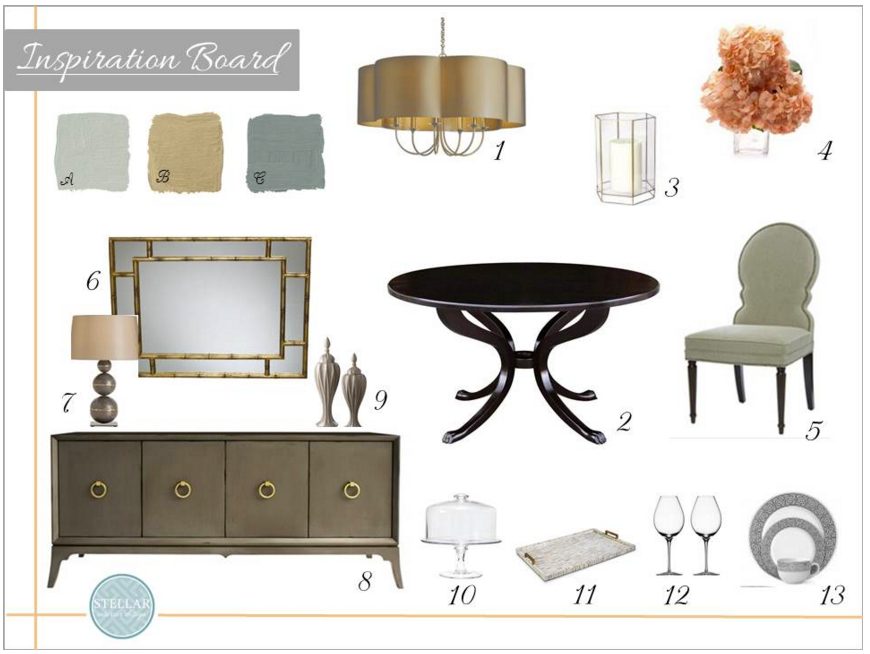 SERVICE: A completed questionnaire, room sizes, and photos are preliminary information needed to get started. Designs include inspirational concept boards, material boards (paints, fabrics, wallpaper, window treatments, flooring), a product purchase list, and an optional floor plan. Moreover, a room guide with detailed guidelines on implementing your new design is also provided. Stellar Online Interior Decorator Services offers clients a la carte online interior design help as well as design consultations by phone.
COST: Paint consultations start at $85 and room designs range from $375-$475 depending on the need for floor plans.
TURNAROUND: 1-2 weeks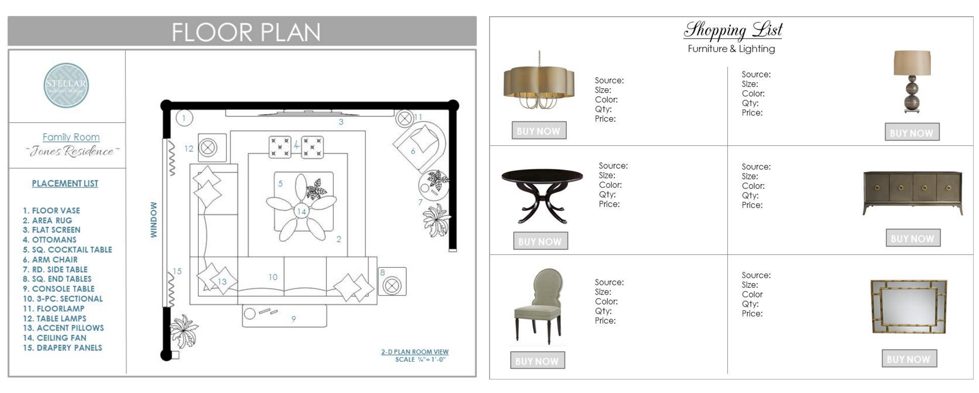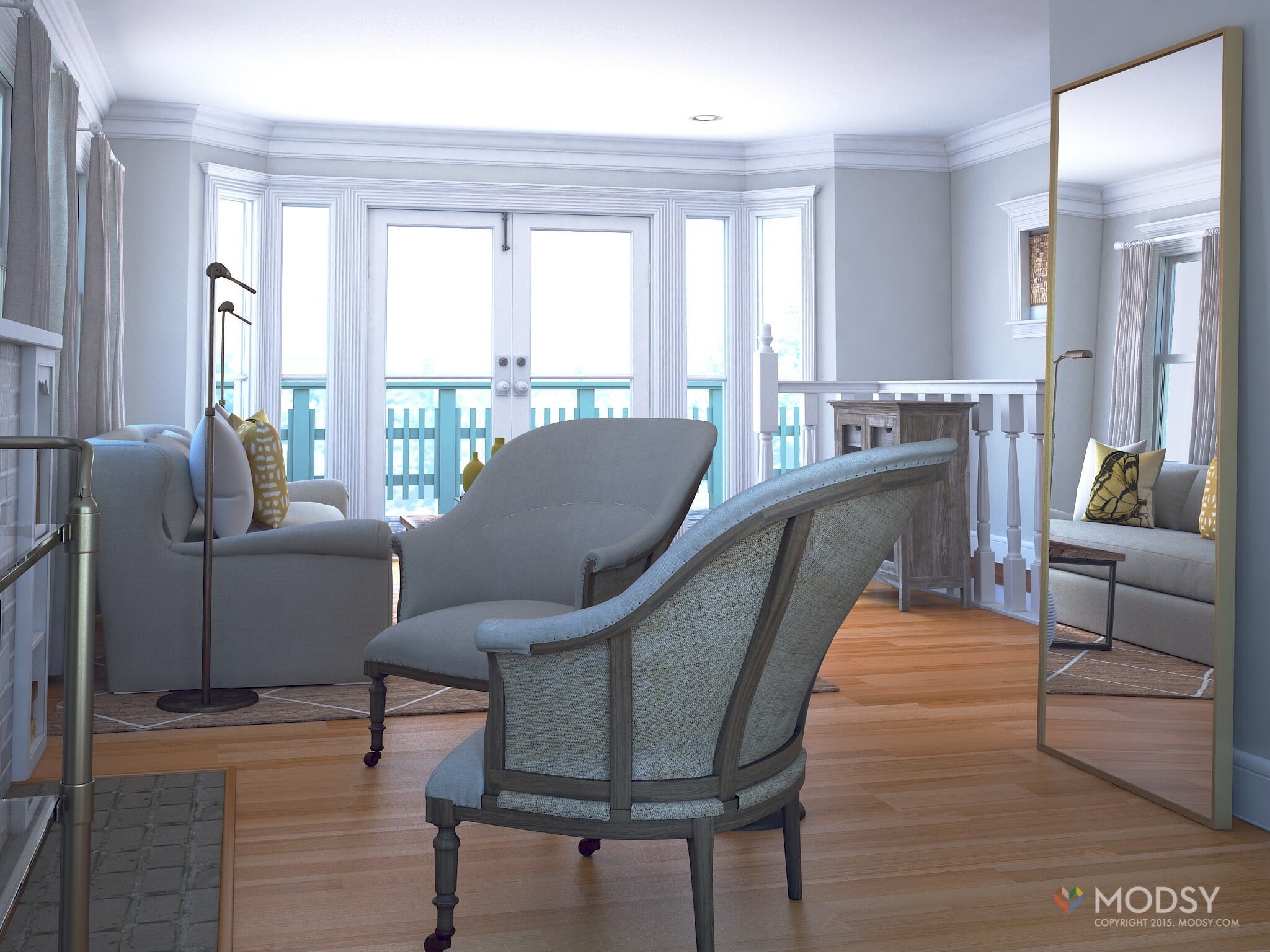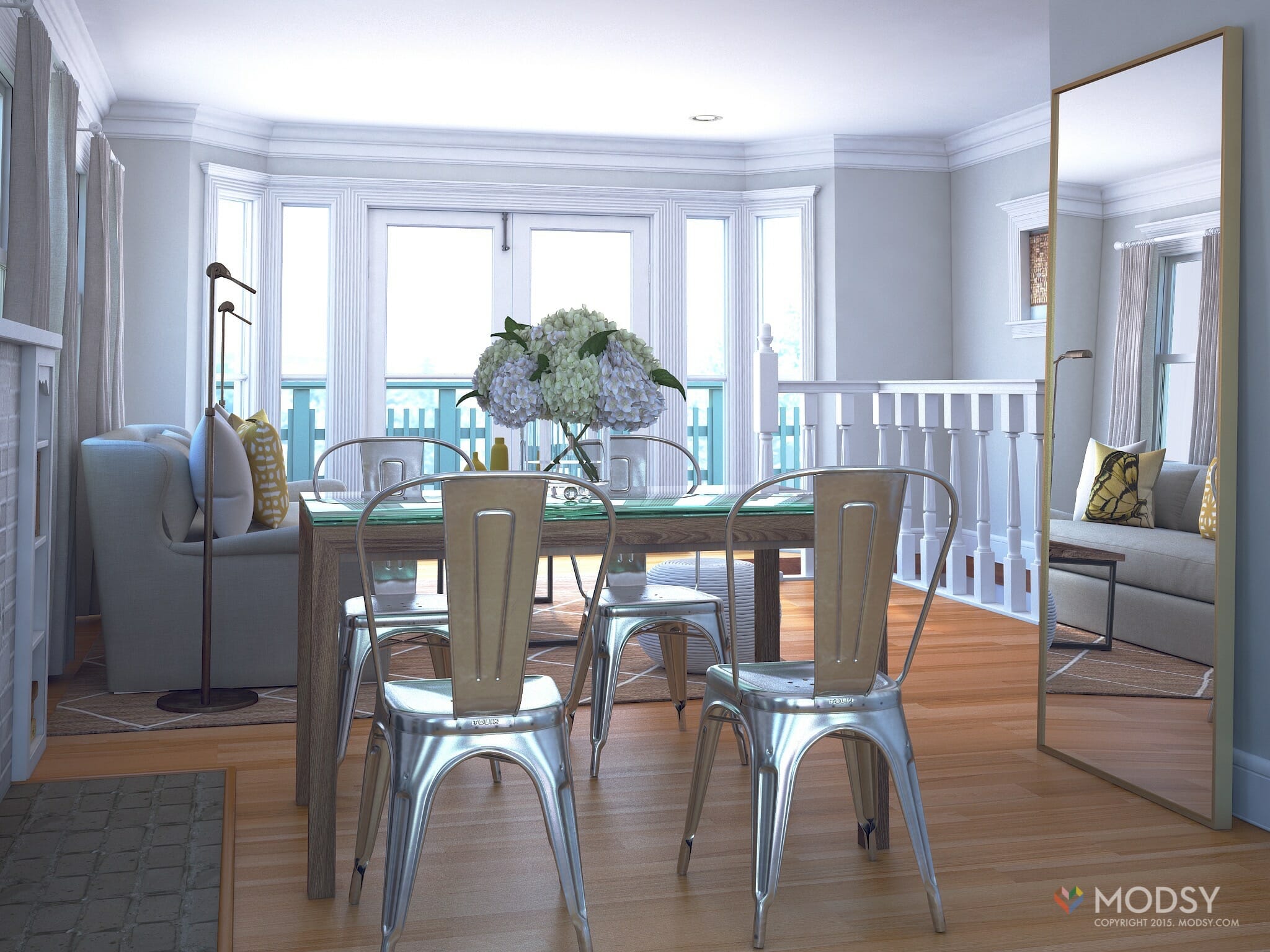 SERVICE: Modsy Design is an online interior design service that allows clients to see furniture products and get realistic 3D visuals of how they will look in their home. A questionnaire including requirements, room measurements, and photos allows one of Modsy's designers to create two 3D rendering options for each paid room design. Users also have the ability to swap out any of the furniture with other pieces in Modsy's 3D furniture catalog. The furniture catalog includes pieces from over one hundred vendors that clients have access to for an unlimited amount of time. For a $20 ordering fee, clients can shop on Modsy's online interior design platform. Most importantly, Modsy Design will price match the best available online furniture pricing.
Currently, Modsy Design does not design kitchens or baths, curtains or window treatments, nor custom or track lighting. However, it is a perfect solution if the project requirements are simple, as they can give a designer touch that caters to all interior design styles.
COST: The e-design company offers a Premium Package for $159/room where clients receive 2 initial renderings from one designer and can edit the renderings by themselves. Alternatively, the Modsy cost for a Luxe package is $499. In this case, clients work 1:1 with a paired Modsy designer who submits 2 initial proposals and is available to edit the design and answer questions as they come up through the Modsy online interior design process.
TURNAROUND: The E-design plan is ready within 2 weeks.
SERVICE: From decor advice or furniture recommendations to whole room designs, Havenly Design offers wonderful correspondence with an online interior designer. The process starts with taking a style quiz followed by having you upload images and measurements of your space. With your information, your online interior designer proposes some themes and looks, to begin with. Then, designers present a final concept board complete with layout, new furniture, and accessories. The initial themes from a Havenly designer are in a moodboard format whereas the final concept is a 2D layered rendering. As a result, this helps to better visualize the room.
Havenly vs Modsy 
The difference between Havenly vs Modsy is that Modsy offers concepts in a realistic 3D format. Havenly and other online interior design services, like Decorist, provide final interior design concepts in moodboards and two-dimensional layered renderings vs the realistic 3D renderings from services like Modsy and Decorilla. The other main difference between Modsy vs Havenly is that Havenly Design lets clients choose their online interior designer, while Modsy pairs clients with their interior designer based on their style quiz. Both Havenly and Modsy offer two initial concepts from one designer and price match the best available furniture prices online. While Modsy Design does not offer online bathroom and online kitchen interior design, Havenly Design offers simple interior design help for bathrooms and kitchens.
COST: Their online interior design services include a sprucing up service, the Havenly Mini, starting at $79 per room. For $129, the Havenly Full cost includes concept boards and product suggestions found in the Havenly Mini, in addition to furniture layout and additional revision time.
TURNAROUND: As little as 1 to 2 weeks with Havenly Mini and 2 to 3 weeks with Havenly's Full online interior design help package.
Check out this guide to online design services if you're looking for help from Moving.com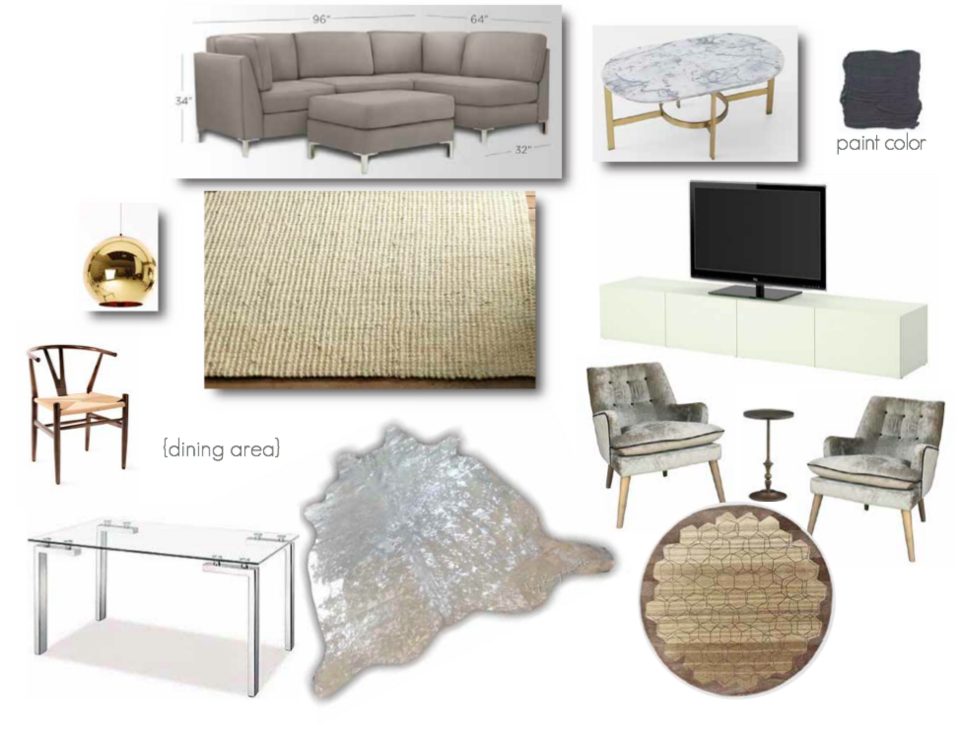 SERVICE: You might remember that Laurel & Wolf closed for business back in 2019. However, the website has since been restarted by new owners experienced in e-commerce stores and marketing. With a revamped business plan, Laurel & Wolf intends to put a strong focus on selling furniture. Their online interior design process starts by uploading photos of the space and providing dimensions and inspiration. Clients are then matched with a designer and will receive two initial draft ideas to review and revise. In the end, customers will receive a final design package that includes a style board, floor plan with measurements (select packages only), as well as a detailed shopping list that they can buy on the Laurel and Wolf online interior design website.
COST: Depending on which package you select, they start with Classic at $149.99 per room, Premium at $299.99, and Luxe at $499.99 per room.
TURNAROUND: A design project typically takes about 2 weeks for a single room project, while multi-room projects take longer. They also have an express orders option for expediting the turnaround time.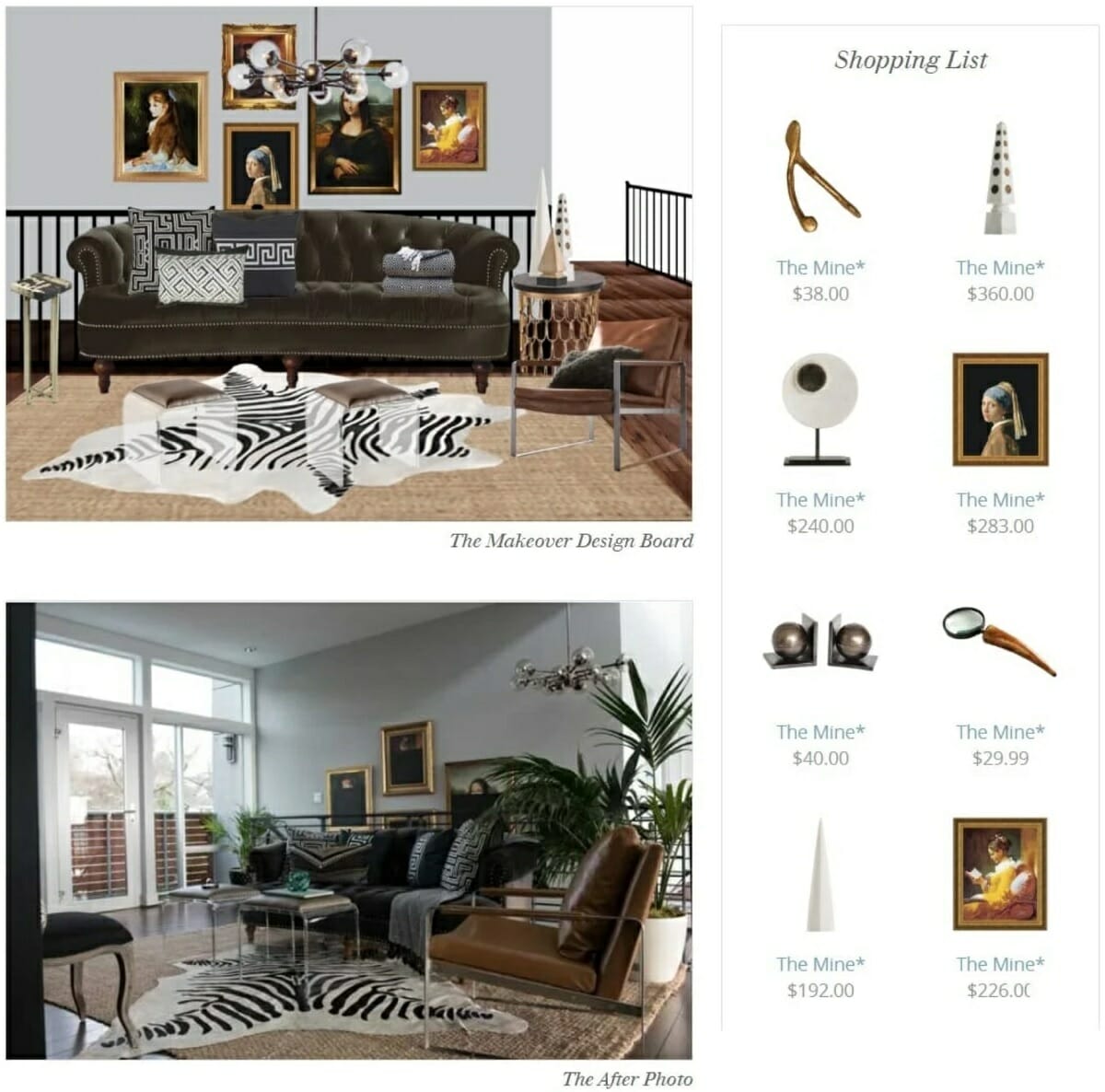 SERVICE: All projects begin by choosing a room package and providing details about your space and budget. You'll also share photos of your room along with inspiration images. Then, clients will be matched with an online interior designer. On the other hand, clients may also choose who they'd like to work with. Afterward, two beautiful initial concepts are provided based on the client's requirements from one designer. From there, the designs can be revised up to three times until a final end result is achieved. In the end, the final package includes a 2D layered room design, floor plan, set-up instructions, and a shopping list. You'll also have access to Decorist's helpful shopping concierge service, which matches any online prices but does not provide additional discounts beyond that.
Decorist vs Havenly Designs
While both companies offer similar services, the main difference between Decorist vs Havenly is in the final deliverables. Havenly has the option for the final package to include 3D renderings whereas Decorist only provides 2D moodboards. Decorist also has the option to work with celebrity online interior designers, however, Havenly designs does not. After getting started with a style quiz, Decorist includes two initial concepts from one designer while Havenly includes 3 from one designer. Additionally, both virtual interior design firms include a shopping concierge service, but neither pass along furniture and decor discounts, as seen at companies like Decorilla online interior design. Havenly designs has higher reviews versus Decorist online, but Decorist is able to accommodate kitchen and bathroom projects, where Havenly is not.
COST: Decorist offers three tiers of online interior design services with varying levels of online designer experience. For example, the lower Classic package pairs you with an entry-level designer for $299/room. Whereas an Elite Room Design for $599 pairs you with an experienced designer, while the Celebrity Room Design at $1,299 gets you a top interior designer.
TURNAROUND: On average, it takes about 2-3 weeks to complete the online interior design process. However, it is important to note that projects with Celebrity interior designers can take 1-2 months.
See more online interior design service benefits highlighted in this article about interior design services online.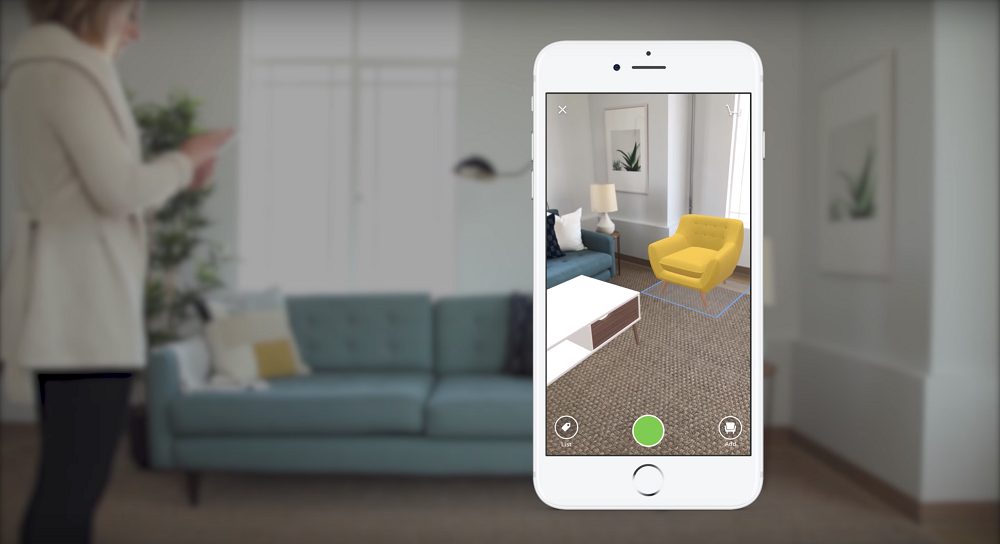 SERVICE: With Houzz Virtual Interior Design, getting started is as easy as browsing furniture online. They offer a new augmented reality tool that lets clients try on furniture from their catalog before purchasing. This app is perfect for people who love online DIY interior design projects. In addition, it's great for those who only need one or two finishing pieces. One limitation is that it doesn't allow clients to view two or more items to scale at once. As a result, it may be difficult to create a whole room design from scratch. Houzz offers the ability to easily share inspiration with family, friends, and professionals. Online interior designers are known to refer their clients to Houzz when they need a better understanding of their inspiration.
COST: Houzz's 3D tools are free to use because they earn their commission from furniture sales.
TURNAROUND: It only takes a few minutes to gather inspiration and their 3D tools are instant.
This guide to online interior design offers additional sources of help for a successful result.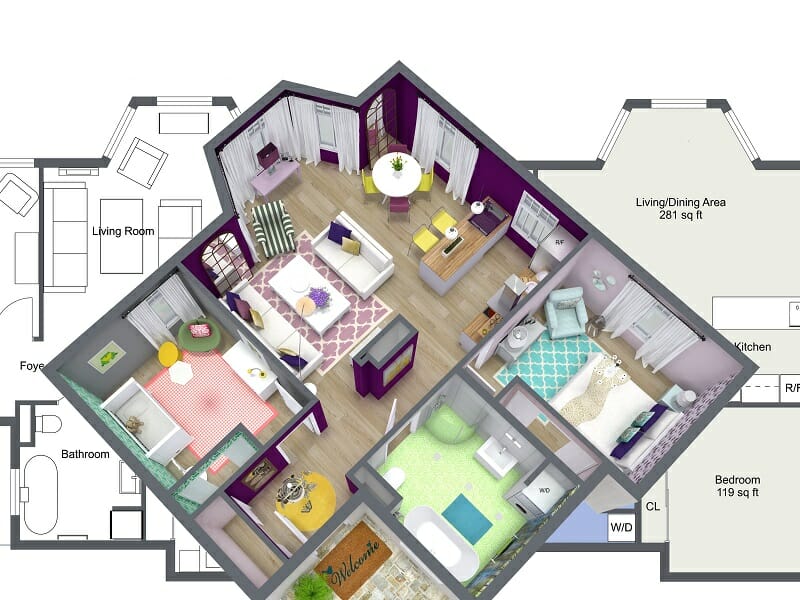 SERVICE: With RoomSketcher, creating your own virtual interior design online and space planning is easy. For instance, their software helps to create floor plans, furniture layouts, and the general aesthetic of interior spaces. For designers offering online interior design services, it's a great way to communicate with clients and manage design projects with vendors and contractors. RoomSketcher software is not ideal for creating custom interior designs, but it's perfect for generating quick floor plans. When it's time to get the sketch or blueprint for your design project, RoomSketcher is a great online interior design tool.
COST: Downloading the app is free. Users can upgrade by purchasing credits for floor plans, 3D renderings, and 360 views for as little as $49 to $99.
TURNAROUND: This virtual interior design tool is instant. Clients just have to gather the measurements.
With wonderful options like these, it's no wonder that the notion of online interior design services is hitting its stride. Still wondering if it's for you? Then, Schedule a Free Consultation with Decorilla to see which options are right for you and to ensure you get the best results possible.