Transitional Stylish Dining Room


Details
Project Title
Transitional Stylish Dining Room
Project Description
I need help with redesigning my dining room to coordinate with my office which is right across the hall.
What's your favorite decor style?
Transitional
What are some of the interior design brands or stores that you like to shop at?
Restoration hardware, pottery Barn, Arhaus
Which colors do you dislike?
Purple, Gray
What are your favorite colors for furniture and accents?
Blue, Black, Gold, White
Dimensions
14x14. 10' ceilings




Items you want to keep

Details
Room Label
My Dining Room
I want this room to feel more masculine/feminine/neutral
Neutral
What type of sunlight does this room receive?
Morning light
What do you currently dislike about the room?
I don't like the chandelier or the color of the wood furniture. Everything looks dated.
What pieces of existing furniture, lighting, art or accessories do you want to keep in the design?
I would love to keep the 5 prints hanging on the wall.
Are you open to changing your wall colors?
Yes
Do you have a preference for either paint or wall covering, or are you open to both?
Open to both
Are you open to changing your floor covering?
Yes, Area Rugs
Additional comments to designers
I am open to adding wood detailing on the walls. I want the dining room to coordinate with the office but a little less feminine. I included the style board for my master bathroom which is about to be redone. Im not afraid of color and patterns!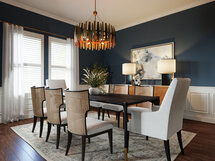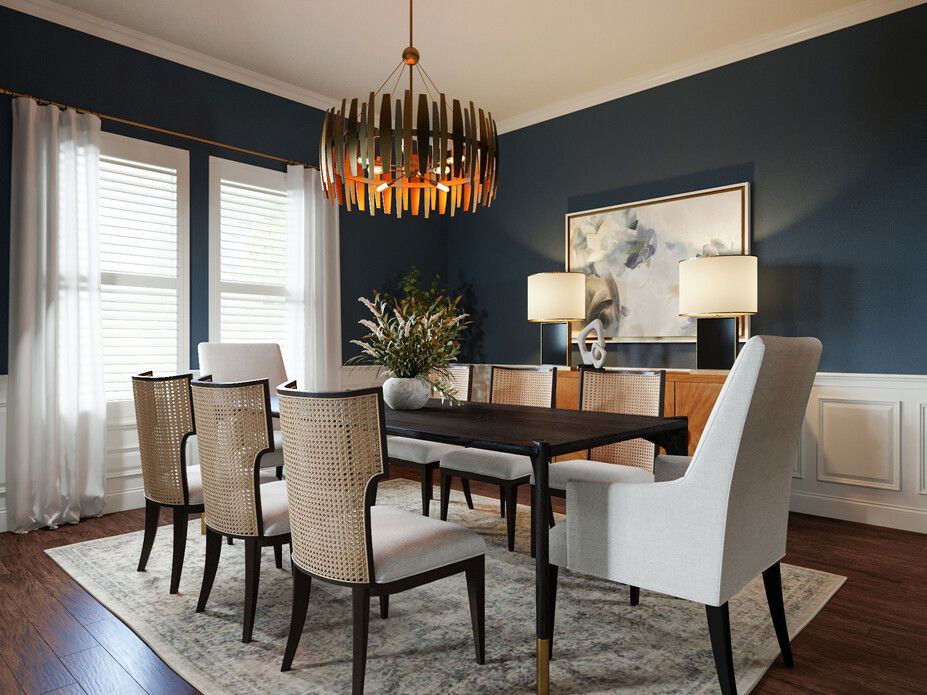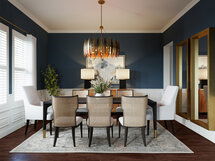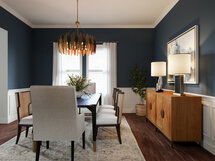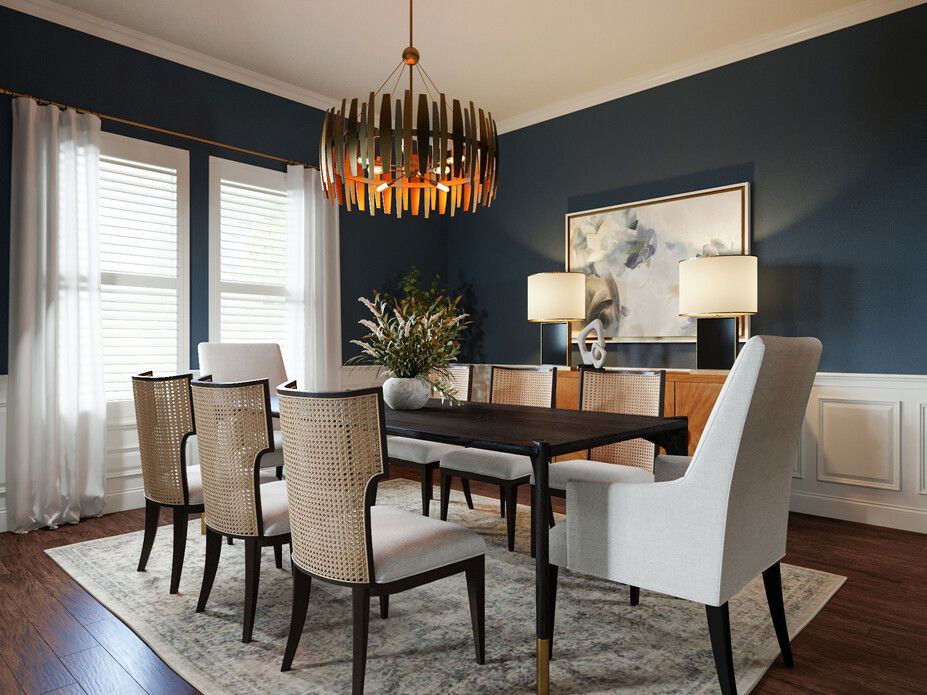 1
STONE CAVERN SCULPTURES, S/2
2
Stoneybrook Sideboard
3
ZUM-06 AL Pebble / Stone
4
Trace of Leaves II
5
Belvedere Armchair
6
Bradford Large Table Lamp
7
EDMONTON MIRROR
8
VENUS STRAPS CHANDELIER - 8 LIGHT
9
CARLEEN CANE DINING CHAIR
10
QUATTRO DINING TABLE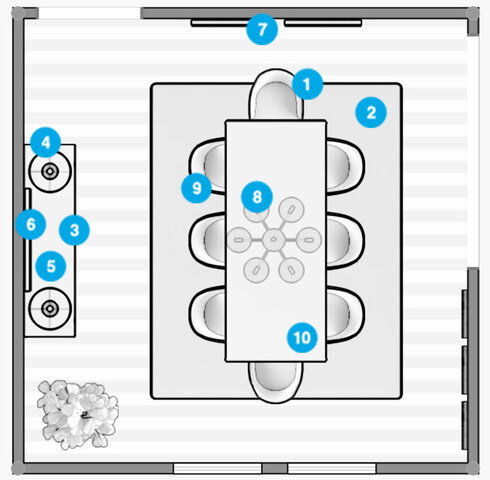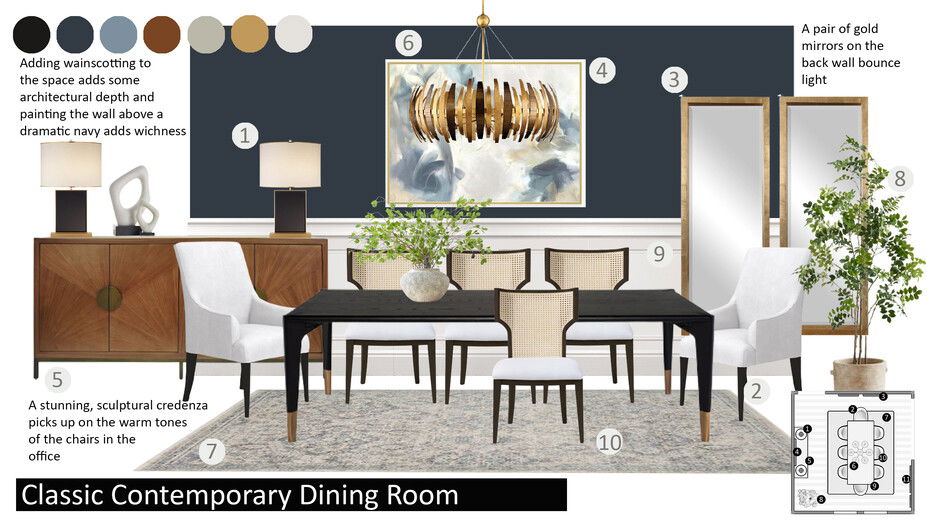 Dining Room:
Using a dark and rich color in a dining room will make it feel cozy, warm, and lounge-like.

For your main color, we chose to use blue because it is calming, relaxing, and serene. It is reminiscent of blue skies and deep blue oceans.

Use an eggshell finish paint which has a very light touch of shine (similar texture to an eggshell as implied by its name). This finish is very often used for walls and is more durable and easier to clean than matte finish
Dining Room Colors:
Shopping List:
Decorilla Discount
Photo
Name
Description
Link
Dimensions
Decorilla Discount
Revelation


STONE CAVERN SCULPTURES, S/2

Taking cues from natural forms, the Stone Cavern Sculptures display soft geometric shapes in natural white marble polymer with black marble bases.
Order & Save
9 W X 15 H X 4 D (in)
Global Views


Stoneybrook Sideboard

Enriched with a hand-detailed radial walnut finish, our stunning sideboard is crafted of hardwood with bronzed metal accents. The mesmerizing design has an illusory quality, adding visual dimension and depth.
Order & Save
Overall: 72"W x 20"D x 34"H
Loloi Collection


ZUM-06 AL Pebble / Stone

Stain-resistant, fade-resistant, and long-lasting, the Zuma Collection for Amber Lewis x Loloi features a soft pile in a serene grey, blue and ivory palette. Zuma also carries the Okeo-Tex® label, ensuring the rug's materials do not contain harmful substances.
Order & Save
7'10"x10"
Surya Collection


Trace of Leaves II

Order & Save
40x55
Uttermost Collection


Belvedere Armchair


Quantity: 2
Sloped arms and a crowned seat cushion soften Belvedere's clean-lined look. The versatile design pairs readily with any style of dining table, while the generous padding makes it an exceptionally comfortable seat for the living room or bedroom as well.
Order & Save
Overall: 25.75"W x 28"D x 42.5"H.
Circa Lighting


Bradford Large Table Lamp


Quantity: 2
Bradford Large Table Lamp in Black and Soft Brass with Cream Linen Shade with Soft Brass Trim
Order & Save
Height: 29.25" Width: 19" Base: 3.5" x 12.75" Rectangle
Uttermost Collection


EDMONTON MIRROR


Quantity: 2
This stately mirror features a deep, solid wood frame with a lightly antiqued gold leaf finish. Mirror has a generous 1 1/4" bevel and may be hung horizontal or vertical.
Order & Save
28 W X 76 H X 5 D (in)
Shades of Light


VENUS STRAPS CHANDELIER - 8 LIGHT

Our unique Venus Straps Chandelier is a showstopper with bronze and gold pieces of metal in varying sizes and shapes forming a circular shade. The light is suspended from a rod down the middle giving it a streamlined look.
Order & Save
29.5"Hx34"Wx34"D
Made Goods Collection


CARLEEN CANE DINING CHAIR


Quantity: 6
It's easy to envision a set of Carleen chairs, in full upholstery or with a cane back, showing off their sexy curvature from every angle. This comfortable and functional dining chair is a refined and classic update to traditional wingback design. Available with White Cerused oak or high-gloss white and upholstery in any of our fabrics (except Aras) or your own COM/COL. All in-stock upholstered pieces have a 4-7 week lead time.
Order & Save
21"W X 22"D X 37"H
NuevoLiving


QUATTRO DINING TABLE

Understated with refined hints of glamour the Quattro dining table makes a confident and poised statement. The dignified simplicity of the onyx oak veneer top, oak legs and polished lines are underscored by stylish gold hardware.
Order & Save
92? x 39.5? x 30?
Get Our Free Inside Scoop!
Contains our handpicked top five posts on latest decor trends & advice delivered to you monthly!


Ready to get started?
Get a designer room you'll
love, guaranteed!
Start Now