Transitional Cozy Living Room Design


Details
Project Title
Transitional Cozy Living Room Design
Project Description
We are building a new house and need some guidance and inspiration in a few rooms, including paint colors and the ability to incorporate our existing furniture.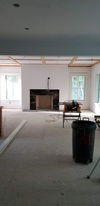 Details
Room Label
My Family Room
I want this room to feel more masculine/feminine/neutral
Masculine
What type of sunlight does this room receive?
Morning light
Are you open to changing your wall colors?
Yes
Do you have a preference for either paint or wall covering, or are you open to both?
Paint
Are you open to changing your floor covering?
No
Additional comments to designers
At the project brief you can see:
1) Three photos - you can see there will be a coffered ceiling plus we have a black marble fireplace with some white and copper veins.
2) A 3D rendering of our proposed kitchen, which flows into the family room, so you may need to know these details... the perimeter cabinetry will be Sherwin Williams Extra White with polished nickel hardware (Emtek Tribeca, if it matters). The island will be Sherwin Williams Software gray with the same hardware in brushed gold. Light fixtures will be polished nickel. Countertops have not been selected yet, but I'm sure they'll be some form of gray and white... marble and / or quartz. We already have a kitchen designer so nothing to do with this, of course. Just an FYI.
3) A floor plan with dimensions; I don't think we changed anything on it. You will note there is a breakfast nook which will be built - and I'm hoping to have it upholstered in Ethan Allen Nalla Gray (which is a gray and white zebra stripe). You can also see there are little knee walls that will have a square column on each of them. It also abuts a little wet bar (dark gray cabinetry) that has the living room on the other side.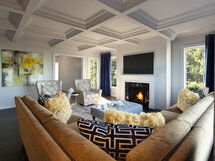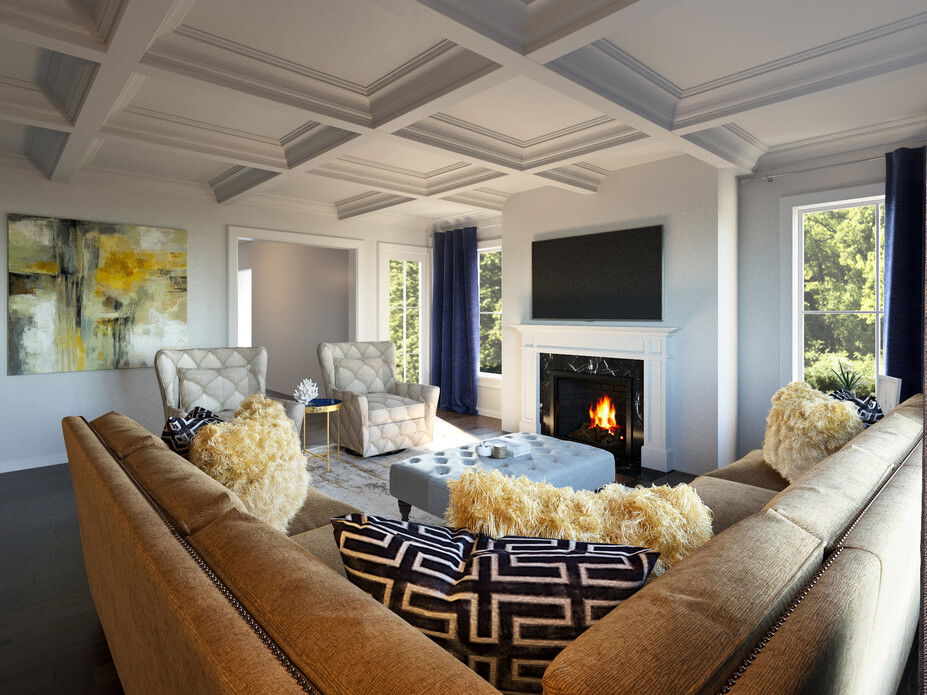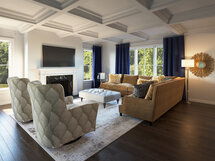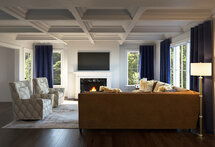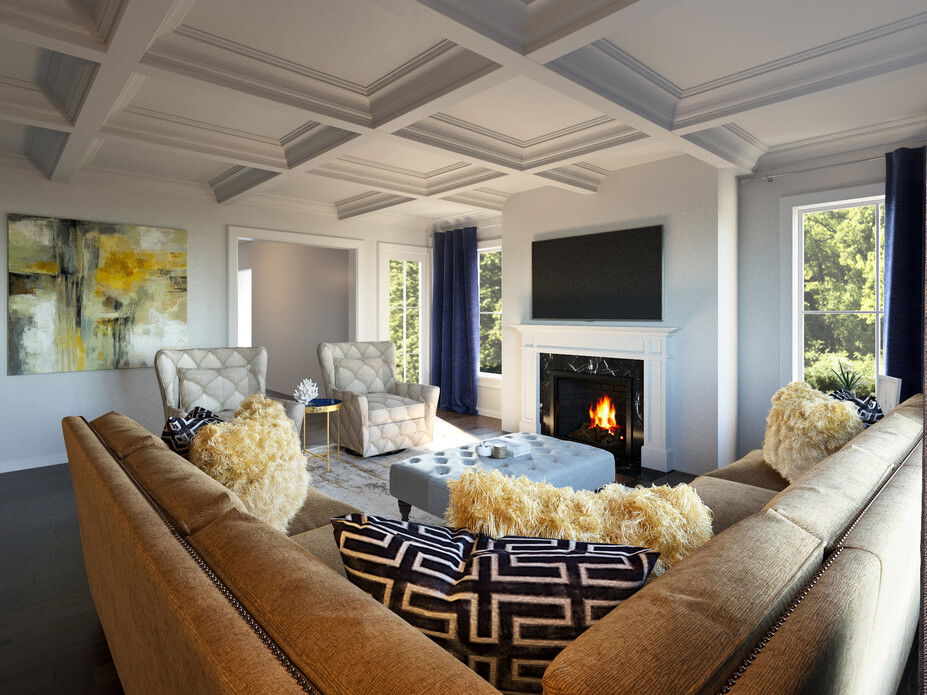 1
Augusto End Table
2
'Sun and Rain' Print on Wrapped Canvas
3
Jack Ivory Area Rug
4
Ombre Mongolian Pillow 22"
5
Empire Pillow 24"
6
Signe 60.5" Floor Lamp
7
Aruna Swivel Glider
8
Navy Blue Basketweave II Curtain Panel 48"x108"
9
Hand-carved Starburst Accent Mirror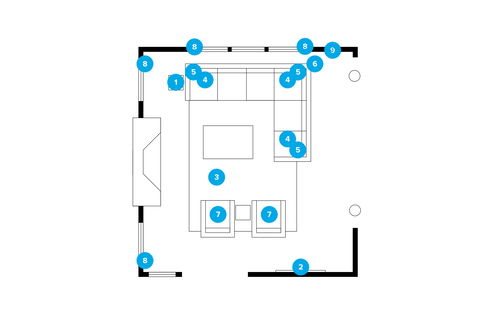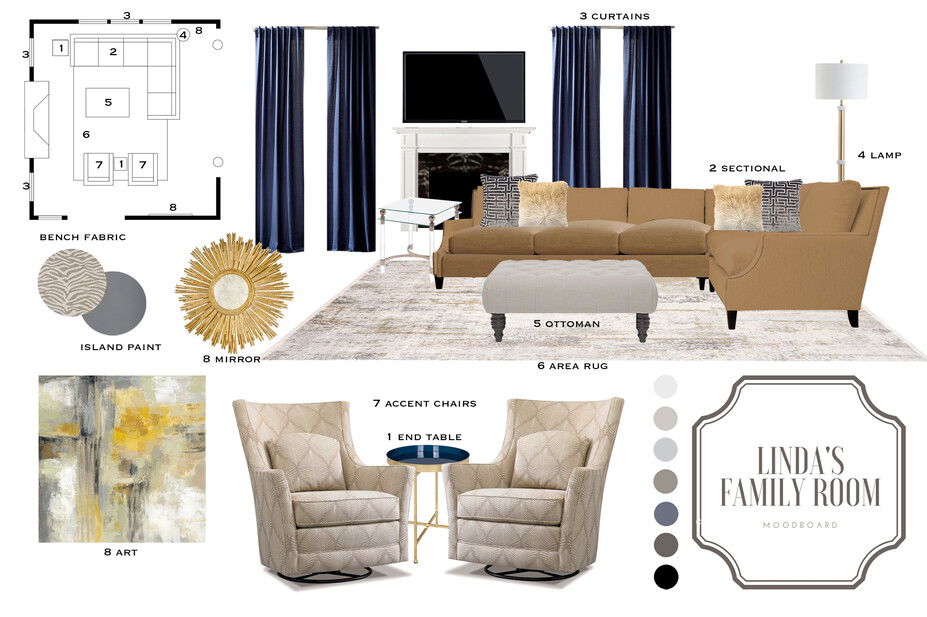 Living Room:
Using lighter colors in your medium-sized room will make it feel more airy and bright

For your main color, we chose to use white/off-white as it offers a fresh, clean, feel to the space. White and off-white colors are often a favorite for walls because they are light, neutral, and match most color schemes. They are known to make rooms feel more airy and spacious.


Living Room Colors:
Shopping List:
Decorilla Discount
Photo
Name
Description
Link
Dimensions
Decorilla Discount
DwellStudio


Augusto End Table

Add a regal presence to your living room's space with this dual-shelved contemporary end table. The rounded corners help draw attention to the tempered glass top and lower shelf while also removing sharp edges from your home. A turned gold accent beneath the tabletop accents the lower shelf before guiding your eyes to the clear acrylic legs. Curved metal beams arc between the legs and meet in the center for extra stabilizing support. This contemporary glam piece is constructed of metal, acrylic, and tempered glass, and measures 25.75'' H x 23.5'' W x 23.5'' D.
Order & Save
25.75'' H x 23.5'' W x 23.5'' D
Perigold


'Sun and Rain' Print on Wrapped Canvas

Fine resolution art reproductions curated by team of specialists High-quality canvas for superior color and crisp detail Giant art pieced with patented stretcher bar system
Order & Save
54'' H x 54'' W x 1.25'' D
Surya Collection


Jack Ivory Area Rug

This area rug is with a unique design. It will bring a playful comfortable touch to any casual setting, and completely suitable for your room.
Order & Save
9'9"x13'2"
Z Gallerie


Ombre Mongolian Pillow 22"


Quantity: 3
Elevate your decor to a new level of sophistication by adding our exceptional Mongolian Pillow to your furniture pieces. The unexpected use of prized Mongolian lamb fur to create our exclusive Mongolian Pillows lends high style to any setting. Our Mongolian Pillows feature plush fur on the front and faux suede leather on the back with a heavy duty zipper closure.
Order & Save
22''W x 22''H
Surya Collection


Empire Pillow 24"


Quantity: 3
Timeless elegance, with European cut-velvet creating dimensional color and texture.
Order & Save
24" Square
DwellStudio


Signe 60.5" Floor Lamp

A classic column of brushed brass gets a chic update with Carrera marble accents interspersed along the base of this beautiful lamp. Favored for beside chairs and sofas for its generous wattage but small footprint, they love reading under the oversized cotton drum shade. With a silk-wrapped cord and brass finial, style quite literally shines on this piece from top to bottom.
Order & Save
60.5'' H x 15'' W x 15'' D
Mitchell Gold + Bob Williams


Aruna Swivel Glider


Quantity: 2
This manufacturer offers a diverse line of chairs, from mid century modern to classic contemporary. Each is designed with ultimate comfort and style in mind.
Order & Save
41.5'' H x 36.5'' W x 40'' D
CB2


Navy Blue Basketweave II Curtain Panel 48"x108"


Quantity: 4
Tightly woven of 100% cotton, opaque navy panel provides privacy with solid presence. Back tab design offers clean a polished finish. Pair with sheer French-Belgian linen panel on our double curtain rod for layered effect. Navy Blue Basketweave II Curtain Panel is a CB2 exclusive.
Order & Save
Width: 48" Height: 108"
Perigold


Hand-carved Starburst Accent Mirror

Worlds Away offers a diverse collection of hand-leafed iron decor pieces that fit into any décor seamlessly and will look as current 10 years from now as they do today.
Order & Save
31'' H x 31'' W x 2'' D
Get Our Free Inside Scoop!
Contains our handpicked top five posts on latest decor trends & advice delivered to you monthly!


Ready to get started?
Get a designer room you'll
love, guaranteed!
Start Now