Details
Project Title
Transform my Space
Project Description
LOOKING FOR FULL DESIGN OF OUR LIVING ROOM/GREAT ROOM
My wife and I, and our two kids (6 and 10) moved into our "forever home".
This house has a beautiful living room (great room at 18' x 20') with 20' ceilings and recessed lights above, with 2 rows of large windows. We are planning on using this as our primary living space with guest entertaining and watching TV and family time. There is a fireplace, but we were thinking of mounting the TV on the wall adjacent to the fireplace (75" TV) and having a soundbar below it. Perhaps a media console below the sound bar.
The living room opens from the foyer with a beautiful spiral stairway via a large archway and the large windows are opposite to the archway. On the side opposite the wall of the fireplace, it opens seamlessly to the kitchen with a large island and a breakfast area (not formal dining).
We need help placing our living room furniture (sectional vs couch, how many accent chairs? what color theme, what accent pieces etc). We love elegant clean design with an open space, clear uncluttered lines of sight. We think our style is contemporary design without being mid-century modern (I would probably say between traditional, transitional and contemporary). Understandably, we have difficulty figuring out what our style is although we can show you interior spaces that have been designed in a way we love. We love neutral tones for the main pieces with pops of colored accents (earth tones, warm tones or pops of blue or green) in the accent chairs, pillows, artwork etc. We do not need help with the breakfast area although that is connected via the kitchen to the living room.
This living room, is currently completely a blank canvas for you. The only thing I cannot change is the paint color. Feel free to suggest everything – including change in light fixtures/ceiling fan. One of the challenges of this room has been its low natural light (due to windows being slightly tinted and the windows facing north). We therefore repainted the walls a light tone (Sherwin Williams SW6364 Egg White) and this has really brightened up the space. The floor is an espresso colored hardwood. Keep that in mind when matching complementary colors.
We would like to work with a designer who understands traditional, transitional and contemporary design well and can help us maximize the open design of our living space, while elegantly furnishing and picking accent pieces, lampshades/lighting, area rugs, and everything else. We are VERY open to suggestions. We cannot always articulate what we want because we cannot visualize things easily but when we see something we like in a 3D model or mood board, we can definitely recognize that we love it. Our problem is articulating what we like in words such as contemporary, tranditional, transitional or modern. We don't care for old fashioned large pieces with flowy design, big florals etc, and we don't care for ultramodern sleek designs that look like the 1950s are back. We love, for example, a lot of designs we see in builder's model homes when we visit. If you think my characterization of our design style as "contemporary" is incorrect, please feel free to modify.
We want to put a lot of effort into this room since it is our principal living space. I have created an inspiration board with some designs that I like (https://pin.it/vndhveelzz4mao) to give you some guidance.
Because this is our first time doing online interior design, we would prefer to not do custom furniture (because we cannot return it if there is a problem and we would have to sink a large investment with no return if that happens). We are very apprehensive about going this route with decorilla but the myriad of positive reviews your company has on Yelp allayed most of those concerns.
I have also made a short narrated video where I walk you through the space and show you some of the challenges I have (https://youtu.be/M1F811YAZRc). If this ends up being successful I am hoping to then work with you on the living room and dining room space as well.
What's your favorite decor style?
Contemporary
What are some of the interior design brands or stores that you like to shop at?
Pottery Barn, Crate and Barrel, Wayfair, Costco, Target,
What are your favorite colors for walls?
Sherwin-williams Egg White (sw 6364)
What are your favorite colors for furniture and accents?
Dark Blue, Cornflower Blue, Rustic Brown, Dark Olive Green, Forest Green, Indian Red, Antiqued Rustic Bronze
Dimensions
18' x 19' x 20'














Items you want to keep

Details
Room Label
My Living Room
I want this room to feel more masculine/feminine/neutral
Neutral
What type of sunlight does this room receive?
Morning light
What do you currently dislike about the room?
Great room windows are tinted limiting natural light (which only occurs in the morning). I have brightened up the room by repainting the entire house in Sherwin Williams SW6364 (Egg White). It looks brighter now. I want to preserve the brightness of the room while introducing some design, accent and color.
What pieces of existing furniture, lighting, art or accessories do you want to keep in the design?
None. We are open to changing any of the light and accessories. No furniture is in the room right now. We bought this beautiful gray cabinet from a furniture sale. Not sure whether it goes here. If you can find a home for it in the living room that is great, but if not, I can also place it in the foyer or elsewhere. I have not picked it up yet so I don't have a picture of it from the side.
Are you open to changing your wall colors?
No
Are you open to changing your floor covering?
No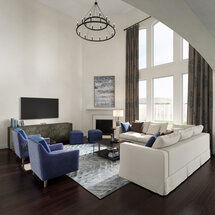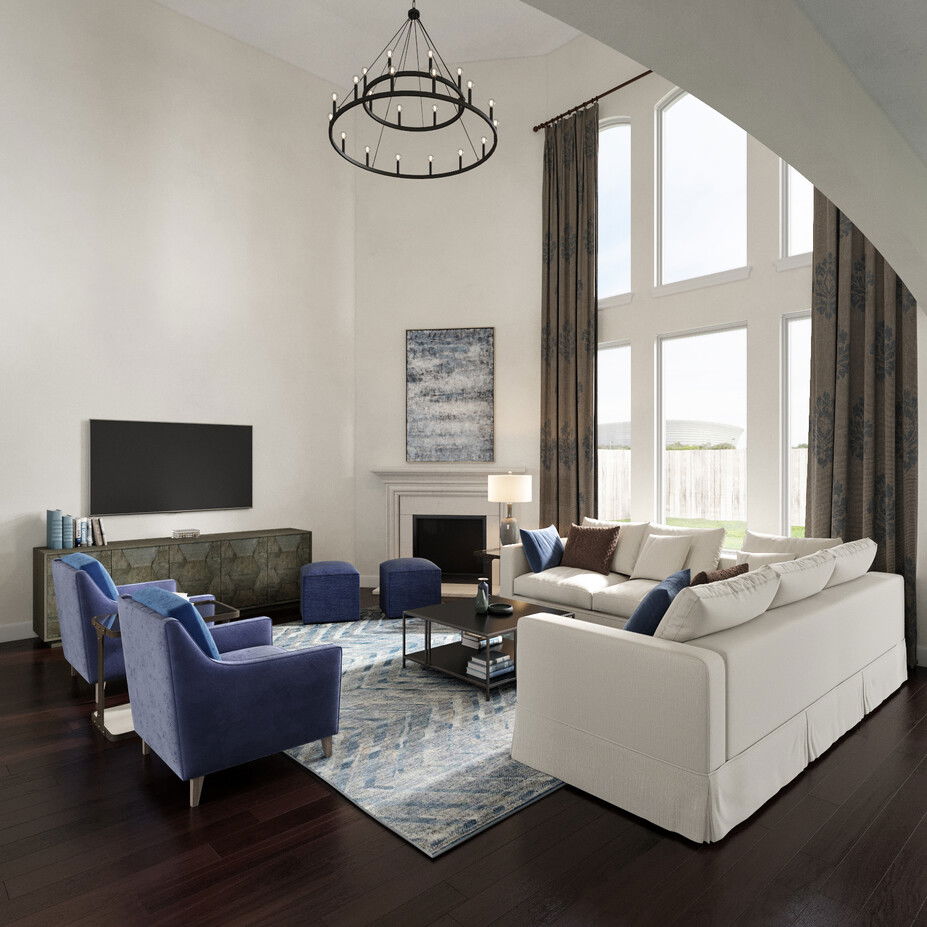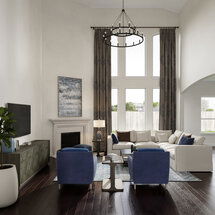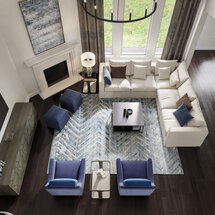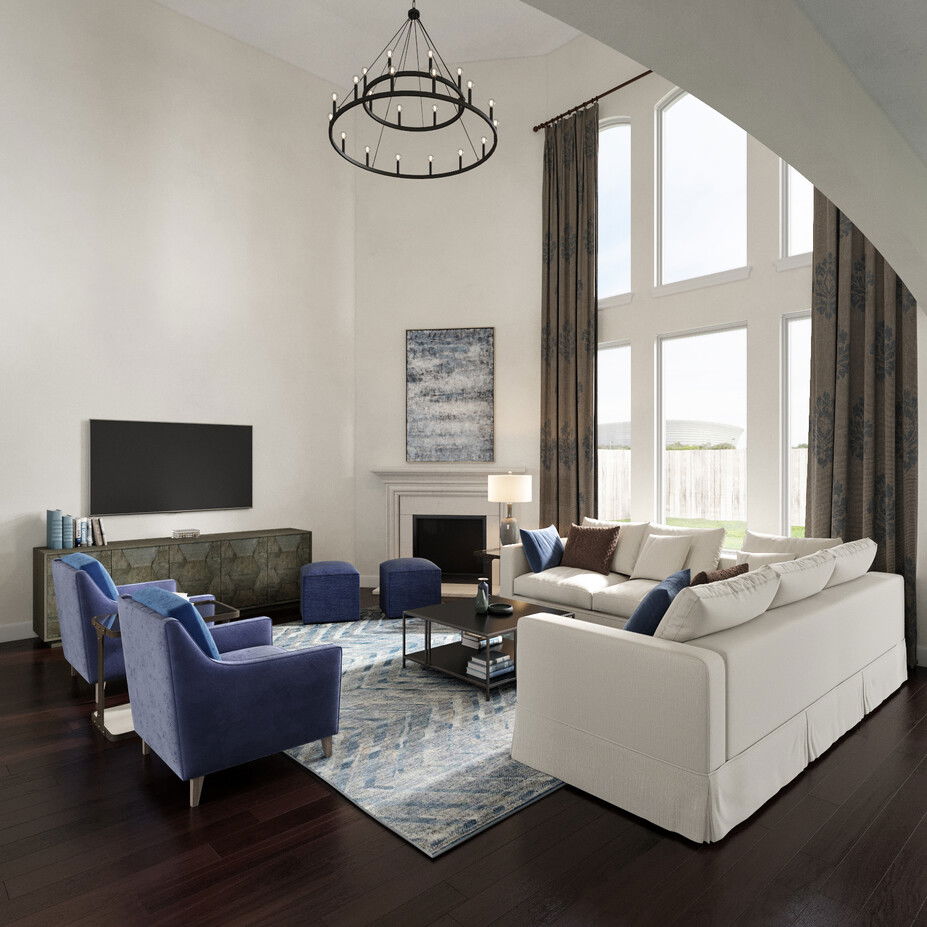 1
Willow 3-Piece Modern Slipcovered Sectional
2
Profile square coffee table
3
COMPTON SIDE TABLE
4
Everett Chair
5
MASQUERADE OTTOMAN
6
Deep Sea Herringbone Rug
7
Chic Navy Rug by Jaipur Living
8
Pod Planter XL
9
BERNHARDT LINEA TV STAND
10
MINIMALIST IRON RING TWO TIER CHANDELIER - 24 LIGHT
11
Serein Hand Painted Canvas
12
Quilted Brown pillow
13
Regis Blue 20" Velvet Pillow
14
Vallo Smoke Gray Glass Lamp
15
Dapper Glass Wall Mirror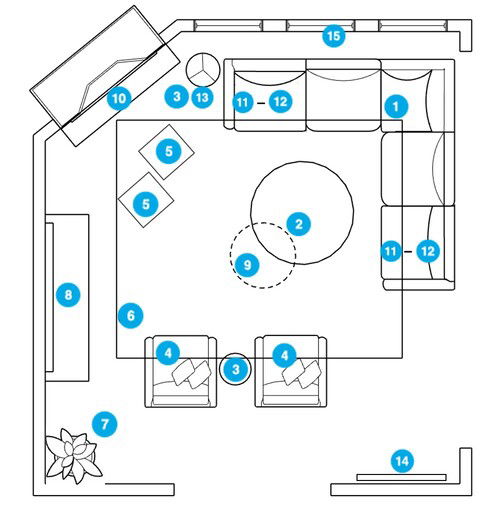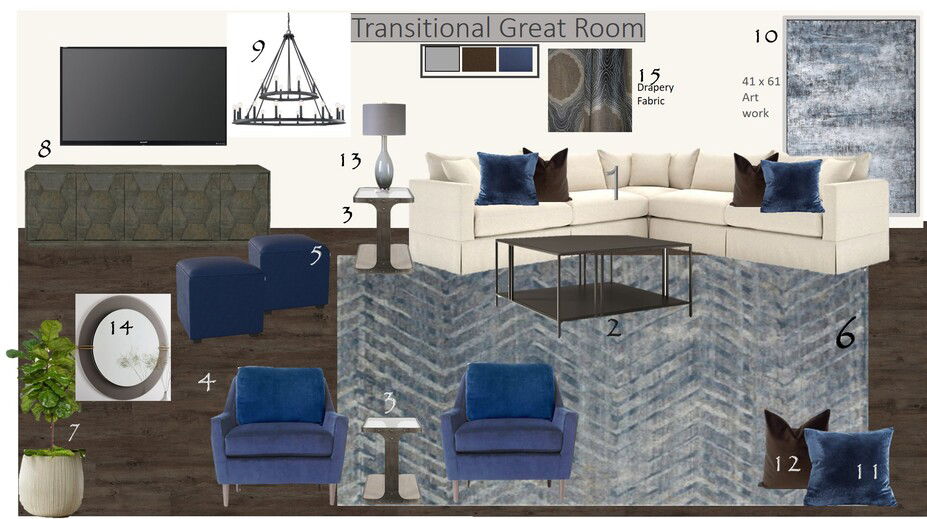 Living Room:
Since your room is large your color options with this room are quite broad

For your main color, we chose to use white/off-white as it offers a fresh, clean, feel to the space. White and off-white colors are often a favorite for walls because they are light, neutral, and match most color schemes. They are known to make rooms feel more airy and spacious.

Use an eggshell finish paint which has a very light touch of shine (similar texture to an eggshell as implied by its name). This finish is very often used for walls and is more durable and easier to clean than matte finish
Living Room Colors:
Shopping List:
Decorilla Discount
Photo
Name
Description
Link
Dimensions
Decorilla Discount
Mitchell Gold + Bob Williams


Willow 3-Piece Modern Slipcovered Sectional

Our Willow sectional's more modern lines relax in cottage style and deep-cushioned seating, instantly putting family rooms and casual living rooms in a vacation state of mind. Fitted slipcovers are neatly tailored with inverted kick pleats, welting and topstitching.
Order & Save
116" x 116" x 39"High
West Elm


Profile square coffee table

Streamlined and airy with an open shelf for a modern, architectural feel, our Profile Coffee Table turns books, trays and baskets into an artful display. Its versatile frame is made from sturdy iron that's built to last.
Order & Save
34"sq. x 16.5"h.
Uttermost Collection


COMPTON SIDE TABLE

With soft industrial accents, this modern side table features a solid iron framework finished in aged gunmetal. Top is tempered glass and bottom shelf is oak veneer finished in a soft mushroom gray.
Order & Save
28 W X 23 H X 18 D
West Elm


Everett Chair


Quantity: 2
The softer side of mid-century style. The Everett Chair's low-slung profile and compact size make it a natural choice for smaller spaces, though it's just as good at commanding attention in bigger ones, too. The simple silhouette gives it a relaxed, but still-sophisticated look.
Order & Save
32.5"w x 33"d x 33"h.
Perigold


MASQUERADE OTTOMAN


Quantity: 2
At CR Laine, artisans in their Hickory, North Carolina facility have created the best in customized, bench-crafted upholstery since 1958. They utilize new processes and equipment while holding time-tested premium construction features, including frames that are constructed using kiln-dried hardwoods and engineered hardwoods with fitted joints that have glued and dowel twice then reinforced with angled corner blocks for structural integrity
Order & Save
Loloi Collection


Deep Sea Herringbone Rug

Hand Knotted 100% Wool Pile Made in India
Order & Save
120" L x 96" W
Jaipur Living


Chic Navy Rug by Jaipur Living

Large-scaled geometric patterning defines the contemporary style of this hand-tufted area rug. Viscose adds a sumptuously soft feel, lending rich and inviting texture and a subtle luster to this durable wool accent. A chic gray on navy colorway creates a hint of contrast along the recurring rectangular lattice design.
Order & Save
10' x 14'
CB2


Pod Planter XL

Substantial planter fools the eye. Composed of cement, sand and fiberglass, large-scale pot is surprisingly lightweight and super durable. Warm grey finish makes it a natural fit for any outdoor space. CB2 exclusive.
Order & Save
21" L x 21" W x 26" H
Perigold


BERNHARDT LINEA TV STAND

The Bernhardt Linea collection artfully blends the natural elements of rustic design with clean lines and casual but luxurious finishes. With five commodious push-to-open doors with three-dimensional fancy face fronts, this remarkable entertainment console rests on a plinth base
Order & Save
92.25'' x 30'' x 19''
Shades of Light


MINIMALIST IRON RING TWO TIER CHANDELIER - 24 LIGHT

This substantial two-tier chandelier offers an unadorned minimalist silhouette consisting of a large iron ring with four iron rods extending upward in a pyramidal shape with a smaller center ring suspended above it. Style abounds in the simple design for a dramatic yet accessible lighting choice for a more updated take on industrial, farmhouse or rustic chic design.
Order & Save
41"Hx48"Wx48"D
Revelation


Serein Hand Painted Canvas

Cool-toned Gray And Icy Blue Shades Make Up This Hand Painted Artwork. The Textured Abstract Features Steel Blue, Light Gray, Silver Leaf, And White Tones And An Antique Silver Leaf Gallery Frame. Due To The Handcrafted Nature Of This Artwork, Each Piece May Have Subtle Differences. This Piece May Be Hung Horizontal Or Vertical.
Order & Save
41" W x 61" H x 1.7" D
Jaipur Living


Quilted Brown pillow


Quantity: 2
This luxurious throw pillow complements transitional and traditional styles with a classic quilted design. In soft and sumptuous cotton velvet, this warm brown cushion offers an inviting accent to any space.
Order & Save
22" L x 22" W
Crate and Barrel


Regis Blue 20" Velvet Pillow


Quantity: 2
As if the plush velvet weren't enough, our blue-grey Regis pillow indulges a sofa or armchair with the vintage look of an heirloom textile. In fact, each one-of-a-kind pillow exhibits its own unique array of blue tones enhanced by velvet's lustrous pile.
Order & Save
20 x 20
Uttermost Collection


Vallo Smoke Gray Glass Lamp

Smoke Gray Glass Accented With Polished Nickel Plated Details. The Slightly Tapered Round Hardback Shade Is A Charcoal Gray Linen Fabric With Natural Slubbing.
Order & Save
16" W x 34" H x 15.5" D
West Elm


Dapper Glass Wall Mirror

Subtle yet elegant, the Dapper Glass Wall Mirror will attract the attention of anyone in the room. It overlaps smoke-finished and mirrored glass layers to create a multidimensional piece that doubles as a unique work of art.
Order & Save
39.2"w x 1.4"d x 38"h
Get Our Free Inside Scoop!
Contains our handpicked top five posts on latest decor trends & advice delivered to you monthly!


Ready to get started?
Get a designer room you'll
love, guaranteed!
Start Now