Small Mid Century Modern Living Room


Details
Project Title
Small Mid Century Modern Living Room
Project Description
We bought a new house and need help with the living room. I do not care for the paint color, and there are no lights in there presently (except windows, east and north facing). Completely blank canvas!
What are some of the interior design brands or stores that you like to shop at?
All Modern, restoration hardware, arhaus, west elm, room and board, crate and barrel, pottery barn
Which colors do you dislike?
Tan, Rosy Brown
What are your favorite colors for walls?
Dark Blue, Light Gray, White Smoke, Floral White, Light Yellow, Dark Red, Light Slate Gray, Alice Blue
What are your favorite colors for furniture and accents?
Black, Light Gray, White, Blue, Pink, Dark Orange, Antique White
Dimensions
13' x 17' x 12'



















Details
Room Label
New living room
I want this room to feel more masculine/feminine/neutral
Neutral
What type of sunlight does this room receive?
Mid-day light
What do you currently dislike about the room?
The paint color. No light at night.
What pieces of existing furniture, lighting, art or accessories do you want to keep in the design?
None
Are you open to changing your wall colors?
Yes
Do you have a preference for either paint or wall covering, or are you open to both?
Paint
Are you open to changing your floor covering?
Maybe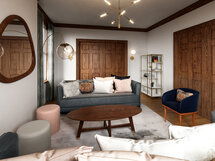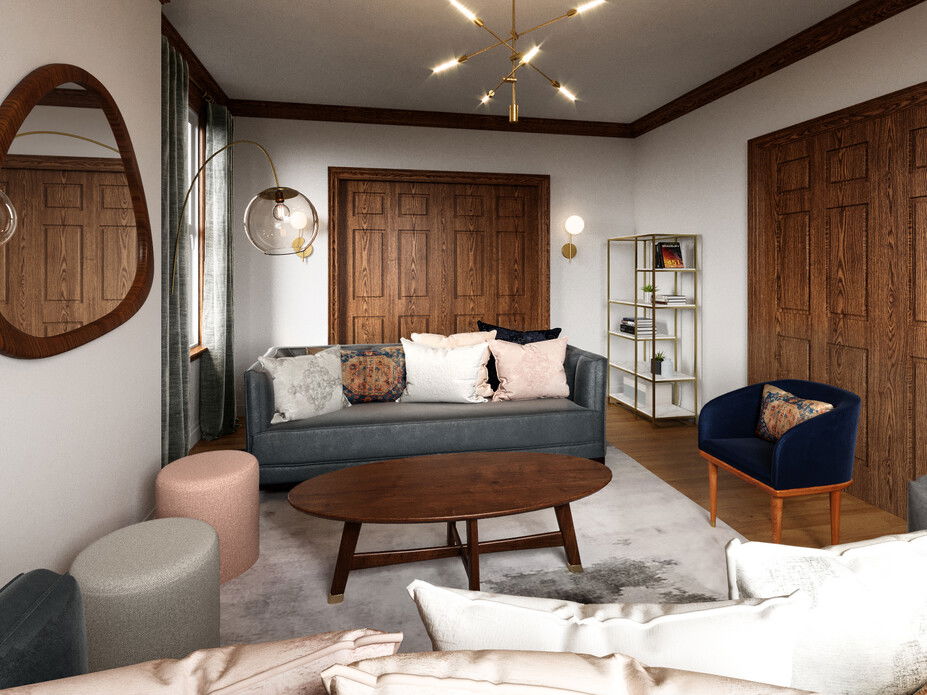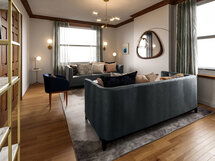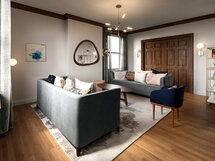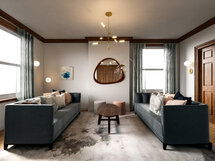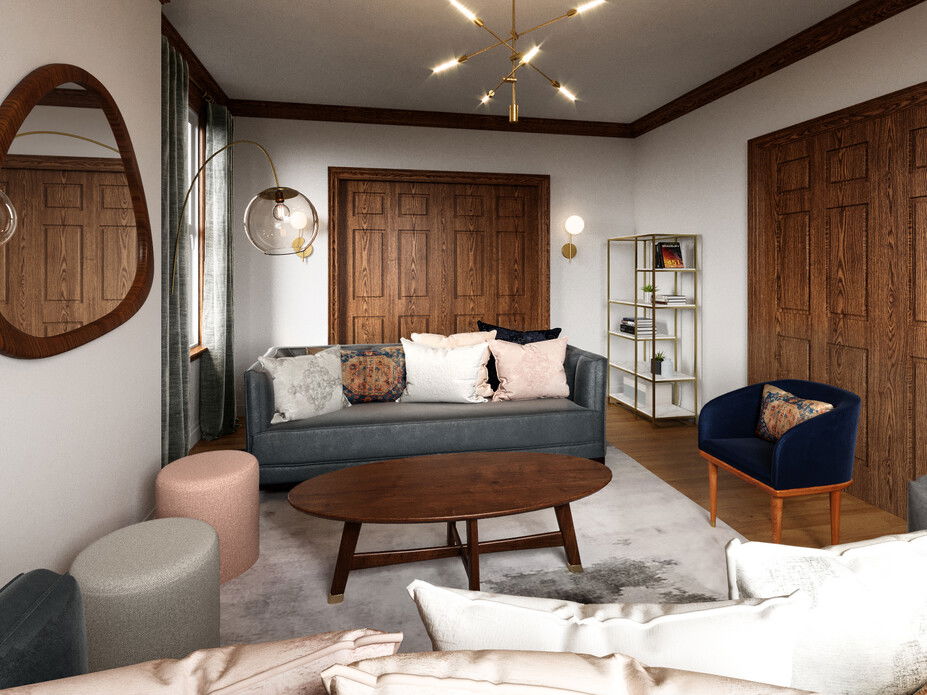 1
Rug
2
Mirror
3
Painting
4
Floor Lamp
5
Floor Lamp
6
Sconce
7
Table Lamps
8
Chandelier
9
Pillow Cover
10
Pillow Insert
11
Pillow Covers
12
Pillow Instert
13
Ottoman
14
Coffe Table
15
Side Table
16
Sofa
17
Sheers
18
Curtain Hardware
19
Curtain Rings
20
Arm Chair
21
Bookcase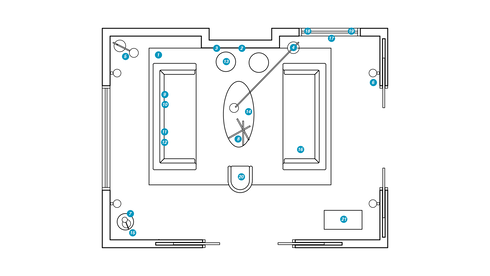 Living Room:
Since your room is smaller using a light and pale color will enhance the light and the space in your room

For your main color, we chose to use gray because it is neutral and seen as elegant and classy. It compliments many colors such as white, blue, and yellow and works well as part of a color scheme in any room.

Use an eggshell finish paint which has a very light touch of shine (similar texture to an eggshell as implied by its name). This finish is very often used for walls and is more durable and easier to clean than matte finish
Living Room Colors:
Shopping List:
Decorilla Discount
Photo
Name
Description
Link
Dimensions
Decorilla Discount
Surya Collection


Rug

Order & Save
9' x 12'
West Elm


Mirror

Inspired by the sleek curves of Italian mid-century design, it breaks the rectangular mold to bring movement, form and light to a room. It's tall enough to serve as an almost-full-length mirror in a front hall, or hang it horizontally to add intrigue above a sofa or mantel.
Order & Save
39''w x 1.6''d x 45''h
Williams-Sonoma


Painting

Painting, Acrylic on Canvas 20.0 inch x 20.0 inch
Order & Save
20'' x 20''
West Elm


Floor Lamp

A modern take on our signature Overarching Floor Lamp, this smoke-finished acrylic shade version still sweeps up from its base into a graceful gravity-defying arc. Its smart design allows overhead light to be cast anywhere in a room.
Order & Save
13"w x 45"d x 76"h
West Elm


Floor Lamp

Spark conversation in any room with our Staggered Glass Floor Lamp, dressed up with a gleaming glass orb.
Order & Save
14"w x 9"d x 50"h
West Elm


Sconce


Quantity: 4
With its minimalist, balanced form, our Sphere + Stem Sconce's gleaming glass globe seems to float against a slim metal stem for an elevated, modern look. Simplicity has never shined so bright.
Order & Save
7"w x 9"d x 18"h.
West Elm


Table Lamps

A built-in USB port makes our sleek and airy Staggered Glass Table Lamp perfect anywhere—bedside, desk, family room—you want to stay connected (no charging block required!).
Order & Save
11"w x 6.5"d x 20"h.
Mitchell Gold + Bob Williams


Chandelier

With its contemporary shape and adjustable arms, our Mobile Chandelier adds intrigue to any space. Pair it with clear, oversized bulbs for a modern look in the dining room or above a kitchen island.
Order & Save
29"diam. x 21"h.
Pottery Barn


Pillow Cover


Quantity: 2
A pillow cover inspired by an antique rug.
Order & Save
16" high x 26" wide
Pottery Barn


Pillow Insert


Quantity: 2
Down Alternative Pillow Insert
Order & Save
16 X 26" LUMBAR
Pottery Barn


Pillow Covers


Quantity: 5
With a textured design in a muted color palette, this pillow cover serves as a foundation for a seasonally changing mix of patterns.
Order & Save
22" square
Pottery Barn


Pillow Instert


Quantity: 5
Down Alternative Pillow Insert
Order & Save
22'' square
Mitchell Gold + Bob Williams


Ottoman


Quantity: 2
At the foot of a reading nook or used as a makeshift table when topped with a tray, our versatile Auburn Ottoman is high style for a low price. Its compact size makes it easy to move from room to room—wherever you need it most.
Order & Save
15.5"diam. x 17.5"h.
Mitchell Gold + Bob Williams


Coffe Table

Built from manufacturing wood with solid wood veneers, this table features a streamlined design with a retro oval top and gold metal-capped feet.
Order & Save
17.25'' H x 52'' L x 24'' W
West Elm


Side Table

Topped with solid marble, our Lawrence Table is just the right size to perch a drink or a vase. Its slim footprint makes it a perfect fit in small spaces.
Order & Save
13"diam. x 23.5''h.
Mitchell Gold + Bob Williams


Sofa


Quantity: 2
This decadent, modern living collection—featuring shelter arms and dramatic, channel-stitched backs—is built by American upholstery artisans to frame your living space with style and comfort. Inviting, plush upholstery is tailored by hand and generously padded with dense, eco-friendly foam, feathers, and down to create a relaxing "sink-into" feel. And, complementary solid wood bases stand on tapered legs hand-finished in rich wood tones.
Order & Save
84"W X 34"D X 30"H
West Elm


Sheers


Quantity: 2
Crafted from fine Belgian flax that's washed for a luxe, lived-in look, our Melange Curtain's casual, heathered effect makes it an easy choice for any room in the house.
Order & Save
108"l x 48"w.
West Elm


Curtain Hardware

Inspired by '50s and '60s style, our Mid-Century Wooden Rod's smooth wood surface and brass-finished mounting hardware add warmth to interiors and complement curtains.
Order & Save
44"-108"
West Elm


Curtain Rings

These versatile metal rings come with removable clips that can be used on curtains with or without drapery hooks for easy hanging.
Order & Save
Thin: 1.25"diam.
Mitchell Gold + Bob Williams


Arm Chair

Ready to linger over good wine and great friends, our retro chic chair is stunning in its elegant simplicity. Designed by Leonhard Pfeifer to recall simpler times, sophisticated sapphire cotton-velvet elegantly curves around a acacia wood base for hours of cocooning comfort.
Order & Save
Width: 22" Depth: 23" Height: 29"
Mitchell Gold + Bob Williams


Bookcase

OverviewLight and elegant this jewel-like bookcase fashions an asymmetrical arrangement of polished white marble and golden antique brass. Airy open shelves at varying heights invite a curated collection of your most prized vases and collectibles.
Order & Save
Width: 30"Depth: 15"Height: 78"
Get Our Free Inside Scoop!
Contains our handpicked top five posts on latest decor trends & advice delivered to you monthly!


Ready to get started?
Get a designer room you'll
love, guaranteed!
Start Now