Details
Project Title
Romantic Master Bedroom
Project Description
I need help with our master bedroom, We just moved into a new home and would like it furnished and decorated by a specialist,
We want to try to stay away from white furniture if possible but are not opposed to it.
Most of all we would love the room to be functional.
Dimensions
18.5' X 19.5'











Details
Room Label
Master Bedroom
I want this room to feel more masculine/feminine/neutral
Neutral
What do you currently dislike about the room?
It's incomplete
What pieces of existing furniture, lighting, art or accessories do you want to keep in the design?
Just a TV.
Are you open to changing your wall colors?
Yes
Do you have a preference for either paint or wall covering, or are you open to both?
Open to both
Additional comments to designers
The floor plan works so that each blue squares = 1' x 1'
dotted lines = windows
red lines = doors
entryway area = 6.5' x 6.5'
main room area = 18.5' x 19.5'
all doorways open outward
I want a place to sit down. It could be a bench at the end of the bed, a sofa or a side chair. I want to make use of the large area.
I want it to be modern by very functional.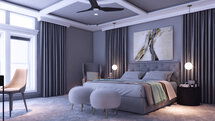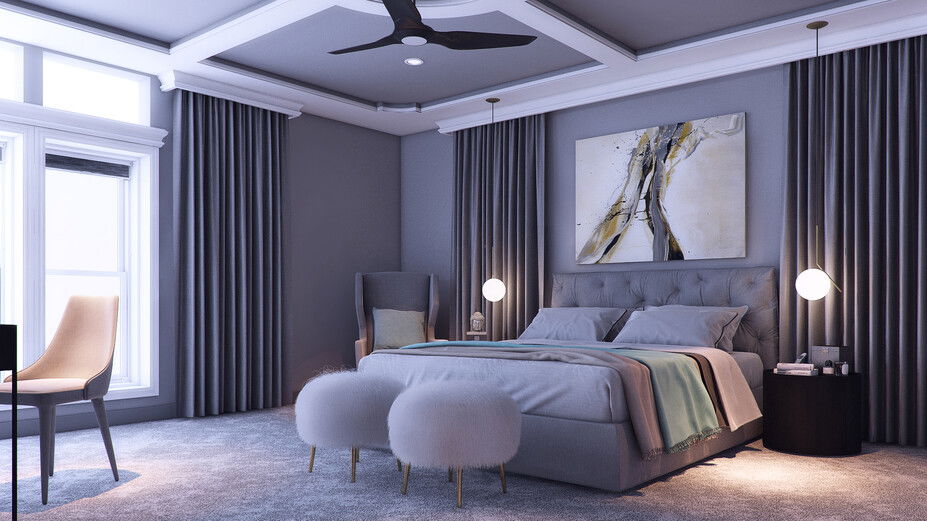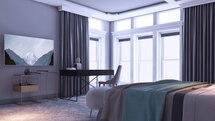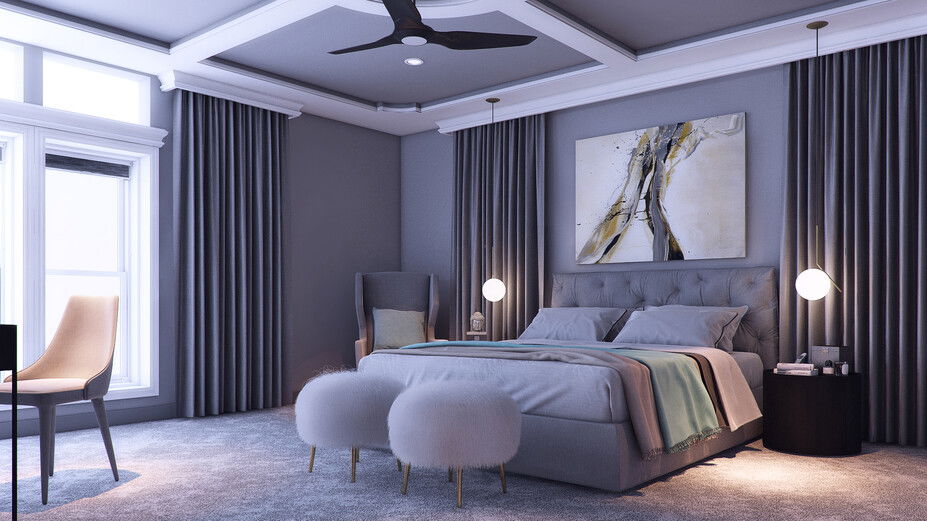 1
Accent Tables
2
Desk
3
Chair
4
Stool
5
Curtain
6
Nightstand
7
Pendant
8
Armchair
9
Side Table
10
Pillow
11
Bed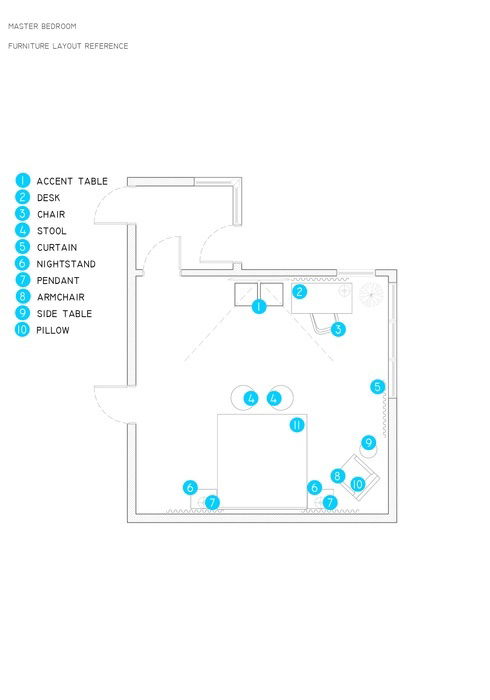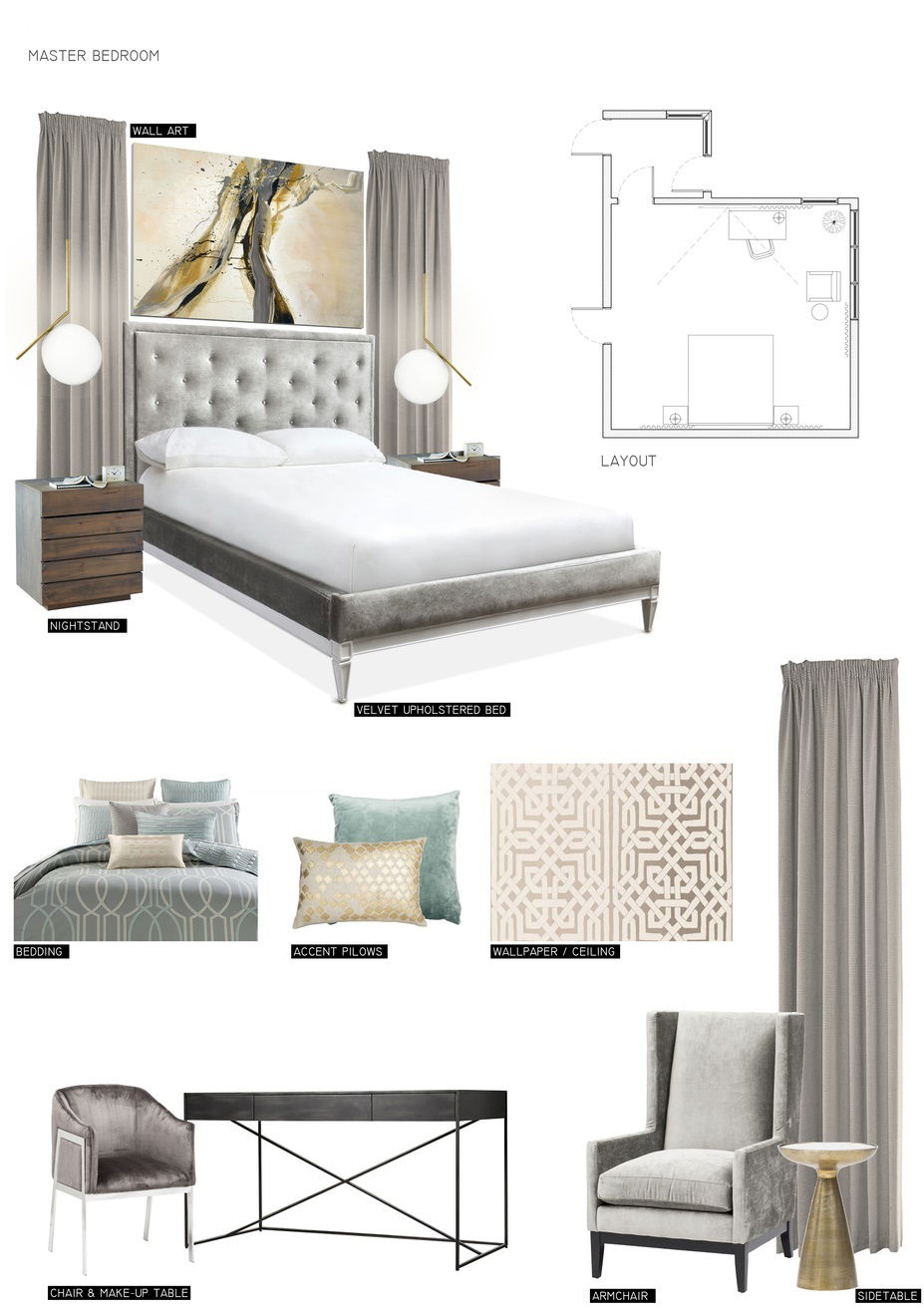 Bedroom:
Since your room is large your color options with this room are quite broad

For your main color, we chose to use gray because it is neutral and seen as elegant and classy. It compliments many colors such as white, blue, and yellow and works well as part of a color scheme in any room.

Use an eggshell finish paint which has a very light touch of shine (similar texture to an eggshell as implied by its name). This finish is very often used for walls and is more durable and easier to clean than matte finish
Bedroom Colors:
Shopping List:
Decorilla Discount
Photo
Name
Description
Link
Dimensions
Decorilla Discount
Pottery Barn


Accent Tables

Iron frame with brass plated finish and black glass top.
Order & Save
16" square, 26" high
A & D


Desk

The marriage of cast metal frames and antiqued mirror tabletops gives these simple, structural forms their vintage industrial appeal.
Order & Save
56"W x 28"D x 30½"H
Uttermost Collection


Chair

Defined by swoop arms and neutral upholstery, this chic side chair offers an elegant update for any space.
Order & Save
36.5" H x 23" W x 21.37" D
CB2


Stool


Quantity: 2
100% sheepskin wool Sheet metal legs with gold finish
Order & Save
Width: 15" Depth: 15" Height: 18"
Williams-Sonoma


Curtain

Airy, lightweight linen is stonewashed to give it a relaxed softness and graceful fluidity. Color: Mist
Order & Save
Custom
A & D


Nightstand


Quantity: 2
This elegant style nightstand comes with a strong and sturdy construction, it has excellent craftmanship, and it is uniquely designed to bring breadth to your decorative collection.
Order & Save
Dia. 21"x H18"
Design Within Reach


Pendant


Quantity: 2
IC pendant lamp provides diffused light. Blown glass opal diffuser. Dimmer on power cord.
Order & Save
18.9"H x 7.87"W x 7.87"D
Uttermost Collection


Armchair

Crafted with the environment in mind, the chair features a sturdy kiln-dried frame made from sustainable forests. The upscale charcoal velvet works will dress up an style of home decor.
Order & Save
29w x 33d x 44h
AllModern


Side Table

Compact in size and designed to complement any setting, it's the perfect table for parties both indoors and out, as a coffee table or side table, and the smooth surface happens to be easy to clean.
Order & Save
21.5" H x 17.7" W x 17.7" D
Bandhini Homewear Design Collection


Pillow

These plush, made in the USA pillows are the perfect accent decor for your sofa or chair. The Brussels velvet is a cotton and rayon blend fabric that is an upscale velvet with a striking sheen.
Order & Save
21"w 21"h
ModLoft


Bed

Hydraulic lift storage mechanism Premium resistance slats Removable fabric cover Water resistant Work with any number of sleep number mattresses
Order & Save
45.2" H x 73" W x 88" D
Get Our Free Inside Scoop!
Contains our handpicked top five posts on latest decor trends & advice delivered to you monthly!


Ready to get started?
Get a designer room you'll
love, guaranteed!
Start Now