NYC Apartment Transformation







Details
Room Label
My Living Room
Are you open to changing your wall colors?
Yes
Do you have a preference for either paint or wall covering, or are you open to both?
Open to both
Are you open to changing your floor covering?
Yes, Area Rugs
The initial proposals for this project have been restricted to the project owner only, but check out other fantastic
sample projects
to see rooms with unlocked initial proposals!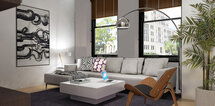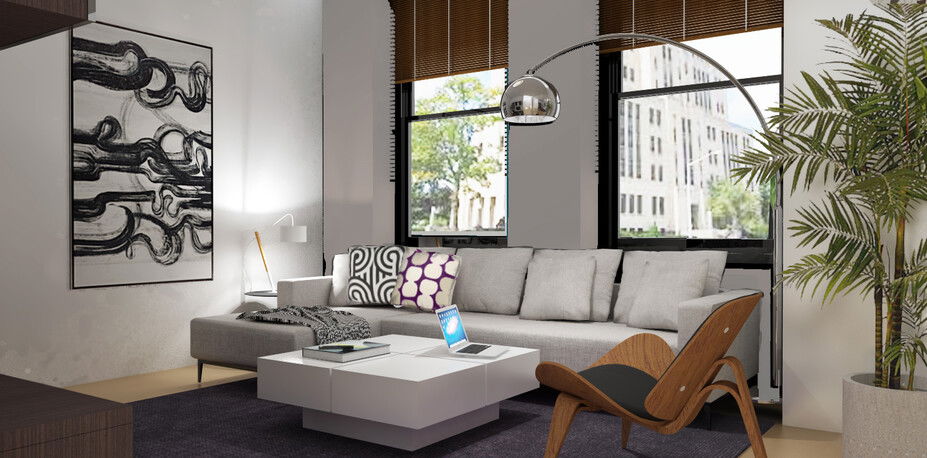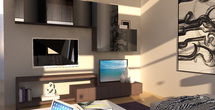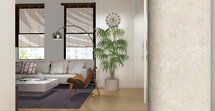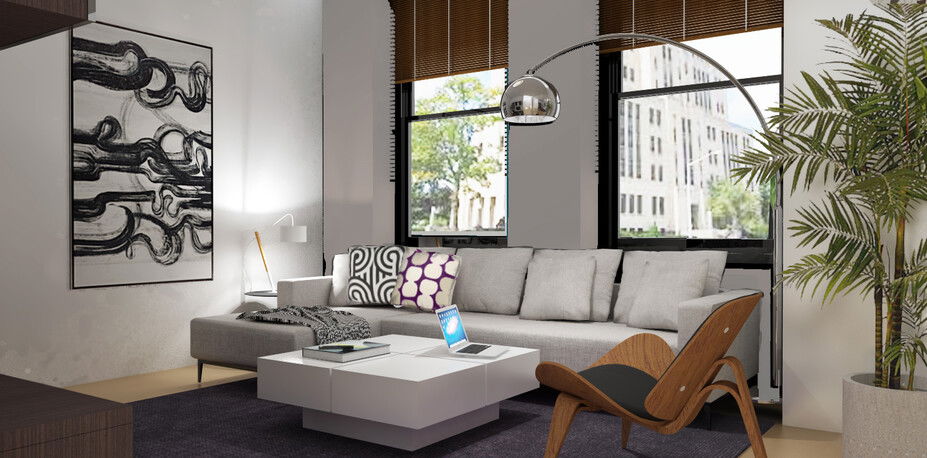 1
Z TV Unit
2
Iron Jack
3
Electric Blue
4
Black Frame
5
Porcelain Bottles
6
Jute Rug
7
Coffee Table with Drawers
8
Rizzy Home Throw
9
TABLA
10
Bishop Pillow
11
Round Side Table
12
Balance Adjustable Table Lamp
13
In The Groove
14
Lounge Chair
15
Planter
16
Hegel Clock
17
Arch Floor Lamp
18
Cali Sectional
19
Majesty Palm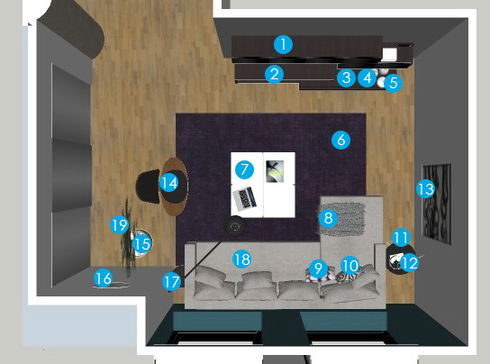 Living Room:
Since your room gets plenty of sunlight your color options are quite broad. A cool contemporary gray for most walls, with a warm taupe on the window wall to keep the space homey and cozy.

For your main color, we chose to use gray and taupe because they are neutral and seen as elegant and classy. They compliment many colors such as white, blue, and yellow and work well as part of a color scheme in any room.

Use a matte finish paint because it will be helpful in camouflaging those surface imperfections such as bumps and cracks as it does not reflect light. Just be careful because matte finish is more difficult to clean. You may also need to touch up scratches or marks by adding more of the same paint in the future.
Living Room Colors:
Shopping List:
Decorilla Discount
Photo
Name
Description
Link
Dimensions
Decorilla Discount
Lazzoni


Z TV Unit

4 Piece Set all in smoke wood: 60" Wide TV Unit C-Shaped Unit 3-cube Wall Cabinet with black glass doors 4-cube Wall Cabinet with black glass doors
Order & Save
TVM608: W60" x H12" x D12") TVT601 W61" x H19" x D16" ASM221 W60" x H20" x D12" ASM 231 W80" x H20" x D12"
Etsy


Iron Jack

Giant Cast Iron Jack Bookend
Order & Save
It measures 7.5 inches diagonally from ball to ball and 6.5 inches diagonally from tip to tip. It weighs just over 3 pounds.
Pure Photo


Electric Blue

Wind Farm in the Irish Sea North Wales.
Order & Save
12"x18"
DwellStudio


Black Frame

The frame offers easy loading of your image with the option of a single or a double mat. The patented "Framlok" corner joining system enables one end of the frame to be easily removed for loading yet securely attached when in use.
Order & Save
18" X 24" Frame / 12" x 18" Mat
Ethan Allen


Porcelain Bottles

A decorative thread of crisp and clean whites, like this family of ivory crackled porcelain bottles. Graphic and neutral, they speak volumes in their fresh simplicity.
Order & Save
Large: 6" dia × 19" h medium: 5" dia × 15.5" h small: 4" dia × 12.5" h
Surya (Lazzoni)


Jute Rug

100% Jute Rug
Order & Save
8' x 11'
Lazzoni


Coffee Table with Drawers

The coffee table with drawers functionality disguised as beautiful & simple design that comes in beautiful wood or hand-finished lacquer options.
Order & Save
W40" H12" D40"
my two designers


Rizzy Home Throw

Made of 100% acrylic yarn, thin weave with finer combed threads and loom woven with fringe.
Order & Save
50" x 60"
Judy Ross Textiles


TABLA

Hand embroidered, these pillows use the finest, hand-dyed New Zealand wool, with a cotton canvas overlay backing and a 5/95 down/feather insert.
Order & Save
18"X18"
Joybird


Bishop Pillow

Polyester filling and a 100% cotton sham.
Order & Save
20"x20"
Decor 8


Round Side Table

The stylish details and design of the table matches seamlessly with all interiors. The legs are made of birch wood, and the table top comes with a smooth matte painted finish connected through finely made stainless steel base. Available in black or white. The feet of the table are self-adjusting.
Order & Save
Diameter: 23.6" Height: 26.8"
Dove Mill


Balance Adjustable Table Lamp

A sleek, stylish design table lamp featuring an adjustable cantilever shade designed with symmetry and balance
Order & Save
Height : 21½" Base dimensions Length : 8" Width 4¾" Shade Diameter : 8"
Z Gallerie


In The Groove

In The Groove combines black and white tones to create a futuristic yet simplistic piece of art. The fluidity of this piece is enhanced with the use of elongated brush strokes in a swirl like pattern that create a unique composition of black on white.
Order & Save
42''W x 68''H
Nuevo (Lazzoni)


Lounge Chair

Order & Save
Crate and Barrel


Planter

Fiberglass, cement and sand. Drainage holeFor use indoors or outProtect from freezing temperatures
Order & Save
14" dia. x 26"H
Joybird


Hegel Clock

Golden spirographic design, 20" piece
Order & Save
20" diameter x 2" deep
Lazzoni


Arch Floor Lamp

An iconic shape of contemporary lighting, the Spectral floor lamp will bring sophistication and functionality to every room. The base is made from marble.
Order & Save
H 88" W 81.6" Base D 15.7" Lamp D 12.9"
Soho Concept (Lazzoni)


Cali Sectional

The Cali sectional contains high density of foam in the seat and back cushions.The sectional is built with solid birch wood frame. The base of the sectional is finished with black powder coating steel.
Order & Save
H 24.8" W 120" D 67.7" Seat H 15"
Home Depot


Majesty Palm

Indoor palm tree that will be an excellent addition to any decor. It makes a first class interior house plant. Specifically grown and acclimated to indoors, needs bright light.
Order & Save
Assembled Depth (in.) 16 in Assembled Height (in.) 50 in Assembled Width (in.) 16 in
Get Our Free Inside Scoop!
Contains our handpicked top five posts on latest decor trends & advice delivered to you monthly!


Ready to get started?
Get a designer room you'll
love, guaranteed!
Start Now