Modern Transitional Entertainment Room Remodel


Details
Project Title
Modern Transitional Entertainment Room Remodel
Project Description
I have a new construction home. I'm looking for design services for the kitchen, family room, butler's pantry, powder room and master bathroom.
Do you have PRO pricing? Are there any discounts for multiple rooms?
Budget
5k-10k
Dimensions
32' 4" W x 27' L x 10' H














Details
Room Label
Rec Rm/Bar (2 renderings)
I want this room to feel more masculine/feminine/neutral
Masculine
What type of sunlight does this room receive?
Other
What do you currently dislike about the room?
N/A - New Construction
Are you open to changing your wall colors?
Yes
Do you have a preference for either paint or wall covering, or are you open to both?
Open to both
Are you open to changing your floor covering?
Maybe
The initial proposals for this project have been restricted to the project owner only, but check out other fantastic
sample projects
to see rooms with unlocked initial proposals!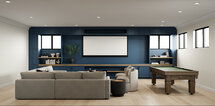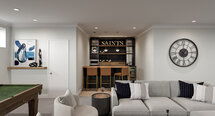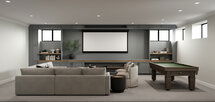 1
Kraus faucet
2
Akova pendant
3
Eugina Leather Bar Stools
4
Wall clock
5
Modern Abstracts Framed Print
6
Haven 3-Piece L-Shaped Sectional
7
Cassidy
8
Brittany
9
Balboa Upholstered Swivel Armchair
10
Modern Square Coffee Table
11
Binna
12
Monterey
13
Isla ottoman
14
Basalt Nova Noir Honed Moaic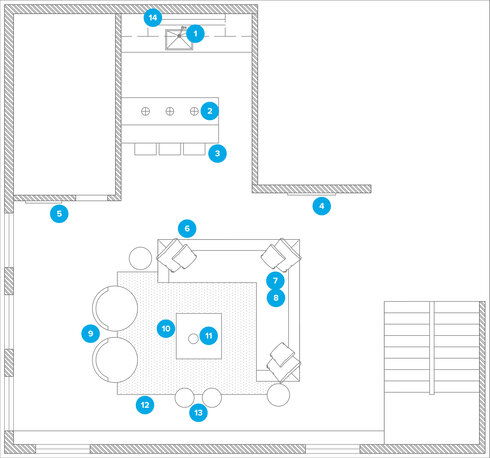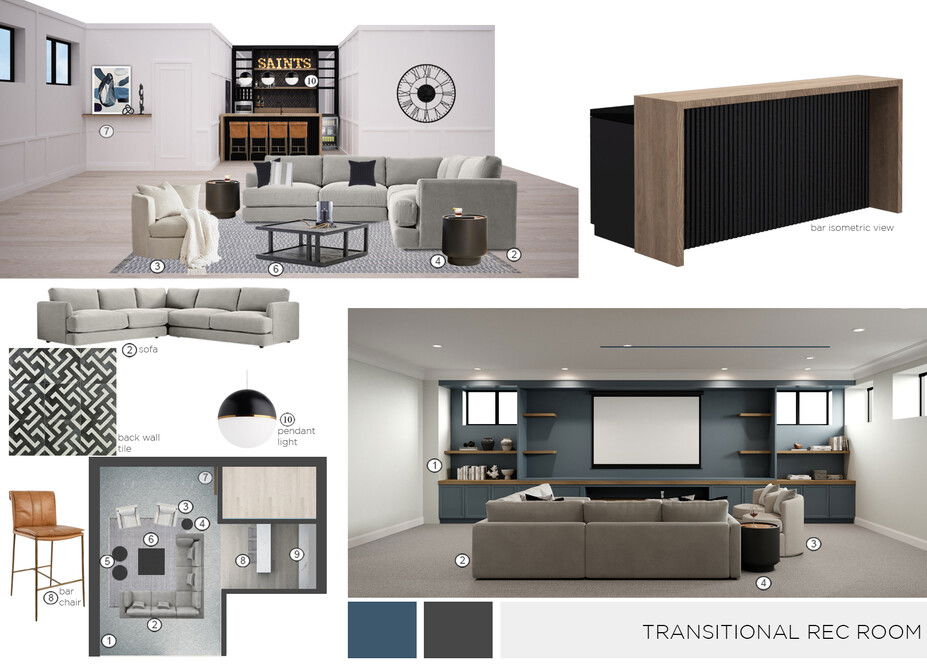 Other:
Since your room gets little sunlight a warm or rich color will make the room look more luminous

For your main color, we chose to use gray because it is neutral and seen as elegant and classy. It compliments many colors such as white, blue, and yellow, and works well as part of a color scheme in any room.

Use an eggshell finish paint which has a very light touch of shine (similar texture to an eggshell as implied by its name). This finish is very often used for walls and is more durable and easier to clean than matte finish
Other Colors:
Shopping List:
Decorilla Discount
Photo
Name
Description
Link
Dimensions
Decorilla Discount
Revelation


Modern Square Coffee Table

A cool, handsome addition to your living space, the Modern Square Coffee Table is created with an asymmetrical leg design and recessed top. Crafted of fine oak, the inherent grain peeks out from behind the jet-black finish.
Order & Save
40" w x 40" d x 16" h
DwellStudio


Kraus faucet

Color finish champagne bronze
Order & Save
15.13"
Visual Comfort


Akova pendant


Quantity: 3
Matte black/aged brass
Order & Save
7" x 7" x 7"
Pottery Barn


Eugina Leather Bar Stools


Quantity: 3
Color finish tan - Inspired by the cool, casual designs of '70s lounge furniture, these leather stools feature plush cushions that fold over the back for sink-in comfort and a strikingly stylish finish. The hammered iron legs create an elongated silhouette that's well-suited for either compact spaces or large, open floorplans, and the minimalist, modern look blends easily with a wide range of aesthetics.
Order & Save
19" w x 21" d x 43" h
DwellStudio


Wall clock

A bold, eye-catching addition to any ensemble, this striking wall clock is sure to draw the eye to your well-adorned environment. Showcasing openwork geometric details, bold Roman numerals, and a carved tree accent, this oversized design makes a bold statement in any space.
Order & Save
42.5'' W x 42.5'' H x 3.15'' D
Pottery Barn


Modern Abstracts Framed Print

print 2
Order & Save
32" x 40"
West Elm


Haven 3-Piece L-Shaped Sectional

Performance Washed Canvas, Storm Gray - Seat cushion:Multi seat
Order & Save
113"w x 113"d x 33"h.
Renwil


Cassidy

More than just a stylish piece, this pillow design brings great comfort to those who rest upon it. With feather down filling inside its 20-inch square build, it has an optimal structure for the bed or sofa. Showcasing a woven blend of olive, natural and white tones within its linen exterior it aligns with modern and classic aesthetics effortlessly.
Order & Save
20"W X 20"H
Renwil


Brittany

Going above and beyond the basic black accessory, this throw-pillow design carries character through a sleek format into the creative interior. With a black linen structure and white dot details, it can act as the embellished element or the neutral grounding piece depending on its design setting
Order & Save
20"W X 20"H
Pottery Barn


Balboa Upholstered Swivel Armchair


Quantity: 2
Fabric and Color:Performance Chateau Basketweave, Ivory - With its curved silhouette and generous seat, Balboa gracefully rounds out any space. The swivel design makes this a conversation piece.
Order & Save
40" w x 41" d x 35" h
Renwil


Binna

A romantic energy pours into the modern living space through this infinity knot décor accessory. Composed of aluminum with a matte black powder coating, it holds an effortlessly chic air that compliments the furnishings in its radius. With an 8.5-inch length structure, it is large enough for solo arrangement but could take on the addition of a pair as well.
Order & Save
8.5"W X 1.5"H X 8.5"D
Pottery Barn


Monterey

Color chambray - A rug for all seasons, this goes-anywhere design instantly elevates your space. The durable rug is fade resistant and holds up to life's little moments, from patio parties, to play dates, to the occasional spill. It's woven with fibers made from recycled water bottles, making it the perfect choice for any sustainable home.
Order & Save
9' x 12'
West Elm


Isla ottoman


Quantity: 2
Fabric and color:
Order & Save
17"diam. x 19"h.
DwellStudio


Basalt Nova Noir Honed Moaic

A satin-smooth finish with a natural look, honed finish tiles are a perfect fit for any room.
Order & Save
10" x 12"
Get Our Free Inside Scoop!
Contains our handpicked top five posts on latest decor trends & advice delivered to you monthly!


Ready to get started?
Get a designer room you'll
love, guaranteed!
Start Now