Living room and Play Room With Blue Accents

Details
Project Title
Living room and Play Room With Blue Accents
Project Description
I need help with a teen boy hangout. I am looking for super stain and dirt resistant furniture. I want to create two areas in the room. 1) tv/gaming sitting area 2) a computer area for gaming and homework. I live in The Bahamas, the Zip code is for shipping. We intend to redo the tile floor and change the recessed lighting. The room is 16x20 13ft ht.
Location
Fort Lauderdale, FL , USA
What's your favorite decor style?
Transitional
What are some of the interior design brands or stores that you like to shop at?
Joybird
What are your favorite colors for walls?
Gray, Light Blue, Light Golden Rod Yellow, Navy
What are your favorite colors for furniture and accents?
Gray, Red, Yellow
Dimensions
10wx13lx13ht







Details
I want this room to feel more masculine/feminine/neutral
Neutral
What type of sunlight does this room receive?
Mid-day light
What do you currently dislike about the room?
I don't like how the sofa is so far away from the TV screen, not that I watch it a lot. But I want the room to feel cozier, I feel as though the space could feel more comfortable, its not a room I like to be in
What pieces of existing furniture, lighting, art or accessories do you want to keep in the design?
None, But I would like an interesting way to display my family/holiday photos
Are you open to changing your wall colors?
Yes
Do you have a preference for either paint or wall covering, or are you open to both?
Open to both
Are you open to changing your floor covering?
Yes, Tile, Carpet, Area Rugs
Additional comments to designers
Downstairs in the house we have the same white tile throughout. If we change the floor tile we need to consider buying for the whole downstairs. Unless you feel as though we could do different flors in different rooms. That said we are intending to remodel the downstairs completely. This includes 2 new full bathrooms and a new kitchen remodel.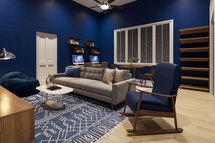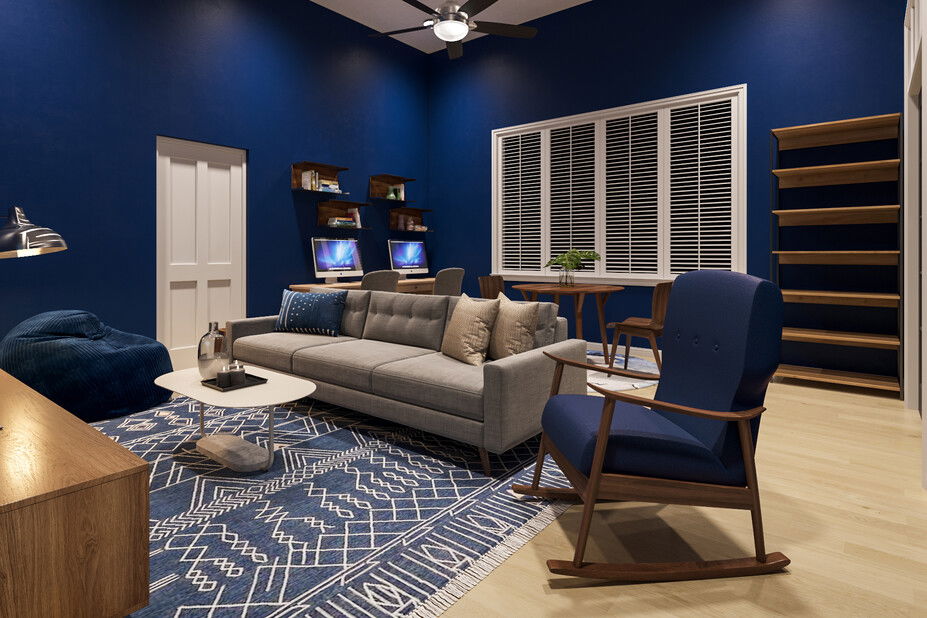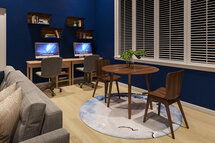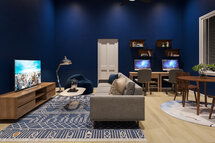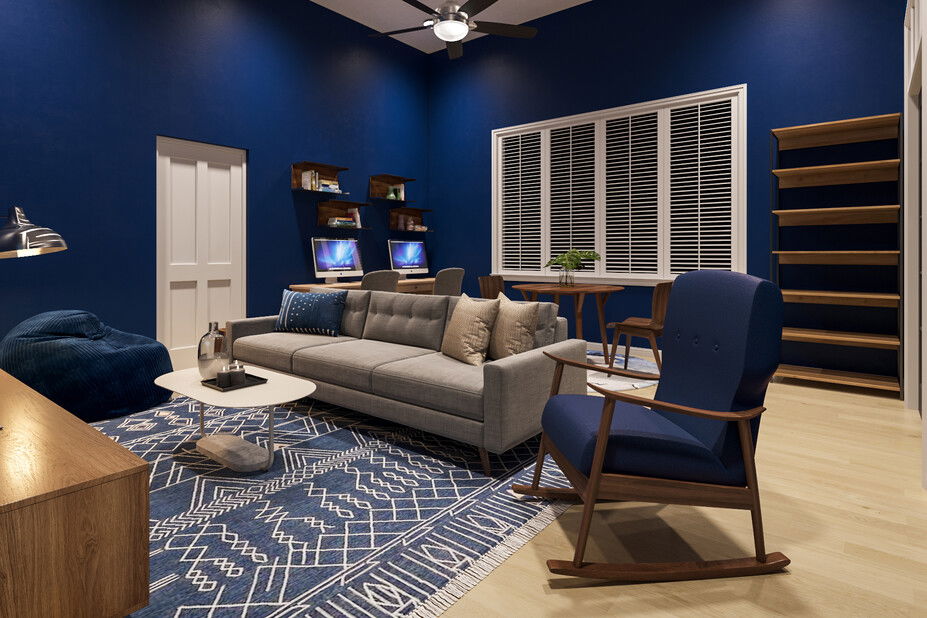 1
Desk Chair
2
Round rug
3
Beanbag
4
Fan
5
Rug
6
Coffee Table
7
Accent Cube
8
Frames
9
Table
10
Rocking Chair
11
Shelfs
12
Dining Chair
13
Sofa
14
TV Stand
15
Bookshelf
16
Pillow Cover 1
17
Pillow
18
Pillow Insert
19
Ottoman
20
Floor Lamp
21
Desk
22
Union Jack P cover
23
Pillos Cover II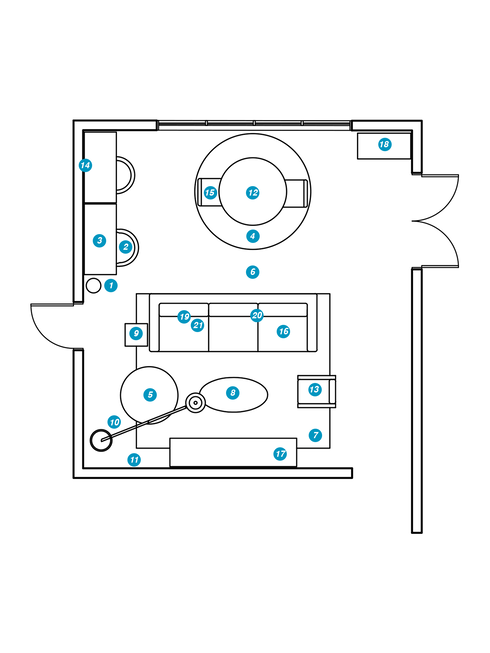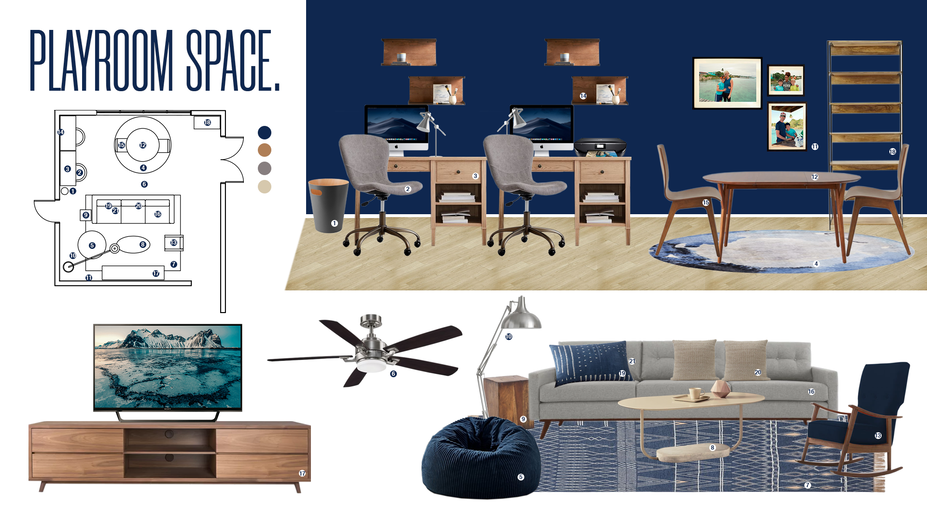 Other:
Since your room is large your color options with this room are quite broad.

For your main color, we chose to use blue because it is calming, relaxing, and serene. It ris reminiscent of blue skies and deep blue oceans. This color works well in bedrooms and can help turn your space into a soothing sanctuary.

Use an eggshell finish paint which has a very light touch of shine (similar texture to an eggshell as implied by its name). This finish is very often used for walls and is more durable and easier to clean than matte finish
Other Colors:
Shopping List:
Decorilla Discount
Photo
Name
Description
Link
Dimensions
Decorilla Discount
Stylex


Desk Chair


Quantity: 2
Instantly transform your desk area with this one-of-a-kind swivel chair.
Order & Save
25.5" wide x 25.5" long x 34–37" high
West Elm


Round rug

Each one is handcrafted from a blend of durable wool and velvety viscose.
Order & Save
6' diametre
Kravet


Beanbag

Our superplush Chamois Beanbag is supersoft with a luxe chamois slipcover.
Order & Save
41" diameter
Pottery Barn


Fan

The Fanimation Benito Ceiling Fan provides soothing cool air and soft lighting, and has a contemporary look that fits in with any decor style.
Order & Save
Overall: 52" diameter, 13.75" high
Loloi Collection


Rug

Reversible and easy-to-care for, our handwoven Summit Indoor/Outdoor Rug offers durability with a softer-than-wool feel.
Order & Save
8'w x 10'l.
West Elm


Coffee Table

With its solid marble base and lacquered top, it's a streamlined piece that also works well in smaller spaces.
Order & Save
42.4"w x 21.6"d x 15.75"h.
Pottery Barn


Accent Cube

Solidly built using recycled wood, the Parkview Accent Cube combines rustic appeal with a clean, contemporary design. Place it next to a sofa or combine two or three in a seating area for versatile use.
Order & Save
Overall: 14" square, 18" high Weight Capacity: 121 pounds Weight: 29 pounds
Pottery Barn Teen


Frames


Quantity: 4
Put your space in the right frame of mind with these versatile designs – perfect for snapshots, works of art and everything in between.
Order & Save
16"X20"
West Elm


Table

Offering plenty of room to grow, our Mid-Century Expandable Round Dining Table seats four normally and six when extended, making it perfect for family meals and dinner parties alike. Its sturdy contract-grade frame is made from wood that's certified to Forest Stewardship Council® (FSC) standards.
Order & Save
42"-60"w x 42"d x 30.4"h.
Revelation


Rocking Chair

Cue the relaxation in this charming Mid-century style that brings together plush upholstery and a sturdy wooden silhouette.
Order & Save
26"w x 36"d x 44"h
Pottery Barn Teen


Shelfs


Quantity: 2
Step up your wall game with our Wood and Metal Display Shelf. Crafted from super sturdy mango wood and steel, proudly display books and decor on this stylish two-tiered shelf.
Order & Save
Overall: 24" wide x 9" deep x 12" high
West Elm


Dining Chair


Quantity: 2
A more refined take on our popular Scoop-Back chair, the Crest Bentwood Chair's curvy silhouette and rich walnut-veneer finish bring easy elegance to the dining room
Order & Save
17"w x 20"d x 33.5"h.
Mitchell Gold + Bob Williams


Sofa

Boasting an extra-long frame and iconic Mid-century modern accents, the Hopson Grand sofa combines design and function.
Order & Save
104"w x 36"d x 33"h
Mitchell Gold + Bob Williams


TV Stand

It includes 4 discrete and spacious drawers as well as two open compartments in between the drawers, creating plenty of room to store things in. This model can blend into any setting you place it in.
Order & Save
19.7'' H x 78.7'' W x 17.7'' D
West Elm


Bookshelf

Made from richly-grained solid mango wood and supported by blackened steel frames, our Industrial Modular Storage Collection combines form, function and versatility.
Order & Save
33"w x 16"d x 84"h.
Pottery Barn


Pillow Cover 1

The tie-dyed look of a shibori pattern is accented with hand-embroidered designs for a bold, textured pillow cover.
Order & Save
Overall: 16" high x 26" wide
Joybird


Pillow


Quantity: 2
Handsome and snuggly, this hand-woven grey heather knit is a perfect, versatile pick that'll instantly elevate the look of any room.
Order & Save
20""w x 20""h
Pottery Barn


Pillow Insert

Covered in smooth 200-thread-count cotton. Synthetic polyester fill. Arrives shrink wrapped and becomes fluffy once removed from wrap. Machine wash.
Order & Save
SELECT SIZE: 16 X 26" LUMBAR
West Elm


Ottoman

At the foot of a reading nook or used as a makeshift table when topped with a tray, our versatile Auburn Ottoman is high style for a low price. Its compact size makes it easy to move from room to room—wherever you need it most.
Order & Save
15.5"diam. x 17.5"h.
Pottery Barn


Floor Lamp

This Seville Sectional Floor Lamp is equipped with functional knuckles. The bronze finish accents its simple yet elegant design. Made of stamped iron with a bronze finish. On/off switch located on cord. ETL-listed. Imported.
Order & Save
Overall:11" wide x 31.5" deep x 61.5" high
Ralph Lauren (Furniture) Collection


Desk


Quantity: 2
OverviewOur 1960s-inspired Tate desk recalls the timelessness of mid-century design with a tailored profile and streamlined shape. Crafted of solid American walnut and walnut veneer, Tate style-conscious design showcases three drawers united by linear undercut drawer pulls that run the length of the desk.
Order & Save
Width: 48"Depth: 22"Height: 30.75"
Kravet


Union Jack P cover

Made of durable and soft Cotton Linen Fabric. It will not fade. Size: Approx 12 x 20 Inches(1 inch error range is allowed), print on one side. It's a zippered pillow case, with a zippered opening on the side. The item is only one pillow case, the insert is not include. There are slight difference between the picture and the real item caused by light brightness.
Order & Save
12x20
Amazon


Pillos Cover II

Pack more cushion to your sofa couch for lumbar support or just decoration Our most resilient decorative throw pillow inserts yet, firm yet fluffy filler stuffing
Order & Save
12x20
Get Our Free Inside Scoop!
Contains our handpicked top five posts on latest decor trends & advice delivered to you monthly!


Ready to get started?
Get a designer room you'll
love, guaranteed!
Start Now