Jungle Animals Theme Room Design For Kids


Details
Project Title
Jungle Animals Theme Room Design For Kids
Project Description
Looking to completely re-design this rather boring bedroom in our new home. Besides finding a great space that are now toddler can transition from a crib to a bed into, we are looking to start a primary goal in our house which is rid of all the browns and make it a little more stylish. We have a hard time coming up with this on our own and need some help with direction so figured Decorilla would be great to try with this. Everything with this room - flooring, walls, trim, doors, fixtures is fair game to change.
Our son is currently just over 2 years old. He is fascinated with cars, trucks and construction equipment. Also likes animals, not really any in particular over the others. He likes blues and greens but I don't think he has a really favorite color. Right now he is still in a crib. Will probably transition to a toddler version of his crib in the next few months, with longer term looking to transition to a small bed (probably nothing larger than a twin, if that, for now).
Our style is typically modern/contemporary. Glam/eclectic certainly have an appeal, just not how our house is laid out.
But I find that my general idea of a kids room is to be fun so maybe it doesn't really need to follow a specific style. It does seem though that a lot of the toddler rooms I find online seem to be of one style - I attached a few pictures of stuff I liked, but overall was a little disappointed on the boys side. More feminine/girls rooms seemed cooler from a style perspective :/
It's not a big room, so I wasn't expecting to spend more than 5-10k but I also have only a very general sense of what it should cost. If it means a cool room, we are certainly able to go higher. I am not including any paint, flooring, etc. in this budget - I find those to be essential and will pay whatever it is.
What's your favorite decor style?
Modern
What are some of the interior design brands or stores that you like to shop at?
Room & Board, Pottery Barn, Crate & Barrel, Wayfair, Saatchi Art, Rejuvination, Lulu and Georgia
What are your favorite colors for walls?
Dark Olive Green, Alice Blue, Dark Blue, Light Green, White, Light Gray, Slate Gray, Dark Sea Green, Forest Green











Details
Room Label
Bennett's Room
I want this room to feel more masculine/feminine/neutral
Masculine
What type of sunlight does this room receive?
Morning light
What do you currently dislike about the room?
Almost everything - it does get great light in the morning facing east. Great for around noon (nap time) as it darkens but it is a little too dark during the rest of the day due to the positioning and also lack of big windows. Currently have a single overhead light source, which is inadequate (we have an old lamp seen in one of the pictures to fill in - not attached to this). The brown also does not help with making a "bright" space and the color tones are probably what we like the least about this room - from the trim to the doors to the carpet - it is all brown and just makes it feel even more blah. That's not saying a dark color couldn't be used - just not the way it is currently set up. We are looking to change everything about this room (trim, doors, wall color, carpet)
What pieces of existing furniture, lighting, art or accessories do you want to keep in the design?
We just moved recently and have little furniture that we are attached to or that probably would work in this room as our boy grows up, so not attached to anything.
Are you open to changing your wall colors?
Yes
Do you have a preference for either paint or wall covering, or are you open to both?
Open to both
Are you open to changing your floor covering?
Yes, Carpet, Area Rugs
Additional comments to designers
Little disappointed by photos out there for boy's toddler rooms but I uploaded a few that either had layouts I liked (reading area in the corner) or a picture of a girls room that had a neat idea for a desk/builtin (I think it was from Decorilla website). I generally found a ton of themed rooms (nautical, race car, Star Wars) but I think that might cause his room to be a little dated as he grows up and changes his interests so fast. Sure, a few themed objects/ascents would be cool but we are not looking for a room completely filled with trucks everywhere.
One comment on flooring - we certainly would like to get rid of the current carpet. We otherwise have hardwood just about everywhere else, so figured it would be easiest to just replace with some other carpet. I don't think I would want to match our current hardwoods (dark stain - almost identical to the trim) and I figure that using a lighter hardwood might be strange? Haven't seen that executed before to define a room. I mean we're up to anything but that was my thoughts.
On colors - I just picked some tones/general colors I like. But not limited to those specific colors by any means.
I am happy to answer any questions you have for me. I think I have a hard time getting started imaging this room my input may not be of much help. That is why I am turning to you.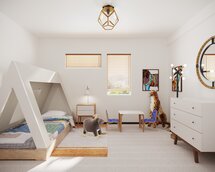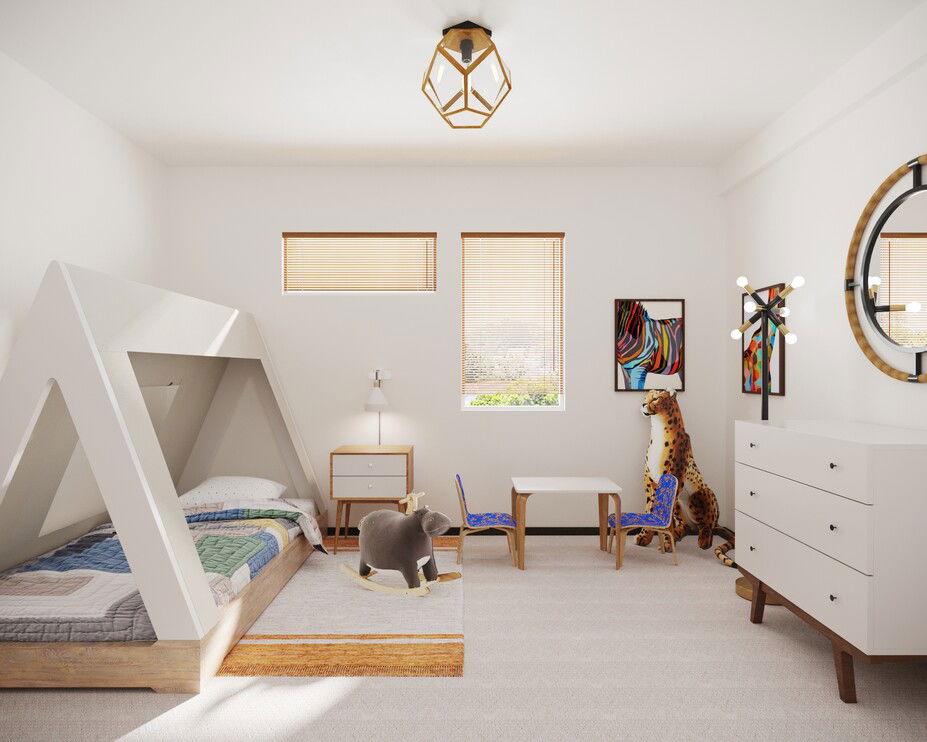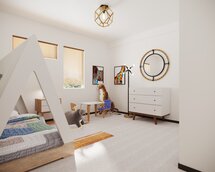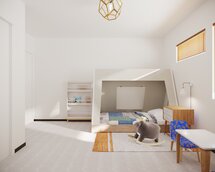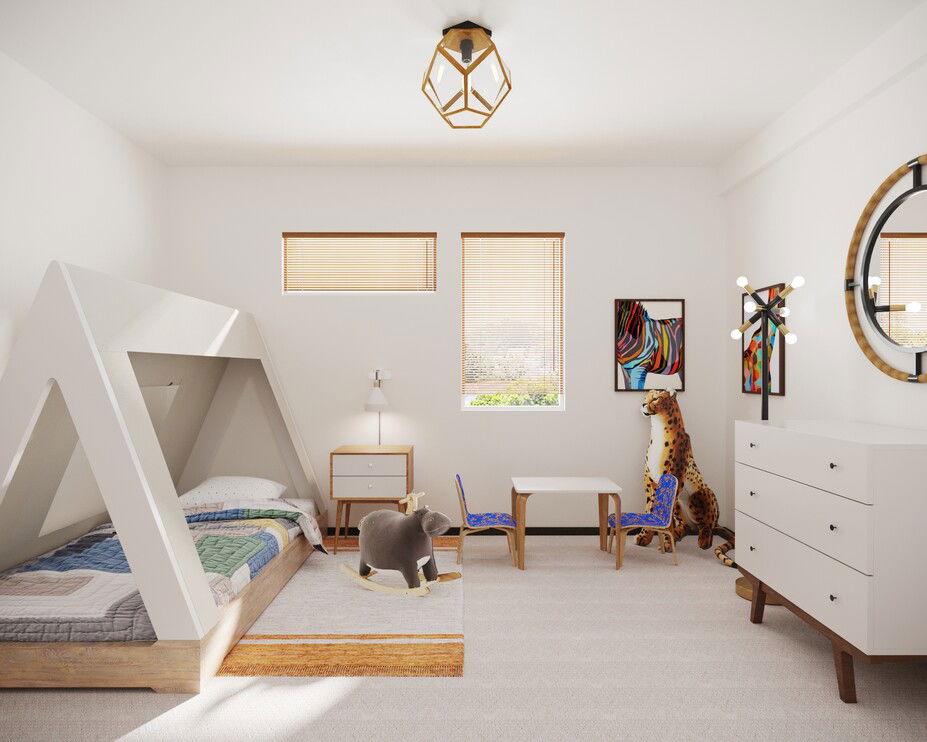 1
Lexington LEX-2310 5' x 7'6" Rug
2
West Elm x PBK Modern 3-Drawer Dresser
3
Westcott Rope Mirror
4
Safari Stripes
5
Safari Spots
6
Tent Twin Bed
7
Sloan Book Rack
8
Fann Nightstand
9
Safari Toddler Quilt
10
Triangle Sheet Set
11
White Bracket Pendant Light
12
Colloquial Tamsin Kids Chair
13
51"L, 13"W, 34"D
14
Hippo Rocker
15
Tasmin Kid's Table
16
Sputnik Floor Lamp
17
Pentagon Prism Flushmount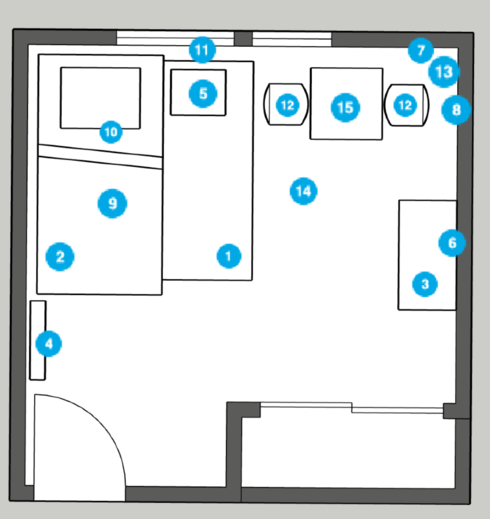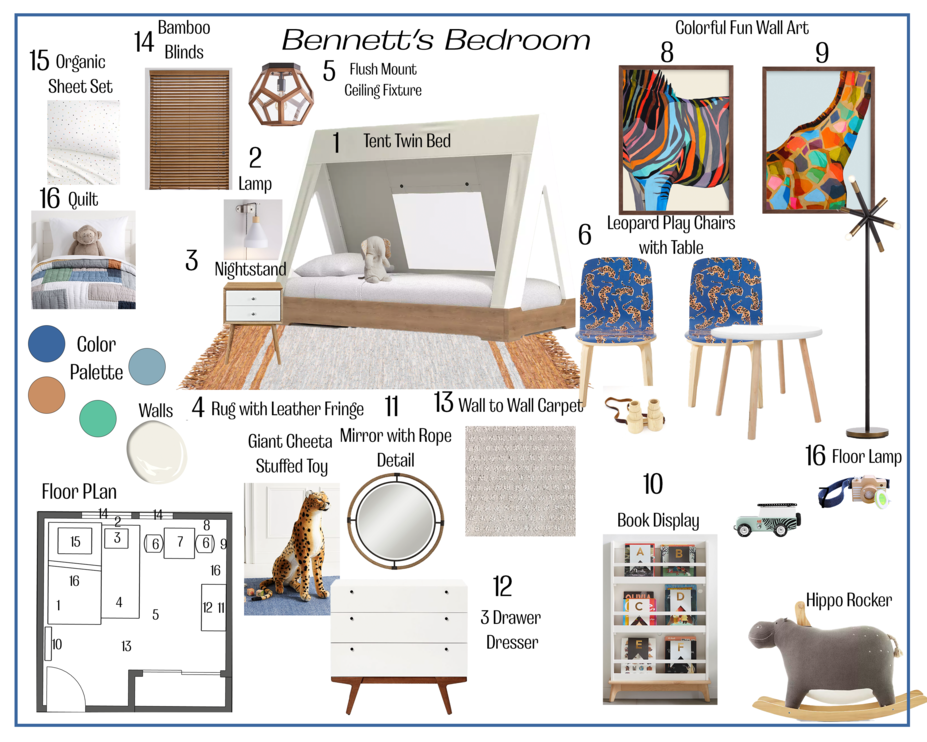 Nursery:
Since your room is smaller using a light and pale color will enhance the light and the space in your room

For your main color, we chose to use white/off-white as it offers a fresh, clean, feel to the space. White and off-white colors are often a favorite for walls because they are light, neutral, and match most color schemes. They are known to make rooms feel more airy and spacious.

Use an eggshell finish paint which has a very light touch of shine (similar texture to an eggshell as implied by its name). This finish is very often used for walls and is more durable and easier to clean than matte finish
Nursery Colors:
Shopping List:
Decorilla Discount
Photo
Name
Description
Link
Dimensions
Decorilla Discount
Surya Collection


Lexington LEX-2310 5' x 7'6" Rug

Add a touch of rustic elegance to your home with the Lexington Collection. The meticulously woven construction of these pieces boasts durability and will provide natural charm into your decor space. Made with Leather, Cotton in India, and has No Pile. Spot Clean Only, One Year Limited Warranty.
Order & Save
5' W x 7'6" L
Global Views


West Elm x PBK Modern 3-Drawer Dresser

Expertly crafted of solid poplar wood, ash wood, engineered wood and MDF. All wood is kiln dried for added strength and lasting beauty. Drawers feature English Dovetail joinery for added strength and metal glides for easy movement. Frame is crafted using dowel construction and mortise-and-tenon joinery. Simply white finish is applied in multi-step process using child-safe, 60% water-based paint. Pecan finish is applied in multi-step process using child-safe, water-based stain. GREENGUARD Gold Certified. Meets or exceeds stringent chemical emissions standards. Made in a Fair Trade Certified™ facility.
Order & Save
Overall: 36" wide x 19" deep x 34" high
Revelation


Westcott Rope Mirror

Handmade of iron and rope frame with mirror and engineered hardwood.
Order & Save
34 " Round
Arte International


Safari Stripes

A zebra is a beautiful animal, not just for it's face, but also for its incredible patterning, highlighted here through unconventional use of color and shadow. Dimension is created by variating the shade and saturation of a riot of wonderful colors.
Order & Save
18 x 24
Arte International


Safari Spots

Award Winning Design created by Artist Jess Franks
Order & Save
18 x 24
Crate & Kids


Tent Twin Bed

It's a tent and a bed all in one. Our Tent Bed Set combines all the comfiness of an actual kids bed with the playful adventure of a teepee. The roll back flap allows for an additional window when needed, and the cutout side panels keep everything open. With a two-tone construction that highlights the wood's natural grain, it's the perfect blend of function and fun.
Order & Save
Tent Bed Set. 77.5"Wx40.75"Dx57.75"H
West Elm


Sloan Book Rack

Solid poplar frame, solid birch legs and engineered wood shelves. All wood is kiln-dried for added durability. Covered in a child-safe, water-based finish in White. 3 fixed shelves display books face forward (approx. 4" deep). Must be secured to the wall using metal brackets (included). Legs include built-in levelers. GREENGUARD Gold Certified. Meets or exceeds stringent chemical and VOC emissions standards.
Order & Save
Overall: 29.6"w x 5.9"d x 46.5"h.
DwellStudio


Fann Nightstand

Transform your bedroom into a mid-century sanctuary with this Nightstand. Made of high grade MDF particleboard with wood grain veneer, this nightstand features two full-extension drawers with generous storage, polished metal knob handles, and four splayed dowel legs with non-marking foot caps.
Order & Save
24'' H x 18'' W x 15'' D
West Elm


Safari Toddler Quilt

Machine wash in cold water, gentle cycle. Use only non-chlorine bleach, if needed. Tumble dry on low heat; remove promptly.
Order & Save
50 x 36
West Elm


Triangle Sheet Set

Brought to you in collaboration with Pottery Barn Kids, this sheet set is made of 100% organic cotton that's certified to GOTS standards. Its multicolored triangle print makes it easy to match with other bedding
Order & Save
DETAILED SPECIFICATIONS FLAT SHEETS Twin: 96"l x 66"w. Full: 96"l x 90"w. Queen: 104"l x 96"w. FITTED SHEETS (Fits mattresses up to 16" deep) Twin: 75"l x 39"w. Full: 75"l x 54"w. Queen: 80"l x 60"w. PILLOWCASES Standard: 26"l x 20"w.
Crate & Kids


White Bracket Pendant Light

Wall-mounted light perfect for a bunk bed or task lighting for a desk Painted iron shade with solid wood accent and fabric cord Cord length is 103" Uses 60W or led 9w maxlite LED bulb (LED bulb included)
Order & Save
White Bracket Pendant Light 6"Wx10"Dx10"H
Anthropologie


Colloquial Tamsin Kids Chair


Quantity: 2
Exclusively for Anthropologie Rubberwood, iron Bent wood seat construction Sealed with clear lacquer for protection Legs are removable Wipe clean with soft cloth. Avoid chemical cleaners This piece is intended for indoor use
Order & Save
Overall: 19"H, 13.5"W, 14.25"D Seat Height: 11.5" Seat Depth: 16.25" Back Height: 13.25" Leg Height: 10" Under Clearance: 14.25"
Anthropologie


51"L, 13"W, 34"D

Order & Save
51"L, 13"W, 34"D
Crate & Kids


Hippo Rocker

Designed by Elizabeth Olwen Smiling hippo with plush body on wooden frame with embroidered details and braided tail Instructions and hardware included Assembly required Polyester shell, polyester fill, wooden base, faux fur tail Spot clean only 18 mos. and up; 70 lbs. or less
Order & Save
Hippo Rocker 36.6"Wx15"Dx15.7"H
Anthropologie


Tasmin Kid's Table

This charmingly modern table is the perfect place for your little one to do crafts, read, or enjoy playtime.
Order & Save
Overall: 23"H, 23"W, 16"D Tabletop thickness: 0.75" Distance Between Legs: 22" short side; 29.5" long side Leg Height: 15.25" Under Clearance: 16"
Crate & Kids


Sputnik Floor Lamp

Golly! Our starburst Sputnik Floor Lamp is a shining example of snazzy mid-century modern style. Six arms spread light in every direction, and the foot step switch makes turning it off and on a real cinch. While a slim frame only adds to the retro appeal, iron construction ensures this vintage-inspired lamp will last well into the future.
Order & Save
Overall Dimensions Width: 20.86" Depth: 16.93" Height: 57.87"
Pottery Barn Kids


Pentagon Prism Flushmount

Glass, steel and wooden details create show-stopping flair while the flushmount design delivers the same timeless appeal of a chandelier but in much less space. DETAILS THAT MATTER Made of wood, steel and clear glass. Wood is finished in Acorn and canopy is finished in bronze. Compatible with dimmer switch.
Order & Save
Overall: 14" diameter, 12.25" high
Get Our Free Inside Scoop!
Contains our handpicked top five posts on latest decor trends & advice delivered to you monthly!


Ready to get started?
Get a designer room you'll
love, guaranteed!
Start Now