Industrial Retro Bedroom Transformation Ideas


Details
Project Title
Industrial Retro Bedroom Transformation Ideas
Project Description
I need help to redecorate my bedroom, i prefer industrial theme inspired by 50's & 70's retro look. I will only purchase items from the shops mentioned below as my favorites because they have stores in Qatar. The only items I will order online are the curtains and wallpapers.
What's your favorite decor style?
Traditional
What are some of the interior design brands or stores that you like to shop at?
Boconcept, Ikea, The one, west elm, Pottery barn, eichholtz, caracole,
Which colors do you dislike?
Light Green, Light Cyan, Navajo White, Pink, Light Gray, White Smoke, Yellow, Tomato, Lavender, Beige, Deep Sky Blue, Ghost White, Light Golden Rod Yellow, Light Coral, Hot Pink, Lawn Green, Antique White, Yellow Green, Red, Sandy Brown, Light Yellow, Light Pink, Purple, Bright Orange, Deep Pink
What are your favorite colors for walls?
Dark Green, Dark Red, Maroon, Dark Olive Green, Copper, Rosy Brown, Weathered Gray, Cadet Blue, Saddle Brown, Navy, Dark Orange, Dark Blue, Brown, Dark Gray, Mustard, Dark Yellow
What are your favorite colors for furniture and accents?
Dark Green, Dark Blue, Maroon, Mustard, Dark Olive Green, Dark Orange, Dark Gray, Copper, Black, Brown, Rosy Brown, Weathered Gray, Cadet Blue, Dark Red, Saddle Brown
Dimensions
16.4'w x 19.4'l x 10.5'h




Items you want to keep



Details
I want this room to feel more masculine/feminine/neutral
Neutral
What type of sunlight does this room receive?
Late afternoon light
What do you currently dislike about the room?
I apologize for the messiness and ignore the flowers please, I recently graduated and these are gifts. Other than that I dislike the clutter, stuffiness, colors, classic furniture and bulky curtains.
What pieces of existing furniture, lighting, art or accessories do you want to keep in the design?
collectable toys, framed teddy bear collectable pieces and my safe, which i keep in the corner of the room.
Are you open to changing your wall colors?
Yes
Do you have a preference for either paint or wall covering, or are you open to both?
Wall covering
Are you open to changing your floor covering?
Yes, Wood, Carpet
Additional comments to designers
because i'm vegan the materials of the furniture matter, so please avoid any leather, silk or wool.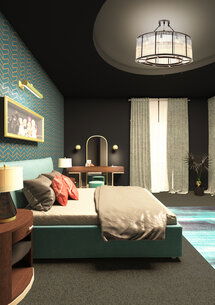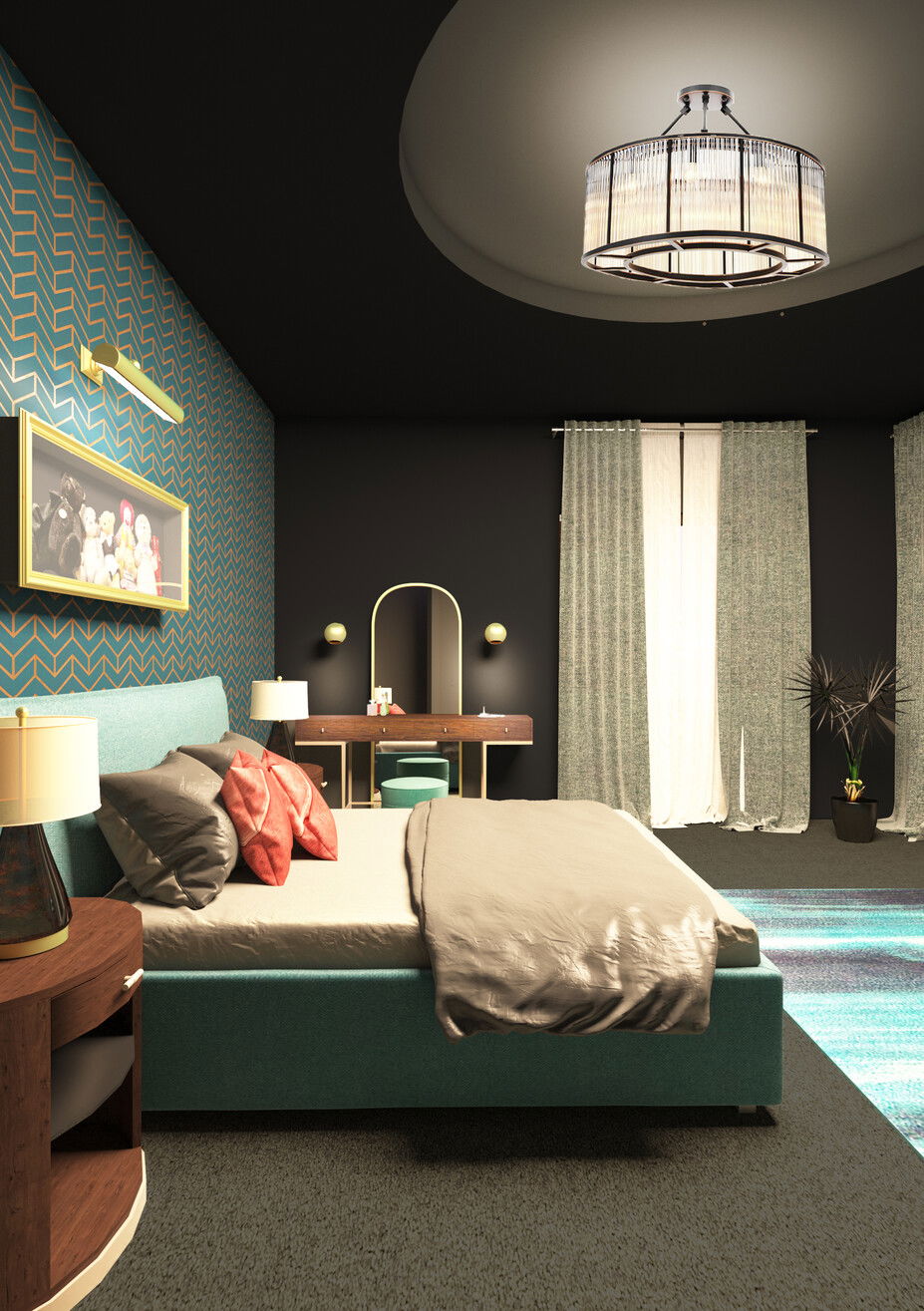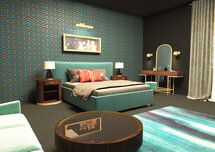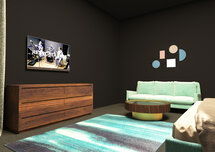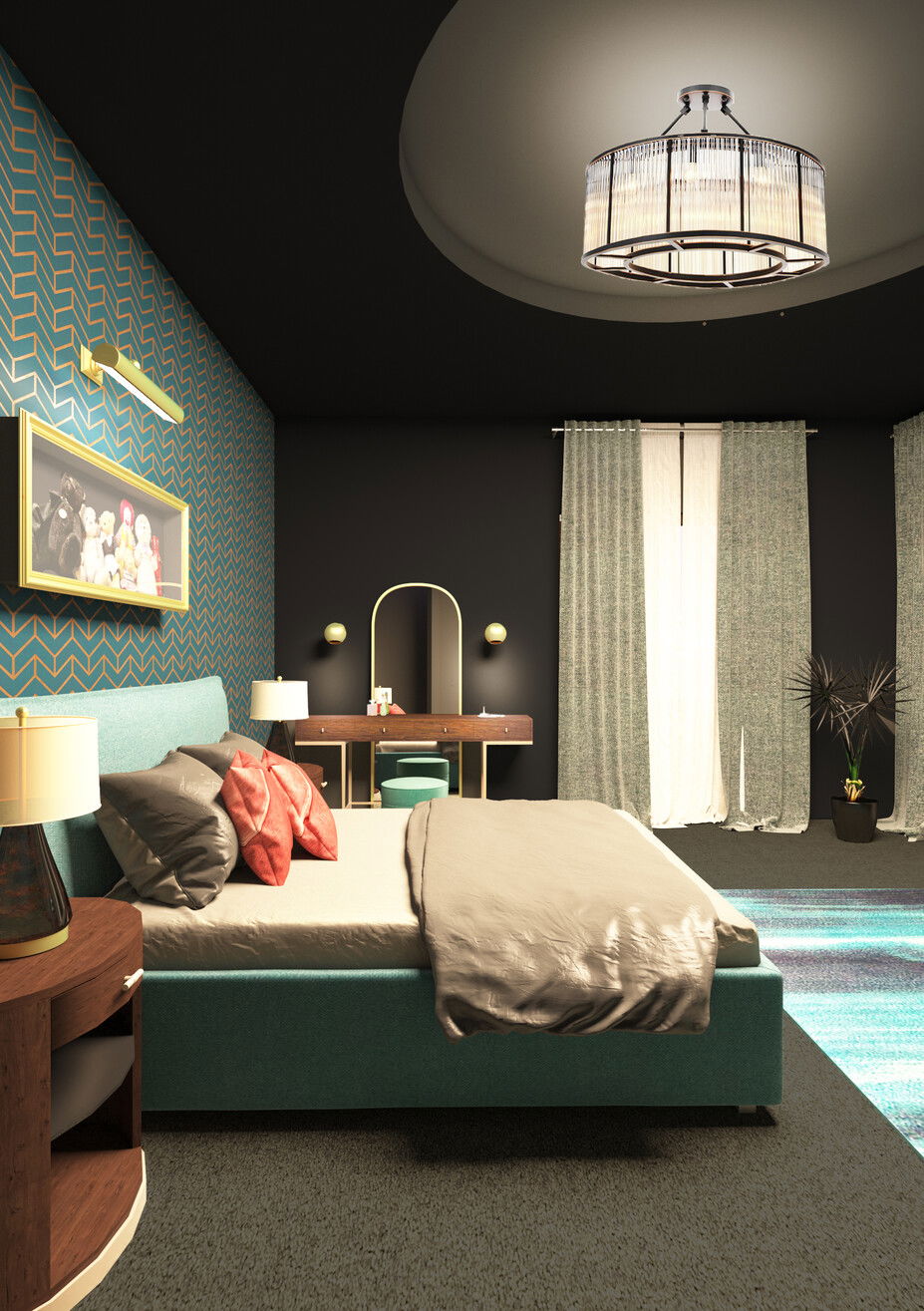 1
Drapes
2
Bed
3
Nightstand
4
Bedside Lamp
5
Rug
6
Make up table
7
Stool
8
Sofa
9
Coffee Table
10
Ceiling Lamp
11
Dresser
12
Mirror
13
Sconce
14
Carpeting
15
Curtains
16
Curtain Rod
17
Cushions
18
Wall Art
19
Faux Fur Throw
20
Wallpaper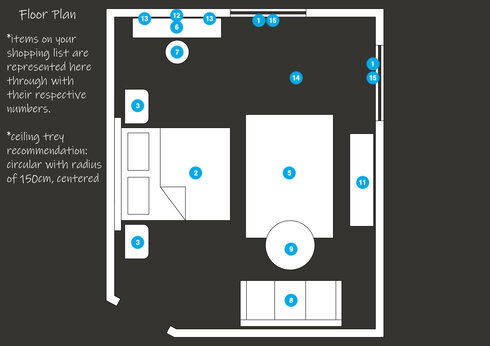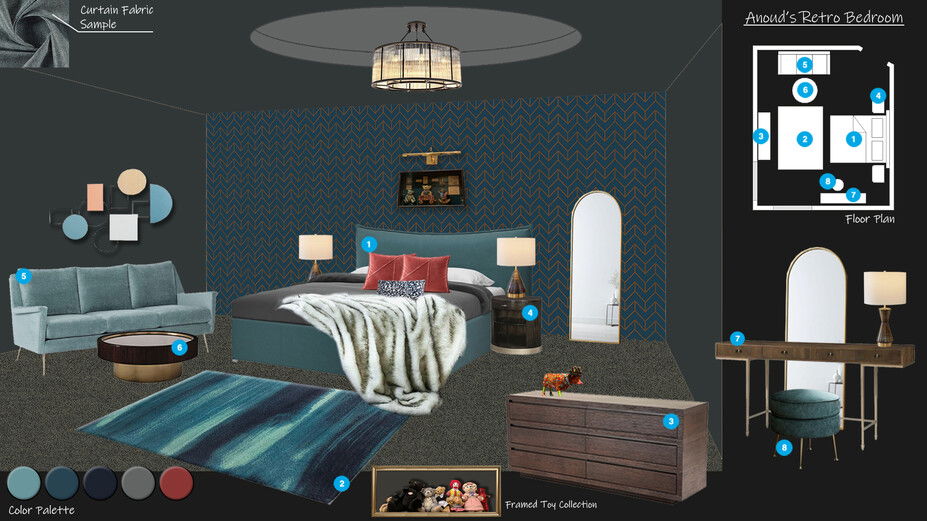 Bedroom:
Since your room is large your color options with this room are quite broad and dark tones will provide rich depth and volume.

For your main color, we chose to use black because it is authoritative, sophisticated, and powerful. It is a good neutral counterpart to any other color. Black is used to give depth to a room as well as make a dramatic statement.

Use an eggshell finish paint which has a very light touch of shine (similar texture to an eggshell as implied by its name). This finish is very often used for walls and is more durable and easier to clean than matte finish
Bedroom Colors:
Shopping List:
Decorilla Discount
Photo
Name
Description
Link
Dimensions
Decorilla Discount
Revelation


Drapes


Quantity: 2
Treat your home to something new with this contemporary tweed textured interior fabric. Aberdeen 008 is a versatile and inviting curtain or upholstery fabric that works well with a range of design aesthetics.
Order & Save
170cm (2x Panels 85cmL) L x 300cm H
Maree Beds


Bed

Defined by grandiose lines and an elegant look, this modern bed will transform any ordinary bedroom into a luxurious sanctuary. Fitted with a soft and oversized headboard, this bed further combines a welcoming touch with a lavish look.
Order & Save
Height: 120 cm Length: 224½ cm Width: 220 cm Headboard size: H120xW220xD16½cm Frame height: 38 cm Mattress size: W180xL200cm
Mitchell Gold + Bob Williams


Nightstand


Quantity: 2
This nightstand's unique three-quarter moon shape slides snugly against a wall while projecting a rounded front. Fashioned of smooth Primavera wood with a high Smoked Peppercorn sheen, this open-front piece has a contrasting Jazzy Taupe base.
Order & Save
66.68W x 46.36D x 66.04H
West Elm


Bedside Lamp


Quantity: 2
Our Metalized Glass Lamps have a luminous mouth-blown base with luxe, saturated color. A built-in USB port makes this perfect anywhere—bedside, desk, family room—you want to stay connected (no charging block required!)
Order & Save
13"diam. x 19.75"h.
Kravet


Rug

The dense, thick pile dampens sound and provides a soft surface to walk on. Durable, stain resistant and easy to care for since the rug is made of synthetic fibres.
Order & Save
Length: 240 cm Width: 170 cm Thickness: 18 mm Area: 4.08 m²
West Elm


Make up table

Versatility realized. Perched atop a graceful artisan metal stretcher, the fumed oak console offers four drawers. Beautiful proportions and a lean profile make this the ideal choice for narrow hallways or small entries.
Order & Save
172.72W x 38.10D x 84.46H
West Elm


Stool

A nod to Italian mid-century design, our Pietro Ottoman offers chic versatility—it easily transitions from ottoman to seat to side table when topped with a tray. It comes in your choice of fabric so you can pick the one that's just right for your space.
Order & Save
18.1"diam. x 17.3"h.
Mitchell Gold + Bob Williams


Sofa

Strong in profile, our Carlo Mid-Century Sofa echoes the dramatic, expressive lines of Italian mid-century design. We gave it a slightly pitched back, angled arms and plush cushions that sit within the frame to deliver tons of comfort without the bulk.
Order & Save
77.5"w x 35"d x 34"h.
Revelation


Coffee Table

Looking for a distinctive cocktail table to add a warm yet modern focal point? Look no further, the Anonymous Cocktail table's striking circular shape and modern mix of materials promises to create a memorable, modern centerpiece while adding interesting layers of texture. We particularly love the contrast between the softness of the Urban Brass and the linear woodgrain of the Ebony Macassar.
Order & Save
37.75" dia x 14"H
Zodax


Ceiling Lamp

SPECIFICATIONS Lamp holder: E14 Lamp holder qty: 10 Max wattage: 40 watt Wire length in cm: 50 Wire length in inch: 19,69 Plug type: Not applicable Included light bulbs(s): Not included Indoor/outdoor: Indoor use/dry locations only
Order & Save
ø 80 x H. 61 cm 31.5" dia x 24.02" H
Pottery Barn


Dresser

SPECIFICATIONS Indoor/outdoor: Indoor use/dry locations only Information: Oak veneer | coffee finish
Order & Save
180 x 46 x H. 78 cm
West Elm


Mirror

Our best-selling Metal Framed Floor Mirror gets an update with an arched silhouette that looks elegant in an entryway, living room or bedroom.
Order & Save
28"w x 1.3"d x 74"h.
BoConcept


Sconce


Quantity: 2
The matt antique brass in round shapes ensures a stylish and warm look to the Kip lamp. The adjustable head makes it possible to move the soft light in any direction - perfect for lighting up a reading area or another of your favourite spots.
Order & Save
Height: 10 cm Width: 12 cm Depth: 12 cm
Jaipur Living


Carpeting


Quantity: 7
Our modular system helps customers create interior spaces while positively impacting the people who use them and our planet.
Order & Save
50x50cm/tile 4sqm box
Duralee Collection


Curtains


Quantity: 2
Create your own made-to-measure curtains. Free shipping and fabric discounts apply to all curtain orders. Delivery of the finished curtains is within 20 working days from the date they are ordered.
Order & Save
170cm (2x Panels 85cmL) L x 300cm H
West Elm


Curtain Rod


Quantity: 2
Our Oversized Metal Double Rod includes one thin and one oversized rod for layering curtains with ease. Mounting hardware is included, so it's simple to hang your west elm curtains. Set includes one oversized and one thin metal rod. Aluminum in an Antique Brass finish. Adjustable length. Mounting hardware included. Imported.
Order & Save
60-108"
West Elm


Cushions


Quantity: 2
A "casual Friday" take on our classic lush velvet, our Washed Cotton Velvet Pillow Cover features seaming details and a slightly flanged edge. It's an easy way to toss on soft texture to a reading nook or on the bed.
Order & Save
18"sq
West Elm


Wall Art

Create your own modern art installation with our set of 5 colorful geo art pieces. Each piece combines iron outlines with painted wood shapes that can be hung vertically or horizontally. Whether you hang all 5 pieces together or in separate arrangements, they're an eye-catching way to add instant impact to your walls.
Order & Save
DETAILED SPECIFICATIONS Natural/Circle: 13.3"w x 1.5"d x 15.7"h. Blue/Half Circle: 14.5"w x 0.8"d x 15.5"h. White/Square: 15.5"w x 1.9"d x 17.3"h. Pink/Rectangle: 12"w x 1.1"d x 18.1"h. Blue/Circle: 12.9"w x 1.5"d x 16.1"h.
West Elm


Faux Fur Throw

Our Faux Fur Throw provides all the warmth and texture of fur, yet it's entirely animal friendly. Use it to add a luxurious layer of softness to any bed, sofa or reading chair.
Order & Save
119 cm x 152 cm
Zoffany Collection


Wallpaper


Quantity: 4
A design of interlocking arrowheads rendered in line artwork.
Order & Save
Width0.52 Length10.05m Repeat0.48 m
Get Our Free Inside Scoop!
Contains our handpicked top five posts on latest decor trends & advice delivered to you monthly!


Ready to get started?
Get a designer room you'll
love, guaranteed!
Start Now