Glam Maximalist Bathroom Design

Details
Project Title
Glam Maximalist Bathroom Design
Project Description
I want maximalist glam glam
We need
Lights
Versace wallpaper (slabs are Versace)
Mirrors
Rug
Table
Vanity paint color
Faucets for sinks
I already bought black shower heads for each side.
I have 1 white Kohler sink I can use
fashion painting for behind toilet or toilet room
We really don't need window coverings as no one can see in, it's on the second floor and faces the wall of the next house with no windows on that side. I have included picWe like dramatic designs, not the same thing everybody has, unique.
Location
Boca Raton, FL , USA
Major Metro Area
Boca Raton, 33434
What's your favorite decor style?
Glamorous
What are some of the interior design brands or stores that you like to shop at?
Tov, Jonthan Adler, Oliver Gal,
Timeline
As soon as possible
Ceiling Height
9'4











Details
Room Label
Master Bathroom
I want this room to feel more masculine/feminine/neutral
Feminine
What pieces of existing furniture, lighting, art or accessories do you want to keep in the design?
Keeping everything but lights
Are you open to changing your wall colors?
No
Are you open to changing your floor covering?
No
The initial proposals for this project have been restricted to the project owner only, but check out other fantastic
sample projects
to see rooms with unlocked initial proposals!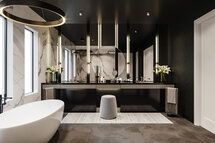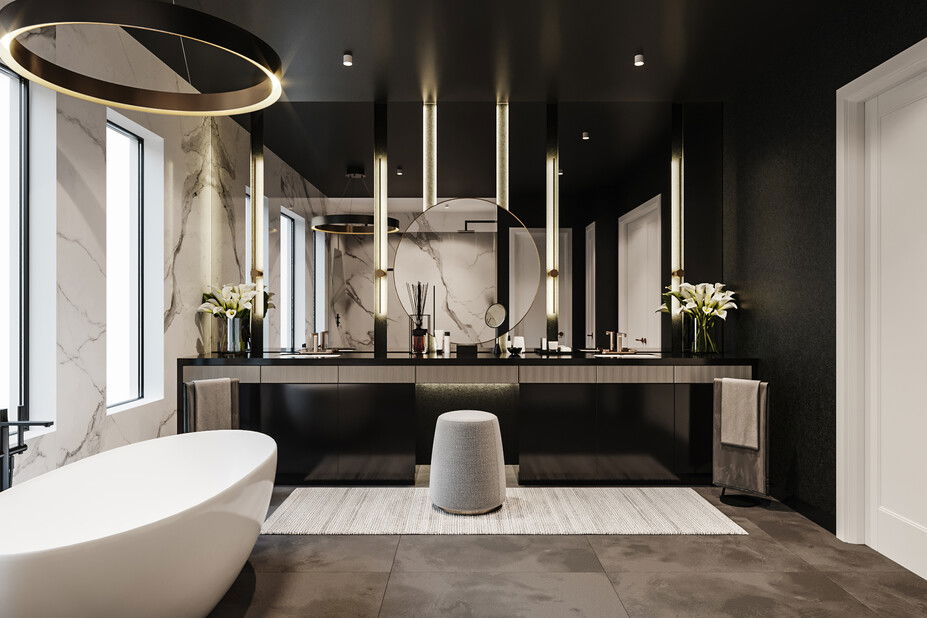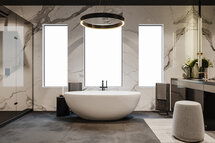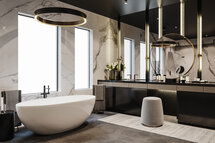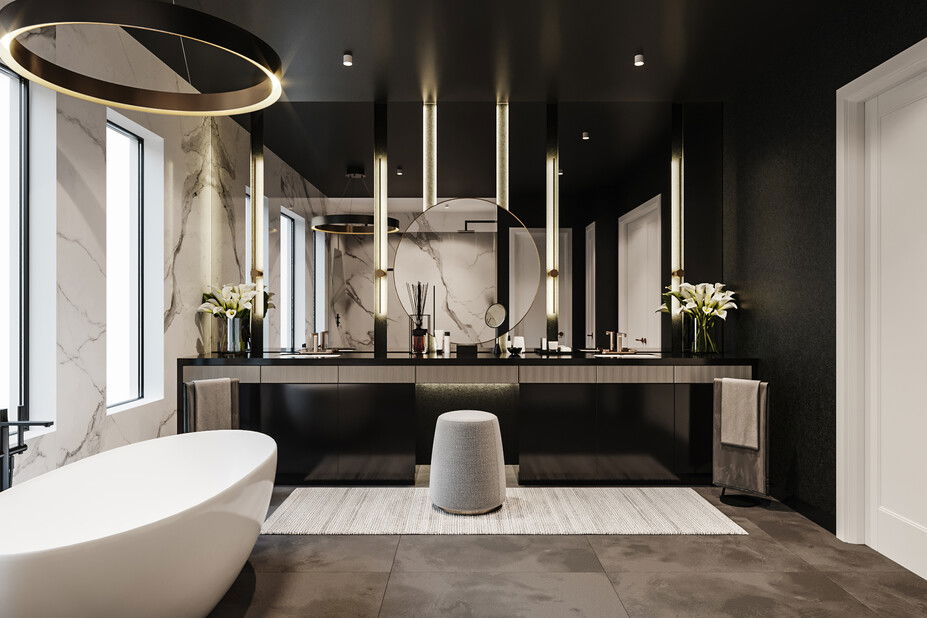 1
Wall Sconce
2
Vanity Mirror
3
Faucet
4
Undermount Sink
5
Wallpaper
6
Towel Rack
7
Runner
8
Make Up Stool
9
Wallpaper - Toilet
10
Chandelier
11
Sidetable
12
Tray
13
Soap pump
14
Waste bin
15
Canister
16
Cosmetic mirror
17
Vase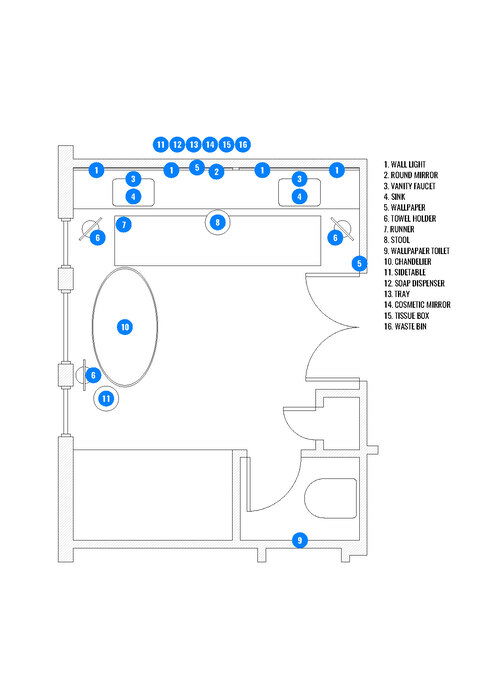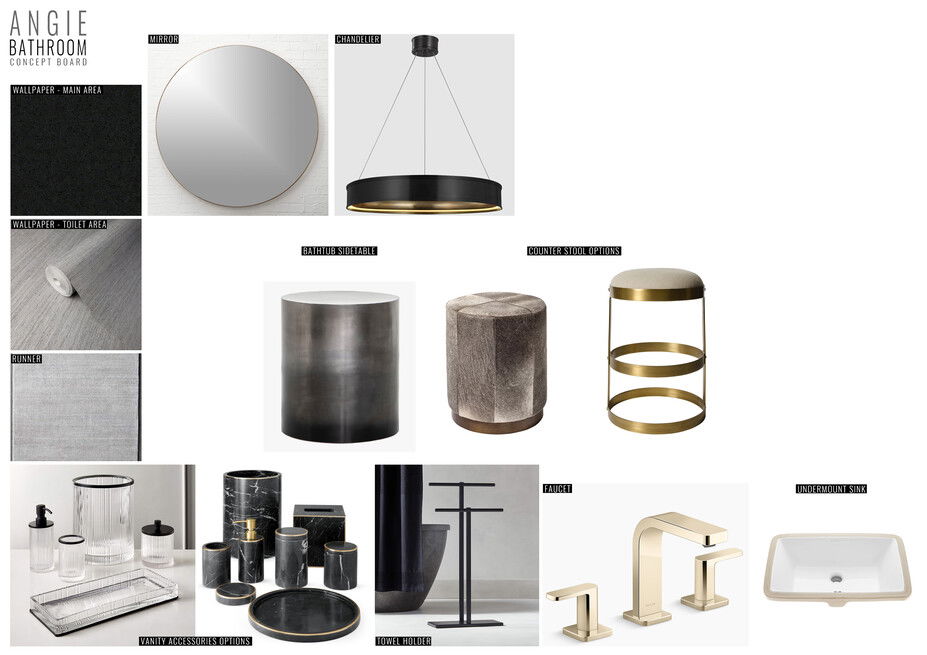 Bathroom:
Since your room is large your color options with this room are quite broad.

You should check the match of this color with the black Versace wallpaper.

Use a satin finish paint which has a bit more gloss than eggshell finish and is a little smoother. This finish is often used for windows, doors, trim, and ceilings, but can also be ideal walls in kids' rooms, bathrooms, kitchens and other high-traffic areas because it is easier to clean than eggshell finish.
Bathroom Colors:
Shopping List:
Decorilla Discount
Photo
Name
Description
Link
Dimensions
Decorilla Discount
Uttermost Collection


Wall Sconce


Quantity: 4
Minimalist LED Wall Mounted Lighting Fixture
Order & Save
W 4" L 2,5" H 57"
CB2


Vanity Mirror

Extra large looking glass framed thin, trim and exact in pure extruded aluminum with brushed brass plated finish. Handmade frame resists corrosion so it's perfect in the bath. Mounting hardware is included.
Order & Save
Depth: 1" Diameter: 48"
ALT Aqua


Faucet


Quantity: 2
The Parallel collection is the epitome of understated chic — by combining circular shapes within the square design, the balanced versatility of this collection allows it to blend in or stand out depending on your surrounding décor.
Order & Save
N/A
West Elm


Undermount Sink


Quantity: 2
Sleek and contemporary, part of the Voltaire Collection, 21" Rectangular Undermount Bathroom Sink features a timeless design that suits both traditional and modern bathroom decors. The Voltaire sink will go along with any counter top you may choose. Designed from durable ceramic the Voltaire under-mount sink is a lasting selection for any setting.
Order & Save
W 21.3" D 13.2" H 7.7"
Loloi Collection


Wallpaper


Quantity: 6
Versace Wallpaper Imported from Europe
Order & Save
Width : 27" x 16.5' Length : 16.5 feet Unit of Measure : 16.5 feet
CB2


Towel Rack


Quantity: 3
Mermelada Estudio mixes delicate design with solid iron construction in this sleek standing towel rack. Finish adds a modern touch to the bath. Pair with the Kela knobs, handles, hooks and toilet paper holders for a cohesive look. CB2 exclusive.
Order & Save
Width: 16" Depth: 6.5" Height: 32"
Loloi Collection


Runner

Inspired by weathered, antique carpets, our Jackson Handwoven Rug Collection is masterfully crafted with slim loops and rows of low, lustrous, silky pile. Its contrasting color, texture, and sheen create the illusion of distress
Order & Save
W 2'6" L 10'
DwellStudio


Make Up Stool

Kick up your heels and relax with the Tuba gliding ottoman. Perfectly paired with the plush Tuba extra wide swivel glider, this ottoman swivels a smooth 360 degrees and glides back and forth on a sleek. It's a more sustainable choice, upholstered by hand in our eco-performance fabric, that is stain resistant, water repellent, and made from recycled materials.
Order & Save
W 26,5" D 26,5" H 17,5"
Revelation


Wallpaper - Toilet


Quantity: 2
Portofino is one of the best finest brands of Wallcoverings. The luxurious designs, highest quality materials, and innovative technologies - that's what makes us the best! Brand idea is to bring into the world Made in Italy best wallpaper, so our customers will enjoy the gorgeous and unique product in their homes, offices or stores!
Order & Save
L 33' W 2.29'
Pottery Barn


Chandelier

This exquisite LED chandelier is in a matte black finish. The frame is made out of iron in a halo ring shape, and the LED bulbs are integrated into the frame. It comes with a white acrylic diffuser.
Order & Save
33.4 in. L 33.4 in. W 3 in. H
Surya Collection


Sidetable

Featuring an ombre finish, this iron side table is a welcome metallic accent to contemporary living spaces.
Order & Save
20"H, 18" diameter
CB2


Tray

Modern ribbed glass goes round on its corners and pairs with matte black for an edgy/dressy mix. CB2 exclusive.
Order & Save
13.75" W 6" D 1.5" H
Revelation


Soap pump


Quantity: 2
Modern ribbed glass goes round on its corners and pairs with matte black for an edgy/dressy mix. CB2 exclusive.
Order & Save
2.75" W 2.75" D 8" H
CB2


Waste bin


Quantity: 2
Modern ribbed glass goes round on its corners and pairs with matte black for an edgy/dressy mix. CB2 exclusive.
Order & Save
8" W 8" D 10" H
Global Views


Canister

Modern ribbed glass goes round on its corners and pairs with matte black for an edgy/dressy mix. CB2 exclusive.
Order & Save
4" W 4" D 5.25" H
Crate and Barrel


Cosmetic mirror

This black table mirror parks neatly on a bathroom vanity or countertop for everyday grooming. Made of black-finished steel, the stand features a round mirror that rotates 360 degrees and flips sides from 1x to 3x magnification. A tray at the bottom corrals small toiletries, hair clips and elastic bands.
Order & Save
6.9" W 5.5" D 13" H
Phillips Collection


Vase


Quantity: 2
Create stunning centerpieces by filling our crystalline rectangles with gorgeous floral arrangements, elegant vase fillers, and luminescent candles! These glass vases are completely versatile and have endless potential. Let your creative juices flow into these watertight vases.
Order & Save
8'' H 3'' W 8'' D
Get Our Free Inside Scoop!
Contains our handpicked top five posts on latest decor trends & advice delivered to you monthly!


Ready to get started?
Get a designer room you'll
love, guaranteed!
Start Now