Eclectic Parlor Room with Vintage Piano


5k-10k
Non-Project Room Photos

Details
Project Title
Eclectic Parlor Room with Vintage Piano
Project Description
I need help decorating the parlor and adjacent dining room of our 1903 farmhouse.
Inspiration Links
Boho,
Fun!
Dimensions
17'x18'x9.5



Items you want to keep






Details
Room Label
My Parlor (3D)
I want this room to feel more masculine/feminine/neutral
Neutral
What type of sunlight does this room receive?
Mid-day light
What do you currently dislike about the room?
Unfinished. It is not a comfortable place to utilize. I'd like this area to be a retreat for reading, music listening. A place to have conversation with friends. Warm, relaxing, etc.
What pieces of existing furniture, lighting, art or accessories do you want to keep in the design?
I want to keep the ceiling fan. It was expensive and is functional. The entry table is a family heirloom that I want to keep. The glass door encased book case is a keeper as well. I just bought the unfinished fireplace mantle. I've left it unfinished to give flexibility to where or how it's used. Fireplace is not functional. I love the design of the gold chair and would want to use it (reupholstered) in the design. The couch and matching chair can stay or go.
Are you open to changing your wall colors?
Yes
Do you have a preference for either paint or wall covering, or are you open to both?
Open to both
Are you open to changing your floor covering?
Yes, Open to any
Additional comments to designers
We are a retired couple that moved to the family farmhouse built in 1903 by my wife's great grandfather. We recently moved from living in NYC for the last 10 years and miss some of the creativity and energy of the city. We are drawn to an eclectic BOHO style as it may be. My wife has contracted Alzheimer's and we are looking for a quiet, yet fun and whimsical home to spend our days together.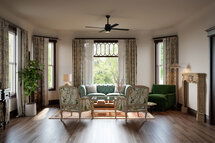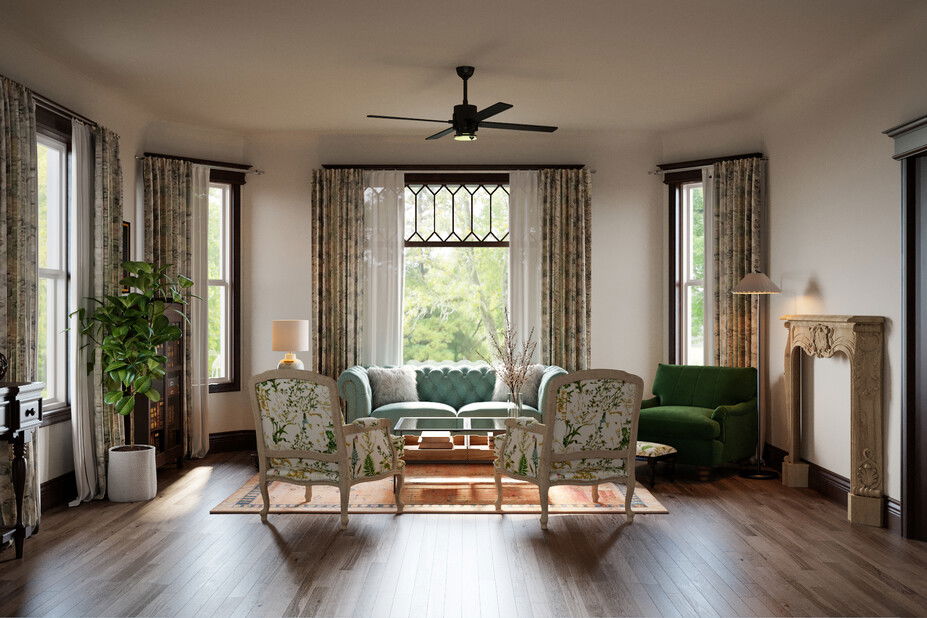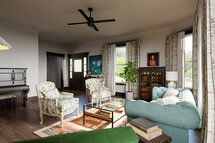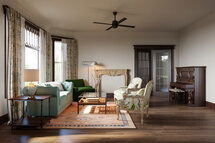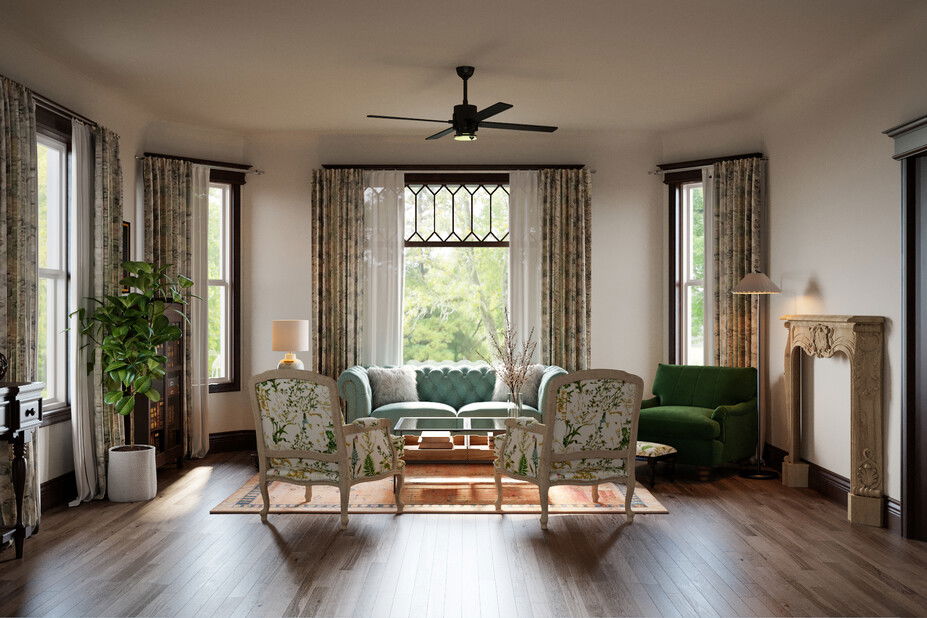 1
Sofa
2
Coffee Table
3
Side table
4
Area rug
5
Accent table
6
Accent chair
7
Ottoman
8
Floor Lamp
9
Table lamp
10
Wall art
11
Wall art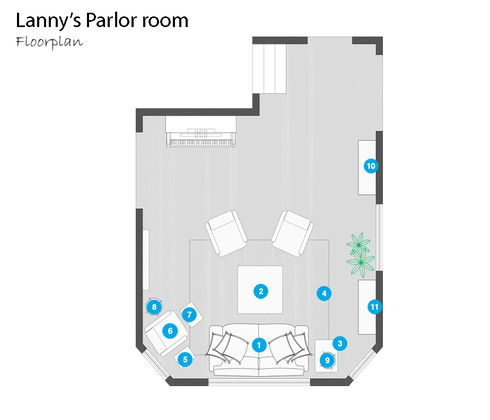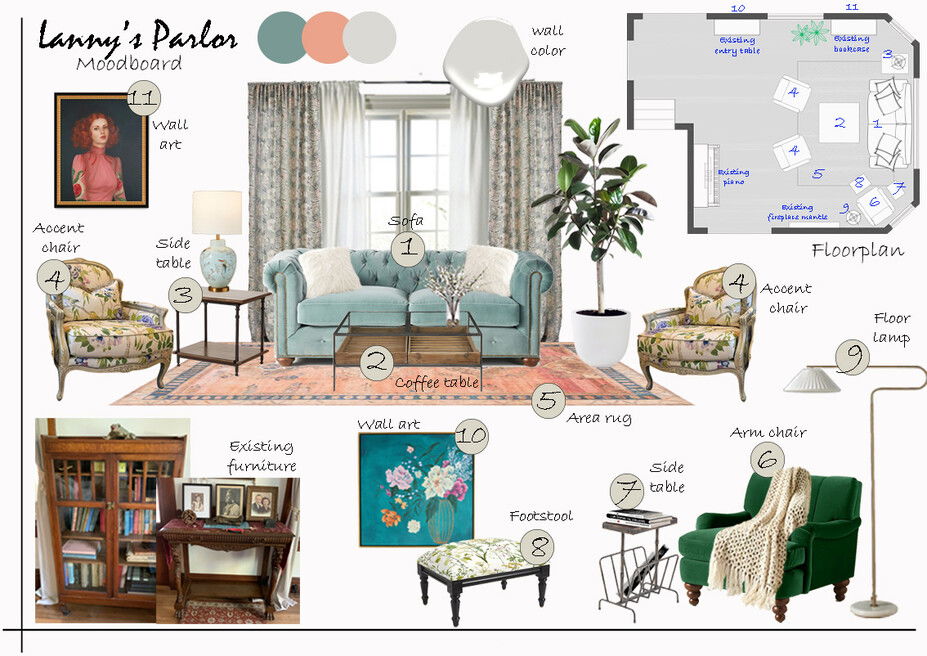 Combined Living/Dining:
Since your room gets plenty of sunlight your color options are quite broad.

For your main color, we chose to use white/off-white as it offers a fresh, clean, feel to the space. White and off-white colors are often a favorite for walls because they are light, neutral, and match most color schemes. They are known to make rooms feel more airy and spacious.

Use an eggshell finish paint which has a very light touch of shine (similar texture to an eggshell as implied by its name). This finish is very often used for walls and is more durable and easier to clean than matte finish.
Combined Living/Dining Colors:
Shopping List:
Decorilla Discount
Photo
Name
Description
Link
Dimensions
Decorilla Discount
Surya Collection


Sofa

Fabric: Valencia Velvet : Whisper
Order & Save
HEIGHT: 32.25" x WIDTH: 75.75" x DEPTH: 34.5"
Uttermost Collection


Coffee Table

A versatile look for any style space, this functional table features two slide out storage trays constructed from solid reclaimed pine, perfect for storing books or other decorative memorabilia.
Order & Save
40 W X 18 H X 30 D
Made Goods Collection


Side table

Toulouse Rectangular Side Table epitomizes the best in French Industrial styling.
Order & Save
24"H X 27 1/4" X 20 1/2"
Loloi Collection


Area rug

Power Loomed 100% Polyester Face Made in Turkey
Order & Save
7'-6" x 9'-6"
Uttermost Collection


Accent table

This functional accent table features a convenient magazine rack with an industrial iron framework finished in a lightly burnished brushed iron with rivet accented corners.
Order & Save
17 W X 23 H X 12 D
Surya Collection


Accent chair

FABRIC Valencia Velvet in Paradise
Order & Save
height: 31.25" x width: 34.75" x depth: 38.25"
Ballard Designs


Ottoman

Fabric: Isabella Green Finish: Distressed Black
Order & Save
11"H X 18"W X 13"D
Surya Collection


Floor Lamp

Color: BLACK
Order & Save
62"H, 30.25" d
Anthropologie


Table lamp

Color: SKY BLUE
Order & Save
23"H, 8.75" d
Surya Collection


Wall art

Color: TURQUOISE
Order & Save
41.5" square
Anthropologie


Wall art

Color: PINK
Order & Save
22"H, 18"W
Get Our Free Inside Scoop!
Contains our handpicked top five posts on latest decor trends & advice delivered to you monthly!


Ready to get started?
Get a designer room you'll
love, guaranteed!
Start Now