Cozy Rustic Modern Living & Dining Room


Details
Project Title
Cozy Rustic Modern Living & Dining Room
Project Description
I need help designing my living area, which includes a dining area and bar. My living room area is a bit challenging because it has more angles (not rectangular or square), as well as a fireplace. I already have a couch that has been ordered from Pottery Barn and a rug but everything else will be new.
Location
San Francisco, CA, USA
What's your favorite decor style?
Modern
What are some of the interior design brands or stores that you like to shop at?
Pottery barn, CB2, crate and barrel, lulu and Georgia, Anthropologie, west elm, room and board
Which colors do you dislike?
Purple, Pink, Yellow, Red, Orange
What are your favorite colors for walls?
Light Gray
What are your favorite colors for furniture and accents?
Oatmeal, Blue, White, Wood, Black, Beige, Gray
Timeline
As soon as possible
Budget
10k-20K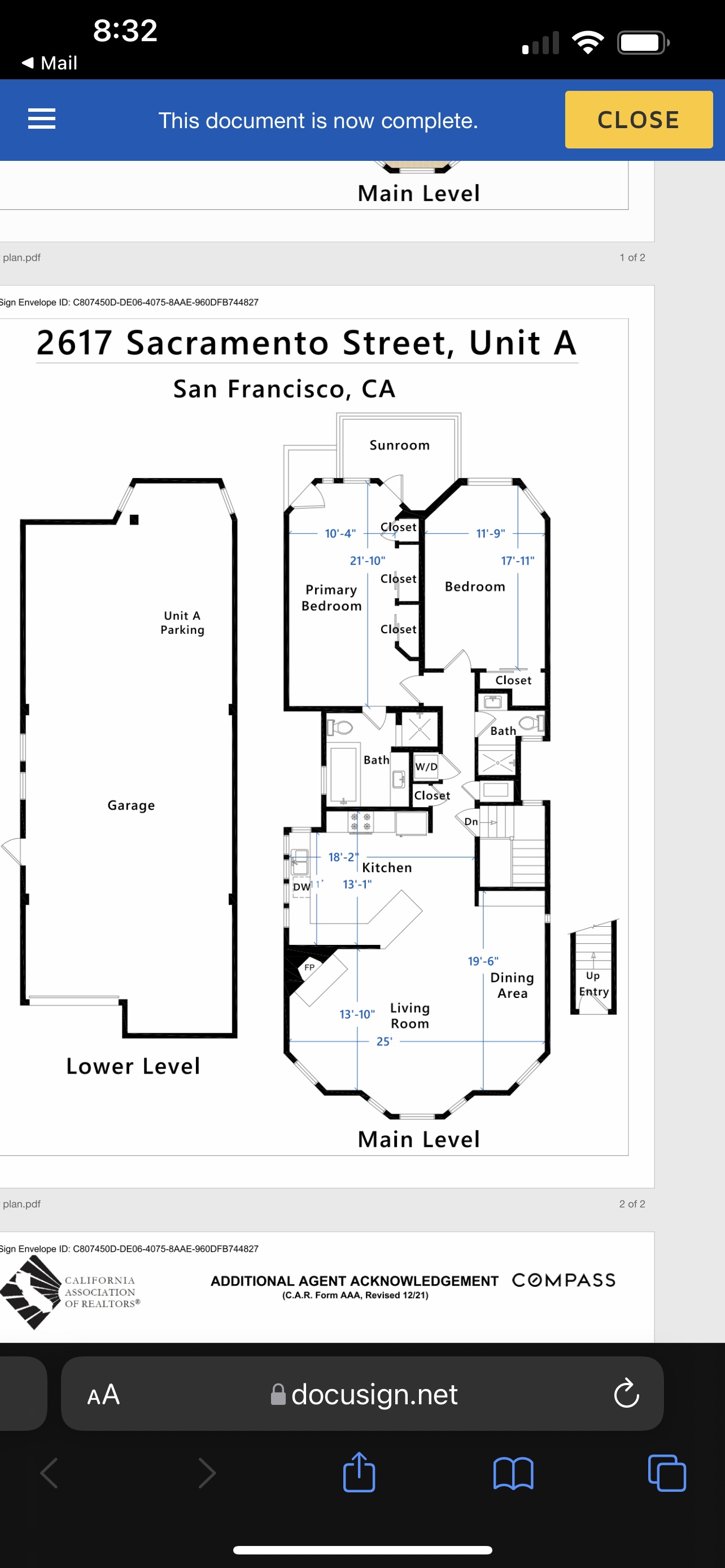 Items you want to keep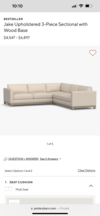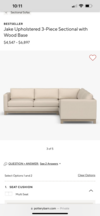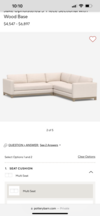 Details
Room Label
My Combined Living/Dining
I want this room to feel more masculine/feminine/neutral
Neutral
What type of sunlight does this room receive?
Late afternoon light
What do you currently dislike about the room?
The odd configuration
What pieces of existing furniture, lighting, art or accessories do you want to keep in the design?
I have an L shaped couch from Pottery Barn that has been ordered but not yet delivered. It is the Jake upholstered brand in a chambray fabric. It looks more gray blue than Jean blue in person. I also have a rug from Pottery barn. It is an oatmeal hand woven and knotted rug for the living room area. I have a coffee table but it might not work with an L shaped couch because it's rectangular.
Are you open to changing your wall colors?
No
Are you open to changing your floor covering?
No
Additional comments to designers
- room dimensions are on attached floor plan
- note the attached photos aren't representative of how bright I can turn on the recessed lights and it does get very good light during the day with the blinds up. I am on the top floor so get good natural light during the day until the sunsets. those windows are north facing.
- having a tough time deciding whether to mount the tv above the fireplace or wall. Fireplace seems a bit high and straining to the neck. The wall might be tougher because it's going to be hard to find a console given the fireplace landing juts out into that area but also need to find a way to hide the modem and other cords
- I want to create a bar area in the dining room where there are cabinets and add shelving. Some inspiration pics in my Pinterest link. I'd like to wallpaper it with a dark and moody print unless you suggest otherwise.
- the attached photo of my couch is not that color. It's a chambray fabric which looks more gray blue in person.
- I'm up for replacing my coffee table
- I like neutral colors with pops of accent colors/prints
- there is a hookup for a lighting fixture in the dining area
- here is a link to the old listing for more (staged) photos. Note that painted the kitchen cabinets to a light gray (only bottom cabinets) and stained my floors dark brown https://www.redfin.com/CA/San-Francisco/2617-Sacramento-St-94115/unit-A/home/26771736?600390594=copy_variant&231528114=control&utm_source=ios_share&utm_medium=share&utm_nooverride=1&utm_content=link&utm_campaign=share_sheet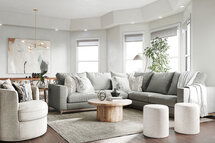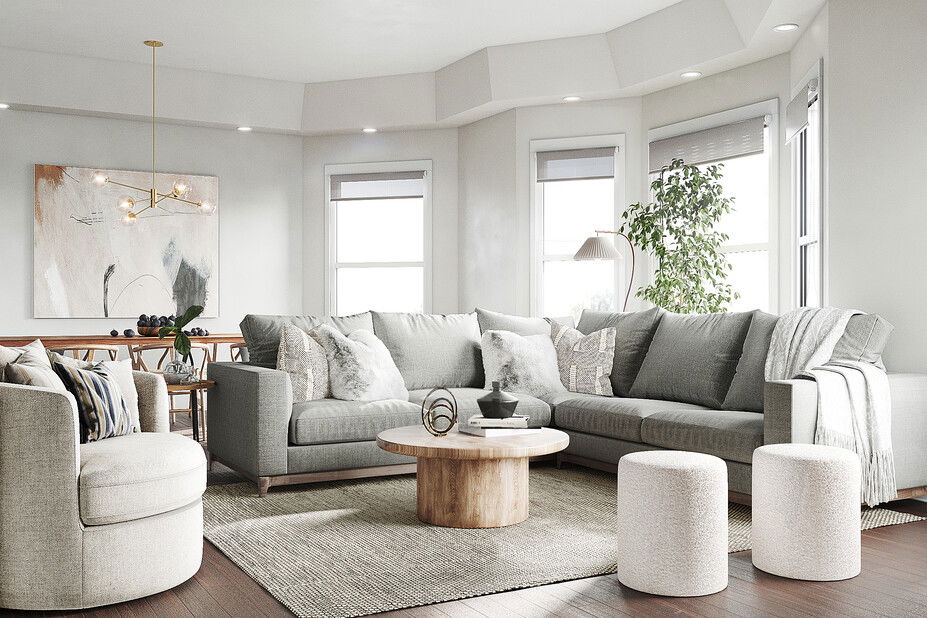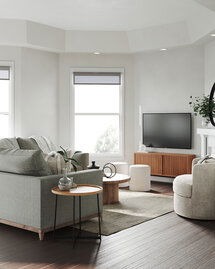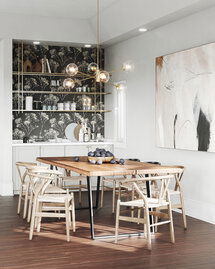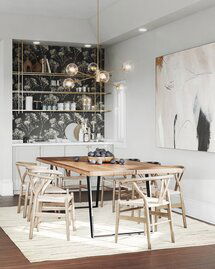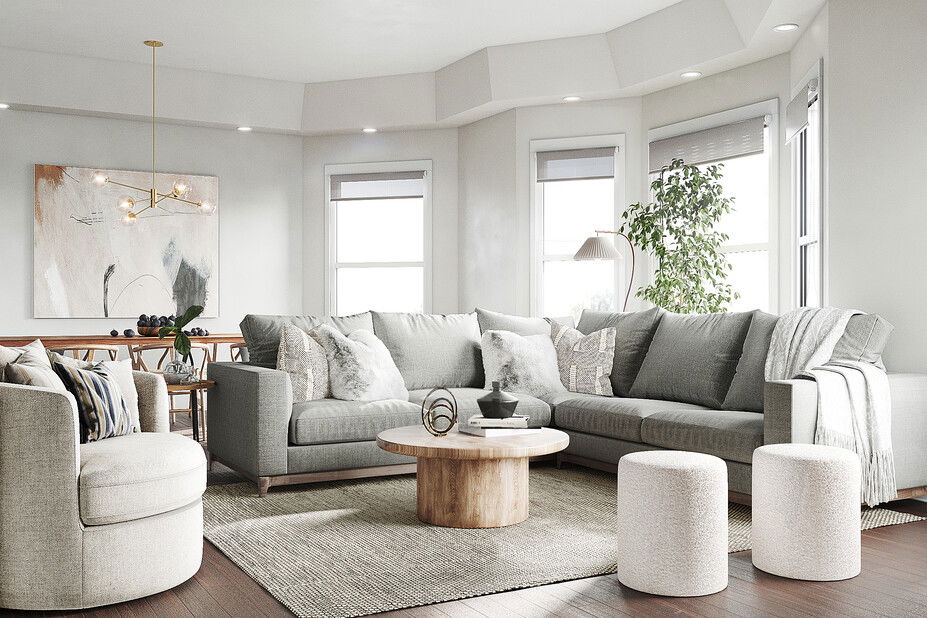 1
Coffee table
2
Stool
3
Accent chair
4
Media console
5
Wall mirror
6
Plant
7
Dining table
8
Wall art
9
Wall shelves
10
Chandelier
11
Pillow
12
Pillow
13
Throw
14
VASE
15
Sculpture
16
Plant
17
Stool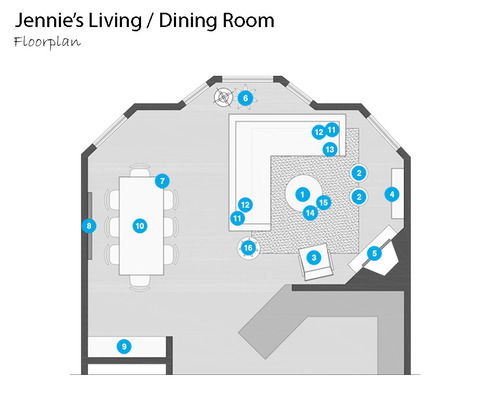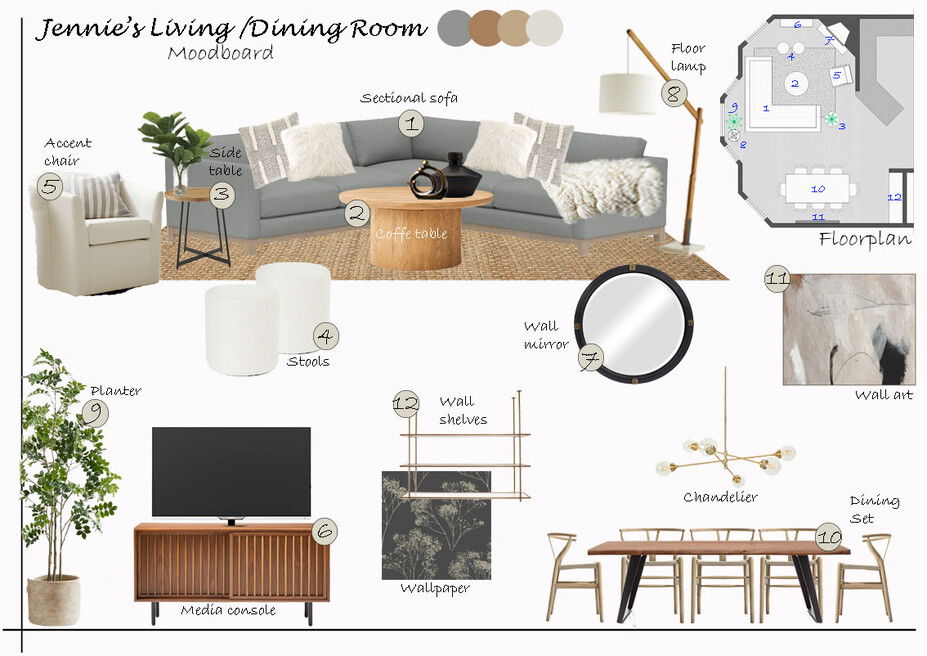 Combined Living/Dining:
Since your room gets plenty of sunlight your color options are quite broad.

For your main color, we chose to use white/off-white as it offers a fresh, clean, feel to the space. White and off-white colors are often a favorite for walls because they are light, neutral, and match most color schemes. They are known to make rooms feel more airy and spacious.

Use an eggshell finish paint which has a very light touch of shine (similar texture to an eggshell as implied by its name). This finish is very often used for walls and is more durable and easier to clean than matte finish.
Combined Living/Dining Colors:
Shopping List:
Decorilla Discount
Photo
Name
Description
Link
Dimensions
Decorilla Discount
DTS (Design Trade Service)


Coffee table

Oak GQ table is a solid take on classic midcentury design.
Order & Save
35" dia. x 15"H
Uttermost Collection


Stool


Quantity: 2
A unique blend of casual and coastal styles, this accent stool is a versatile piece that can be used as seating or a footrest.
Order & Save
19 W X 19 H X 19 D
Noir Furniture


Accent chair

Petite Swivel Armchair 32"
Order & Save
32" w x 32" d x 30.5" h
Uttermost Collection


Media console

Frame: Solid mahogany wood. Top, doors & sides: Walnut veneer over engineered wood. Covered in a water-based Walnut or Black finish.
Order & Save
48"w x 12"d x 24"h.
Uttermost Collection


Wall mirror

Heavily influenced by industrial style, this round mirror features a dark bronze copper sheet frame with nail head accents and antique brass rivet details.
Order & Save
36 W X 36 H X 3 D
Revelation


Plant

All the beauty of natural botanicals—with none of the work. Designed with remarkably realistic bark and an abundance of eco-friendly green leaves, our faux tree brightens up a home office or makes the entryway all the more welcoming.
Order & Save
32" wide x 32" deep x 72.5" high
Uttermost Collection


Dining table

Our beautiful Yukon table unites planks of solid acacia wood with exposed butterfly joints, bringing live-edge curves and warm wood tones to the casual dining room.
Order & Save
92.5"Wx42"Dx29.5"H
Arte International


Wall art

Inspired by a minimalistic approach, this tonal artwork highlights subtle texture and mixed media linework.
Order & Save
62"W x 52"H x 2.25"D.
Revelation


Wall shelves

100% Handcrafted in the USA
Order & Save
77" x 12" x 42"
Global Views


Chandelier

Illuminate your dining room or entryway with sleek, mid-century modern style. Our 6-Light Frey Chandelier features three tiered arms, each hand finished in warm antique brass and tipped with glass globes.
Order & Save
25 1/2"H X 50"W X 41 1/8" D
Surya Collection


Pillow


Quantity: 2
Harlow Collection offers an enduring presentation of the modern form that will competently revitalize your decor space. The meticulously woven construction of these pieces boasts durability and will provide natural charm into your decor space.
Order & Save
20"H x 20"W
Surya Collection


Pillow


Quantity: 2
Add a touch of rustic elegance to your home with the Utah Collection. Made with Leather, Cotton in Argentina,
Order & Save
20"H x 20"W
Surya Collection


Throw

Hand knit of 100% polyester.
Order & Save
50" w x 60" l
Revelation


VASE

THIS BOLD PORCELAIN VASE IS THE EPITOME OF INDUSTRIAL REFINEMENT.
Order & Save
H: 6.5IN, DIA: 8.00IN
Uttermost Collection


Sculpture

This statue symbolizes the unity of family and is finished in a bronze patina.
Order & Save
13 W X 14 H X 6 D
Uttermost Collection


Plant

A staple across many design styles, this fiddle leaf fig branch is placed in a contemporary clear glass cylinder vase with natural stones and faux water.
Order & Save
24 W X 36 H X 18 D
Uttermost Collection


Stool


Quantity: 2
Color: Ivory Bouclé
Order & Save
17.5" H x 16" Diameter
Get Our Free Inside Scoop!
Contains our handpicked top five posts on latest decor trends & advice delivered to you monthly!


Ready to get started?
Get a designer room you'll
love, guaranteed!
Start Now