Black and White Living and Dining Room Design


Details
Project Title
Black and White Living and Dining Room Design
Project Description
Spoke with Devin and sent him 10 living room pictures Also discussed what ind of style we like.
Essentially, contemporary, modern transitional with more timeless/classic choices and color schemes.
The pictures that we went will reveal more about our preferencces.
Do not want to go above and beyond but budget is flexible.
We moved in to a new home. It is about 5K SQFT. We spent significant amount of time with builder's designer. We thought they were certified designers and they overall did a decent job.
Now we need some help with color pallet, furnishing and windows treatments etc.
We are on modern but not super modern side. Our selections are mostly white walls, tiles and mid tone wood floor.
Please note that we:
1) Picked pictures either based on color scheme, window treatment or furniture. Our style I would consider to be transitional/contemporary/modern.
2) Are willing to change the wall color for the living room if it is not too far off from the rest of the house.
3) Wanted our house to be light and airy and it turned out to be lighter and airer therefore we are looking to add some warmth.
4) In the end, we want a color scheme and the rest of the stuff more classic and timeless so that we are not bored after some short time.
5) Would like to keep the same color scheme and pattern for the kitchen.
6) Also wanted to confirm that our package will include a kitchen/breakfast area and living room and the 150$ discount is still valid for this project and other future projects
Photos of your room










Details
Room Label
My Combined Living/Dining
Additional comments to designers
Here are the photos of the floor plan and photos of the entrance, outside, living room, formal dining and kitchen.
Please note that:
1) The living room is about 2 feet larger than what is shown in the plan. 20.9" x 23.7".
2) Our floor plan is very close to Traditional Bellwyn but we picked things from both the plans..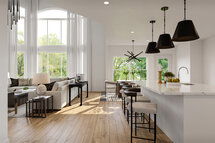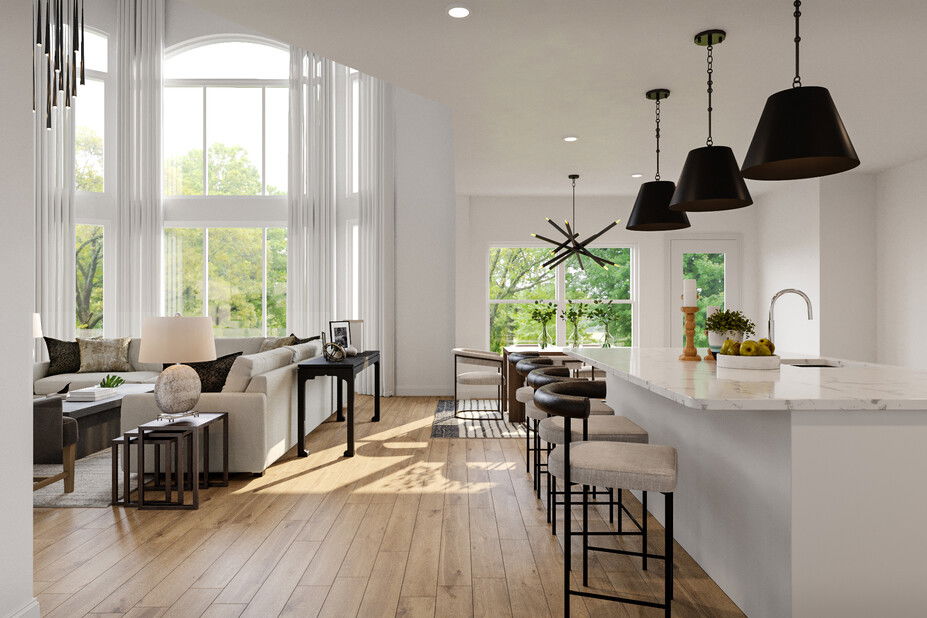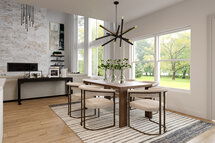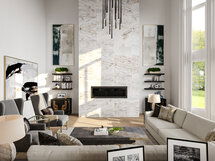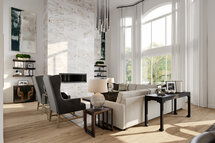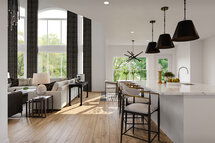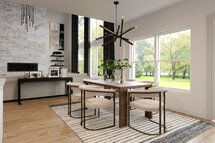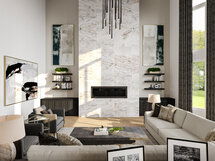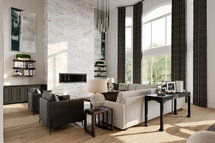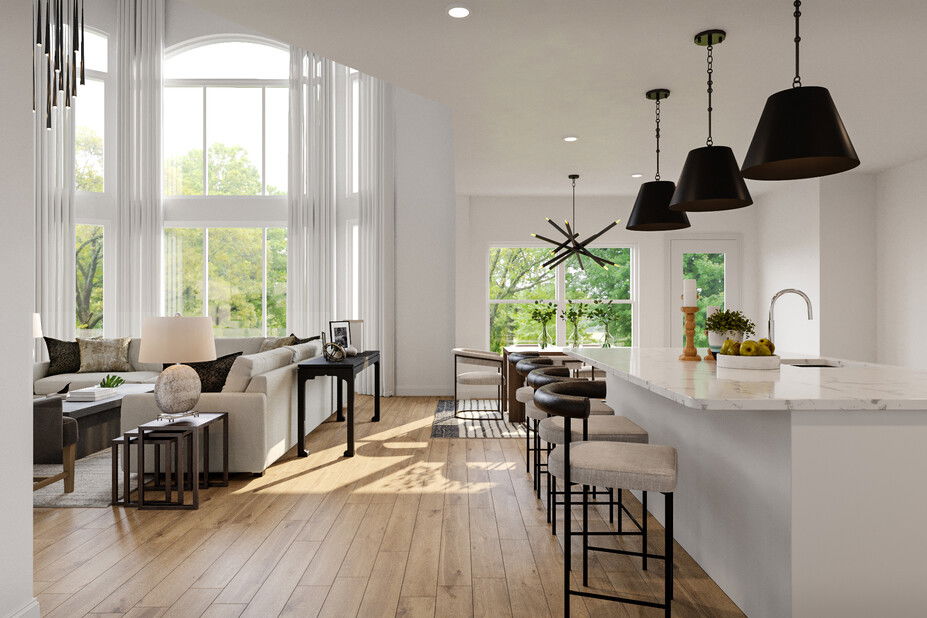 1
Leila Nesting Tables
2
Abstract Wall Art
3
kipton corner sectional
4
HANSON COFFEE TABLE
5
Albinus White Lamp
6
Caracole Stage Left or Right Side Table
7
Kashmir Counter Stool
8
Morris Console Table - Black
9
Quinn Arm Chair
10
Hagen Rug - White/Ocean
11
Viper Chandelier - Oil Rubbed Bronze
12
Black Chandelier Ceiling Light
13
Matte Black Pendant Ceiling Light
14
Modern Charcoal Grey Stria Bamboo Wool Rug
15
Harbison Armchair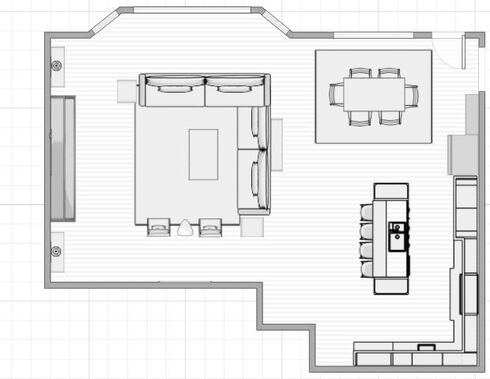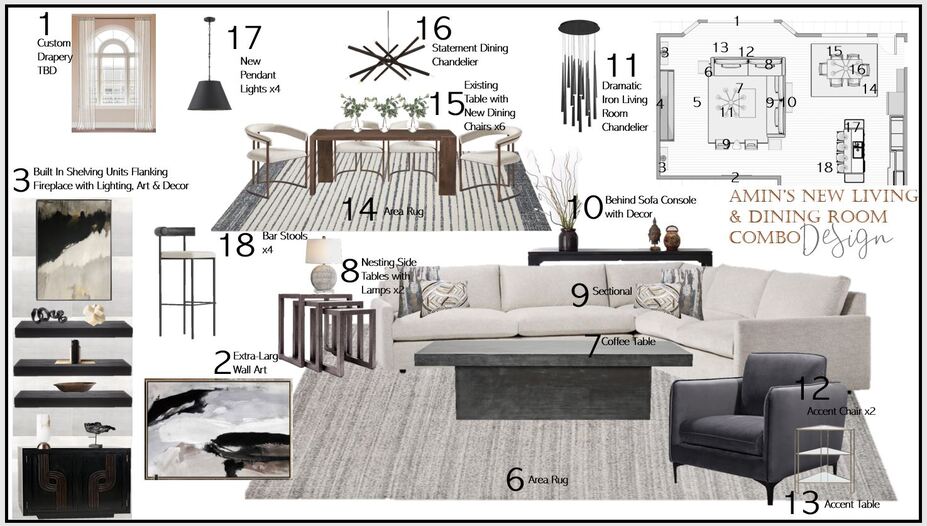 Combined Living/Dining:
Since your room gets plenty of sunlight your color options are quite broad.

No Paint

Use an eggshell finish paint which has a very light touch of shine (similar texture to an eggshell as implied by its name). This finish is very often used for walls and is more durable and easier to clean than matte finish
Combined Living/Dining Colors:
Shopping List:
Decorilla Discount
Photo
Name
Description
Link
Dimensions
Decorilla Discount
Made Goods Collection


Leila Nesting Tables

Streamlined nesting tables are made special through the use of sophisticated materials. DIMENSIONS 16"L x 14"W x 18"H, 20"L x 14"W x 20"H
Order & Save
13" L x 14" W x 16" H
Leftbank Art


Abstract Wall Art

Large Abstract Wall Art
Order & Save
60x80
Mitchell Gold + Bob Williams


kipton corner sectional

(

KIPTONSECT2

)
An ideal space for casual gathering and complete relaxation, our Kipton collection features elevated, clean-lined silhouettes that easily blend with contemporary styles.
Order & Save
135"W X 135"D X 35"H
Layla Grayce


HANSON COFFEE TABLE

(

1102444

)
Rustic, minimally finished zinc is served up here as is. Any spotting or variances in tone and luster are given pride of place in this sleek design perfect for the minimalist.
Order & Save
D 28 " / W 68 " / H 18 " / 130.00 lbs
Uttermost Collection


Albinus White Lamp

Textured Ceramic Finished In An Aged Ivory Glaze With Rustic Bronze Undertones Accented With A Crystal Foot. The Tapered Oval Hardback Shade Is A Crisp White Linen Fabric. Due To The Nature Of Fired Glazes On Ceramic Lamps, Finishes Will Vary Slightly.
Order & Save
18" W x 27" H x 11" D
Pottery Barn


Caracole Stage Left or Right Side Table

Sure to take center stage, this triangular side table is charming from every angle. Its open design features a timeless combination of metal and glass with highlights of pure white. A unique triangle shape (with thoughtfully considered notched corners) makes it perfect for connecting spaces and bringing new energy to rectilinear sofa and chair arrangements.
Order & Save
24.5W x 26D x 26.5H
Burke Decor


Kashmir Counter Stool


Quantity: 4
The Kashmir collection is an exercise in the essential and speaks in low volume, it's steel frame references a simplicity from the past which is offset by a tailored back-rest. These refined details envelops the sitter and provides generous comfort and support in all positions. Circular stitching details incorporated into the backrest give these pieces a strong sense of modern craftsmanship. This collection will perform equally as well in an office cafe or home.
Order & Save
Counter: Overall Height 35.4", Floor to seat height 25.6"
Made Goods Collection


Morris Console Table - Black

Black console table
Order & Save
66"W x 18"D x 30"H
Burke Decor


Quinn Arm Chair


Quantity: 6
The Quinn Arm Chair adds a uniquely inviting stylishness to your living area.
Order & Save
25"w 22"d 30"h
Surya Collection


Hagen Rug - White/Ocean

Walk on a cloud. Power-loomed of 100% polypropylene pile for long-lasting durability, the Hagen Collection has a tone on tone palette offset by strong, yet textural geometric patterns.
Order & Save
7'10"x10'10"
West Elm


Viper Chandelier - Oil Rubbed Bronze

Contemporary cool: Sleek metal rods seemingly balance in this air. Clean lines and subtle design details come together making this chandelier not only handsome but versatile.
Order & Save
44"H x 41"W x 41"D
Revelation


Black Chandelier Ceiling Light

Cascading Chandelier-Suspended alone, in pairs or multiples as a beautiful chandelier, Cascade captures the imagination and makes an alluring presentation
Order & Save
38"
Lamps Plus


Matte Black Pendant Ceiling Light

(

7-131-1-89

)
Quantity: 4
Matte Black Pendant Light
Order & Save
18-1/4"w x 33-3/4"H - adjustable
Loloi Collection


Modern Charcoal Grey Stria Bamboo Wool Rug

Delicately hand knotted by skilled artisans in India, the Sara is classic, beautiful and subtle. The bamboo silk and wool rug has an earthy feel, with tonal color variations. Supremely soft underfoot, with a slight sheen, the simple style of this grey area rug is a staple for the modern, sophisticated home
Order & Save
9x12
DwellStudio


Harbison Armchair


Quantity: 2
Harbison Armchair
Order & Save
33'' H x 38'' W x 33.5'' D
Get Our Free Inside Scoop!
Contains our handpicked top five posts on latest decor trends & advice delivered to you monthly!


Ready to get started?
Get a designer room you'll
love, guaranteed!
Start Now