Details
Project Title
Biophilic Kitchen Design
Project Description
We are looking for a transitional kitchen design, colorful, open, dynamic, (with biophilic elements).
We must pick the cabinet colors from this virtual options catalog.
I've already picked certain colors, as you will see below.
https://lotusoptionscatalog.com/
Passcode: 17278
Location
Boca Raton, FL , USA
Major Metro Area
Boca Raton, 33431
What are some of the interior design brands or stores that you like to shop at?
West Elm, RH, Crate & Barrel, CB2
What are your favorite colors for walls?
Edgecomb Gray, Wind's Breath

Details
Are you open to changing your floor covering?
Yes, Wood, Tile
Additional comments to designers
Here are the features we are looking to have.
Currently, the builder only offers 1 sink, 1 dishwasher, and 1 oven under range and second oven on wall. However, we will make changes after closing to have the below features. So, please create the design with the following:
- 2 Sinks (farmhouse skin on island and second sink on short wall or close to corner)
- 2 dishwashers (one on island and second on short wall or close to corner)
- 2 ovens (stacked on short wall)
- 48 inch refrigerator on short wall (it comes with cabinets on the right (not pantry door))
- hood above cook top to be covered with same wood panel material and color as island
- floating shelves (3 on each side) around hood
- cabinets go to ceiling
- some cabinets may have glass doors (to provide a more dynamic look)
- backsplash: herring bone all the way to ceiling
3 main colors:
- blue, white, wood, terra-cotta (for accent)
- Upper cabinets - blue (https://lotusoptionscatalog.com/product/studio-wedgewood-blue/)
- Base and Talls cabinets - white (https://lotusoptionscatalog.com/product/studio-white/)
- Island and hood - coral wood (https://lotusoptionscatalog.com/product/coral-cannes-k-15/)
- Backsplash - white/gray matte herring bone tile
- Different color countertop of island and rest of kitchen
This is the floor color we are looking to get: https://hallmarkfloors.com/product/lemon-grass-oak/
Ideas/Inspiration:
Pinterest Kitchen ideas: https://pin.it/6g2E332
Pinterest Hood ideas: https://pin.it/7p242QT
Pinterest Backsplash ideas: https://pin.it/1EOGQpz
shelves:
https://www.houzz.com/photos/modern-mountain-home-transitional-kitchen-salt-lake-city-phvw-vp~52616388
Lights on wall above floating shelves:
https://www.houzz.com/photos/urban-farmhouse-transitional-kitchen-san-francisco-phvw-vp~146454329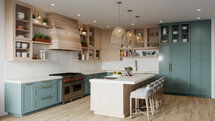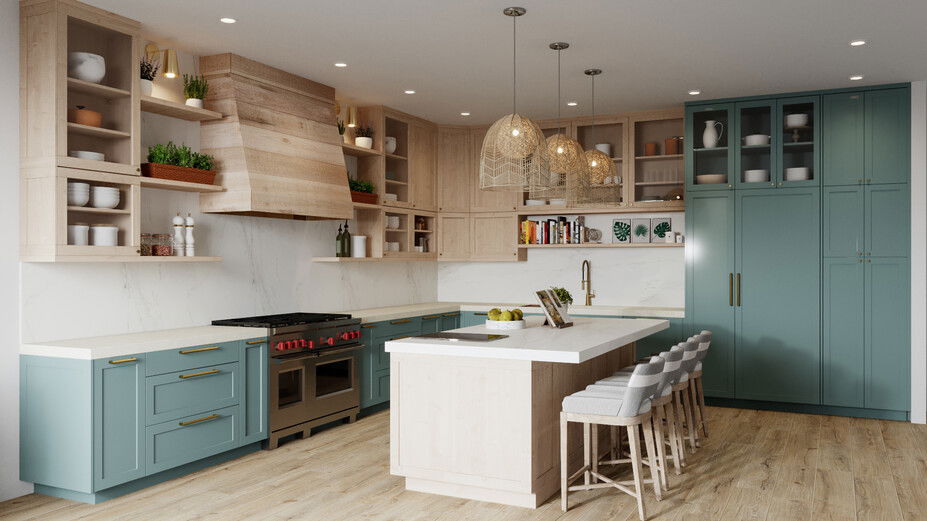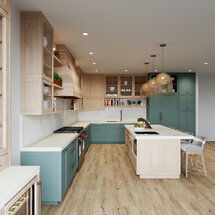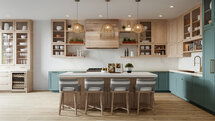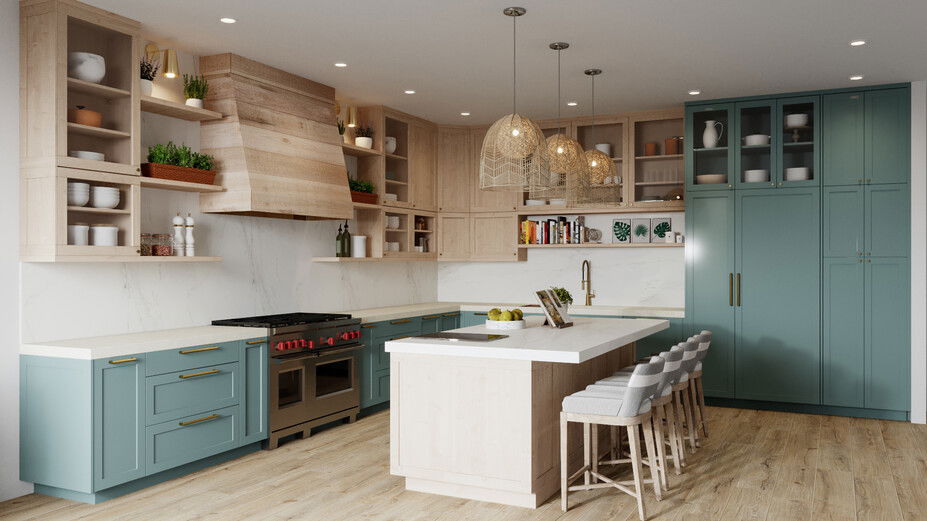 1
Sink
2
Counter stools
3
Island pendants
4
Wall sconces
5
Faucet
6
Cabinet door knobs
7
Cabinet drawer pulls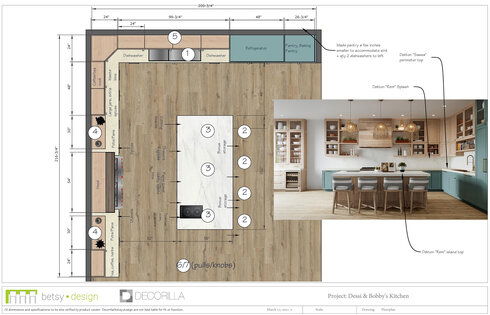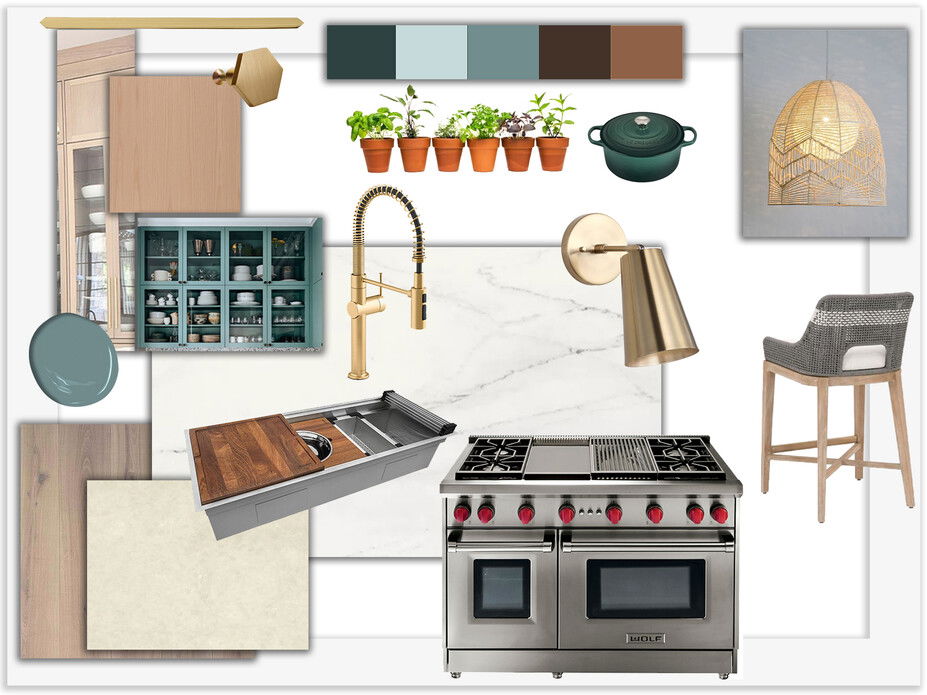 Kitchen:
The kitchen walls will pretty much be entirely covered in either cabinetry or tile. In the surrounding areas, the Winds Breath will tie in to your kitchen colors nicely.

For your main color, we chose to use white/off-white as it offers a fresh, clean, feel to the space. White and off-white colors are often a favorite for walls because they are light, neutral, and match most color schemes. They are known to make rooms feel more airy and spacious.

Use an eggshell finish paint which has a very light touch of shine (similar texture to an eggshell as implied by its name). This finish is very often used for walls and is more durable and easier to clean than matte finish
Kitchen Colors:
Shopping List:
Decorilla Discount
Photo
Name
Description
Link
Dimensions
Decorilla Discount
Uttermost Collection


Sink

Order & Save
45"
Kathy Kuo Designs


Counter stools


Quantity: 4
Order & Save
Loloi Collection


Island pendants


Quantity: 3
Order & Save
DwellStudio


Wall sconces


Quantity: 2
Order & Save
ALT Aqua


Faucet

Order & Save
CB2


Cabinet door knobs


Quantity: 34
Brass finish
Order & Save
Revelation


Cabinet drawer pulls


Quantity: 26
Brass finish 12" long
Order & Save
Get Our Free Inside Scoop!
Contains our handpicked top five posts on latest decor trends & advice delivered to you monthly!


Ready to get started?
Get a designer room you'll
love, guaranteed!
Start Now