Basement Transformation into Relaxing Home Spa


Details
Project Title
Basement Transformation into Relaxing Home Spa
Project Description
I'd like to convert our basement guest room (currently a craft room) into a spa retreat for my wife. I'd like to change out the finsihes + add in high end furniture. I'd like to incorporate a message table, up lighting and innovative changes that transform the space.
Any furniture should be leather not fabric.
What's your favorite decor style?
Transitional
Which colors do you dislike?
Red, Yellow, Deep Pink
What are your favorite colors for walls?
Aquamarine, Light Gray, White
Dimensions
13x14x7.5

















Items you want to keep


Details
Room Label
Massage / Spa Room
I want this room to feel more masculine/feminine/neutral
Neutral
What type of sunlight does this room receive?
Very little sunlight
What do you currently dislike about the room?
It's cold, boxy, and obviously carpet and wall color is blah.
What pieces of existing furniture, lighting, art or accessories do you want to keep in the design?
keep nothing. The s shaped chair is a "must" - we can provide you with the designer of this item. It's custom made in various colors after design is done.
I'd also like help sourcing the dark leather chair pictured in items to keep.
Are you open to changing your wall colors?
Yes
Do you have a preference for either paint or wall covering, or are you open to both?
Open to both
Are you open to changing your floor covering?
Yes, Carpet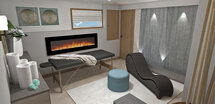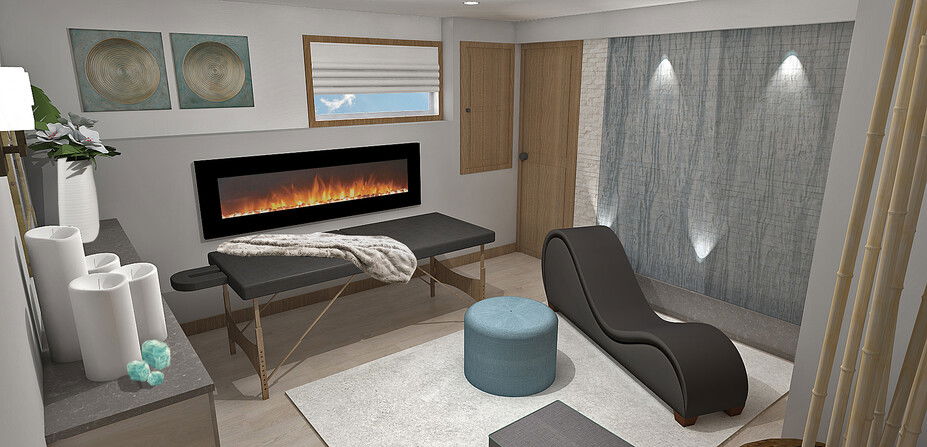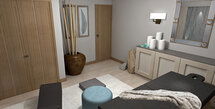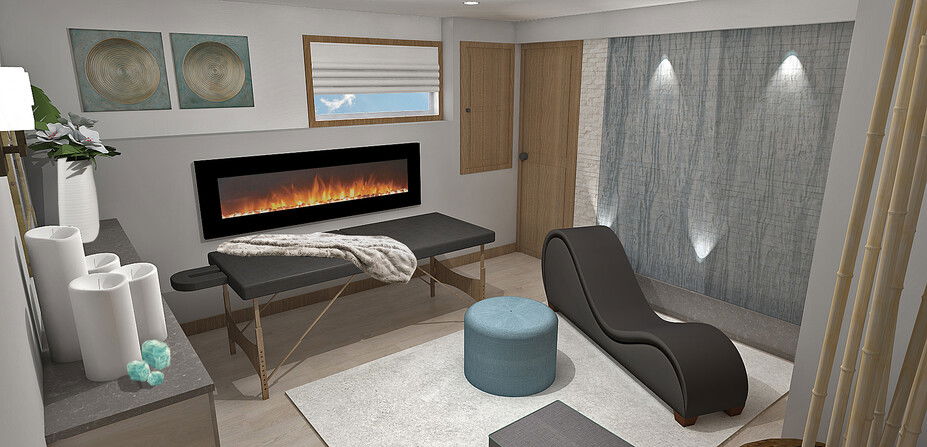 1
Sybille
2
Alec
3
long leaf, S/2
4
ELECTRIC FIREPLACE
5
SHAG RUG
6
Floor Pillow
7
SCONCES
8
TANTRA CHAIR
9
POUF
10
POUF (OPTION 2)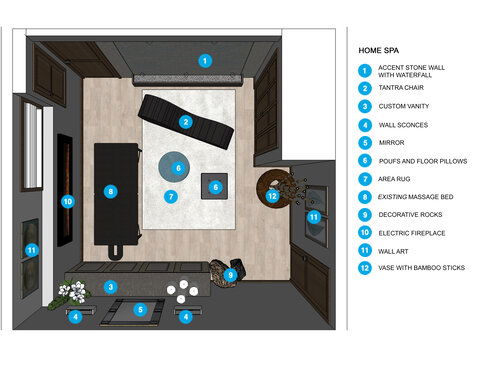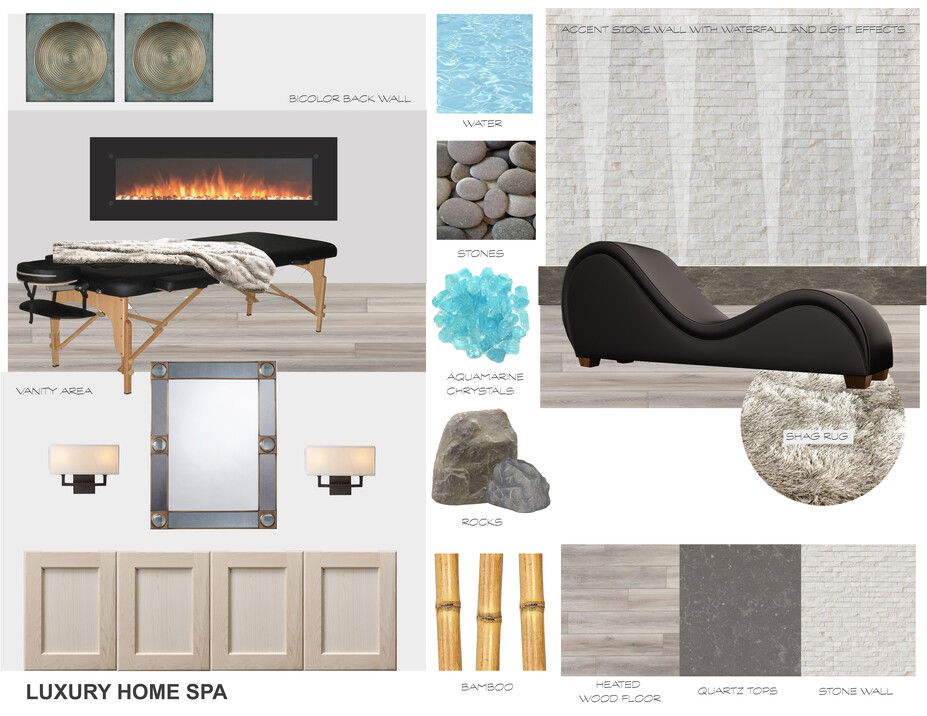 Bedroom:
Since your room gets little sunlight a warm or rich color will make the room look more luminous

For your main color, we chose to use beige because it is neutral and seen as elegant and classy. It compliments many colors such as white, black and works well as part of a color scheme in any room.

Use an eggshell finish paint which has a very light touch of shine (similar texture to an eggshell as implied by its name). This finish is very often used for walls and is more durable and easier to clean than matte finish
Bedroom Colors:
Shopping List:
Decorilla Discount
Photo
Name
Description
Link
Dimensions
Decorilla Discount
Uttermost Collection


Sybille

Aged iron squares featuring a ribbed concave center in antique gold, washed with a heavy patina glaze revealing ivory undertones.
Order & Save
20" W x 20" H
Arteriors Collection


Alec

A beautiful steel blue colored mirror frame accented with magnifying glass rounds set in antique brass. The center mirror is plain, so it is perfect for a hallway or powder room. Can be hung vertically or horizontally.
Order & Save
30.5" W x 40" H
Uttermost Collection


long leaf, S/2

Frames featuring a reclaimed wood look with heavy taupe and gray glaze accent these prints. Inner lips are champagne silver. Prints are under glass.
Order & Save
16 W X 40 H X 2 D (in)
AllModern


ELECTRIC FIREPLACE

Order & Save
1' 9 3/4'' H x 6' W x 5 21/32'' D
Surya Collection


SHAG RUG

Order & Save
6'X9'
Kravet


Floor Pillow

Order & Save
23"X23"XH7"
AllModern


SCONCES


Quantity: 2
BRUSHED BRONZE
Order & Save
13'' H x 22'' W x 3'' D
Modway Furniture Collection


TANTRA CHAIR

BLACK
Order & Save
Length 74? / Height 29? / Width 16.5?.
AllModern


POUF

SKY BLUE
Order & Save
13'' H x 20'' W x 20'' D
West Elm


POUF (OPTION 2)

TURQUOISE
Order & Save
13'' H x 20'' W x 20'' D
Get Our Free Inside Scoop!
Contains our handpicked top five posts on latest decor trends & advice delivered to you monthly!


Ready to get started?
Get a designer room you'll
love, guaranteed!
Start Now