Jeff D.
When I was a little boy growing up, it was hard for me to draw human beings and animals in graphite or crayon instead I drew mountains, trees, and houses on paper. Then I evolved and drew inside of homes, the bedroom, a hallway, a foyer, a living room, etc. Then in 10th grade, I discovered the world or architectural drafting which lead to internships at architectural firms. Then for the next 30 years, I was immersed in the construction project management, interior design and the furniture and fabric industries. I honed my interior design skills over the past 20 years till it was second nature.
From where do you draw most of your inspiration?
As a 20 yr Interior Designer with a Degree in Interior Design being trained in all styles, I draw my inspiration from my client's vision and dreams expressing their style and taste in their very own space.
Tell us your biggest design secret:
It's all about knowing proportion and scale when Interior Designing a space. If something looks too big or too small, that is a red flag to take note of when viewing interior design pictures online or magazines.
What's your prediction for the next big trend in design?
The Millennial Generation will define the style and taste of the next trend in Interiors. I'd give them another five years for them to settle down roots and own a condo or home and then we shall see what the hybrid of home technology, home security, and interior styles will look like. Stay Tuned!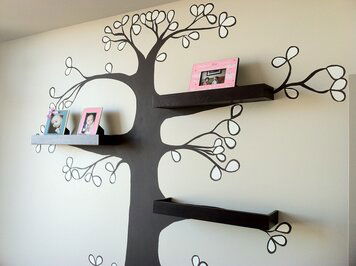 Little Girls Room Mural and Shelving