Alessia G.
Alessia loves minimalist modern design with a touch of contemporary pieces. She has years of experience in interior design and she can honestly say it is her biggest passion. She loves seeing the space being transformed as well as clients' dreams come true. Her go-to style is modern and contemporary. She aims to create unique spaces with a singular touch that identifies each client's taste and personality.
Describe your go-to style:
My go to style is a mix of modern and contemporary. I like to keep things minimalist and have the real pop with accent pieces.
We know you love designing, but what about it do you love most?
I love the final feeling! Not only the finished design but the feeling of knowing you have positively impacted your clients life. Being able to transform a space, not only by the looks but also the feeling you get as you enter is the best part about it.
From where do you draw most of your inspiration?
I love traveling not only for the amazing experience you gain, but learning and embracing all the different cultures. I like putting myself in different ambiances in order to fully capture the moment and get inspiration for my designs.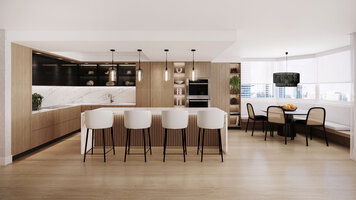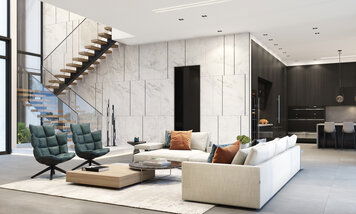 Minimalist / Contemporary living room