Agnese K.
Agnese is a designer with an eye for detail, love for art, and passion for creating ambiance that tells a story. I love to create a space that is modern yet soulful, minimal yet rich, and above all harmonious and feels true to its owners.
Describe your go-to style:
Mixing natural colors with graphic art, industrial accessories and vintage pieces is her go-to style.
What drives you to design?
Satisfied clients and seeing my ideas come to life is the most satisfying feeling.
From where do you draw most of your inspiration?
I am inspired by traveling the world and exploring different cultures, unique art scenes, and amazing sights in nature.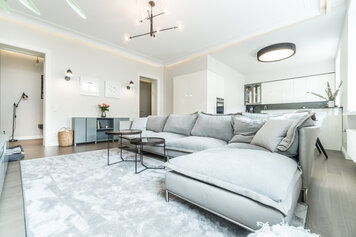 MONOCHROMATIC LIVING ROOM