Addie F.
Addie's love for traditional American style, international flare and curated vintage charm inspires her eclectic, warm and inviting designs. She graduated from the University of Arkansas with her BS in Architecture Studies, along with minors in Interior Design and Sustainability. Working with these disciplines together, rather than separating them, results in her immense attention to creating holistic designs with your desired aesthetic and the natural appeal of your home in mind.
Describe your go-to style:
My go-to style is a mixture of down home/vintage and modern. I love the feel of bright, clean spaces that modern design provides, and I also love the warmth created by products and design features that are more rustic and antiquated. Mixing the two, and even reversing how they appear (vintage/rustic space with clean-lined, modern products) creates balanced spaces that really feel like home to me.
We know you love designing, but what about it do you love most?
Four walls do not a home make. Your home is your sanctuary, and I love creating spaces that feel like "home." My favorite part of designing is helping people fill the rooms of their home with the things that will bring them the most comfort, functionality, and happiness when they occupy it.
From where do you draw most of your inspiration?
I draw most of my inspiration from nature because it is the space that I see as most peaceful - it is our ultimate home. It provides us with patterns, colors, harmony, natural light and several other design principles galore. Nature is simplistic in its overall structure and it also provides unique adornments to spark inspiration in us. It is the backdrop to our lives and I believe that taking a lesson from its structure can imbue our homes with immense beauty.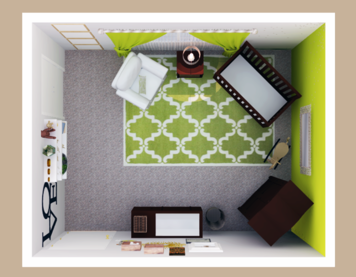 Nursery - Bird's Eye View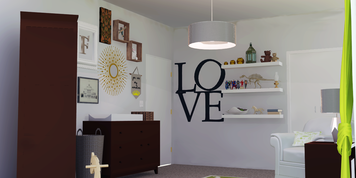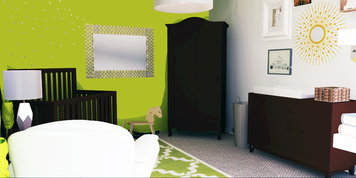 Nursery - View to Accent Wall