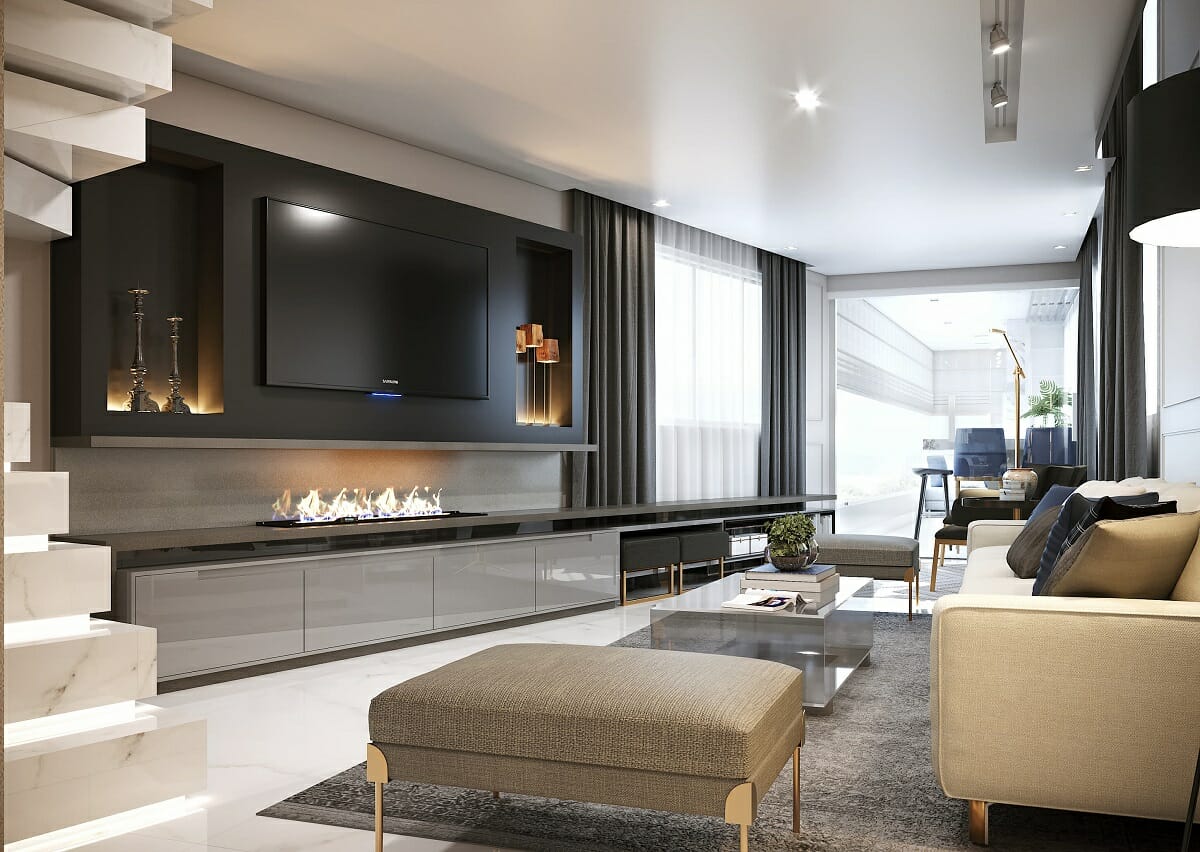 Virtual interior design comes to life thanks to Decorilla's skillful team. One such adept team member is Jessica Duarte – she's been part of Decorilla, creating stunning interiors, since 2014! Read on as we get to know this avid traveler and virtual interior designer!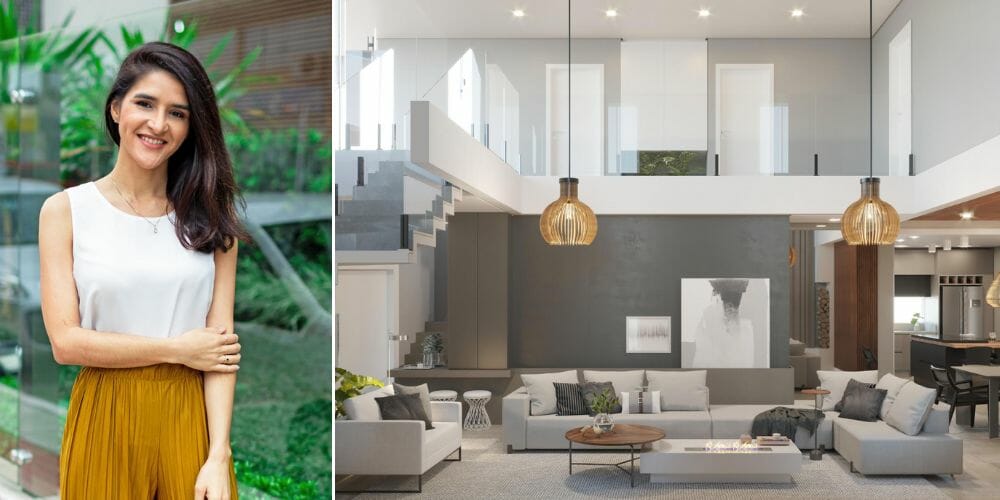 Jessica Duarte is not only an exceptional interior designer but also an architect. With these skills, she can balance practicality and beauty while letting the client's personality shine through. Moreover, she prefers challenging projects precisely because they'll be the most unique and satisfying.
Did interior design always interest you?
Yes, since an early age. My family tells me that I've been curious from a young age. When I was about three years old, whenever we went to restaurants, I used to ask to see the toilets because I was always curious about their designs. So, in a way, I can say I somehow always knew that I wanted to be an interior designer!
Love Jessica's beautiful interior creations? Then, Get Started with Jessica on designing your dream home today!
How would you define your design style?
I'm passionate about contemporary interior design. I believe it's important that we, as professionals, value and create spaces that reflect the reality of our time. However, I strongly believe everyone must feel represented and happy at home. For this reason, I respect my client's wishes while balancing them with my technical and professional knowledge.
Who or what influences your work?
I'm influenced by whatever is beautiful, innovative, and creative. I typically visit restaurants and cafes to find more references and inspiration. I also fancy traveling to different countries because it lets me add unique ideas to the box of inspirational references inside my mind.
What's a must-have item you make sure your interior designs include?
Innovation. Not necessarily innovative technology but innovative thinking. I always try to add an outside-the-box idea to my projects. This could be a creative layout, a unique piece of furniture or decor, unusual material, or something that will make a project special.
What is a recent design trend that you love at the moment?
I love natural textures and muted palettes. We've been spending more and more time indoors. Bringing natural textures – and a piece of nature – to an interior design creates a link between inside and outside. I love that we can reconnect with nature through our homes.
If you had to pick a favorite room in your home, which would it be and why?
My favorite room would have to be my kitchen. When I bought my apartment, the old kitchen was tiny and non-functional. Most of my neighbors have small kitchens that are functional. So I took my time creating a space that would accommodate everything I need while still looking contemporary and clean. I am super happy with the result!
What is your favorite design magazine or blog, and why?
I love Archdaily because they usually show readers the entire project – from the interior to the exterior and sketches. It enables us to envision the whole design and understand the interior designer or architect's choices. Nothing is random in interior design!
What is the best thing about being an interior designer?
My favorite thing about being an interior designer is being responsible for how interiors look and how these spaces make my clients feel. It's certainly a huge responsibility! Whenever I'm working, I'm not only creating a stunning design, but I'm also combining many aspects. I merge information, furniture, desires, and possibilities to create someone's home – the most important space.
I also love that I'm always surrounded and inspired by beautiful things. Working in interior design has brought me a different perspective on the world. My eyes constantly look for beauty, even in the least expected places.

What was your first big project, and what was your favorite part?
My first big project was a spacious apartment with a beautiful ocean view and a tricky living room floor plan. I worked with a former business partner and we had to be very creative to make it functional and beautiful. In the end, the clients were very pleased! Moreover, the project ended up being featured in an interior design magazine.
How do you manage challenges that come up during a design project?
I'm a very positive person, which is why I try to keep a light spirit whenever a challenge comes along. I also believe that being transparent, empathic, and down-to-earth makes everything easier. My clients hired me for a reason, so I intend to be the professional they expect me to be whenever we face a delicate situation.
Why do you like virtual interior design?
Working on projects anywhere in the world at a fast pace is just incredible, and that's only possible because of online interior design. It also introduces me to clients from around the globe and adds projects to my portfolio I never imagined I'd be able to.
Unlock Virtual Interior Design from Anywhere
Whether on your couch or in a café, you can connect with Decorilla's design team. Skillful online interior designers, like Jessica, and an adept support team ensure projects are effortless – from start to finish.
All you need to do is complete a quick questionnaire and the team will help you finalize your project scope. Next, it's up to the creative virtual interior designers and decorators to bring you concepts you adore. Final projects also come with a quick-click online shopping list and implementation guide. Making a house a home certainly couldn't be easier.  
Want to team up with a virtual interior designer?
If you want a contemporary interior and like her work, start a project with Jessica! Or schedule a Free Interior Design Consultation to let Decorilla match you with a designer today!