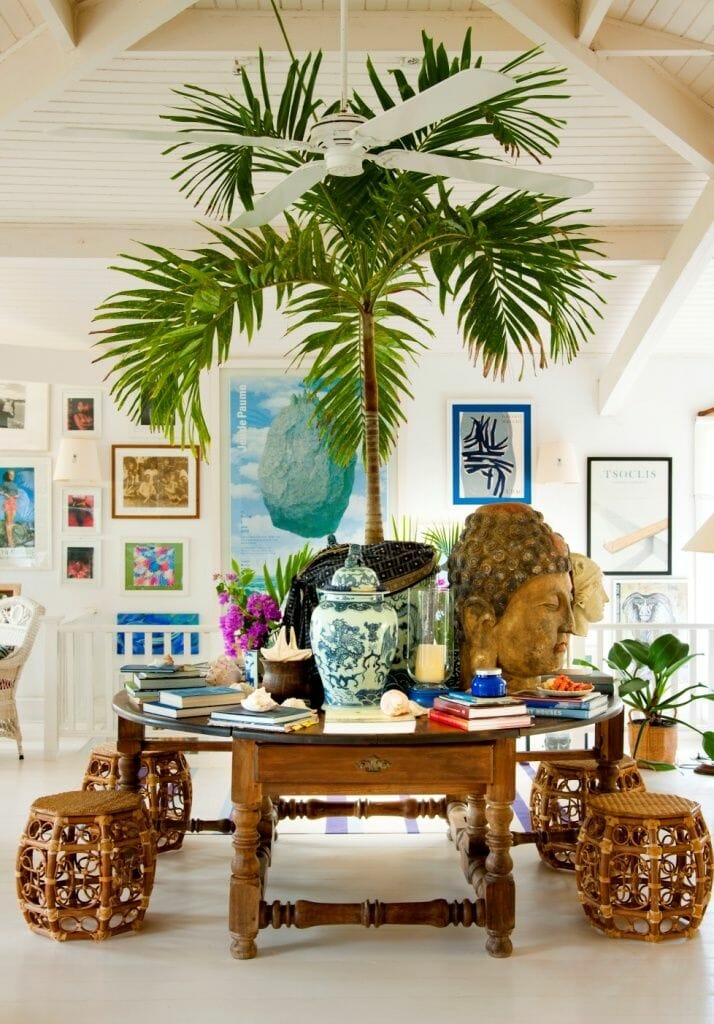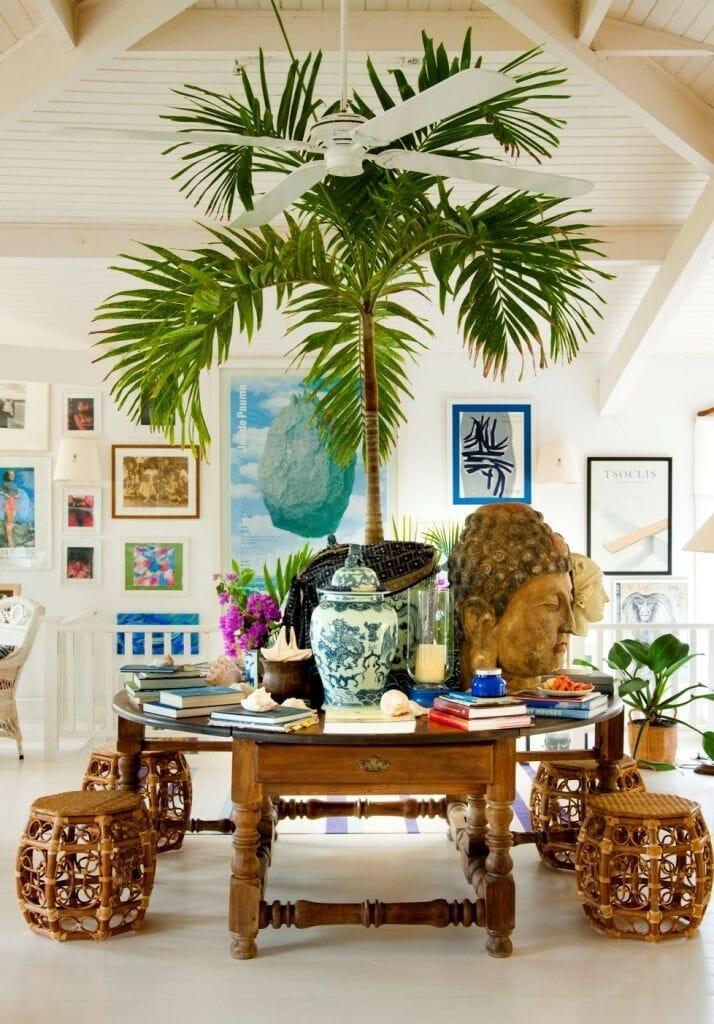 Tall palms, large green fronds, flowers of unusually bold color. It is not surprising that the warming weather conjures up images of the tropics-spaces that evoke relaxation through natural beauty. When infusing a room with tropical interior design, there are a few helpful tips you must keep in mind.
1. Pattern
With summer around the corner, it seems beautiful prints of tropical foliage is taking over! Investing in a decorative piece with one of these prints is an easy and quick way to bring a piece of paradise into your home. Depending on how much you want to commit, you can add a pillow, a framed print or even apply wallpaper to a small area. The original "Martinique" wallpaper from the Beverly Hills Hotel is a favorite. To get this look, you can purchase the classic wall paper to accent walls. On a smaller scale, pillows of the same print can adorn furniture and get a similar result.

2. Color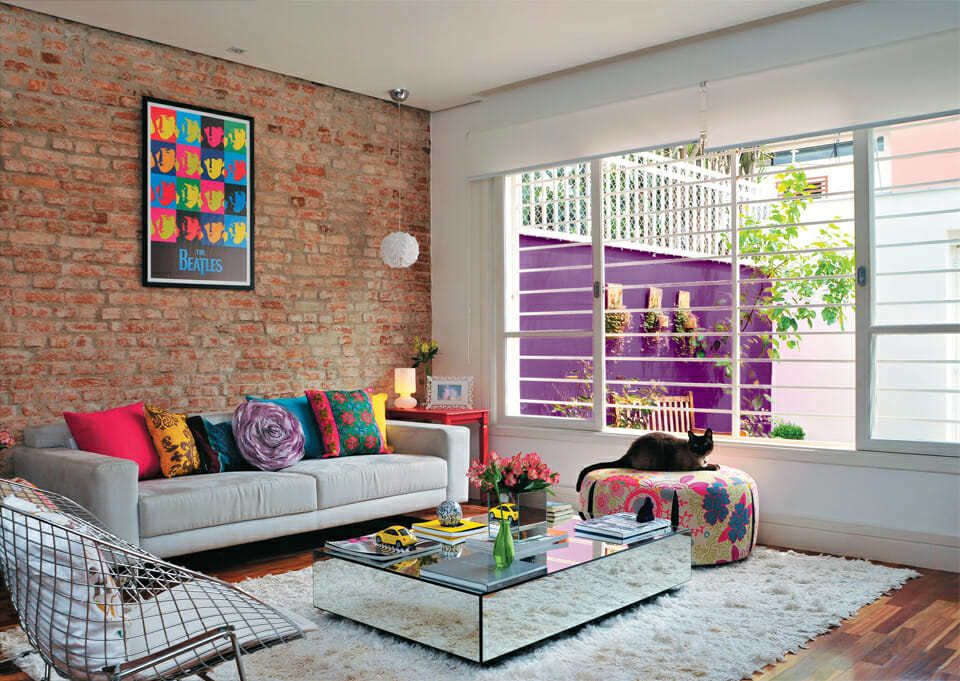 Tropical interior design is all about calculated pops of bright and lively color. Think macaws and rare tree frogs for color inspiration. A small amount of a bright bold hue will go a long way. Choose the hue based on the colors of your existing space and furnishings and don't be afraid to choose a color you love but not necessarily paint an entire wall in. That's exactly the point. Like a rare flower in the forest – a moment of intensity – not an entire space. So whether it's a bright throw, an accent pillow or a picture frame, make it count.
3. Plants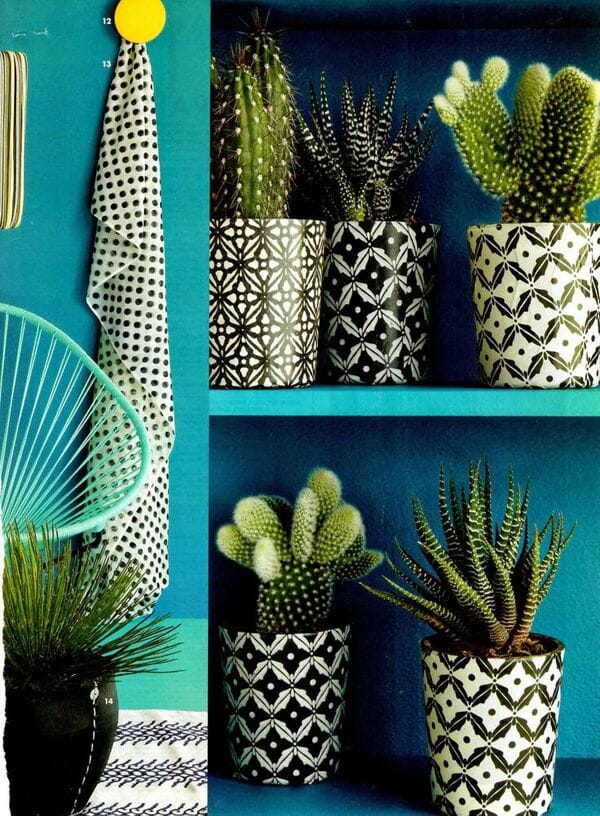 Nothing brings nature in like – well, nature itself! Besides purifying the air and bringing a natural sense of well being, indoor tropical plants will help set the mood to your space. Just be mindful that some species (like the monstera deliciosa) can be poisonous so make sure to do your research before you make any purchases (important if you have small children or pets). Some nice options are air plants, yucca plants, raphis palms and philodendrons. Garden and landscape designer, Mary Ann Rounseville, can offer additional botanical design help!
4. Texture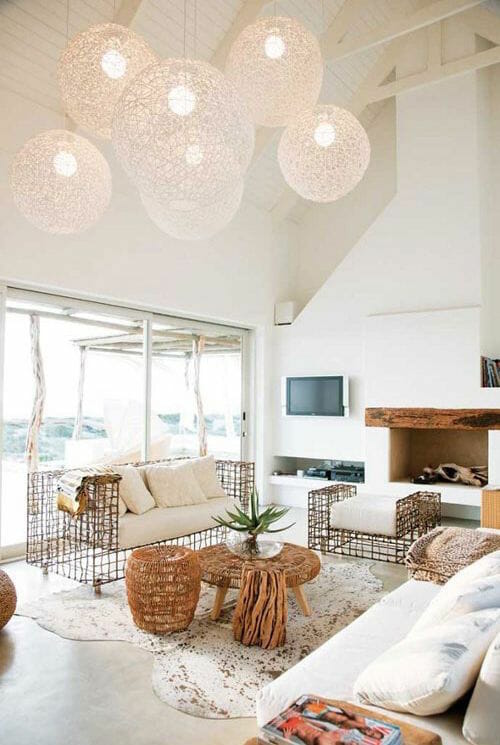 If you're starting from scratch or have a bit more room to grow into the tropical motif, layer natural textures with your furniture and accessories. Select natural fabrics like linen and cotton, and raw toned woods in medium warm tones like teak and walnut, wicker, hide and leather, grasscloth and jute (like this Bunny Williams rug). Remember to create some variation in tones so there's some contrast or else it will become too monotone.
5. Form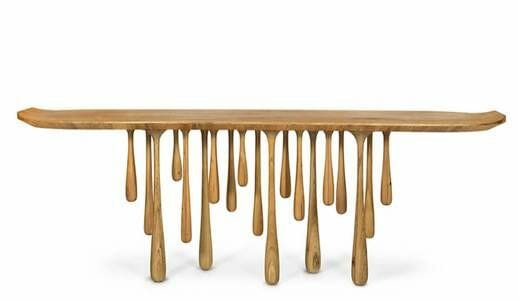 Last but not least, bring tropical elements into your home by introducing some organic forms that mimic nature. Maybe it's the sinuous curves of the mountains that become a chaise or legs of a table that imitate rain drops (like this Chuva dining table from Leo Romano) or winding metallic strips that form the base of a lamp. Add a sculptural conversation piece or two to seal the deal. This will take the tropical concept to a whole other level and make your space feel thought out. The key here is to focus on abstractions of nature so the imitations are not too literal.
Tropical interior design can be simple to create when keeping in mind the tips shared above. Needing a little more guidance? Decorilla's interior design service can bring your dreamy home ideas to life.
Written by Decorilla designer + tropical design expert, Renata B.