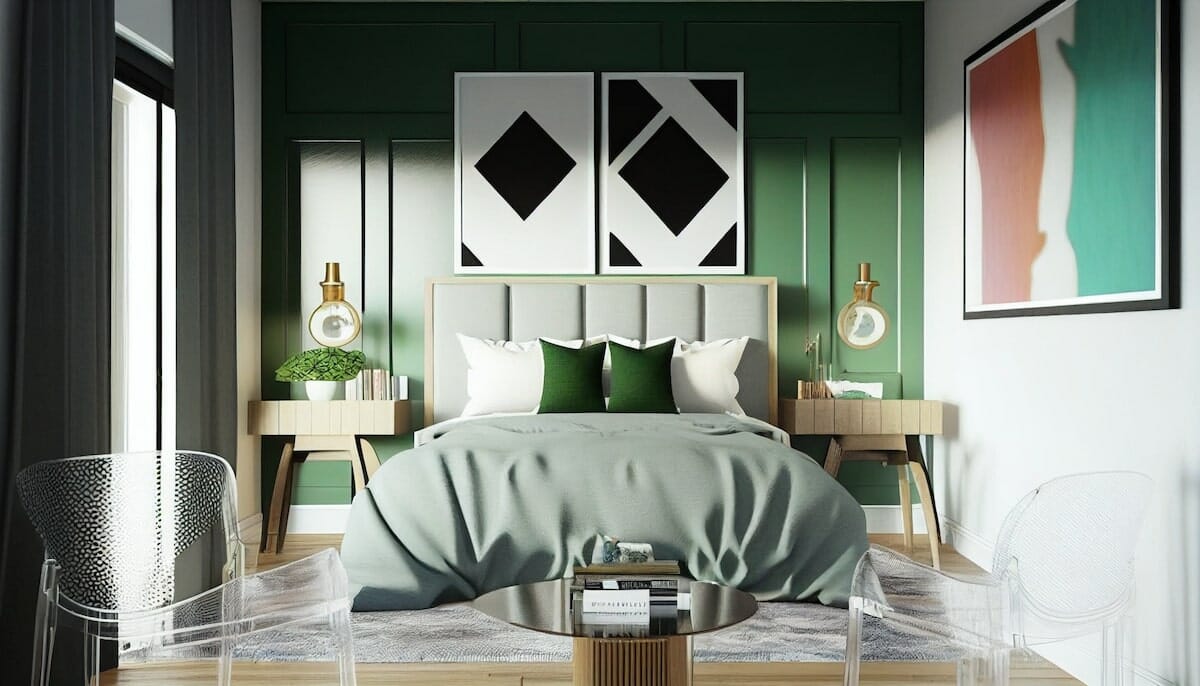 A small guest bedroom can be a challenging space to design. However, creative touches and thoughtful decorating choices can quickly turn it into an inviting haven for visitors. Take a look at this inspiring makeover of a small guest bedroom where every inch counts. It resulted in a transformational design experience that will have anyone wanting to stay for longer.
The Challenge: Small Guest Bedroom Design
A recent Decorilla client needed help transforming a functional but small guest room into a fun, modern retreat for visitors. What she had in mind was a vibrant makeover with mostly new elements and a few full-bodied pops of color. In addition to guest room decorating and camouflaging some existing problems, the designer also had to: 
Assemble a small bedroom layout with balanced, space-saving furniture 

Source bedroom accessories, from a rug to bed linens

Pick functional nightstands and cordless lamps to accompany the existing bed

Complete the bedroom design ideas with eye-catching, colorful art & decor
Not sure which style is best for your small guest bedroom? Then take our

Free Interior Design Style Quiz

to find your personal style today!
Guest Room Decorating Inspiration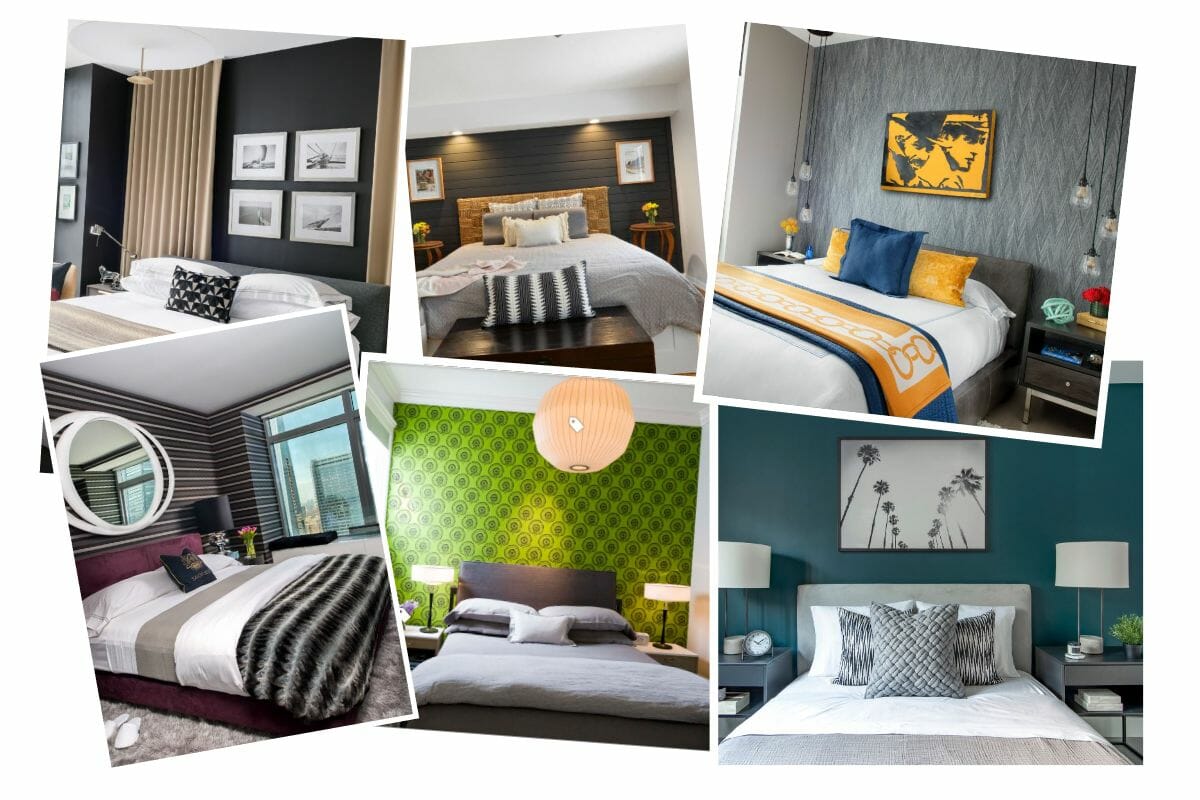 The clients began their interior design journey by creating an inspiring gallery full of tasteful and exciting guest room ideas. Each picture highlighted the importance of color and texture, demonstrating different ways to use them in creating a welcoming setup. Many rooms also featured bold accent walls and vibrant decorative details, adding up to a cheerful bedroom atmosphere. Ultimately, it was clear what kind of aesthetic the client was looking to incorporate in her small guest room.
Small Guest Room Ideas & Moodboard
Decorilla sets itself apart from other design firms by the way it runs the online interior design process. One of its assets is pairing clients with two expert designers who both submit concepts tailored to the client's vision.
In this case, after thoroughly deliberating on two fantastic moodboards, the clients ultimately chose Maya M. as their creator. This decision proved to be the perfect match due to her remarkable mix-and-match skills and keen eye for color. 
Maya's small guest room ideas were a true feast for the eyes. Building from the existing, toned-down base, she infused new life into the small guest bedroom with dazzling pops of color and exquisitely stylish touches. Boldly incorporated sultry yet high-spirited details revolved around vivid hues of deep teal, vivid magenta, sage green, and punchy orange. This color palette is precisely what the client had envisioned for her interior, and the designer masterfully delivered.

Small Guest Room Design Result
Guest room decorating involves a spirited combination of elements providing a bold look without feeling weird or overwhelming in return. While the furniture itself boasts simplicity, decorative cushions, striking wall art, and the choices of accessories immediately attract the eye, capturing a lot of attention. In addition, an accent wall and an unexpected bedroom seating combination further elevate the small guest room layout, bringing abundant visual interest. 
Observed from the seating area, the bed and its background make a striking focal point, rivaling the view outside the ample windows. A deep green accent wall rises as a natural extension of the headboard. Framing the bed from each side, sculptural desk lamps on nightstands also double as a decorative feature. Sizable mirrors complete the picture, reflecting natural light and opening up the space to give off the illusion that the room is bigger than it is. 
One of the key design challenges was incorporating many elements without making the small guest bedroom feel cluttered or obstructing its natural flow. The designer's solution relied on sleek lines and clean forms that bring a fresh, modern touch. In addition, pairing lucite chairs with a ghost side table conveyed a dramatically stylish yet highly functional twist. The overall result is a polished final look with an equally tranquil and memorable ambiance ideal for guest rooms.
How the Designer Improved the Small Guest Room Layout
Creating a small guest room with a tasteful and purposeful design is both a challenge and an opportunity. By combining the right elements and ideas together, the designer made the task look easy. The client's existing bed and chair provide a neutral foundation for the design. What grew from there is now a captivating small guest bedroom ready to stun visitors with a lasting impression.
Guest Room Decorating Shopping List
Decorilla takes pride in hiring expert interior designers who possess impeccable skills and a daring eye for decoration. In addition, their personalized approach ensures that clients receive a one-of-a-kind design experience and a home they'll love for years. Comprehensive interior design packages include stunning 3D visualizations, a detailed guide for execution, and expert advice from a team of professionals. But that's not all. A personalized shopping list comes with trade discounts, often saving the clients more than the cost of the service itself.  
Small Guest Room Top Picks
Want a bursting colorful interior design of your own? Here are some of our top picks to spice up your small space with a daring touch: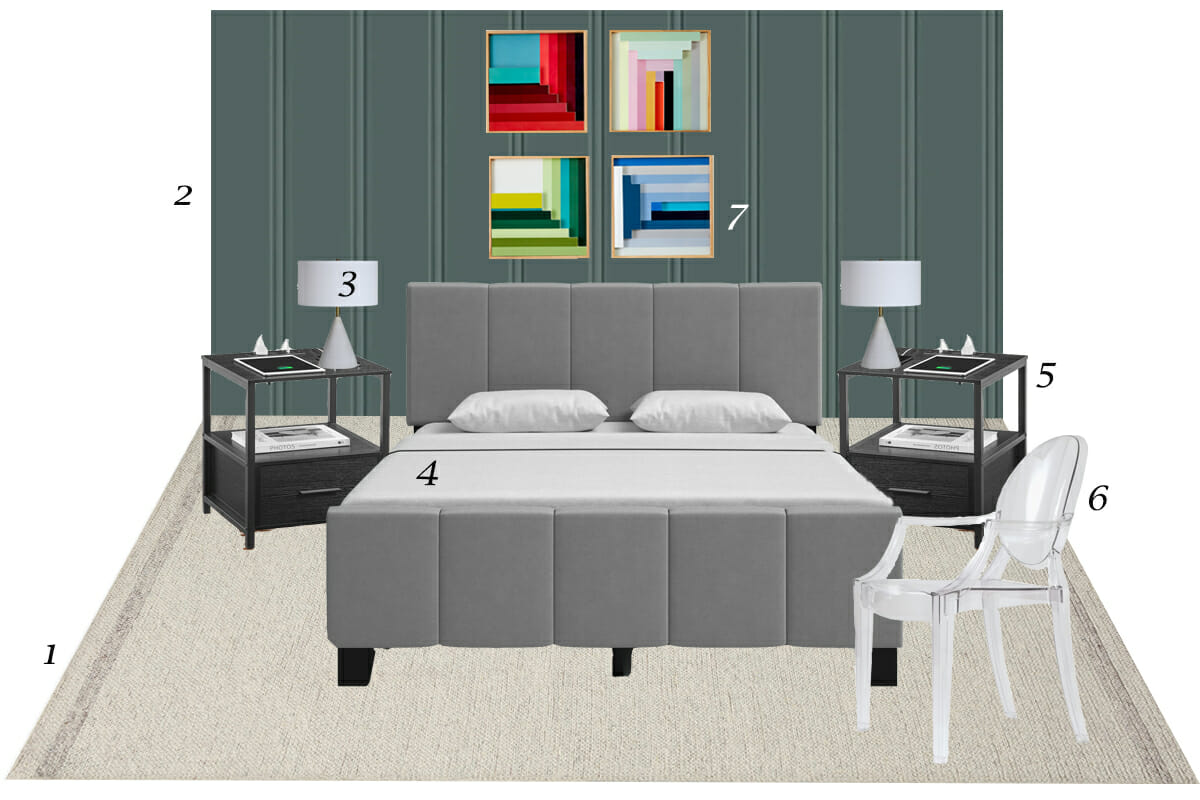 Thinking about adding drama and modern style to your small guest bedroom?
Our skilled designers can help give your space an ultimate transformation too! Schedule a Free Interior Design Consultation to learn more today!

Images: [Decorilla projet images]