Step into a pastel bedroom wonderland as a kids' room undergoes a magical transformation. Delicate shades of blue and dusty rose transport you to a dreamlike realm where imagination knows no bounds. Watch as this enchanting space becomes a haven for little ones to explore, play, and create unforgettable memories.
The Challenge: Pastel Bedroom Interior Design
Having a stellar experience from their previous project in mind, the client decided to entrust Decorilla with another important task. They wanted to present their daughter with a perfect new bedroom that she would finally call her own. In short, the right designer would help to optimize the space in one of the existing smaller bedrooms and also:
Propose some unique bedroom ideas for kids

that can grow with a child

Leave a lot of free space on the floor 

Source functional furniture, including a practical desk

Consider a custom closet upgrade rather than a conventional dresser to make the most of the available space

Pick the right accessories and decor to create a cozy but functional arrangement 
Pro tip: Create your child's bedroom design in a style they enjoy. Not sure what that is?

Then, take our

Free Interior Design Style Quiz

to find out today!
White, Blue, and Pink Pastel Bedroom Inspiration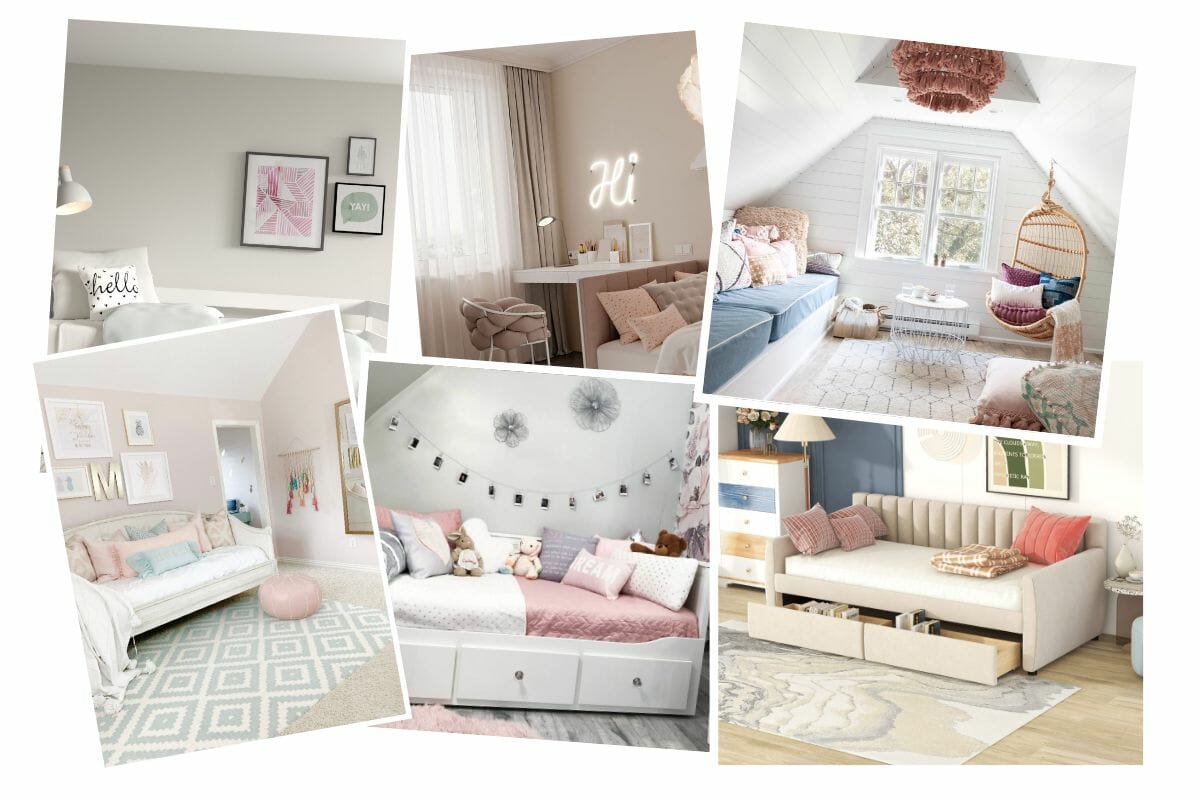 The client's inspiration gallery was brimming with style. Focused mainly on white, blue, and pink bedroom ideas for kids & teenagers, it exhibited a plethora of stunning examples. From floral dusty rose to soft pastel blue, each bedroom was impeccably designed with a keen eye for detail. Muted neutral backgrounds, on the other hand, added a sophisticated touch, giving the setups a timeless feel of elegance and charm.
Pastel Bedroom Ideas & Moodboard
The client also provided invaluable insight into their daughter's wishes and preferences by completing the interactive design questionnaire. Combined with the inspiration from the gallery, the team obtained all the information necessary to suggest matching online interior design experts.
As a result, the client enjoyed the benefits of receiving elaborate initial design concepts from two designers. After going through a thorough review of all the bedroom ideas for kids & teens, they ultimately decided to proceed with Rachel H.
Rachel's moodboard exhibited a complete understanding of the client's needs. A pastel bedroom interior design was an ideal choice for a girl who desires a chic and tranquil atmosphere. Creamy hues created a delicate, feminine contrast against the light grey walls, while furniture and fabrics added depth and texture, proving that pastel setups are anything but bland. Meanwhile, the decor selection ensured a functional touch of modern elegance to the room. 
Dusty Rose Pastel Bedroom Interior Design
The dusty rose bedroom strikes a perfect balance between whimsical and profound, making it an adequate abode for a young child and teenager alike. Multiple shades of soft white, pink, teal, and beige lend themselves to a serene atmosphere, while the furnishing conveys a timeless look that never goes out of style. This pastel bedroom interior design also communicates a schoolgirl's lifestyle, emphasizing an upbeat spirit and sophistication. 
Properly sectioned, this pastel bedroom interior design also maintains a refreshing harmony between efficiency and relaxation. The pastel blue bedroom zone is dedicated to leisure, boasting a soft turquoise color scheme with pink accents.
Layered on a light gray background, the intricate foliage design of the area rug exhibits fine detailed work that serves as an instant eye-catcher. At the same time, it accentuates natural elements infused in the kid's room interior design. Large wall art also subtly blends in more floral accents, adding an extra touch of feminine beauty to the area without overwhelming it. The soft foldable Papasan chair offers comfortable daydreaming, while decorated wall shelves secure both aesthetic appeal and practicality. 
The combination of white, blue, and pink in this floral bedroom works well in the study section, too. Symmetrical and calm, it promotes focus and aims to improve productivity. The schoolgirl lifestyle is echoed in each chic yet functional element, including art and mirrors that adorn the walls.
A soft task chair and white textured wooden desk provide a setting equally comfortable for doing homework or indulging in beauty rituals. On the wall above, a large board and a set of shelves take care of organization while keeping clutter at bay. Completed with a stylish garland, the entire arrangement also assumes the role of cool wall decor. 
Kid's Room Interior Design Shopping List
The family was able to step into the world of their child's dream bedroom with the remarkable power of 3D visualizations. These realistic renderings allowed them to see the finished product in advance – ensuring they would get a space they loved. Meanwhile, they enjoyed exclusive access to a personalized shopping list with substantial trade discounts. This allowed them to complete all their purchases in one stop while remaining within budget. Finally, the white glove concierge service handled all of the logistics from start to finish. In the end, this bedroom redesign was an experience the whole family enjoyed.
Pastel Bedroom Ideas for Kids: Top Picks
If you're hesitant to make a grand renovation, take small steps instead. Start with our collection of pastel bedroom elements for inspiration and ideas. It's a great way to ease into upgrades and spruce up your kid's room interior design: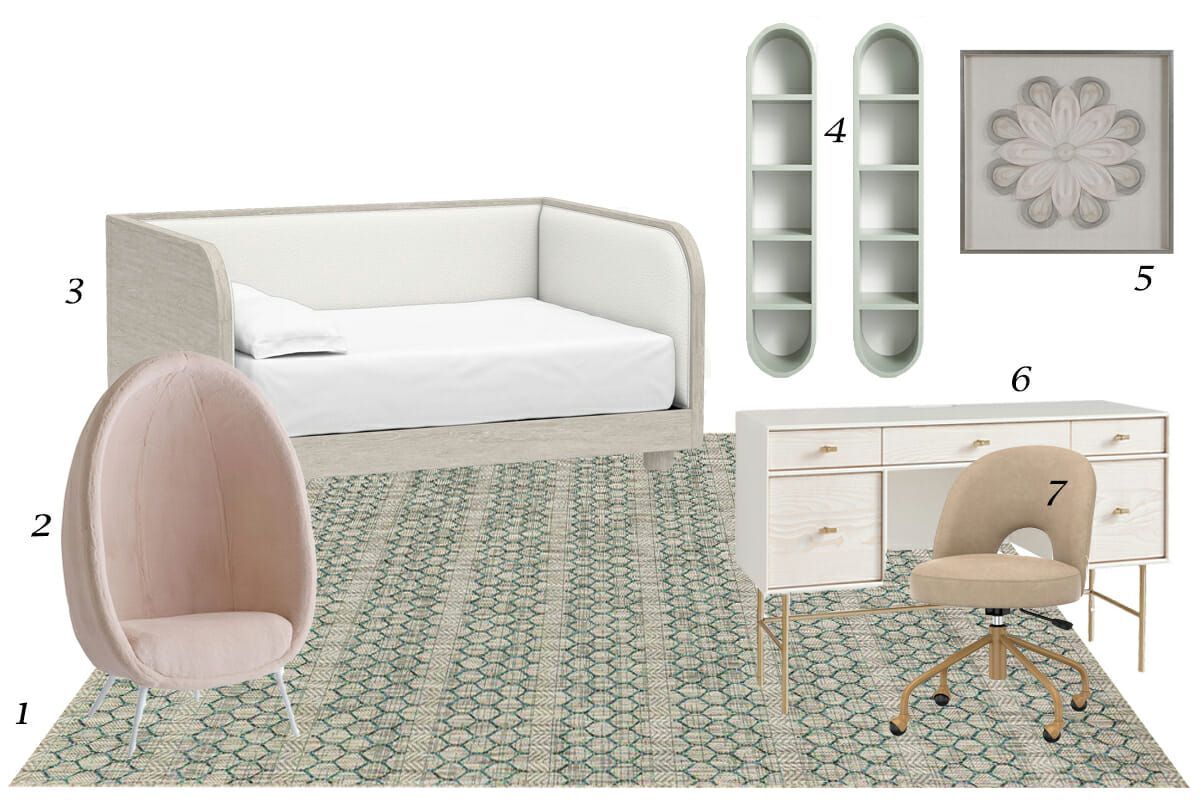 Ready to create a magical space for your little one?
Our skilled designers will make their dream room a reality. Schedule a personalized design session to get started today!