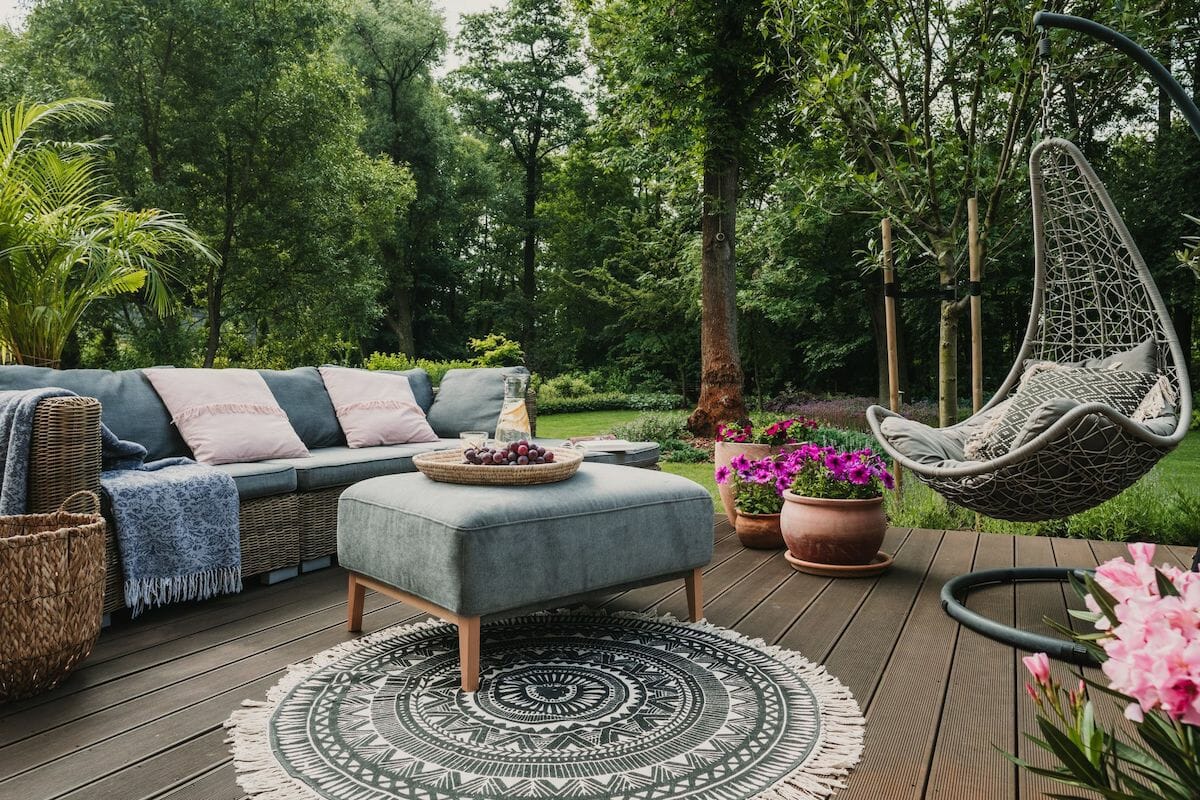 Spending time outdoors is good for the soul. The experience is even better when you have a chic and comfy living space outside – without a doubt! Whether simple or grand, on a patio, balcony, or surrounding a firepit, there's an ideal setup for every abode. Read on to discover top outdoor furniture ideas, perfect for any alfresco escape.
Quick Tips for Buying Outdoor Furniture
While considering backyard furniture ideas, there are a few things to remember. Yes, style is vital, but traditional and online patio design services agree that there are other equally important factors too. Keep the following in mind before investing in any new pieces.
Opt for Durable Outdoor Furniture
Visit outdoor furniture stores while you look for inspiring patio designs and backyard patio ideas. Once there, look for items made from high-quality materials. Choose durable and weather-resistant pieces. And if your budget doesn't allow it yet, it's best to save up or shop secondhand. Buying something that won't stand the weather will lead to costly damages. Besides, quality will last and look great for much longer.
Need help updating your outdoor space with a stylish selection of furniture

? Then, schedule a

Free Interior Design Consultation

to learn more about your design options today!
Think About Space & Patio Furniture Layout
Whether working with designers, taking a DIY approach, or using online patio design apps to design a patio online – remember to keep space in mind. It'll influence which patio furniture ideas you can bring to life. Some things may fit but make an area feel cramped or even too cold and open. Layout and proportions are crucial to a successful design!
Remember Possible Storage 
Finally, also consider possible backyard furniture storage ideas. Keep your pieces in great shape by stowing them during extreme weather or off-season. Sheds, basements, and garages are some solutions. In cases of limited space, invest in foldable or stackable furniture. Storage solutions are also practical for storing décor, pool accessories, and outdoorsy toys.

Sleek, Chic & Trendy Outdoor Furniture Ideas
The right outdoor seating, décor, and accent tables can really create a special retreat. It also has the power to elevate the atmosphere and value of the entire outside area. Find out which of the following stylish solutions are a good fit for your exterior.
1. Inside Style Outdoors
Living rooms are for more than interiors. Turn your outdoor area into an extension of your home by recreating a living room effect. Explore outdoor furniture ideas that mimic indoor looks. For example, create a similar setting using an outside-friendly sofa, area rug, ottoman, and lamps.
2. Whimsical Egg Chair
There are few outdoor furnishings as desirable as an egg chair – whether stationary or swinging. Apart from being comfy and stylish, they also add a carefree air to an outside space. When incorporating outdoor seating ideas for small spaces, opt for the chair version as a swing is ideal for larger areas.
3. Outdoor Sectionals are Made for Hosting
A sectional is fantastic for many reasons. First, it allows you to relax comfortably on your own or with a bunch of friends. Second, sectionals are often configurable in various ways to suit different needs. And finally, by adding a table to the center of the outdoor furniture layout, there's no need to invest in a separate table and chairs set.
Cheery Patio Furniture Ideas
Patios are a wonderfully versatile outdoor space that can enhance your home. For instance, it can serve as an outside dining area, quiet hideaway, or entertainment space. Whatever you want to use it for, there are exceptional ideas to make it happen!
4. A Relaxing Daybed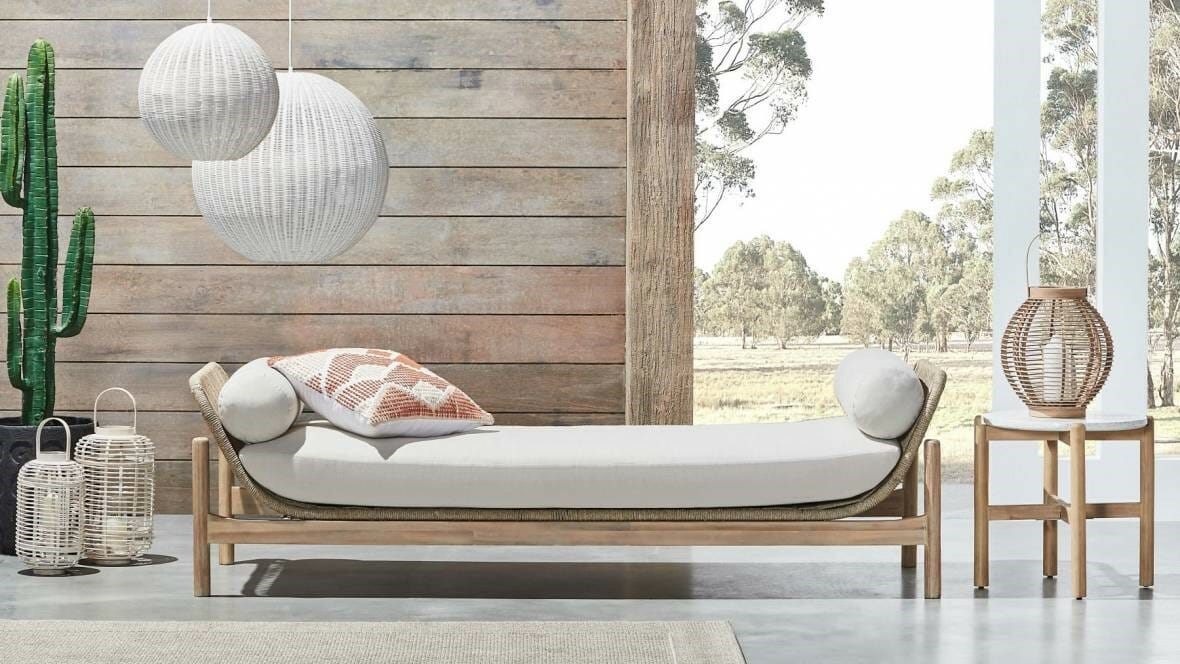 Lounging in a sunny spot on cold days and cooling down in the shade during summer is idyllic. It's even better with a daybed! So, improve your outdoor experience by adding a daybed to your patio furniture layout. Move it throughout the seasons to get the most out of each.
5. Bright & Bold Modern Patio Furniture Ideas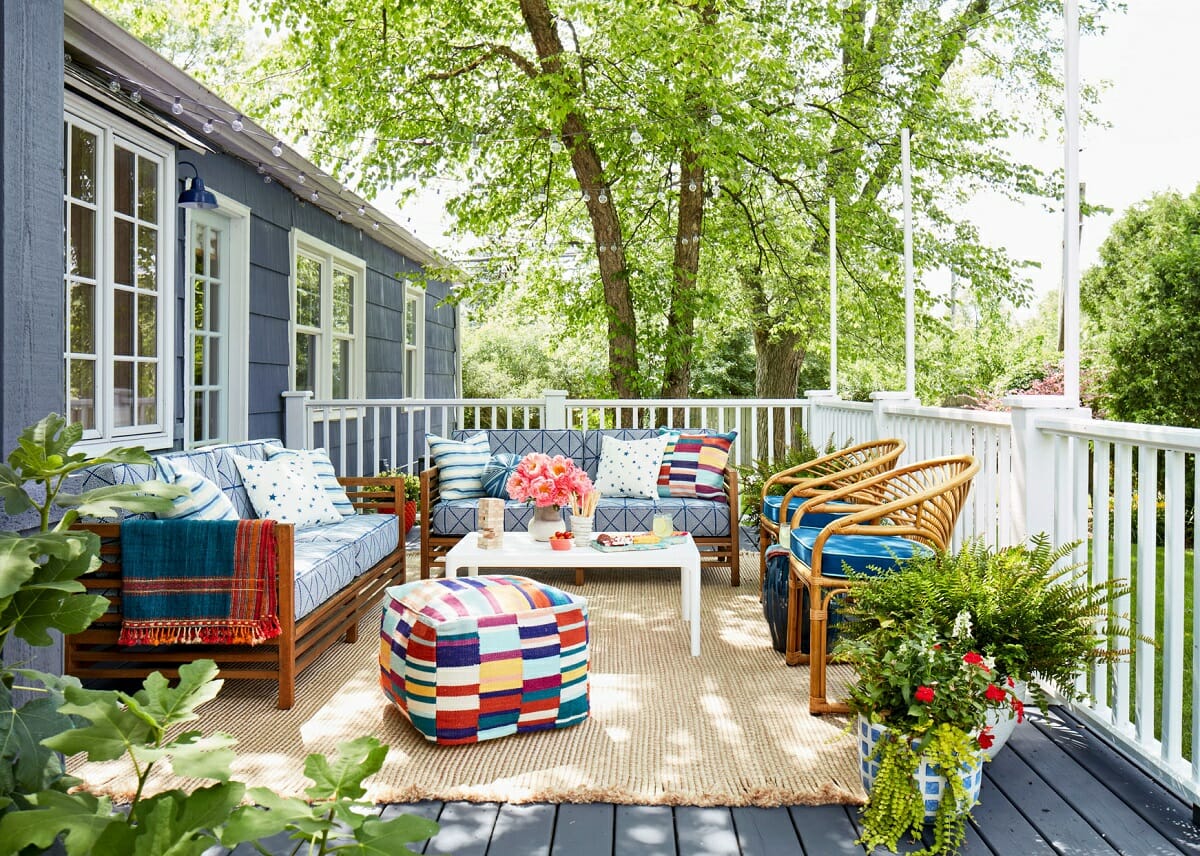 Keep your patio furniture ideas fresh and colorful. Tones like vivid fuchsia and cerulean blue certainly make a statement and bring happy vibes. Bold pieces especially pop against a dark background and bring life to backyards with few flowers.
6. Wonderful Woven Patio Seating Ideas
Wicker and rattan are fantastic for patio furniture design. Synthetic wicker furniture might stand up to the elements better than the organic version, but going natural is worth it. The rougher texture of organic plus the eco-friendly benefits make it a good choice. Moreover, a woven couch and chairs guarantee a lovely light patio look.
Casual Backyard Furniture Ideas
Whatever the dimensions and layout of a backyard, it makes for an excellent close-to-nature hangout spot. Consider the furniture and décor ideas below to find out which suits your backyard best.
7. Cozy Corner
For an intimate atmosphere, apply backyard outdoor living space ideas in a quiet corner. A built-in stone bench or a duo of chairs with outdoor cushions creates a serene place. You can also install a water feature nearby for added ambiance.
8. Sublime Alfresco Dining
Avid home chefs or lovers of a good BBQ should absolutely include a dining table and chairs as part of their backyard furniture ideas. Additionally, make provision for an outdoor bar area as well. Alfresco dinner parties will never be the same again!
9. Layered Details
Often backyard furniture ideas overlook the importance of more decorative features. Flesh out any outside living space by including décor too. Outdoor area rugs, lanterns, scatter cushions, and ottomans all add depth to the design and complete the look.
Cozy Firepit Seating Ideas
Nights spent around a campfire make for the best memories. You can recreate the effect at home by adding a firepit and seating to your list of outdoor furniture ideas.
10. Soft & Curvy Seating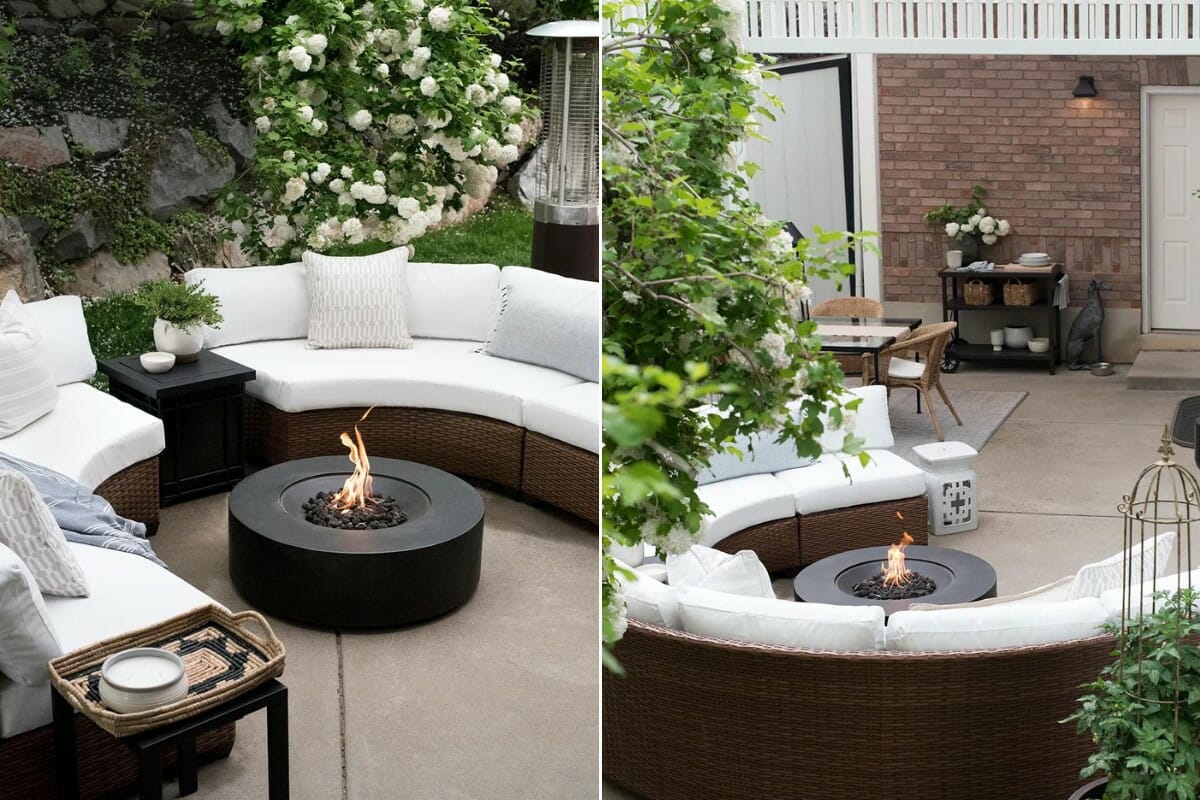 A round firepit surrounded by curved benches or sofas is among our favorite backyard and patio furniture ideas. In fact, it's one of the greatest seating ideas for large groups, plus it boosts the cozy vibes.
11. Classic Outdoor Seating with Adirondack Chairs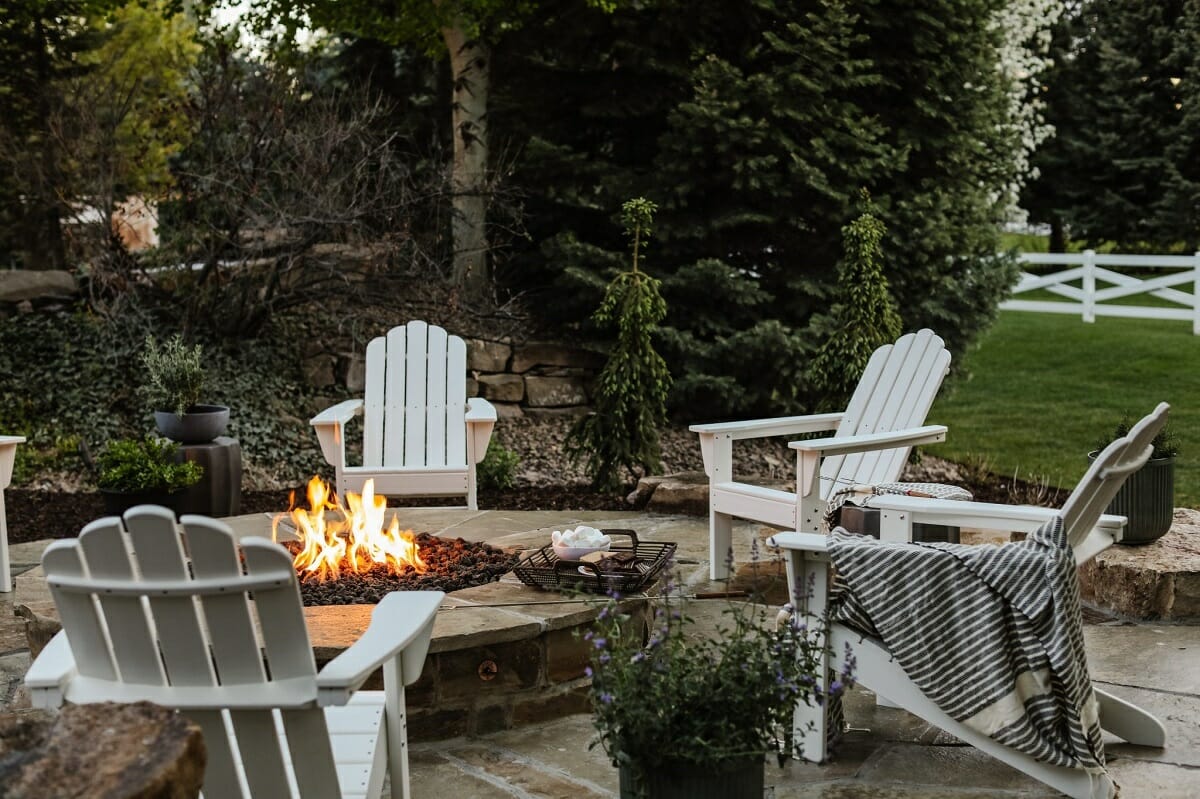 Adirondack chairs are a staple of firepit seating ideas. Aside from being classic furniture, they're comfy and practical. Additionally, they come in a host of materials, which means there's one for every budget.
12. Snuggle-Worthy Plush Seats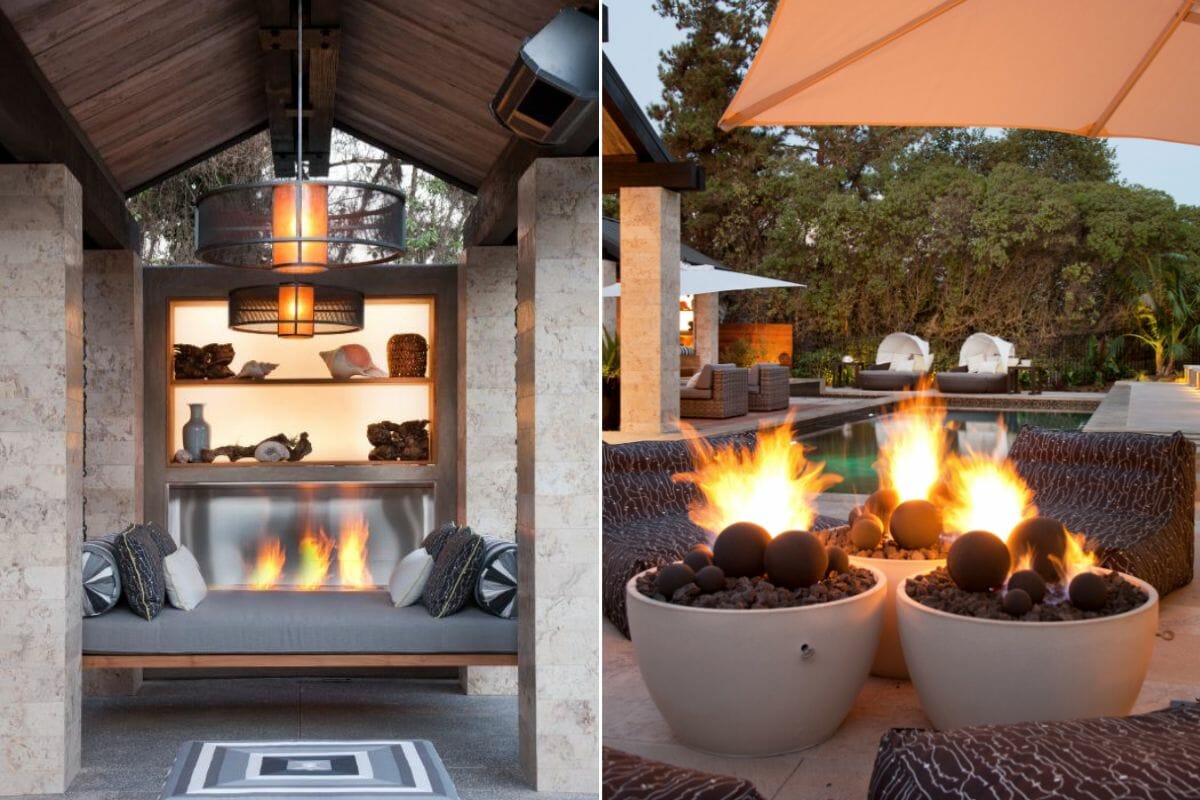 Outdoor seating can be just as plush as those indoors. Today, firepit seating ideas include bespoke loungers, heavy-duty beanbags chairs, and everything in-between. Pick something nice and soft for a snuggly evening by the firepit.
Need help with outdoor furniture ideas?
Work with top designers to come up with the perfect solution for your space! Schedule a Free Interior Design Consultation to get started today!

[images: 1, 2, 3, 4, 5, 6, 7, 8, 9, 10, 11, 12, 13, 14, 15, 16, 17, 18, 19, 20, 21, 22, 23]